Term News Easter Rang 2
We learned how to knit before Christmas and are continuing to learn this term. Some people made scarves, and other things too. Rang 4 and Rang 5 were wonderful help. Thanks guys!
Rocco left us at the end of January. We were sad to say bye to him, but we are happy he is happy in Greystones. We wrote a newspaper as a class called The Rang 2 Times. We presented Rocco with a copy before he left, as he made the front page.
We were also very sad to say goodbye to our wonderful secretary Eleanor, but we were very happy to welcome our new secretary Barbara, who is really part of the family now.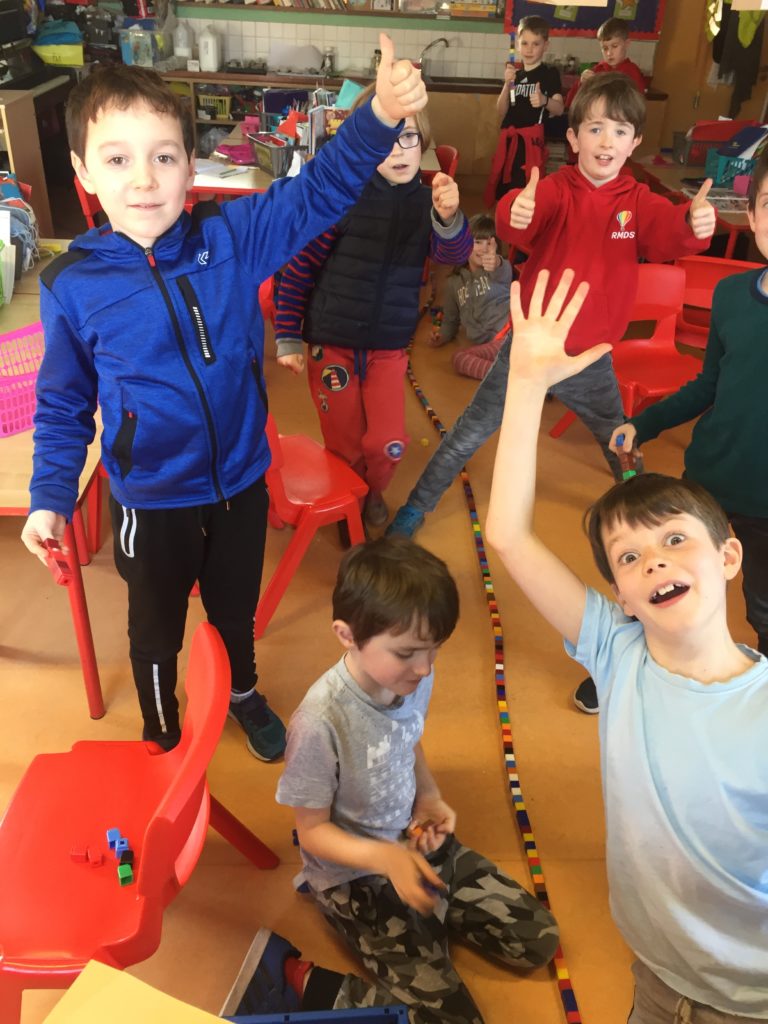 This was our term for Forest School. We learned how to use a bow saw, we played great games called deer stalk, mirrors and eagle eyes. We did sit spot every week and we put up the tarp to create a shelter. We adopted and named trees. Caroline found a sheep's jaw. Parent's Day was fun because we got to show our parents all we had achieved and learned while in the forest. We beat them at the animal game this year. Hooray!
Also during Forest School we had some time in class to do lovely activities such as Circle Time where we discussed problems, friendship and co-operation.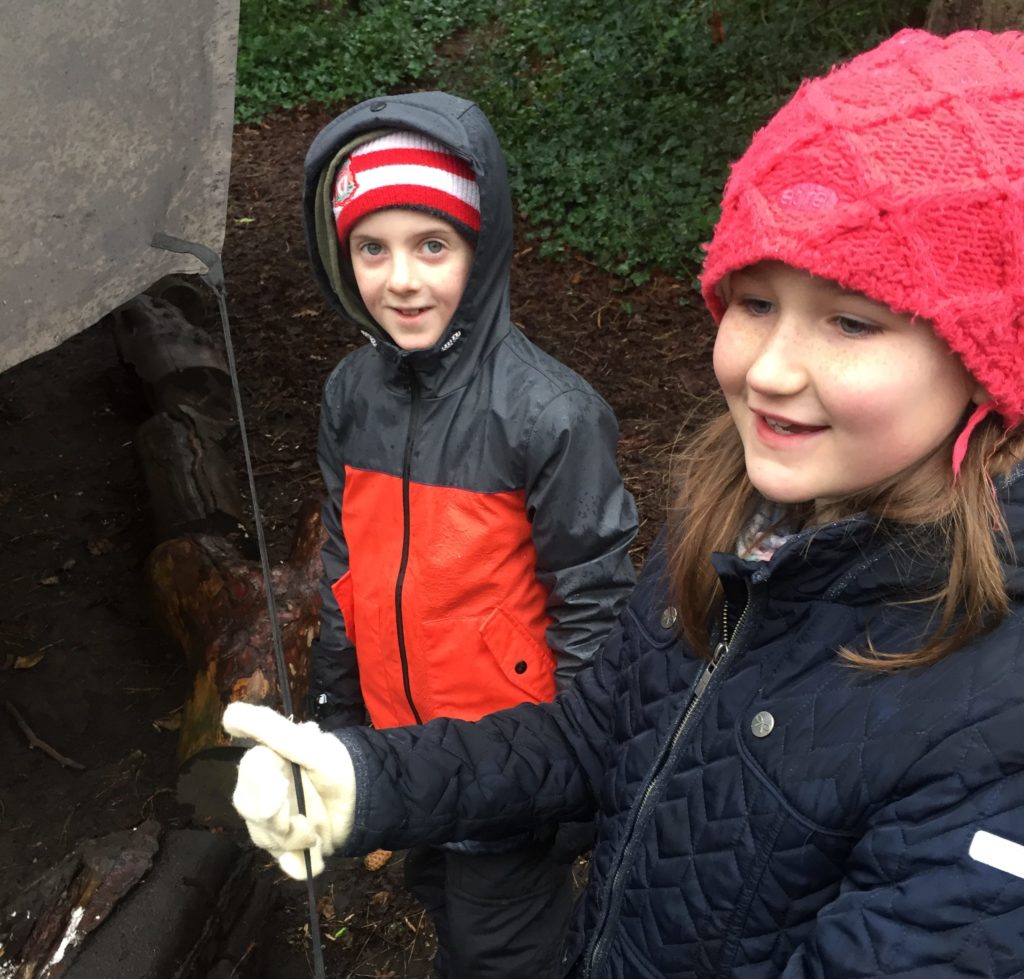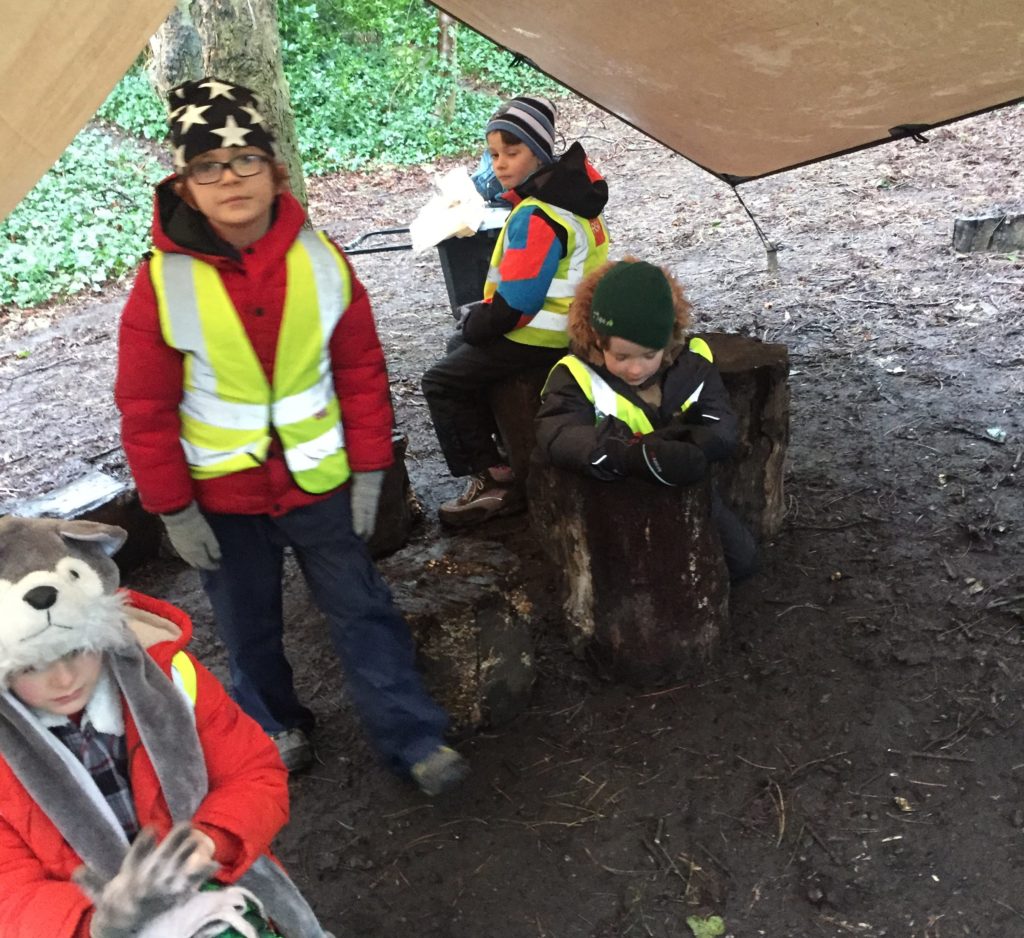 We had an opportunity to do STEM activities using LEGO and other materials. Noah was very kind and donated lots of his own LEGO to our class. Go raibh míle maith agat Noah.
We also completed a reading programme called Building Bridges of Understanding. The books we discussed were Voices in the Park by Anthony Browne, I believe in Unicorns by Michael Morpugo and The Hidden Forest by Jeannie Baker.
Miss Mortell came to teach us for 3 weeks. She also works in Jumpzone and we met her at Julia, Oscar and Isabelle L's party. She did lots of Maths with us like length and counting can. She also taught us about heat and we conducted an experiment using ice. She also grew shamrocks with us. We loved having her in our class and we really hope she comes back soon.
As a school we completed the Mission to Morocco. We trained for this mission in linear park. Our class did 217 Km, which is the distance to Cork. We also did the hockey world cup which is optional but many people from Rang 2 participated.
We have completed our fourth Write- a- Book. It's hard work but we are very proud of the results.
Many people in Rang 2 are members of the school choir. We went to sing for the elderly who live in sheltered accommodation in Ranelagh and also to the National Basketball Arena in Tallaght to perform at Cór Fhéile.
In art we made flower collages, St Patrick's Day cards, Shamrocks and little green men. We also made Mothers Day cards. We drew and decorated Eggs and made bunny bunting for Easter and hung them around our classroom.
Ta an Ghaeilge ar fheabhas i Rang 2. Déanann gach páiste an obair agus is breá linn bheith ag canadh. You should hear us do our Macarena as Gaeilge.
We best finish up and get prepared for the Easter Bunny, as we love chocolate, but we hope the Easter Bunny knows we only want eggs with no plastic packaging please.
Cáisc Shona Daoibh go léir!
Rang 2