End of Term Newsletter Dec 2017 Rang 4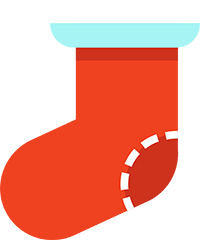 As 2017 comes to an end, we look back on all the exciting things we got up to during Term 1. It was very busy in Rang a Ceathair and we worked hard but had some fun along the way.
In History, we completed a project on Ancient Greece. We researched it online and also used books and other resources from Rathmines Library. We worked in mini groups where some people wrote their final draft and others typed it using the laptops.  We presented our work using posters and displayed it in the classroom. In Science we made Lava Lamps where we learned about molecules that interact and do not interact.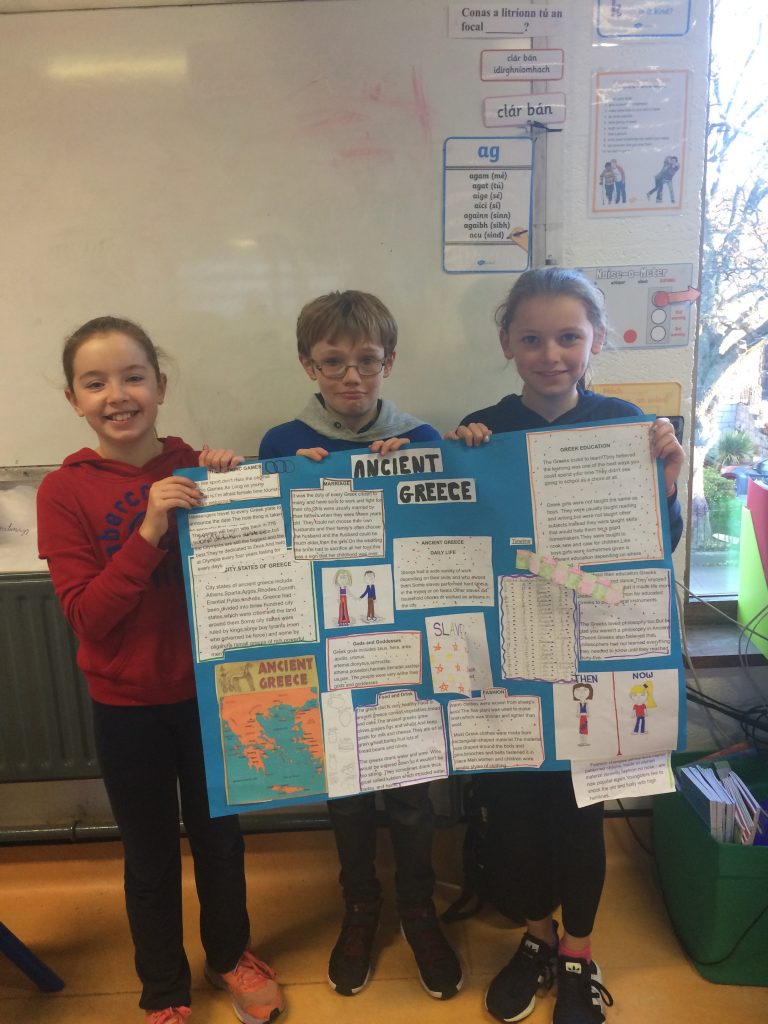 In English we wrote stories, read lots of books and completed reviews on them. We finished our class novel "Seven Spiders Spinning" which was very good. We also read the beginning of 'Wonder' to give us some insight into what the film was going to be about as Rang 4 got the opportunity to go along to see the film with Rang 5.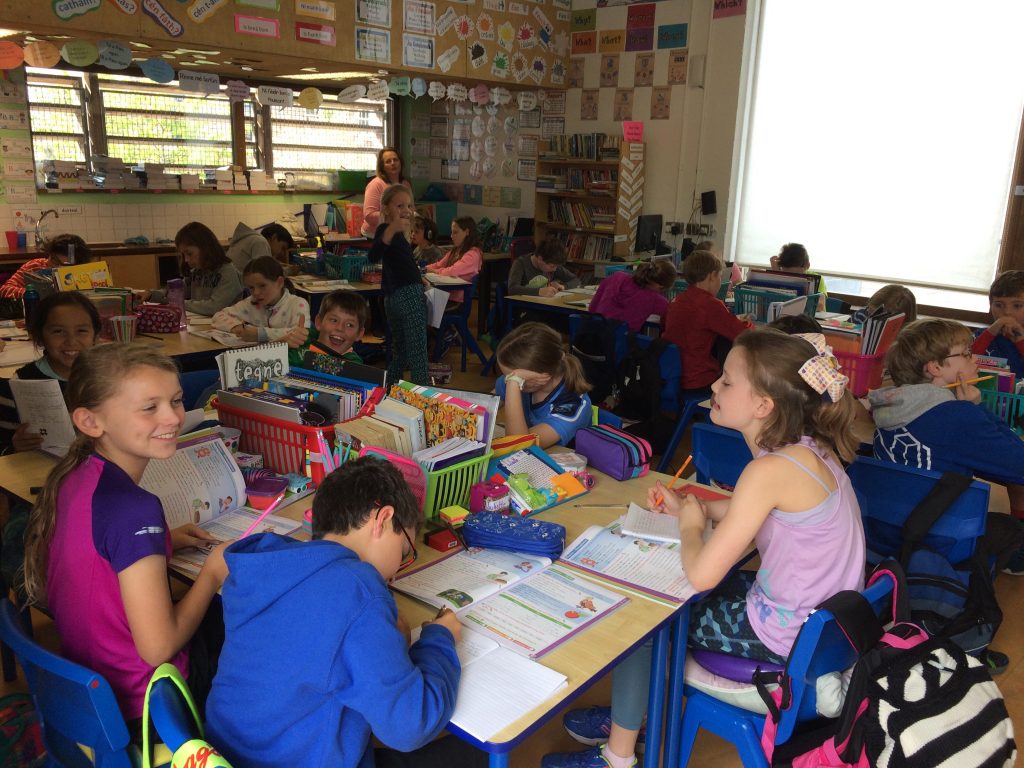 In Visual Arts, we portrayed autumn through colour and drawings, we carefully planned our Greek clay pots and decorated them, we created the solar system, we designed Christmas cards and dressed our class Christmas tree with handmade ornaments.
We completed a detailed study of Judaism this term as part of our Core Curriculum where we learned about the history, food, customs, way of life etc. of the religion. We visited the Irish Jewish Museum in early December where we got to see many artefacts from the religion.
In early November, we had a visit from a children's author Geraldine Meade. She told us the beginning of one of her novels and we then had the opportunity to work in pairs and come up with a solution to the ending of the story. We visited the National Library of Ireland during World Book Week where we met author Matt Griffin for a workshop based on how to 'Create your own Creepy Character '.
Evan and Patrick are on the Green Schools Committee and have a meeting with the other class representatives most weeks and keep us well informed. This term we started the Green Leaves competition with Rang 3 and we look forward to finding out the results just before the Christmas break.
Max and Lenna have been great class representatives on the Student Council. They worked hard and always took our opinions and ideas back to the Wednesday meetings!
Mr. Fairbrother and Ms. Neylon supported us in class with different subjects e.g. Drama, English, Maths, Computers and the RDS Science Fair as well as accompanying us on some of our class trips. Christina has been a huge help to us throughout the term and she is such a great support to have in our classroom.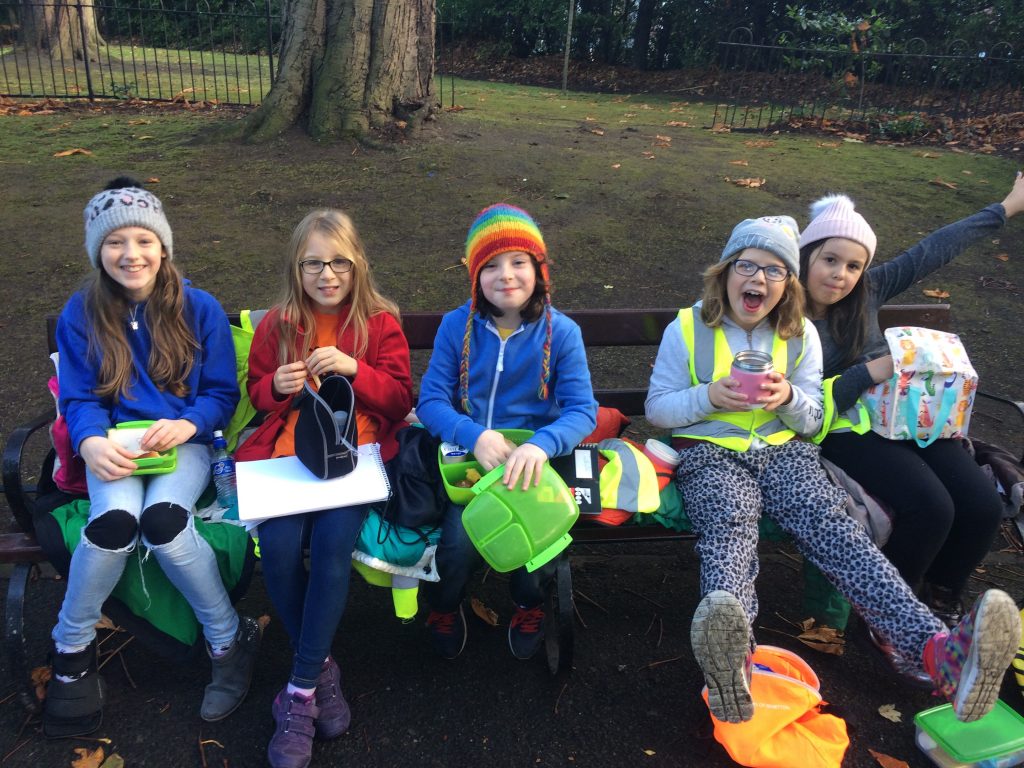 Our class entered into the RDS Science Fair 2018 and we successfully got through. We have been working very hard on this project to find an answer to 'What Material Makes the Strongest Bridge?' We are very excited about the fair in January and cannot wait to meet the other schools and judges.
Lastly, we have been occupied by the Christmas play for the last few weeks. We helped write the script, made props and contributed our ideas to the staging of the play.
We are looking forward to the Christmas concert and we would like to wish all our friends and family a very happy Christmas. We are excited to find out what 2018 holds for Rang 4!