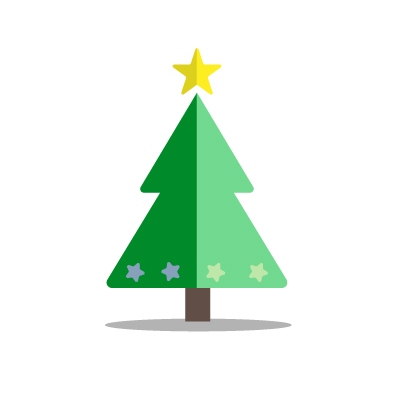 Rang a Cúig – Nollaig 2018
The Mosque by Fergus and Sylvie
We started learning about Islam in September and in October we went to visit the Mosque in Clonskeagh. We learned all about Islam like the celebrations, Eid al Adha, and Eid .We learned about aspects of the Muslim life such as daily prayer and the five pillars of Islam. The five pillars are Shahada, Salah, Zakat, Sawn and finally Hajj which is the pilgrimage to Mecca. We learned that Muslims usually use a prayer mat for praying. These carpets are always embroidered with intricate patterns and kept very clean. The Islamic holy book is the Quran. It is believed to be the direct word of Allah. We also learned that every living Muslim can recite a bit of the Quran. Mustakeem even recited some of the Quran for us when we were in the Mosque on our trip!
The Breadwinner by Zoe Brennan and Heidi Kavanagh.
In September we started a book called The Breadwinner. It is about a girl named Parvana who is living under the rule of the Taliban. When her father gets arrested Parvana must dress as a boy to save her family. It taught us about the brutality of the Taliban and what lots of people went through. The class really engaged in the lessons and enjoyed answering and asking questions that helped us dive deeper into the book.
St. Patrick's Cathedral by Billy and Jack
This term we went to Saint Patrick's Cathedral. We had a brilliant time. We walked there, and as soon as we went in, there was a huge Christmas tree! We split into two groups for the tour. Our tour guides' names were Olivia and Andrew. After our tour we did stained glass window art which is now stuck on the main Rang 5 window.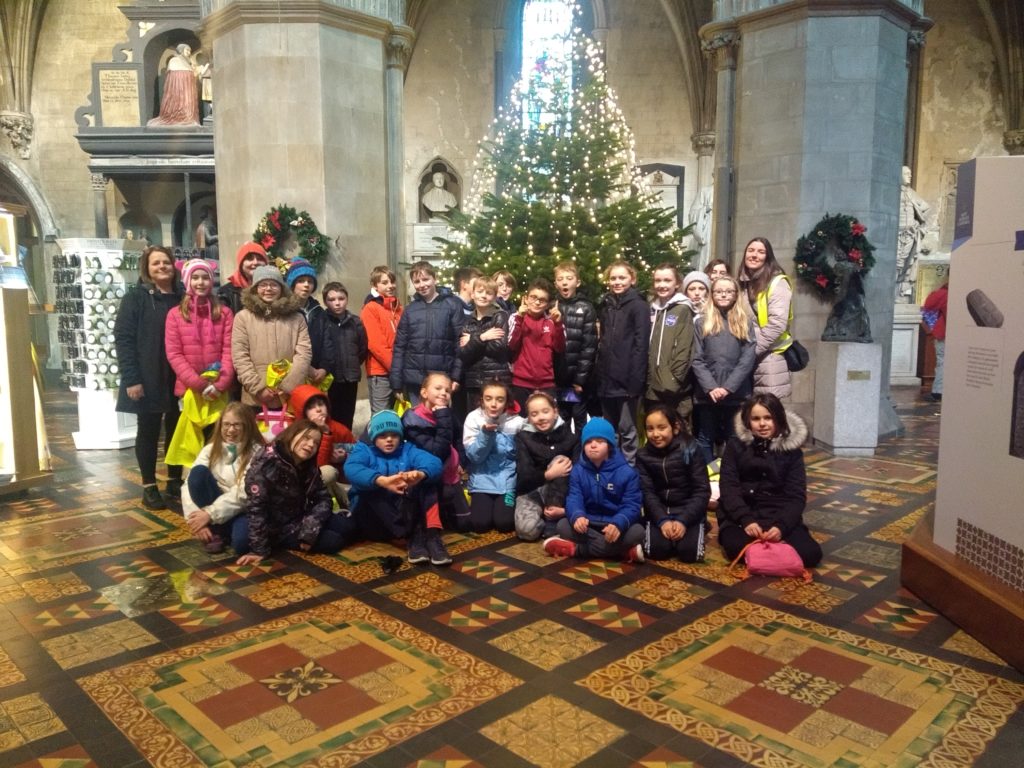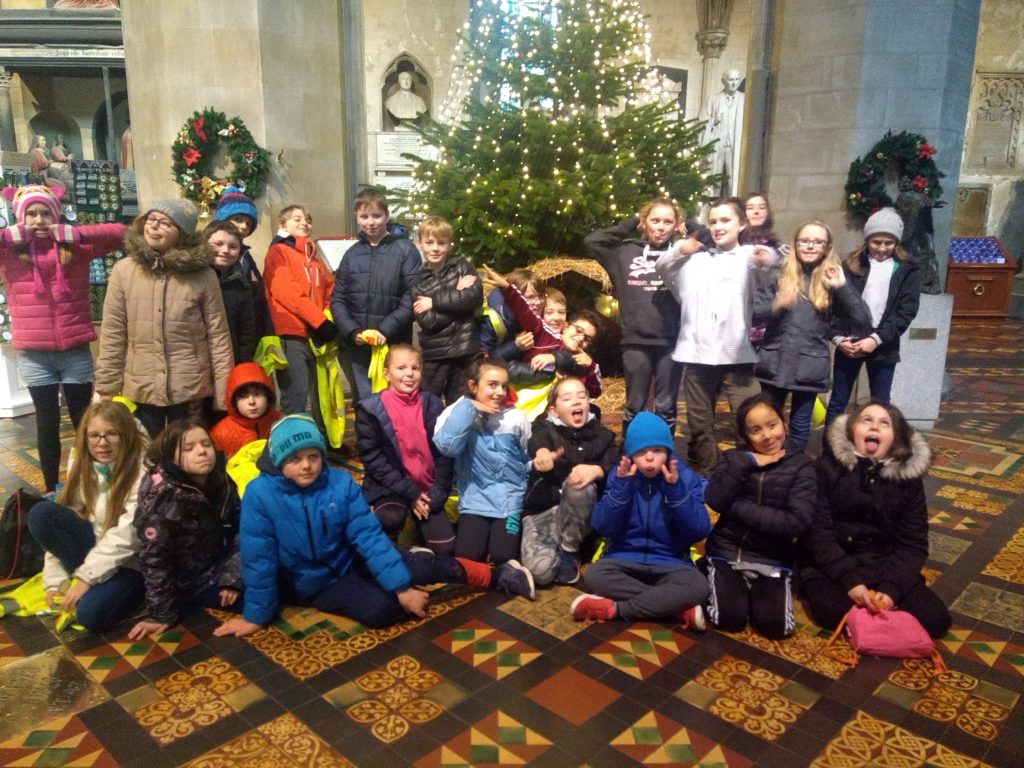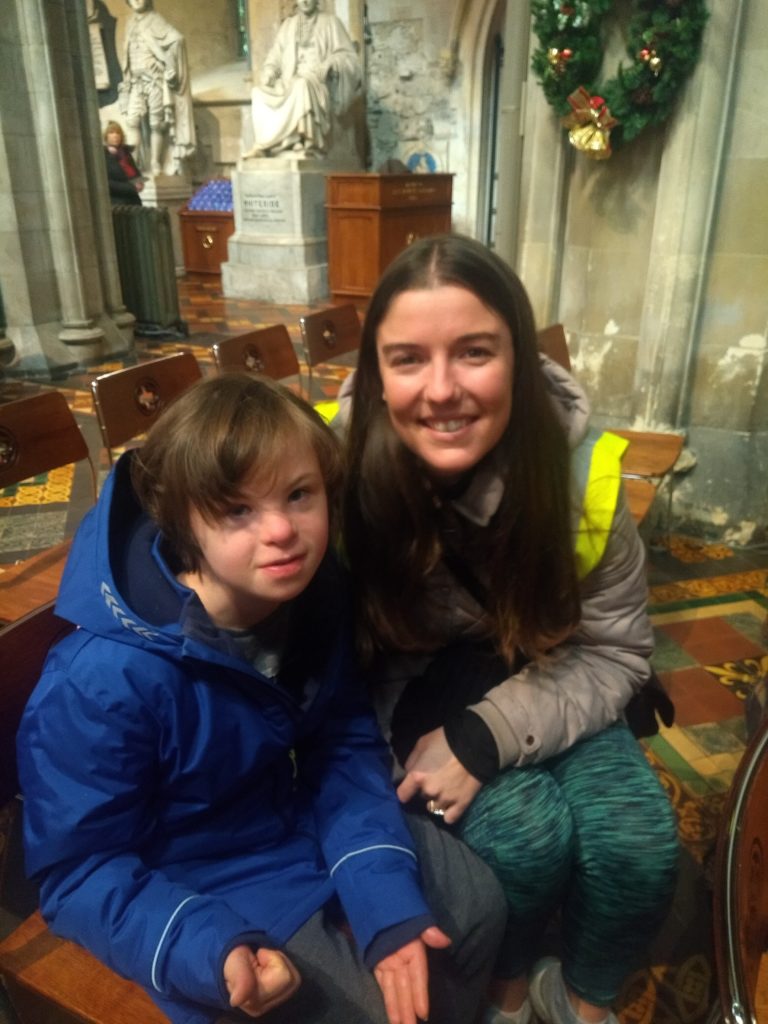 Homelessness by Evan Olivia and Muireann
We learned about the homelessness crisis in November and we (as a school) collected hampers for Focus Ireland. These hampers included: Shampoo, tinned beans, biscuits and general food, cleaning products, baby clothes, blankets, toothbrushes, toothpaste and more toiletries, toys and colouring books, hats, scarfs, coats and sleeping bags, and many more things. Each class made around five or six hampers thanks to everybody being so generous. We also sent letters to the housing minister, Eoghan Murphy. We all mentioned how incredible it was that there was approximately 9,500 people homeless in Ireland. We also asked him to provide more hampers, provide more housing estates for homeless people, ensure rents go down for people who are struggling with money and paying the bills for their house and provide for their children and family, and to also support Focus Ireland more because we all think they are brilliant!!!
Art by Chloe and Theodora
This term we've done lots of beautiful art and we are excited to share it with you all!
We have been lucky enough to have Miss Murray this term as she had lots of wonderful ideas such as sugar skulls for Halloween and funny monsters.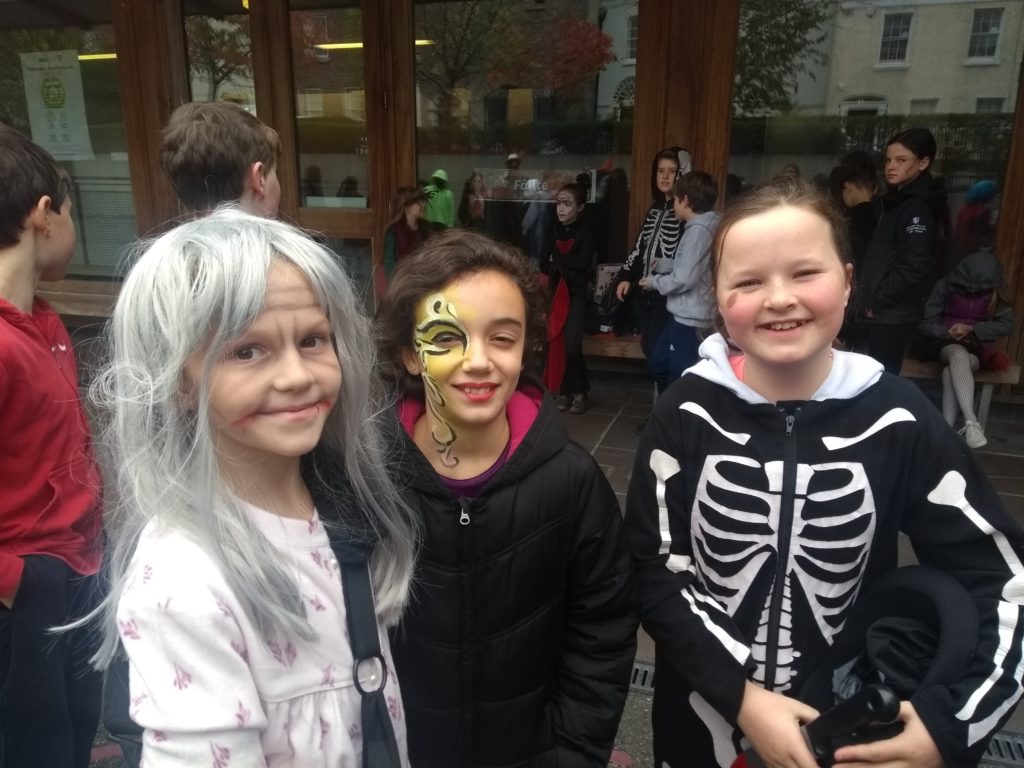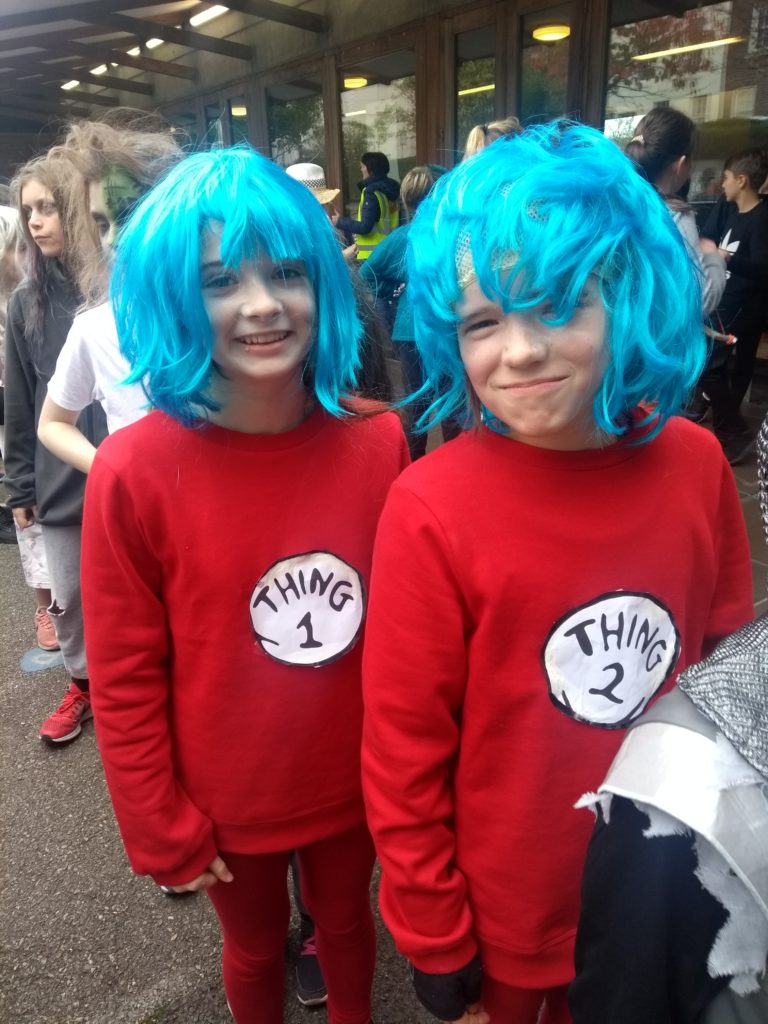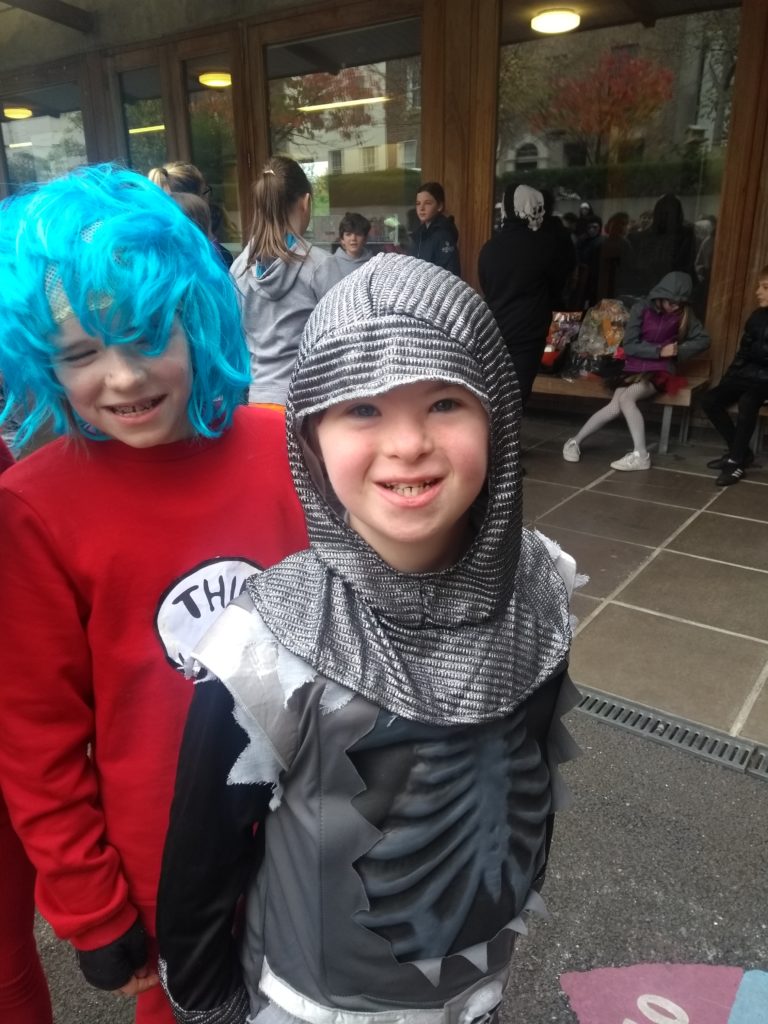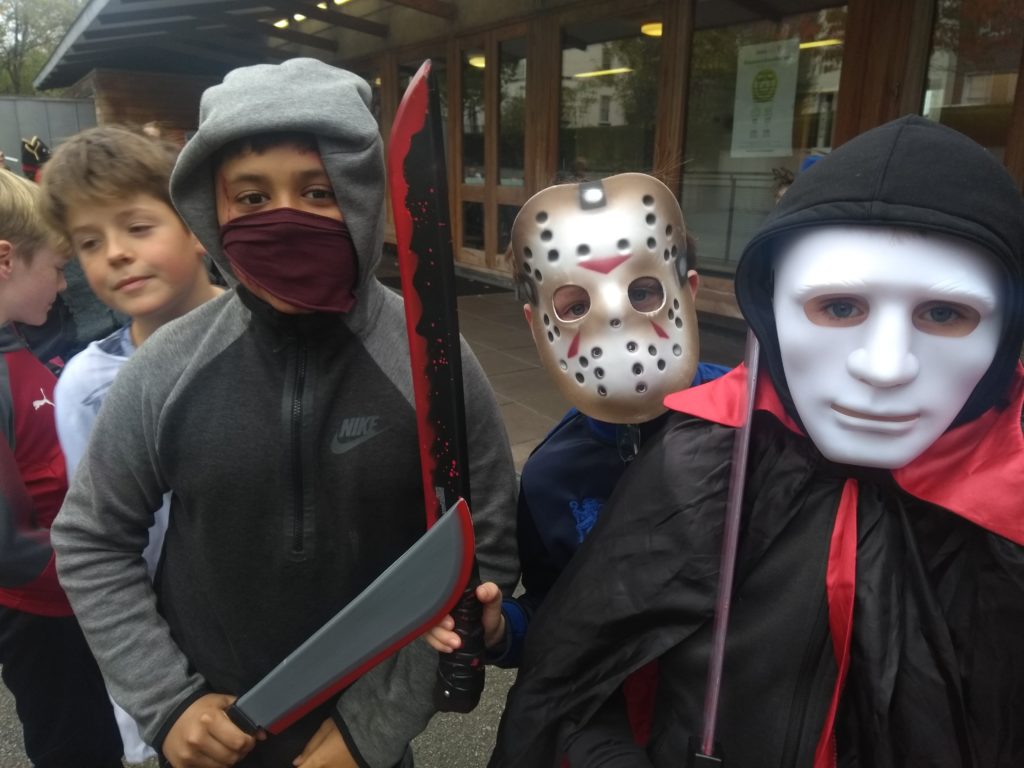 We have learnt all about Islam and done some beautiful art. We have painted colourful mosques. We painted some cool colourful backgrounds with lines and dots of different colours and then gently placed paper mosques onto our backgrounds.
We have done lots of painting but our favourite by far was watercolours. The swipes of the brush made lovely lines and you could get vibrant and faded colour. We also did beautiful Christmas pictures and lovely paintings of hills and valleys and beautiful waters.
We all loved the tile painting where Miss Shackleton kindly brought in some window paints and we spend the afternoon painting Christmassy pictures. It was a lot of fun!
Norman Projects By Louis, Brian and Ethan
This term we did projects on the Normans. We got into groups of two or three and we all had a lot of fun and learned lots. We looked up stuff like who they were, what they wore and what they ate. The three of us really enjoyed doing this project. It was fun. It's a good thing that we did the project because we learnt a lot. 
Mental Health Week
For Mental Health Week we were given a book called HEAD BOMZ which is about a boy called Malachy who is in a new school and is having trouble with it.
From this book we learnt that if you have a problem not to keep it in. Instead you need to talk to someone about it. Oisin McGann wrote this book to help kids deal with their worries and their "head bombz"!
Waltons Music Workshop by Patrick and George
This term we really enjoyed having Gavin and Niall help us write a song about the light in our hearts, which we are using in our Christmas Play. The song is called Shine On, and we recorded it. Gavin played the guitar and he added other music in the background too while Niall was helping us with the words and the rhythm. We think it turned out really well and had a lot of fun writing it.
Influential Women Projects by Lenna and Altan
This project was really good because it was great fun and there were loads of different women that people chose, so we learnt a lot about them. We had a week to do it and then everybody got a chance to present their projects for the class and we could ask questions about them. Some projects were based on women who fought for equal rights in the face of issues like sexism and racism. A lot of them were back in the 20th century but some of them are still alive today. We think these projects were great because they were fun and we also learnt a lot from them and each other.
Buddies by Maria, Luke and Daniel
First meeting: Earlier this term we met our buddies outside in the yard. They are in Senior Infants and they are so cute. After that we all got into our pairs. Half of us went into Senior Infants and the others went into Rang 5. We played with Lego and got to know our buddies. We all made different things and it was funny because one of the big boxes fell over but we all tidied up and had fun chatting!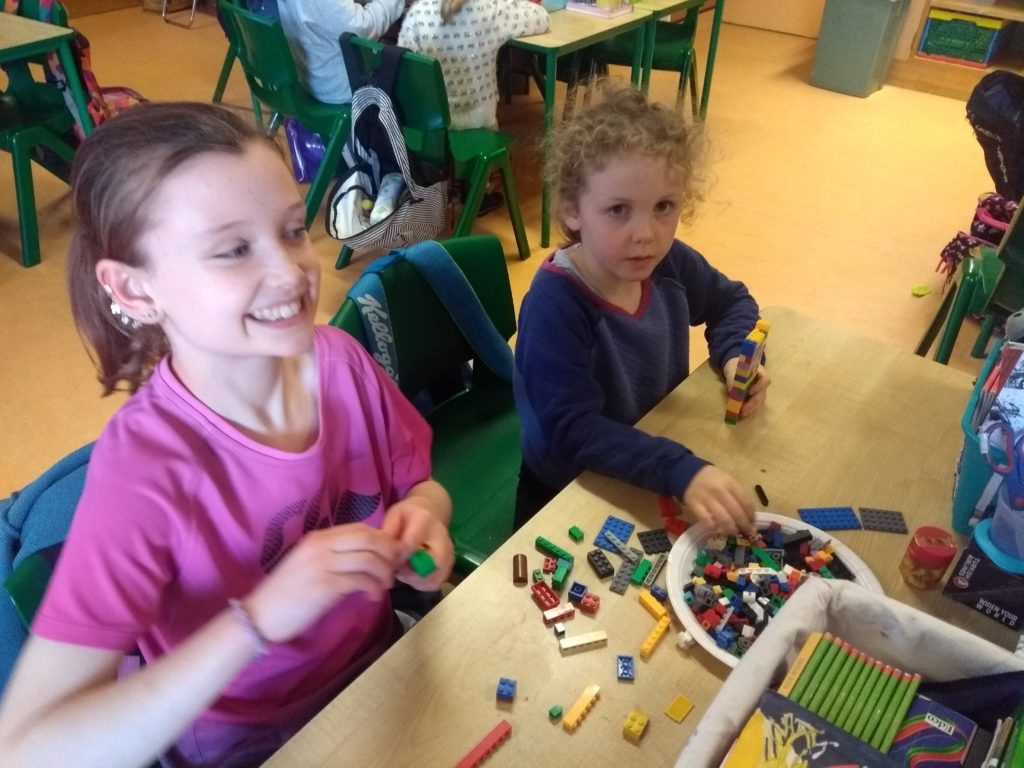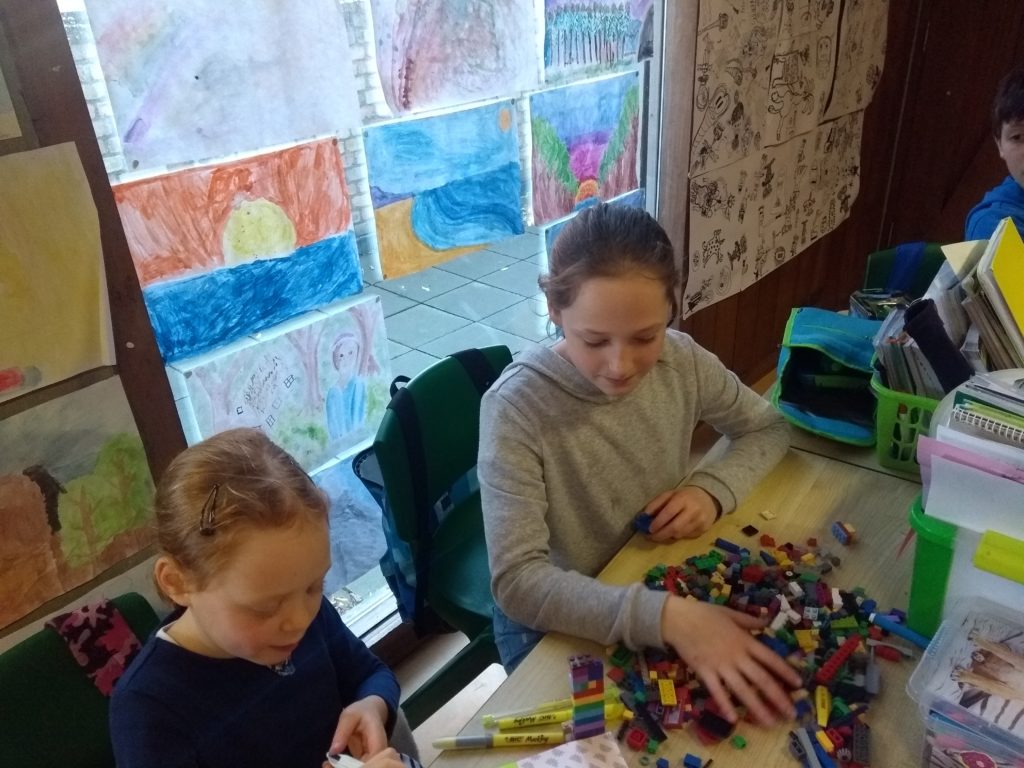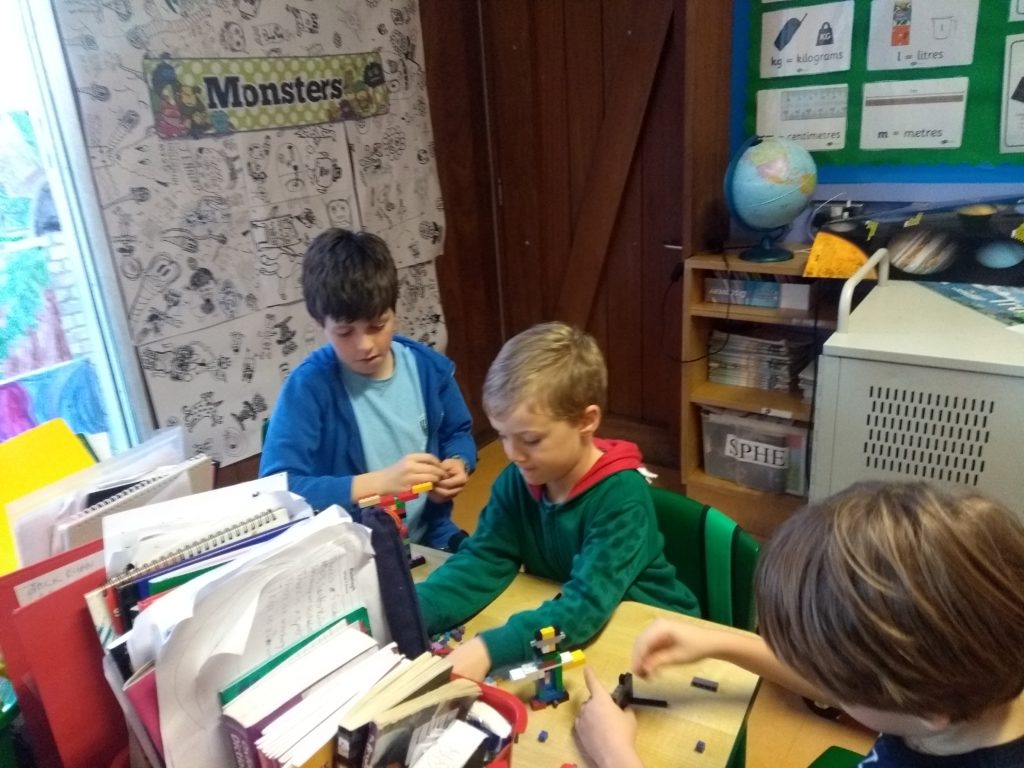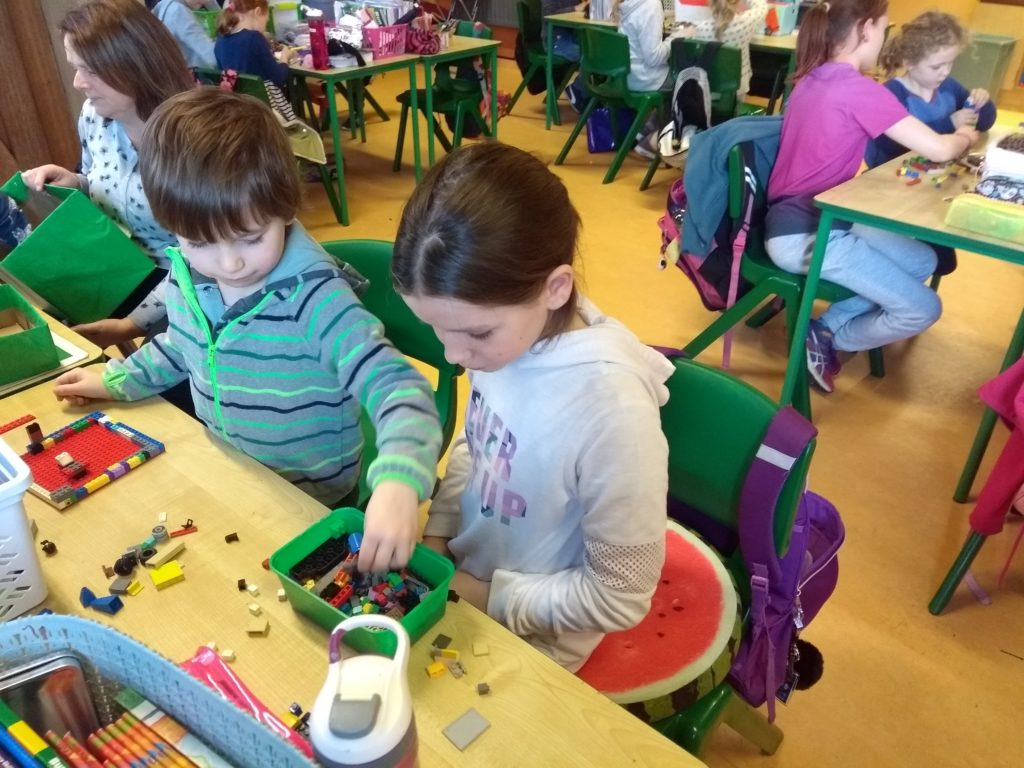 Second meeting: We met up with our buddies in the yard and this time we knew who our buddies were. Again we took the class was split into Rang 5 and Senior Infants. We had a little chat with our buddies before we started making Christmas wreaths. We help our buddies make the wreaths and we added lots of glitter to them!
After we were finished we did some drawing or played a board game down the back of the classroom. We then dropped our buddies back to their class. It was so much fun!
Debate Day by Louie and Christopher
On the 21st November we had our debate day. A debate day is where two or three members of the class debates against another two or three members of the class. We had lots of motions such as: Children should be paid to go to school, There should be school all year round and much more. We had lots of fun and we learnt lots of fun things about debating such as: What is a motion? What are the sides in debating? And also how to write a good debate speech. We hope that we will do lots of fun things like this throughout the school year.