As 2019 comes to an end, we look back on our busy first term in R4. We have had great fun and worked really hard. We are really looking forward to seeing what is in store for us in 2020. On our first day we met our new classmate, Lila. We discussed our plan for the year and shared our goals and aims. We made a 'Class Contract' for our class and agreed on certain rules and promises for our classroom.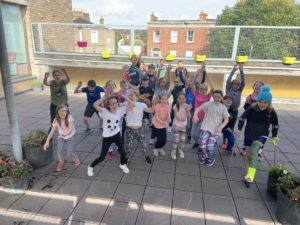 In maths this term, we participated in a Maths initiative called "Everyone Counts." This programme involved our class completing maths workshops with Jack, a Mathematician from UCD and Eoin, a Graphic Designer from NCAD.  Each week we worked together to come up with practical and real-life maths problems to solve.   At the start of December, we went out and questioned the public and people of Ranelagh. We used bright, colourful posters and stickers to attract the people passing by.  We posed problems about the Luas, the number of pets in Ranelagh and the amount of people in Ranelagh who wear glasses.  We are looking forward to analyse the data and showcase our work at the Science Blast in the RDS in 2020!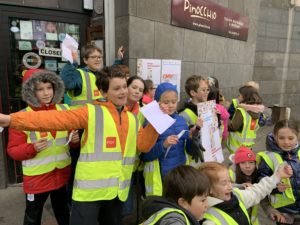 This term, we carried out project work on The Ancient Greeks. We learned lots of new information by using the school's new chromebooks for research. We visited the Classical museum in UCD. Dr. Joanna Day, an archaeologist and lecturer, showed us around the museum. We carried out artefact handling, we tried on a Spartan helmet and we learned about different Greek coins and pots. We used the number 11 bus to get there and it was really exciting!  We then created slideshows and presentations in pairs on Google Classroom based on our trip. In art we used construction to make Greek shields. We are now experts on The Ancient Greeks.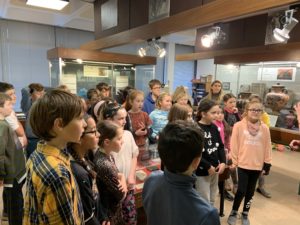 We had Ms.Halpin's retirement assembly before Midterm break. We changed the lyrics of 'Radio Ga-Ga' by Queen and sang for Ms.Halpin and the school. 
We had a Halloween party the day of our Midterm break. Everyone dressed up and we made fake scars using glue, tissue, paint and fake blood. They looked really spooky! 
Every Monday, Ms. Grennan and Mr. Fairbrother used team teaching to teach science.  Each week we experimented and investigated various science experiments. One week we created a soft landing for an egg.  We thought about making parachutes, but shock absorbers worked best. It was eggcellent. 
We have been working hard on our Peace Prom songs and dances this term. The concert will take place in the RDS on the 1st of February. We are really excited!! We went for a practice workshop with many other schools in the National Indoor Arena. The conductor was really fun and lively and showed us the actions to the songs! 
This year, everyone in R4 will achieve their Pen Licence. A number of children have started using pen already, hopefully many more will join them by the Christmas holidays!