As we are nearing the end of term one and 2019, Rang a Cúig have taken a look back at some of the many fun and interesting activities we have taken part in. At the start of the term we were reunited with an old classmate Beatrice, who has returned to RMDS this year.  We decided upon a class contract and all signed it along with our parents to show our commitment to making our class room the safest, most inclusive and most interesting place it could be.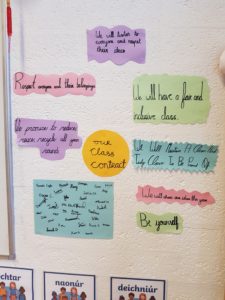 This term we have worked really hard and have had a lot of fun, We have picked certain activities we took part in and wrote brief summaries of our experiences in small groups. 
Green Schools and The Climate Change Strike
In September we took part in the International Climate Change Strike, inspired by Greta Thunberg. We discussed the topic in class and created posters to be used in the protest. We went to Linear Park and sang "Sing For The Climate". 
The green schools committee has done a lot of good work this term. They planted a new tree in Linear Park. They also organised a recyclable Christmas decoration competition which we all took part in, reminding us that we do not need to buy to decorate. 
By Sam and Alexander
Buddies 
5th class have all been given buddy from Senior Infants. We meet our buddies every now and again and have fun. Over the term we have gotten to know our buddies and sometimes we play fun games with each other. Even though our buddies are cute you have to look after them and respect them. We often bring them to assemblies to help them stay in their place and not get distracted or scared of all the other classes. We have done a great job this year and all enjoyed this term with the buddies. We can't wait for next term with our buddies. We wish our buddies a great winter break. 
By Zain, Senan and Conn
Trip to The Ark
This term we went to The Ark and we saw the show 'The Haircut'. It was based on the Irish myth 'The King with Donkey Ears'. We all really enjoyed it and we all want to say a big thank you to Anna G. Who got us the free tickets as this year she is sitting on The Arks Children's Council.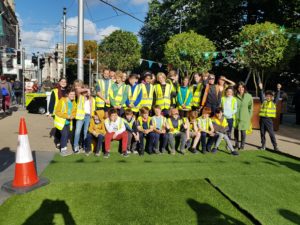 By Anna G, Anna BC and Zoe
Goodbye Ms.Halpin
This term we also said goodbye to Ms.Halpin, Ms. Halpin was our first ever teacher here in RMDS in Junior Infants. In our goodbye assembly for ms Halpin we sang "This little light of mine" as this is the song we completed for our Junior Infants play with Ms. Halpin. We will miss her very much. We also all wrote a poem for Ms.Halpin and created a book of poems for her to remember us by. 
Mussel dissection
During Science week, Anyone4science came into our class. She brought mussels that she had bought in a fishmongers. We dissected the musels and used sheets and keys to help us identify different body parts and their functions. We got to learn a lot about biology from these mussels which otherwise would have been eaten. We really enjoyed this experience and it showed us just how much of the world around us is related to Science.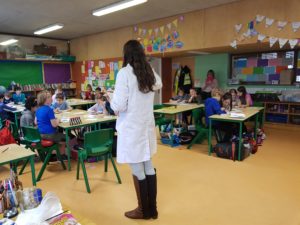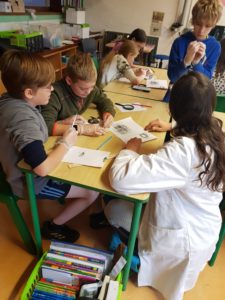 By Oscar M.W, Oscar C, Jarvis
Child Talk
For International Children's Day, Rang a Cúig and the Student Council from RMDS attended Child Talks, where a number of young people from around the country spoke about important issues including environmental issues, services for those with different needs, period poverty and inclusive and representative conference. The Minister for Children also spoke at the gathering. Child Talk was organised by the office of the Ombudsman for Children and we learned all about this office and its relevance to us in the run up to the event. We got to go to Dublin Castle for Child Talks and even saw ourselves on News2day.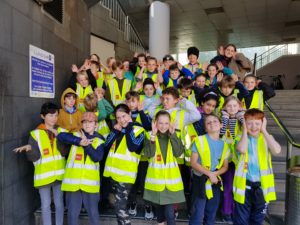 St. Michael's House 
(St. Michael's House provides a comprehensive range of services and supports to men, women, and children with intellectual disabilities and their families in 170 locations in the greater Dublin Area.)
This term half of the class went to St. Michaels House, the other half of the class will go next term. We had so much fun! The pupils of St.Michael's House performed an outstanding play for us. They included singing, dancing, playing music and acting.The play was the Lion King. They are also planning to come visit us in the next term so we are so excited to see them soon. 
By Yousra and Alannah 
Our Play for the Winter Festival
This term we  have been working hard on our Christmas Play, it is based on the Hindu festival of Holi and its origins.  We have worked hard writing the script together, learning our lines and dances! We hope everyone enjoys the show!
By Anabel, Laoise and Sarah K
Art 
This term we have created lots of Art.
We tried mindfulness colouring. Some people still complete this during our mindfulness time others knit, draw, free write and meditate. We often completed art relating to what we did in other subjects such as our Zoo and Climate strike posters. At times our Art has linked to the time of year we made leaf art for Autumn and Snowflakes for Winter. From time to time our Art is linked to festivals such as Halloween, Holi (for our play) and Christmas Art.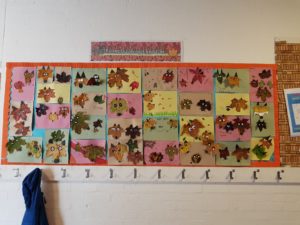 By Beatrice, Susannah and Sarah D
P.E
This year we have been very busy taking part in P.E through our daily movement breaks and our long P.E lesson once a week. 
Here are some of the activities we've done so far:
Dancing for Christmas play

Haca as Gaeilge 

Athletics

Stretching

Pac man and other yard games 

Tag rugby with Coach Ken 

Travelling

Ship,sea,shore as Gaeilge

Traffic lights

Go noodle dances 
By Harry,Max and Clodagh
As you can tell by this quick overview of Term one in Rang a Cúig, we have had a busy and enjoyable school year so far and are excited to continue this next term. Happy Holidays!