The first term of Rang a Sé has been filled with many interesting activities. For example, in art we used the paper cutting style of Henri Matisse,constructed paper lotus flowers since we had been learning about the Buddhist religion and used chalk pastels to create how a snowman might look at night .Our classroom has been decorated with these works of art throughout the term.
Our class novel was  'The Boy In The Striped Pyjamas'. It told the story of two young boys who lived during the second world war.  While reading it we covered lots of interesting topics such as the Holocaust and a lot about WW ll.  We even did a project on a chosen aspect of the war which we then presented to our class, mostly with a powerpoint display.
We went on lots of great trips including our trip to Microsoft where we learnt how to do coding. We visited  Leinster House which was organised by Louie's Mum. There we learned about the history of the Dáil and lots about the building too. We thoroughly enjoyed the snacks and drinks in the bar too!!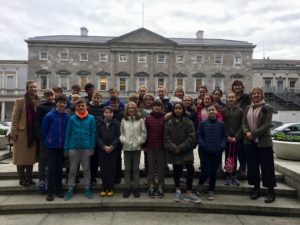 We loved spending time with our buddies and doing lots of fun things such as making board games for them, going to the library with them and even teaching them how to skip. We loved doing art with them, like their Christmas tree. We are very excited about going to see 'Frozen ll' with them as our Christmas treat and We hope to get to know them better as the year goes on!
In science we have been exploring electricity. We have been  making electromagnets and made toys using batteries and a switch to operate them.
We were sad to say goodbye to Ms. Halpin who has been with us since we were in Junior Infants.  She was working with us during Maths and a few other things this year.
We had the pleasure of having a teacher in training, Ms. Foy, who was with us for a whole month! She taught us about the importance of healthy eating and  about the Buddhist religion. 
The highlight of the term was definitely the Christmas Fair. We really enjoyed having to organise and manage our own stalls. There were loads of different things sold by us which included wrapping paper, candy floss and  gift tags. Some people ran game or challenge stalls using a basketball and football. The Christmas Fair was a fundraiser for the school and was a huge success. We are proud of our joint efforts since we made a lot of money.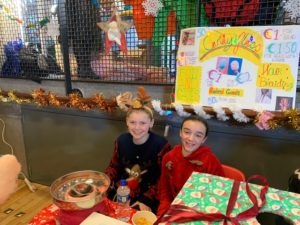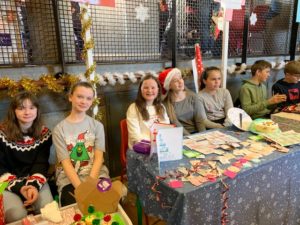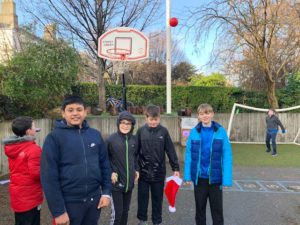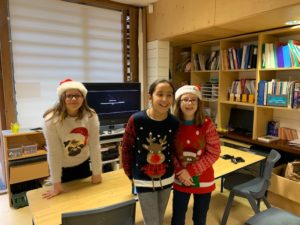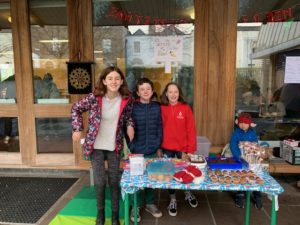 We have had such fun this term and are anticipating all the fun things we will be doing next term!
We are so excited for Christmas  and have been working hard making props and memorizing lines for our last Christmas concert.
We wish everyone in RMDS a Nollaig Shona!
By Chloe Egan, Fergus Linehan, Christopher Blake Campbell.