Rang a Cúig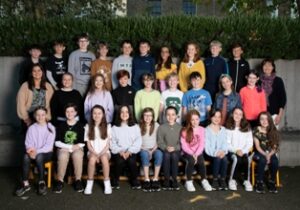 As we are nearing the end of the school year, Rang a Cúig are remembering some of the many fun and interesting activities we have taken part in. We were very lucky to get to go on an amazing School tour to Baltinglass Education and Training Centre. We got a lovely day for it as the sun was shining. We had a great time but we were all exhausted afterwards as it was a long day. On the tour we did kayaking, archery, orienteering, rock climbing and abseiling. We loved all of these activities. Everyone in our class reached the top of the climbing wall which was challenging and a great achievement. We really enjoyed our day and the instructors were fantastic, they were really funny and friendly.
Unfortunately, as you know we spent the first 3 months of 2021 learning from home. We would have rathered been in school together but it was more important that we kept everyone safe. Although learning from home was not ideal and had its challenges, it did have its upsides as well; spending more time at home with our families,  getting to play outside more, taking breaks at a time that suited us, planning our own time, waking up a bit later than usual, wearing our pyjamas and sitting whatever way was comfortable while we worked. We played loads of games on our class zoom calls such as toilet roll keepy uppy, scavenger hunt and what's missing. These calls were really nice as we got to see our friends and teachers. We planned our own time more and we think this will be great preparation for secondary school.
Our write-a-book was a bit different this year as we had a new prize system. This new system gave prizes for good aspects of story writing such as character development and setting.  6 people in our classes received a prize in a really nice outdoor assembly. It was great to see other classes and hear extracts from different books. We all enjoyed writing our books and were very happy with the finished products. Near the end of the year we wrote debates on whether or not zoos are ethical. We loved researching our debates and stating our arguments trying to convince the rest of the class that our viewpoint was correct (even if we didn't agree with it ourselves as we were given our side). This year we read two class novels which we really enjoyed: 'The Bread Winner' which was set in Taliban ruled Afghanistan and 'Under the Hawthorn Tree' set during the Great Famine. We also learned loads about the famine in History and created Famine art.
We did a lot of work this year on social education. Gender Equality Matter (GEM), Relationships and Sexuality Education (RSE) and Stay Safe were all programmes we covered in Rang a Cúig. We learned about LGBTQ+ history and rights, the rights of children, bullying,friends, feelings, gender equality and online safety. These are all very important topics and we are glad we got to learn about them.
Members of An Garda Síochana came in to us twice this year to speak to us about safety at Halloween (especially around bonfires and fireworks) and internet safety. Though we got to ask them loads more questions about what it is like to be a guard in our area. We always enjoyed their visits and had lots of fun. 12 people from our class were picked to go to the Dublin City Council's Fire Safety Campaign Launch with the Lord Mayor of Dublin, Hazel Chu. Two people in our class were also picked to take part in a video that was shown at the Lord Mayor's Awards ceremony related to children's experiences during the covid-19 pandemic. We were very lucky to be chosen for all of these visits and events.
This year we really enjoyed creating our Christmas play although it was a very different experience to other years. We pre recorded our play which was based on two new year's traditions in other countries. We also recorded a performance of 'Let It Snow' on the Boomwhackers. We made Art to keep the backgrounds colourful and exciting. Rang a Cúig hosted a Core Curriculum assembly based on the Hindu festival of Diwali for the whole school via zoom including a small play, songs and artwork. We helped out with the Rang a Sé Musical and you made have heard our lovely voices singing in the background. We have loved all our performances this year and we're very excited for our own musical next year!
Thank you for reading our end of year news. This is just a small snippet of what we have gotten up to this year and we have enjoyed every second of it! Have a great summer break!