This term has been a busy one in Rang a hAon!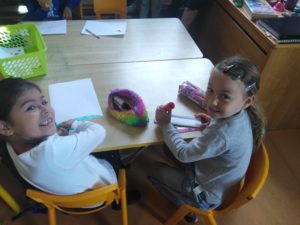 We have been going to either Linear Park or Mount Pleasant twice a week for the first time and we really love it! We've done a great job adjusting to the longer day, and have taken on lots of new responsibilities. 
Since September we explored artwork by lots of different artists, such as Claude Monet, Wassily Kandinsky, Vincent Van Gogh and... We love taking turns in the Artist's Chair to talk about our own masterpieces! 
At Halloween, our class was filled with ghosts, ghouls and lots of other spooky creatures!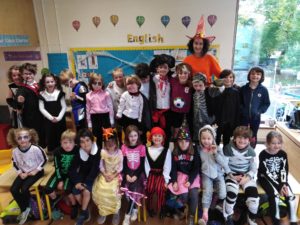 We love reading in Rang a hAon! We recently finished reading The BFG by Roald Dahl - it was so funny! We're going to vote on which novel to read next! 
Every Wednesday we play GAA with Simon. We have learned lots of skills, like kicking and handpassing. We can't wait to get started again in January! 
Literacy stations are an important part of the day in Rang 1. Ms Ormiston and Ms Curran come at different times to help us. 
During Science Week, we were visited by an expert in marine biology. We learned all about shark teeth and even made our own shark teeth fossils using tin foil and plaster!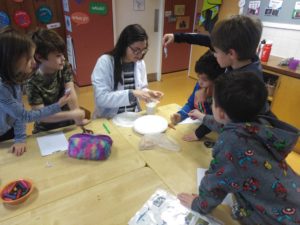 We really enjoy learning about different festivals and traditions from cultures and religions across the world. So far we have celebrated Rosh Hashanah, Yom Kippur, Navaratri, Diwali, Advent, Hanukkah and Christmas! We can't wait for more celebrations in 2020!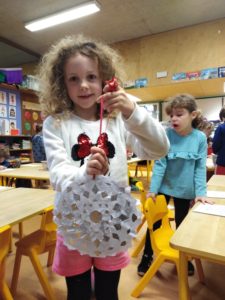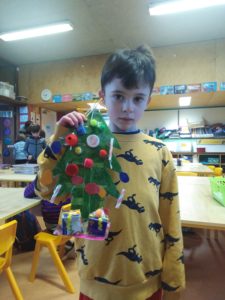 Rang 1 have been working hard preparing our Christmas play, all about the Chinese New Year. We wrote the script ourselves and can't wait to perform it for you all. 
Nollaig shona daoibh go léir from everyone in Rang a hAon!