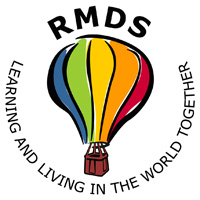 SCHOOL NEWS in Brief…..
14th June 2018
 From the Principal's desk:
A big thank you and acknowledgement to the parents of last year's Rang 6 (2016/17) …..yes a full year ago! who made an incredibly generous donation to the school which will be put towards fresh games markings on the yard for all the children to enjoy. This work was due to be carried out last summer, but unfortunately had to be postponed and will be done this summer instead.
Please check for lost property at the gate in the morning.
All items left at the weekend will be donated to charity.
 Rosemarie Stynes
From the PA:
 PA 2018 End of Year Parents Night Out
See you all in the Hill Pub from 8pm (or earlier!!) on 22nd June!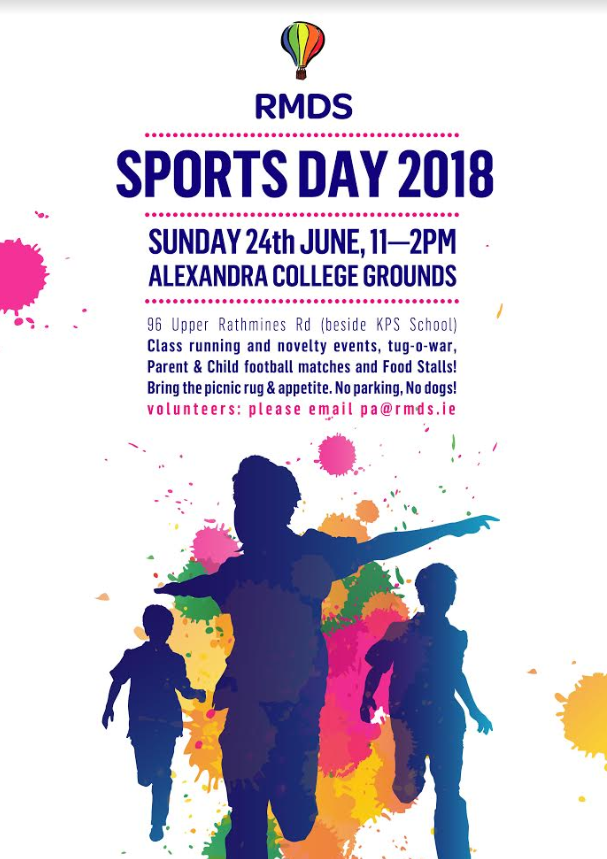 RMDS Sports Day 2018                       
We still need some volunteers - please email
RMDS Irish Classes for Parents - Update
There has been significant interest in an adult Irish Language Course for Parents.
Therefore we have put together a flyer to invite you to sign up for this online & Evening Class starting Sept 2018.
Sign Up Now - Start Whenever You Like!
If the PA can register at least 15 people as part of an RMDS group booking, we get discounted rates on Gaelchultúr's online courses.
To avail of the group rate, please pay via the RMDS website, using Easy Payments before June 22nd. 
*Note: This is NOT the date your subscription will start from - once the group is registered, you can choose your commencement date – and the subscription will start from that date.*
3 months subscription: €35.00 

€45.00

6 months subscription: €60.00 

€80.00

12 months subscription: €120.00 

€149.00
There are 3 different levels to choose from:
Gaeilge gan Stró! - Beginners Level
Gaeilge gan Stró! – Lower Intermediate Level
Gramadach gan Stró!  –  Level 3
The courses are very interactive and include audio and video. More details about the courses are here.
Classroom-based Lessons
The PA will also be organising classroom-based lessons at RMDS once a month, starting in September, to support and extend the online learning. More details on that to come.
Any questions please email pa@rmds.ie
Le Meas
An PA
Notices:
RMDS Soccer:
Congratulations to the Legends' Squad for securing 2nd place in the league and continuing our fantastic three year streak of silverware! We managed to overcome initial defeat on the first day of the season to rally, win four in a row and earn silver medals. In the end, level on points, only head to head record could separate St. Killians and ourselves. Players of the season go to our goal machine co-captain Cal and to Olivia who made consistent excellent contributions, not to mention scoring a couple of crucial goals to boot. Looking forward to next season and building on our success.
The Mini Mortons Cup
Well done to all the children from R1, R2 and R3 who took part in the Mini Mortons Cup last week. They represented themselves excellently!!! RMDS won the girls 2018 Mini Morton's Cup doing themselves and their school proud!
ACTIVITIES INCLUDE
SWIMMING                                                    OUTDOOR NATURE PLAY                                        BUS TOURS
LEGO                                                                  SPORTS                                                                         TRIP TO PARKS
DANCE/ MUSIC                                               POOL TABLE                                                              PLAYSTATION
RECORDING OWN DRAMA
WEEK 3
16TH – 20TH JULY
TAYTO PARK
WEEK 1
2ND - 6TH JULY
RATHBEGGAN LAKES
BOOK EARLY TO AVOID
DISAPPOINTMENT!
WEEK 2
9TH – 13TH       JULY
Fort Lucan
WEEK 4
23RD -27TH JULY
Glenroe Farm
Summer Camp Enrolment Form
3rd h July – 28th July 2018
Summer Camp is open to all school going children and their friends.
childcare@rmds.ie /085-1156506

Start: 2nd - 27th July

Camp Only: 8.30am – 2pm (sign below) (1 Child - €120 per week)
Time: Camp: 8.30 – 2pm
(Special Offer - 10% Discount with 2 siblings = €228 / 15% Discount with 3 siblings = €330)

CAMP ONLY
| | | | |
| --- | --- | --- | --- |
| Name | Week 1,2,3,4 | Age | Special Needs/ Allergies |
|   |   |   |   |
|   |   |   |   |
|   |   |   |   |
Camp and childcare: 8.30am – 5pm (sign below) (1 child - €170 per week)
(Special Offer - 10% Discount with 2 siblings - €323 / 15% Discount with 3 Siblings - €485)

CAMP & CHILDCARE FINISHES AT 5PM
| | | | |
| --- | --- | --- | --- |
| Name | Week 1,2,3,4 | Age | Special Needs/ Allergies |
|   |   |   |   |
|   |   |   |   |
RMDS School Age Childcare
Information from Caroline Percival on 085-1156506 or email childcare@rmds.ie.
Don't forget to keep an eye on the school website - www.rmds.ie!