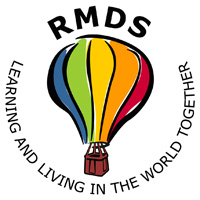 This week's Newsletter
16th October 2020
A week is a funny thing.  This day last week I received a call from an unknown number and I was delighted that it was the alarm company calling about the fire alarm and not the HSE.
For those of you who haven't heard; a polyester filled duvet which was tumble dry safe started to melt in the dryer. (why I still don't have an answer) For all of you who have ever left something plastic on the hob, you will know that horrible smell of melting plastic.  This set off the fire alarm and Diana and Julia, our cleaning staff, called the fire brigade.  Two engines arrived creating great drama and a traffic jam in the village.  They dragged the dryer out of the building and calm was restored.  There was no damage at all.  I spent yesterday working from the cleaning room as I tested the dryer which I am happy to report is perfect.  All the systems we have in place were perfect and thankfully no harm was done other than we now have a very sorry looking duvet.  In the absence of any other reason why it melted and as a precaution similar blankets will be dried on their own in the dryer.
While there was a drama, the systems we had in place, worked perfectly to protect us all and if the call had been from the HSE I believe the systems that we have in place will do the same thing.
However I am still holding on to the hope that we won't have to find out.  We are all doing a lot at the moment and now we have been asked to do a little more.  I know we are all suffering from Corona fatigue and on our sad days just want to ignore the guidelines and do what we normally would.  My mum was 80 during the week and I wanted nothing more than to be able to go home and give her a hug.  I'm still sad that I didn't.  Although it does remind me why we are doing all these things, to protect each other particularly the vulnerable among us.  Isn't that a very RMDS thing to do and as rang a dó mentioned in their last assembly, there is value in a virtual hug too.
The hum of busyness is still evident throughout the school and I'm delighted to have put a start to operating the school council.  Rang a Sé were very helpful in drawing up plans for how we could make it work safely.  We aim to have our first meeting next Monday and while we won't have the same balance of representation of classes, Rang a Sé felt that protecting the bubbles was more important and we have found a way to give the classes their voice.
We are also working on the Parent Teacher meetings which will be happening between the 9th and 20th of November.  We will be using 'Aladdin Connects' to organise the meeting times  You would have used this app to access last years' School Reports and some classes are using the app for homework also.  If you have deleted the app or need help accessing it, please contact the office and we will do our best to help.  New Junior Infant parents you will be receiving an email about what you have to do to get set up.  This app offers you the chance to rearrange meetings as necessary.  Ideally the meeting will be virtual using Google Meet but where that is not possible a meeting over the phone is also an option.  As in previous years, the meetings will be held over two days.  We will continue our policy of not reducing the teaching time available to the children to facilitate these meetings.  Thanks to the support of the Board of Management who supply substitute cover and to the SEN team who step in to the classes to release the class teacher.  To assist us please try to keep meetings to those two days.
Our efforts to protect the planting in Linear Park have seen us trial Ranelagh Gardens for yard time. (not ideal for two classes as the ground is already very wet at the Richard Crosbie end (not sure who he is - our balloon might give you a clue) and yesterday we tried out Dartmouth Square which the children loved.  Hide and Seek chasing was a real hit and it was lovely seeing the variety of different games the children were able to come up with in the extra space.  Although there aren't as many/any climbing opportunities for two of our Rang a Trí monkeys.
After the Halloween break we will not be using Linear Park as a yard space.. Instead we will use Mount Pleasant Tennis Club and depending on whether Mount Pleasant can give us more space or not we may also be using our yard space.  This means that we won't need the extra help from the parent body for yard duty but I want to say a particular thank you to all the parents who have helped us out so far.
Jackie thinks we do still need extra parents to help out at home time. Caroline and Jane are hanging up their Warden Jackets at Halloween also.  These will be washed and dried (at a very low temperature) ready for anyone who can help out, let me know if you can.  
Jackie is asking that at home time everyone models going up to her zone to cross (a twitter shout out tagging us seemed to imply that our application has been approved and we will be a designated school zone.  There will be extra painting giving Jackie her own yellow box to preside over and pencil bollards will be installed)  This will encourage everyone not to park on any space around the school.  
Our Ranelagh Road camera captured a very unfortunate incident. A cyclist crashed into the back of one of our parent's cars (we know who you are). They had pulled up for a five second drop off. A broken car light was luckily the only consequence.  In the cycle right programme which we do with Rang a Cúig,  I have gone cycling around our area with the class at the end of the programme and it made me realise how difficult it can be when people park in cycle lanes for those couple of seconds.  So I'm reminding everyone, that there is no parking available to the front of the school or at either side and that we ask you not to use parking at the rear of the school as residential traffic is enough to cope with.
Finally before we go for a trip around the classrooms.  Sorry to you all for the technical glitch that meant that you didn't receive your newsletter on Friday although it was available on the website.  We received one email wondering about it and I would like to say thank you for your compassion in allowing us to make a mistake without needing to tell us about it because there is no way that only one person reads this, is there?
Have a lovely weekend everyone and let's continue to do our bit to keep us all safe.
Paul
Rang a Sé
This week has been a busy but interesting week in 6th class.
On Friday we did dodgeball again in P.E. but this time we did 4 teams (red, black, cyan, and orange) the orange team against the black team and the cyan team against the red team. After those matches were played the cyan and orange teams were paired up against the black and red teams. That match ended in a tie.
We have been working hard on our Reel Life science projects and some people have even started their experiments. We also have permission to bring in our own devices to film and edit our videos. 
We went to the hall to talk about the new arrangements for the Student Council. We talked about extracurriculars and how we might be able to reintroduce them into our week. We also discussed the Student Council system and how it will work with the new Covid-19 restrictions.
We hope you enjoyed this week's newsletter.
By Conn and Sarah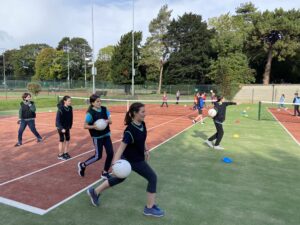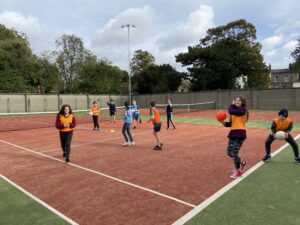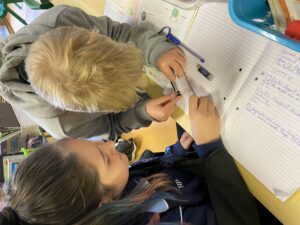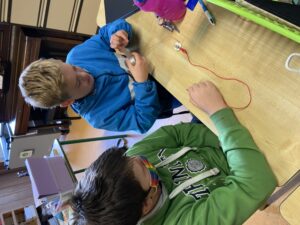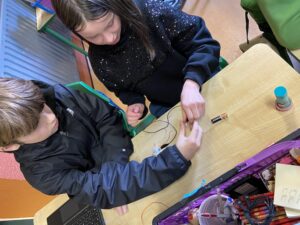 5th class newsletter.
This week we did many fun things like Art, Drama, P.E and Maths.
In Art we did Halloween silhouettes. We did the night sky with a full moon as the background and then in black we did haunted houses or castles. They look brilliant!
In drama we did mini scenes of Anne Frank and her family leaving her home. At the end we had to do a still image. We did a drama on Anne Frank because we are learning about her in English.
In P.E we did stretches, throwing, catching and rolling balls, as well as dribbling for soccer. It was very fun. At the end we played dodgeball with a jail. If you get hit by a ball you went behind the other team and tried to catch a ball from your team. If you caught a ball that was thrown by one of your teammates you were back in the game.
In Maths we started shapes and then long division. In shapes we did tessellation and tangrams. Tangrams are a group of shapes that can make an animal or shape. Long division was hard at first but we're getting the hang of it.
Last Thursday the Gardaí came to our class to talk about fire safety and the danger of fireworks. They showed the class pictures of a man's hand after a firework went off in his hand. They gave us reflective covers for our bags.
We also did G.E.M (Gender Equality Matters). In G.E.M. We learned about how some men get paid more than women even if the woman does the same amount of work that the man does. We also learned about human rights.
By Mylie Rose and Emma McGrath.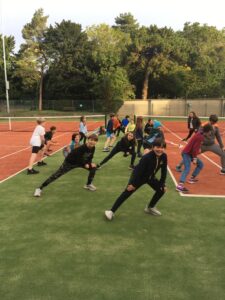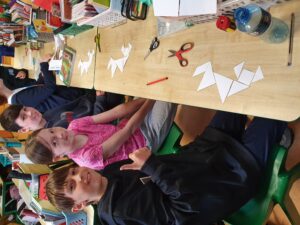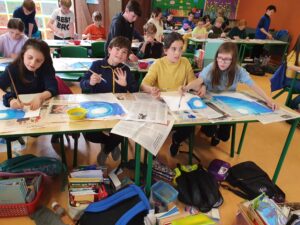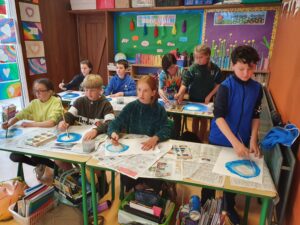 Rang a Ceathair
This week is Maths Week, we took part in an online workshop on discovering the patterns in times tables. In Irish we played 'people bingo'. We had to ask 'Conas a tháinig tú ar scoil inniu?'. Each person had a different answer. Once we found a person with each answer we could call Bingo. 
In PE we competed in our own Olympics,we did running and javelin.
In the second part of them we did poetry and singing. The names of the teams were Megara (pod five), Corinth (pod two), Athens (pod one), Sparta (pod four), Argos (pod three).
Megara won!
We did paintings of autumn based on the poem 'Gathering Leaves' by Robert Frost. We had lots of different colours.
By Michael and Jazmin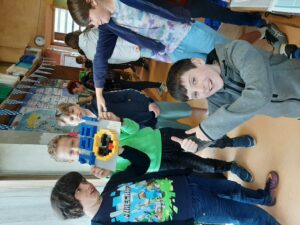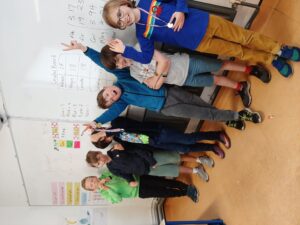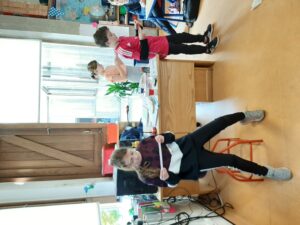 Rang a Trí
 Our Pod winners this week were - Monkeys. Well done. 
Secret Students last week were : Beau. 
During Forest School this week we played some games. One was Eagle Eye and the other was Go Find. 
We also enjoyed GAA this week. 
We are learning about subtraction in Maths. 
We painted some haunted houses scenes which you can see on our window in our classroom. 
We are enjoying skipping at break times.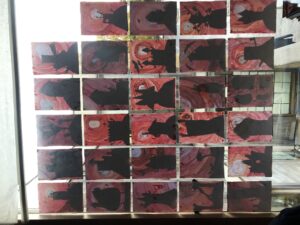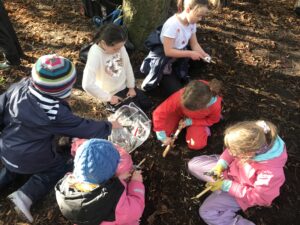 Rang a Dó
This week was very busy in Rang 2. We watched daily videos for Maths Week. These were hosted by Maths experts focusing on topics such as pattern, volume, Maths and magic. We also played games in class.
We made satellites last Friday to finish our Space week in style.
We ventured to Dartmouth Square for our park break on Thursday, and had such fun. Miss Coogan and Mr. Fairbrother were very proud of how we behaved and we will be making a habit of venturing out when the weather allows.
Our handwriting has improved so much. We have to practice this new skill and be mindful of how we are sitting and that we are relaxed so our writing will 'flow with ease'.
Halloween is just around the corner , so it is a great time to discuss Fire Safety. Sparky the dog is back to assist and has a lovely new website which you can visit at home. http://www.sparky.org/. We are making escape plans during our Core Curriculum time.
In Gaeilge we are learning a great new song 'An bhfaca tú mo Shéamisín?'. It is an old favourite and Rang 2 are singing it very well.
We also celebrated Beethoven's 250th Birthday with a listen to some of his most famous symphonies. 
Finally thanks so much to Sally, Arlo's mum for letting us have a copy of " The Great Irish Farm Book" which she illustrated. It had pride of place in our class library.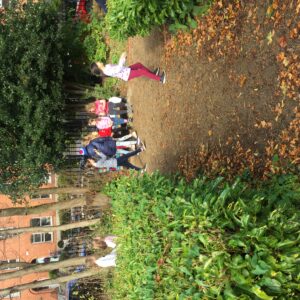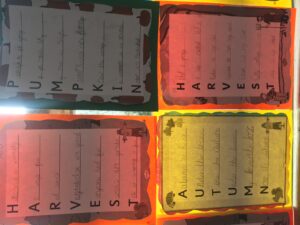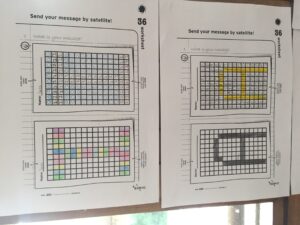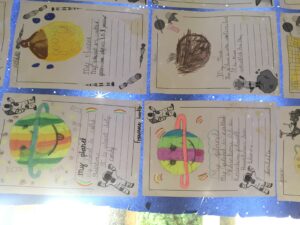 Rang a hAon
This week Rang a hAon have been celebrating Maths Week by doing lots of different activities and learning about the patterns we can find all around us. The children have also been learning about the Hindu festival Diwali and have been creating lovely artwork for the classroom which they are very excited to bring home. 
Alicia is our classroom correspondent. "We have been making special lanterns and Rangoli's to celebrate Diwali. We made our own pairs of patterned socks in Maths. We also wrote our own Little Red Riding Hood stories and last week we made rockets for Space Week".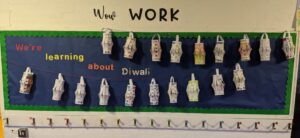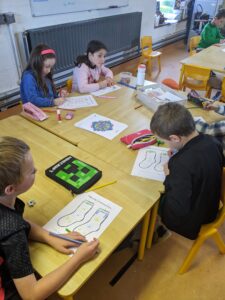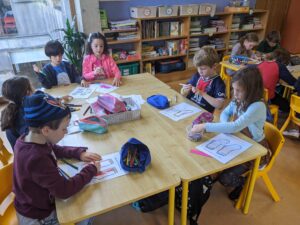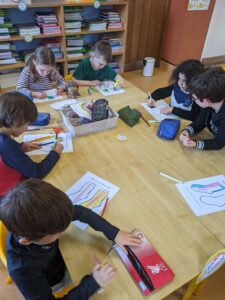 Senior Infants
We had lots of fun this week in Senior Infants. We loved making lots of Halloween Art and we did a great job making magic witches potions. Some children even got to sit on Ms. Shackleton's Stool and tell the whole class about their special magic potion. We even built a Duplo tower that was almost as tall as Ms. Shackleton and Christina! We are really excited about next week and getting to dress up in our costumes on Friday.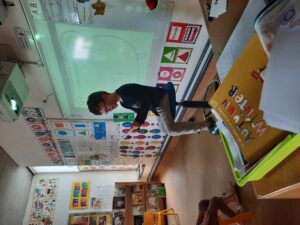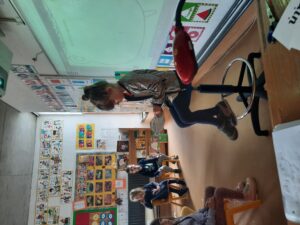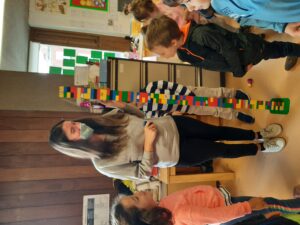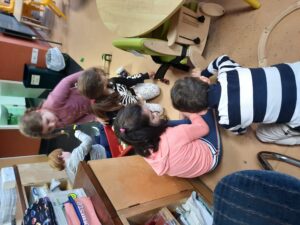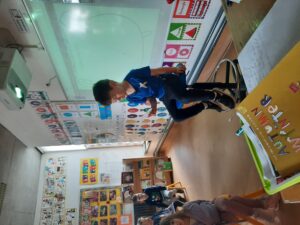 Nuacht ó Junior Infants
Halloween is Oíche Shamhna as Gaeilge.  We collected leaves and threw them up in the air in the park on Monday.  Our handwriting and colouring is getting better and better and we are working very hard on it.  We poured paint over pumpkins and it made amazing colours and patterns.  Did you know that squirrels use their tails as umbrellas when it is raining?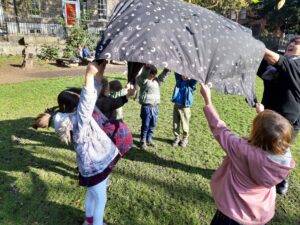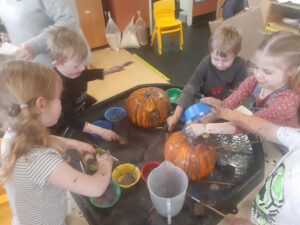 Parents' Association
The Halloween Raffle.
It's not Halloween without the Halloween Raffle!! As always, there's a spooktacular hamper up for grabs for each class (Big thanks to Catherine Crowe for making the hampers (Isabelle and Arthur's mum). The only thing that's different this year is that there's no queueing at the gate to buy raffle tickets! You can buy all the tickets you want from the comfort of your couch, all thanks to Daron Ward + Claire O'Doherty (parents of Ethan and Amelia)  who created rmdsevents.com for us! Take a look!!! 
Huge thanks to Daron and Claire for all the work they put into creating it. 
The raffle is raising funds for the sensory room - a multisensory space in the school for children who can become anxious or overwhelmed by the busy classroom. More details and some photos on...rmdsevents.com  and there will be video coming soon to show you around the room. 
The Readathon
Thanks to restrictions on activities due to COVID 19, lots of children (and their adults!) have been spending more time on screens than usual. So, time to get them off the devices and into books : ). And raise some funds for the school at the same time! Funds from the Readathon will also go the Sensory Room.  Sponsorship forms will be sent home with the children before the Halloween mid-term break, and each child (should they choose to take part) will set their own reading target for the next 3 weeks. The Read-a-thon should not be in any way competitive. They need only to set a realistic goal, worthy of sponsorship from parents, uncles, aunties, grannies & grandads. There is no fundraising target per child and participation is entirely voluntary. Please note: We don't want children going door-to-door at this time, given that we are all trying to limit our contacts.
The Read-a-thon will finish on November 13, when all funds raised will be collected. You'll be able to donate collected funds online at rmds.ie or bring funds collected into school in an envelope. . There will be a small treat to reward the children for their fantastic fundraising efforts!
Voluntary Code - Smartphones
Something that's come up on the PA regularly is discussion around children and smartphones! Obviously this is an individual choice for families, but some schools have introduced a "no smart phone voluntary code for parents"  - the idea being that parents agree, as a group, to delay giving smartphones to their children until after primary school. Seem to be a lot of interest in this idea so Lisa Murphy (Tom, Isabelle and Jessica's mum) has volunteered to gather some more information. We'll keep you posted. Do let us know if you'd be interested in this idea - or finding out more about it.
Thanks
Rachel + Oscar
Communication
The issue of communication was raised at the recent Parents' Association meeting this week and as this is such an important topic I thought that it deserved it's own section.  
We as a school are always striving to be as open and communicative as possible even in these unusual times but we understand that it is not as easy to talk to the teachers as it would have been and we as teachers miss that too.  
To mitigate this, the teachers sent an introduction video before school started so that children and parents could see their new teacher.  
The teachers rotate on the gate in the mornings so that again you get to see them in person at drop off time and while sometimes you can be lucky and get the magic moment when there isn't a queue and you can talk to the teacher, this time is not ideal for much chat.  
The teachers also bring their classes to the gate/green area at collection time and this can be a time for a chat at the end of pick up time but again not always ideal.  
A short introduction video and a brief document outlining the plan for the year was sent out as replacement for the class meeting.  
The teachers are all communicating via email as best as the individual teachers can.  Emails from the class are usually sent via aladdin which has secretary@rmds.ie as the sender.  If you reply to that, it will be forwarded to the teacher, who will respond via their rmds.ie email which is always the first name@rmds.ie with the exception of mariad (3rd and 4th class SEN teacher) and ained (4th class teacher.  
Teachers have already had phone and video conversations with parents where necessary. As mentioned in the first section parent teacher meetings are scheduled for the middle of November.
The children and teachers write a weekly update on the activity in their classroom and this is also added to the school news page.
I try to get to the different entrances on rotation although absences sometimes mean that I have to change my plans. At home time I am standing just at the Hill close to Jackie if you ever want to have a face to face chat.  I'm always happy to receive emails to paul@rmds.ie, principal@rmds.ie  or actingprincipal@rmds.ie.
We are looking at using the classes section of the school website more as there is a limit to how many pictures I can post in this newsletter and be able to send it via aladdin. 
If however you have any suggestions about how we could communicate more effectively, please let us know as it is the single greatest way to effect positive change - a strong home school link.  
We might not always be the best but we are always trying to be.
Childcare over the Halloween Break
Childcare will run during the Halloween break however there will not be a camp available to the whole school community as we would have had in previous years.
Class Photographs
Use the following link to view and if you wish, order class photos.  We have done our best to get everyone in but there are some missing faces as we all do our bit to protect each other by staying at home when necessary.  
There is even a photo without a teacher.
https://www.mosphotography.com/store/rmds-class-photos-2020
Parents can pay via PayPal and if they have any questions, they are welcome to contact Michelle directly michelle@mosphotography.com
Lost Property
Do you recognise any of these?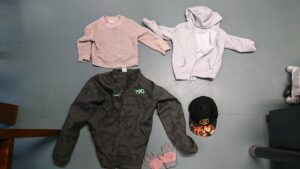 .