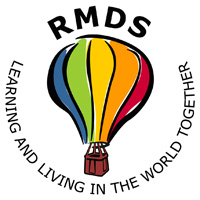 RMDS SCHOOL NEWS in Brief…..
19th  May 2016
From the Principal's desk
Chicken pox – still on the go in the junior classes.
As part of our Write a Book project this year, we will be having a book fair next week, organised by Scholastic Books. Each morning between 8.30am and 8.50am in the hall, parents and children can browse and purchase if you wish. Leaflets in the bags today.
Lost property – please check in the morning.
From the PA: RED CARPET NIGHT 
Lights! Camera! Action! Friday brings the much anticipated Red Carpet Night!  RMDS parents, friends and staff are the lucky ticket holders who will enter a world of fantasy, celebrity and glamour! RMDS boasts a stellar cast of Digital, TV and Film professionals (and parents!) and they are willing to spill the beans! Hear what really happens behind the scenes at The Oscars, The IFTAs and what it is really like working with David McSavage! Discover the inside track on producing, directing, writing and designing movies and TV shows? Will there be another Love/Hate? What do you need to win The Great Irish Bake Off? Is this the Golden Age of Irish cinema? Discover this and more Friday May 20th 19h30.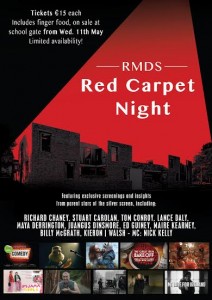 Box Office will re open at the door on the night to sell remaining tickets before kickoff.  Casual dress and well stocked bar and canapés served!
From the Board of Management
Extra curricular activities: To help us plan next year's programme, we're asking parents to complete a short survey about Extra Curricular Activities. Maybe have a chat with your children about the activities they've done this year and complete it together? It should only take a couple of minutes: https://www.surveymonkey.com/r/WBJPMT9
Update on the Campaign for an Educate Together Second Level school in the local area
We are fast approaching the deadline of 8th June for school patrons to apply for the patronage of the new Second Level school due to open in Dublin South City are in 2018. So this is your final chance to make this an Educate Together second level school, sign up online at https://form.jotformeu.com/53214641304343.
Information Evening on an Educate Together Second Level School 
for Dublin South City
Date: Tuesday 31st May at 8.00pm
Venue: Wesley Hall, Lesson Park, Dublin 6
 We are holding an information meeting to discuss the opening of the new school, the Department of Education process to award patronage and to share with interested parents what a Second level Educate Together School looks like.
Speakers will include a principal and parent of an Educate Together Second Level school as well as Educate Together. This will be a great opportunity to understand more about the Educate Together Second Level approach and hear direct experiences from parents and a principal.  Look forward to seeing you there!
From the Student Council:
Well done to everyone who has raised funds for the park so far – read the Student Council notices on the window for fundraising ideas and for what we have raised so far. Thanks to Cory, Ethan and Annie's mum for the note below:
LINEAR PARK FUND RAISING OPPORTUNITY FOR RMDS CHILDREN
The very generous organisers of Whippersnapperings (The Family Festival organised by Happenings) have invited RMDS students to fundraise at their Saturday Family Day on 21st May  in Wesley Hall from 13h30 - 17h00.  Huge numbers are expected to attend the festival which has lots of fun family activities, and a screening of Finding Nemo.  As there is no food offering on site, RMDS students are invited to run mini stalls on site offering baked goods, juices, etc. If you think your children might be interested in participating, please email avrilwhelan@hotmail.com.  More information on www.happenings.ie
RANELAGH MULTIDENOMINATIONAL SCHOOL ASSOCIATION
NOTICE OF ANNUAL GENERAL MEETING
To be held on Tuesday 14th June, 2016 at 8.00 p.m. in Seomra Spraoi, RMDS
AGENDA
Approval of Minutes of 2015 AGM
Chairperson's Address
Update on Governance Review Process
Report from Treasurer
Adoption of Accounts
Address from BOM
Election of Executive Committee Members - nominations will be accepted both in advance and on the night
Kevin Hewston, Chairperson