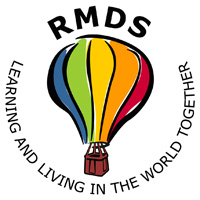 SCHOOL NEWS in Brief…..
21st  April 2016
 From the Principal's office
Thanks to all those parents and children who helped us to brighten up the area around the school with our annual spring clean yesterday. Why not organize a cleanup on your road to brighten up the local environment?
All are welcome to join us on Earth Day (tomorrow) at midday in the linear park for a short outdoor yoga session with Louise (Alana Lily and Joshua's mum). Rang 3 and the infant classes will be planting trees beforehand to mark the occasion. Special thanks to Leo's dad, Tom (JI), for providing the trees.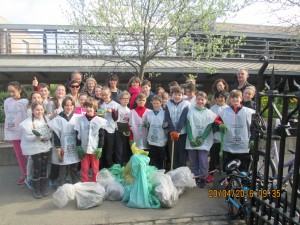 Congratulations to Mali, the winning team in the soccer mini world cup. The final took place on Wednesday and was hotly contested by Columbia. Well done to all who took part! We look forward now to the hockey event, which will start shortly.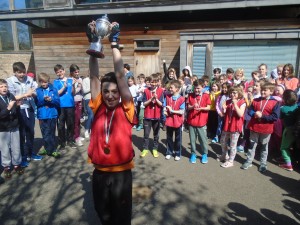 Remember to keep an eye on the calendar on the school website (www.rmds.ie) for forthcoming events and dates.
 Joan  Whelan
Board of Management
The Board of Management is pleased to let you know that the recruitment process for the new principal is underway. We hope to be in a position to announce the new principal before we break for the summer.
Many thanks to all of you who have made a Voluntary Contribution to RMDS this school year. Following our recent reminder, we are delighted to let you know that we are well on the way to reaching this year's target of €40,000 by the Summer. As you know, RMDS receives a substantial tax rebate on individual contributions of €250 or more in a calendar year. The CHY3 form is quick and simple to complete.  If you made a contribution in the last five years without a CHY3, please complete one because we can still benefit from your previous generosity.
Some of the recent initiatives funded are the much-anticipated renovation of Linear Park and a continuing programme of maintenance and repairs to the school buildings. Together with the Patron, we have been working on a five year plan for major planned renovations and your funding will help us to realise this over the coming years. Voluntary Contributions also fund additional curricular items, such as swimming for Rang 2, additional staffing  and Forest Schools. We are also committed to the further development of music over our term of office.  If you have any queries about voluntary contributions, please talk to Mary in the office or if that doesn't suit, please contact David Harney at: davidm.harney@gmail.com or 087 6474235.
Will Connor
From the RMDS PA
1916
With the year that is in it, the RMDS Parents Association are delighted to fund a 1916 guided bus tour for rang 5 and rang 6. The teachers and children were thrilled at the offer and the coach is booked to take them off on a great exploration of the major sites of the 1916 Rising on Wednesday 27th April.  Wishing all a great morning, and looking forward to the feedback!
Parents Night - The RMDS Red Carpet Event
We at RMDS are extremely fortunate to have such a wealth of talent in the TV/Film industry among the parent body.  Taking full advantage of this - and very graciously accepting the time, effort and exceptional talent of the many contributors involved - the Parents Association are delighted to announce that the 2016 Parents Night on Friday 12th May here in RMDS will take the form of a RED Carpet Event!
This will be an informal, yet massively interesting night - packed full of entertainment and fun!  Our TV and Movie professionals will introduce film clips which support various disciplines within their industry.  There will be food and beverages available throughout, and plenty of time for Q&A session & general mingling after the presentations.  For more detail, keep an eye out for posters.  Tickets will go on sale at the gate early May.
Sports Day
12th June, Sandford Park School from 11am to 2pm. Thank you to all the volunteers who have made contact to assign themselves to jobs on the day - still room for more!  If you can help out for a short while on the day, please email avrilwhelan@hotmail.com.  Comments and suggestions also welcome.
Avril Whelan
Green School Committee Report
In five years time it will be the 50th anniversary of the first Earth Day. As part of the countdown the organisers of Earth Day are calling on us to help achieve one of the most ambitious goals yet - that of planting 7.8 billion trees.
We here at RMDS will rise to the challenge on Friday when Junior and Senior Infants and Rang 3 will plant a special tree in the school grounds and more trees in Linear Park.
We hope that these initiatives will go towards making a significant and measurable impact on the Earth and will serve as the foundation of a cleaner, healthier and more sustainable planet for all in the future.
Why Trees?
   Trees help combat climate change. They absorb excess and harmful CO2 from our atmosphere.In fact, in a single year, an acre of mature trees absorbs the same amount of CO2          produced by driving the average car 26,000 miles.
   Trees help us breathe clean air. Trees absorb odors and pollutant gases (nitrogen oxides, ammonia, sulfur dioxide and ozone) and filter particulates out of the air by trapping them    on their leaves and bark.
    Trees help communities. Trees help communities achieve long-term economic and environmental sustainability and provide food, energy and income.
Why not plant your own tree yourself at home to add to this great initiative! Collect seeds and place them in soil and watch your tree grow!