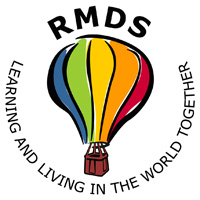 SCHOOL NEWS in Brief…..
23rd March 2017
From the Principal's desk:
It is with great sadness this week that I have to tell you of the passing of Charlie Stone. Charlie was a man well known to the children and staff here alike as we went back and forth to Mount Pleasant LTC daily. He always had a smile, a joke or a word of kindness to the children as they passed. His good humour and caring nature will not be forgotten.
We pass on our sincere condolences to his family and friends and to all in Mount Pleasant LTC. May he rest in peace.
Also, I would like to let you know that Padraic Mulholland, our Deputy Principal, has spoken with the Board of Management to let them know of his intention to retire in the summer. We will be very sad to see Padraic leave. He has worked with endless dedication and enthusiasm throughout the years here in RMDS – and has been a huge support to me in my first year here in the school. However, Padraic is not a man to keep still and has some very exciting plans in store as he starts a new chapter. We wish him the very best in his retirement.
Please check for lost property at the gate in the morning. All items left at the weekend will be donated to charity.
Rosemarie Stynes
From the PA:
WE ARE HIRING!!!! Great opportunities within the PA - Please see attached posters (beautifully designed by Brian Nolan of Detail) as well as the colorful posters around the school! Please don't be shy - send your interest/queries/CV's (!!!!) to pa@rmds.ie.
3rd April - Lots going on! The PA have arranged for the DSPCA (along with their Giant African Snails!!!) to come into the school to give a talk to the children about responsible pet care.

Apologies in advance if these make it onto the Santa lists!!!!
The Easter Raffle tickets will also go on sale on the school gates on 3rd April. Tickets for the super chocolate hamper prizes will be €5 and will be available all week. If any parents would like to volunteer to sell tickets on the gate - please email pa@rmds.ie.
Reminder:
As part of Seachtain na Gaeilge there will be two free 'Pilates as Gaeilge' classes in the Seomra Spraoi tonight – at 7.30 and 8.15pm. There are still a few places left – please contact Caroline Chambers on 087 2817946 to reserve a place.
Notices:
Extra-Curricular Activities - Gymnastics
We're sorry to announce that our ECA gymnastics teacher Olivia is leaving at the end of this term in order to do volunteer work in Africa - next week will be her last classes at RMDS. We are looking for a new teacher, and will keep everyone informed if we find someone in time for next term. We are very sad to see Olivia go, and wish her all the very best for her new adventure!
RMDS School Age Childcare – Easter Camp
Monday 10th – Thursday 13th April (4 day)
Enrolment is on first come first serve basis
Places are limited.
1 Child €85
2 Siblings €150
3 Siblings €225
Please fill in your child's details below.
Payment can be made on Easypay on the RMDS website under childcare.
All enquiries can be directed to Caroline Carroll Percival (Childcare Manager), 085-1156506
EASTER CAMP ENROLMENT FORM
CHILD'S NAME:
CLASS:
AGE:
ALLERGIES:
PARENTS CONTACT DETAILS:
PARENTS EMAIL :
RMDS School Age Childcare
Information from Caroline Percival on 085-1156506 or email childcare@rmds.ie.
Don't forget to keep an eye on the school website - www.rmds.ie!