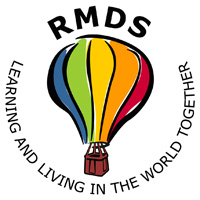 SCHOOL NEWS in Brief…..
24th May 2018
From the Principal's desk:
Congratulations to our Green Schools Committee, and their representatives who attended the awards ceremony for our 4th Green Flag for Travel in the Helix. Also don't forget to check out the link to our clip on News2day marking Walk to School week last week….. https://www.rte.ie/player/ie/show/news2day-30001385/10881080/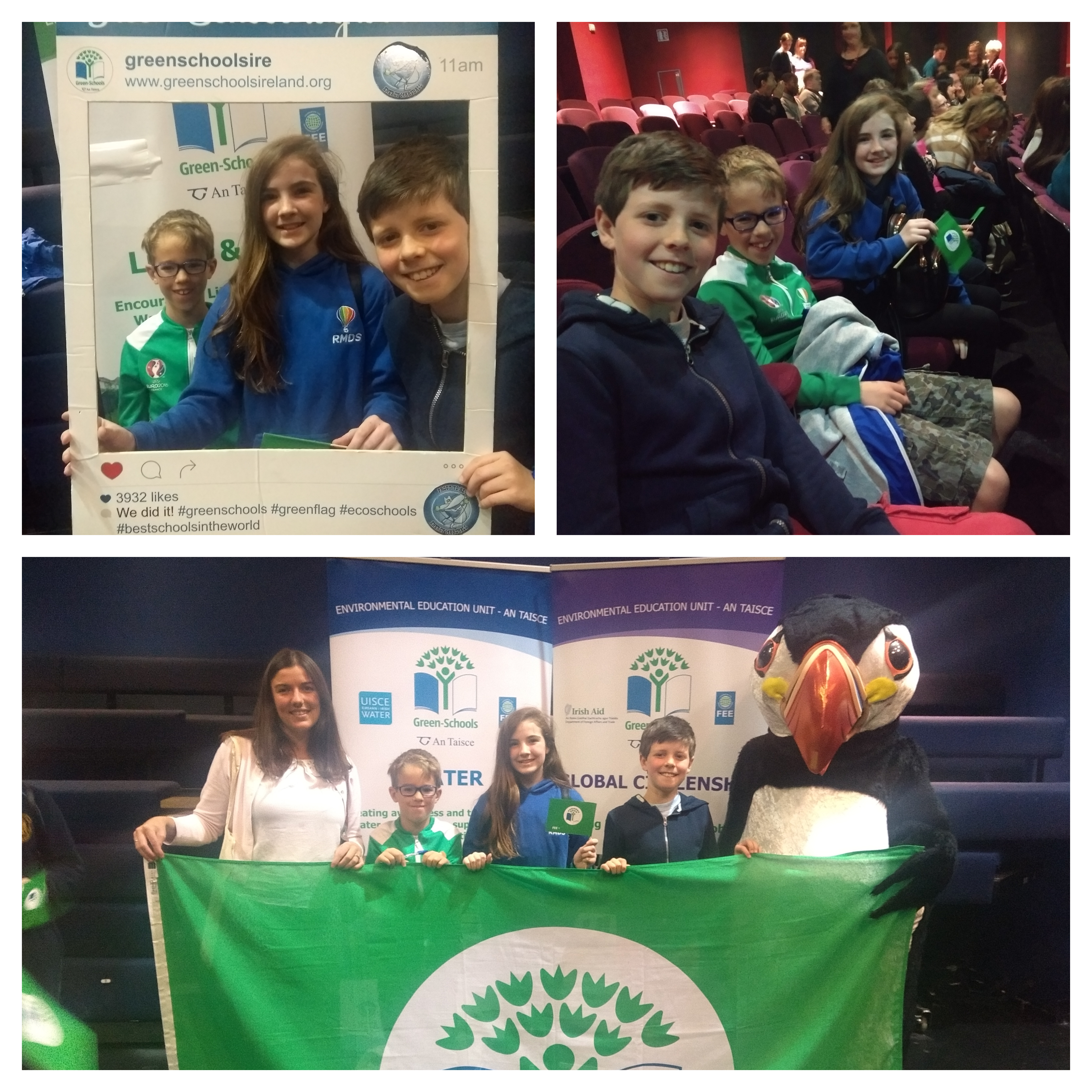 Huge congratulations to all the children who took part in Santry yesterday representing RMDS. They were a credit to themselves, the school and their families! The U11 relay team took an impressive third place, while Theodora and Muireann (R4) won 1st Place in the Santry Art competition for their lego replica of Santry Stadium. The sense of comradery and teamwork with all the children was to be admired. Thank you to Mr. Fairbrother who was their coach throughout, and to Mr. Perera and Ms. Desmond for guiding them on the day.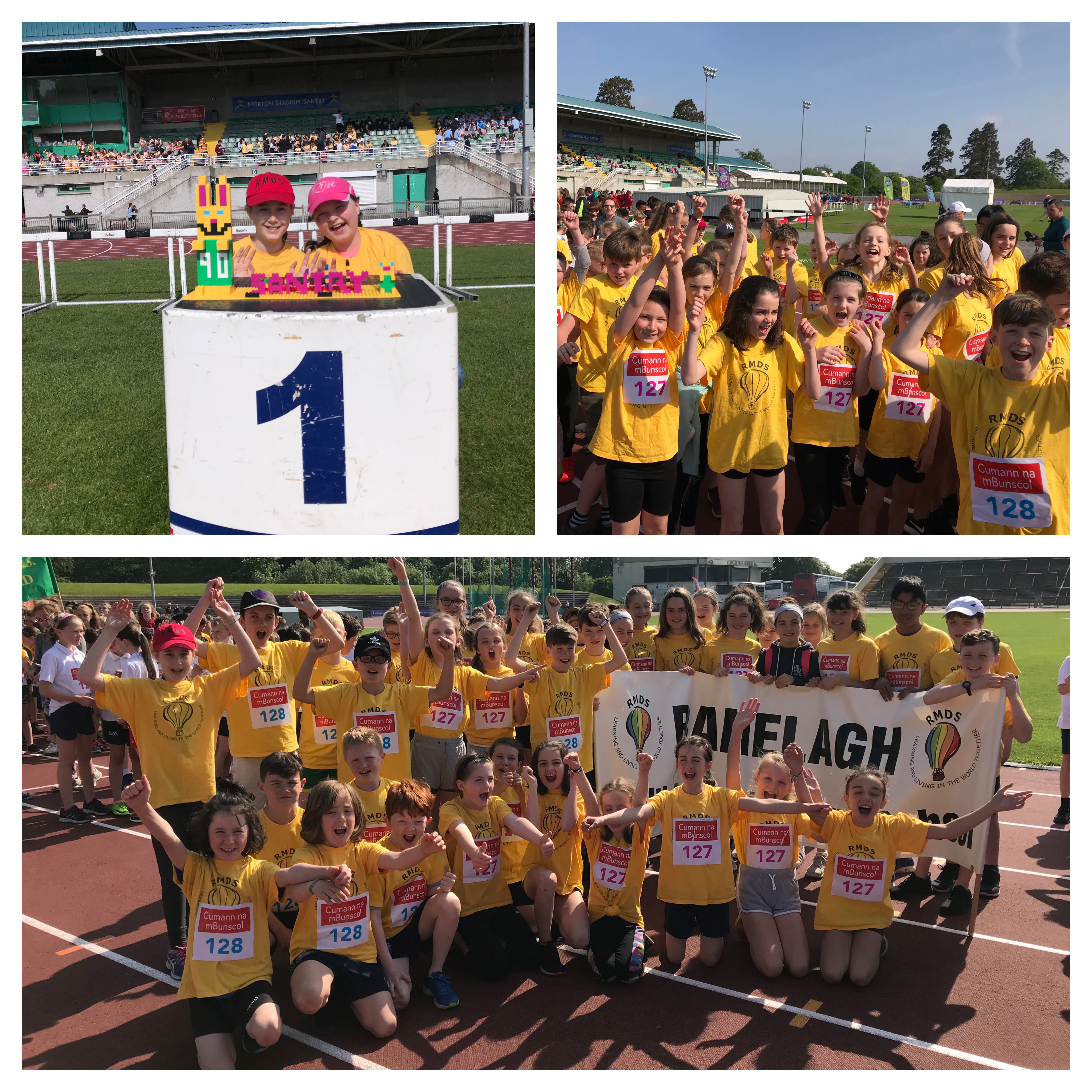 The school will be closed tomorrow Friday, 25th May as the school will be used as a polling station for the upcoming Referendum.
The school will be closed next Friday, 1st June and Monday, 4th June for the June bank holiday weekend.
And a reminder for this last term regarding punctuality…..
Everyone is expected to be on time for school - that means being at the gate by 8.30am. Children who arrive in class after 8.40am will be marked late.  

Please check for lost property at the gate in the morning. All items left at the weekend will be donated to charity.
 Rosemarie Stynes
From the Patron:
One of the areas of responsibility of the RMDS Executive or Patron is to preserve the school's Ethos.  The Ethos of RMDS is defined in the statement "Every person is entitled to equal respect regardless of age, gender, nationality, religious beliefs, social and cultural background or economic status".  It is expressed, within the school, by how we interact and is guided by the four core principles which RMDS shares with other Educate Together schools; equality based, child centred, co-educational and democratically run.
It is a number of years since an Ethos Review was last carried out in RMDS. The Executive has decided that it is time to review the extent to which the ethos is 'lived' within the school.  It is intended to conduct this review over the 2018/19 academic year. This will be facilitated by an external expert in the area. The views of all members of the school community will be considered as part of this process.
The first step is the establishment of an Ethos Review Committee from within the school community.  It is hoped to have this in place prior to the breakup for the summer holidays.  Ideally the Committee would include parents from a number of the classes, so if you are interested in joining this Committee, please contact Mairead Flanagan (mairflanagan@gmail.com) by June 2nd. We anticipate that the Committee will need to meet about 9 times over the academic year, with an initial meeting to be held before the end of June.
From the PA:
Gaeilge classes for parents
Irish language organization, Gaelchultúr, are giving RMDS a group rate on their online Irish programmes.
You can sign up for 3 months/6 months/12 months and access the learning on your phone/tablet/PC.
Different levels available (more info on the courses  at ie)
To support the online learning, there will be classroom-based sessions in RMDS once a month from September.
For more info contact PA- pa@rmds.ie
Sunday 24th June – RMDS Sports Day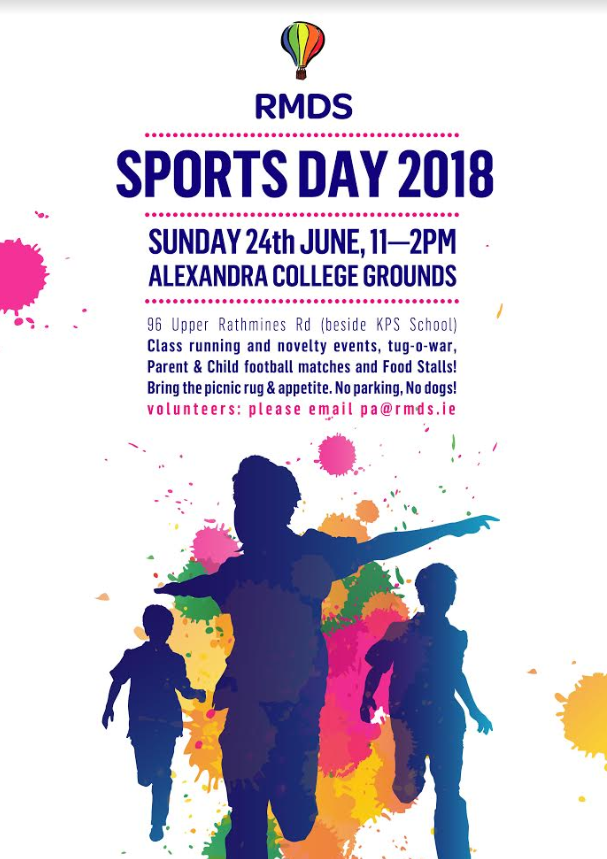 The PA
 Notices:
RMDS School Age CHILDCARE
MULTI ACTIVITY SUMMER CAMP
ACTIVITIES INCLUDE
 SWIMMING            OUTDOOR NATURE PLAY               BUS TOURS
 LEGO                         SPORTS                                                  TRIP TO PARKS
 DANCE/ MUSIC    POOL TABLE                                         PLAYSTATION
 RECORDING OWN DRAMA
BOOK EARLY TO AVOID
DISAPPOINTMENT!
Summer Camp is open to all school going children and their friends.
childcare@rmds.ie /085-1156506

Start: 2nd - 27th July

Camp Only: 8.30am – 2pm (sign below) (1 Child - €120 per week)
Time: Camp: 8.30 – 2pm
(Special Offer - 10% Discount with 2 siblings = €228 / 15% Discount with 3 siblings = €330)

CAMP ONLY
Camp and childcare: 8.30am – 5pm (sign below) (1 child - €170 per week)
(Special Offer - 10% Discount with 2 siblings - €323 / 15% Discount with 3 Siblings - €485)

CAMP & CHILDCARE FINISHES AT 5PM

RMDS School Age Childcare  
Information from Caroline Percival on 085-1156506 or email childcare@rmds.ie.
Don't forget to keep an eye on the school website - www.rmds.ie!