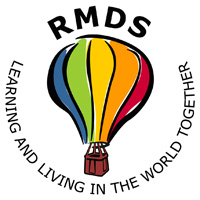 SCHOOL NEWS in Brief…..
24th January 2019
From the Principal's desk:

Forest School for Rang 2 has started this week with great enthusiasm from children and adults alike…. despite the sudden cold snap!
Remember Parents' Day is the 12th/13th March but there will be more about that closer to the date!
We also said farewell to Rocco (R2) and Roxy (SI) this week. We will miss them very much here in RMDS and wish them well in their new school.
Please check for lost property at the gate in the morning. All items left at the weekend will be donated to charity.
Rosemarie Stynes
From the PA:
RMDS Cinema Night – Friday, 1st February!
Tickets on sale from Monday morning.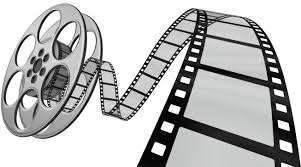 We'll have a few more ticket sellers on duty this year to try to make the process smoother, but please reassure children that even if they don't get their first choice of film, they'll still have a great time!!! There's a great selection of films – big thanks to Kieron Walsh – so nobody needs to be disappointed! : )
Tickets for adults refreshments - available in the Hall while movies are on - will also be on sale at the gate. Parents/guardians are welcome to stay in the movie rooms with their children if they'd like to - but please don't buy movie tickets for adults - these are for the children only. Thanks!
See you all there!
The PA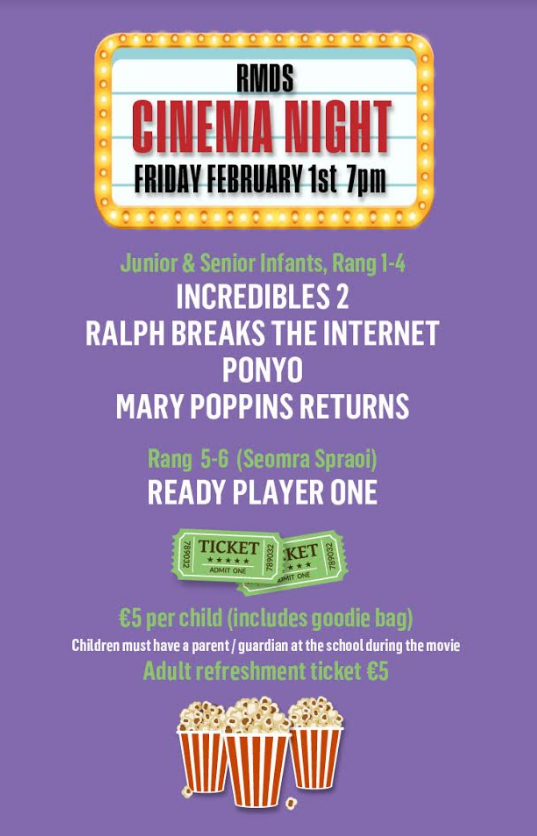 Notices:
IPAD found on school premises - newer version with lightning connector - please call to office to claim.
RMDS School Age Childcare
Childcare has some Ad Hoc places available on Mondays, Wednesdays and Fridays.
If you are interested in putting your child's name down advanced noticed is required through email: childcare@rmds.ie
Information from Caroline Carroll - Percival on 085-1156506 or email childcare@rmds.ie.
Don't forget to keep an eye on the school website - www.rmds.ie!