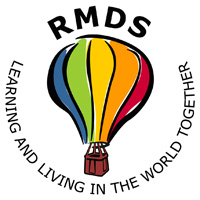 SCHOOL NEWS in Brief…..
4th April 2019
From the Principal's desk:
A huge well done to RMDS Orchestra Ensemble who displayed a brilliant performance in the National Concert Hall today. They performed George Ezra's Shotgun on their own conducted by our very own Ms Coogan and collaborated with St. Joseph's School for Children with a Visual Impairment performing Tabhair Dom do Lámh. It was a fantastic experience for all involved! Thank you to Conor Linehan (Fergus' dad – R5) and Catherine McCarthy (Kieran's mum – R5) who have been such a great support throughout.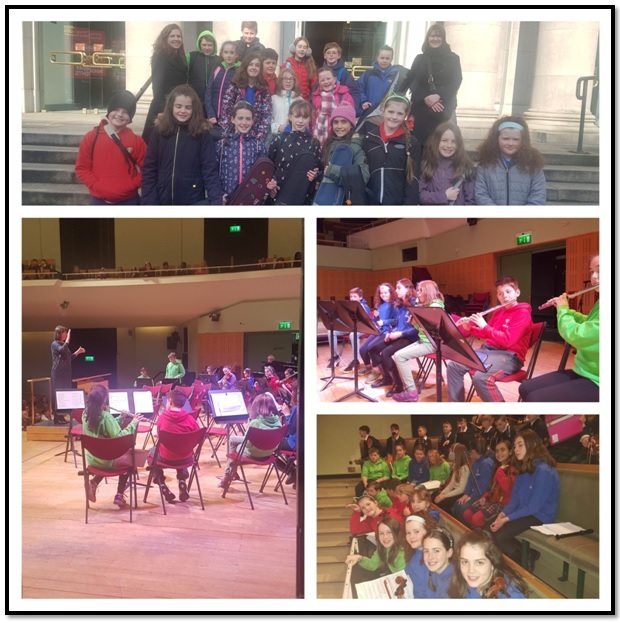 Please note the the school will be closed on 3rd May for a training inservice day for all staff on the new Primary Language Curriculum.
The Reception Day for the incoming Junior Infants will be Thursday, 23rd May – there will be no school on that day for the present Junior Infants.
The school will be closed on Friday, 24th May as the school will be used as a polling station.
Please ensure all bikes are locked – even those inside the school gate. Bikes can also be left safely locked to the racks outside the back gate.
Please find the School Calendar for 2019/20 below.
Please check for lost property at the gate in the morning.
All items left at the weekend will be donated to charity.
Rosemarie Stynes
From the PA:
Fantastic results from the Mission to Morocco!
The sun was out, the whole school was active and there was amazing support from the teacher and parent groups as the incredible Mission to Morocco came to a successful conclusion.
All of the children's efforts resulted in an amazing total of over €5K which will go towards replacing the aged school technology - more details to follow! J
Such an incredible result and not possible without all the children, teachers and parent involvement.
A special thanks to Ms Dillon, Mr Perera and the Active Schools Committee who really drove this initiative!
Also, a hearty thank you to everyone for all of your help in the run up to this - and on the day - for the meetings, for the ideas, for the fantastic posters, for the class rep emails, for the baking, for the setting up, for the clean-up and for the fantastic conclusion to the event with a super breakfast party in the yard!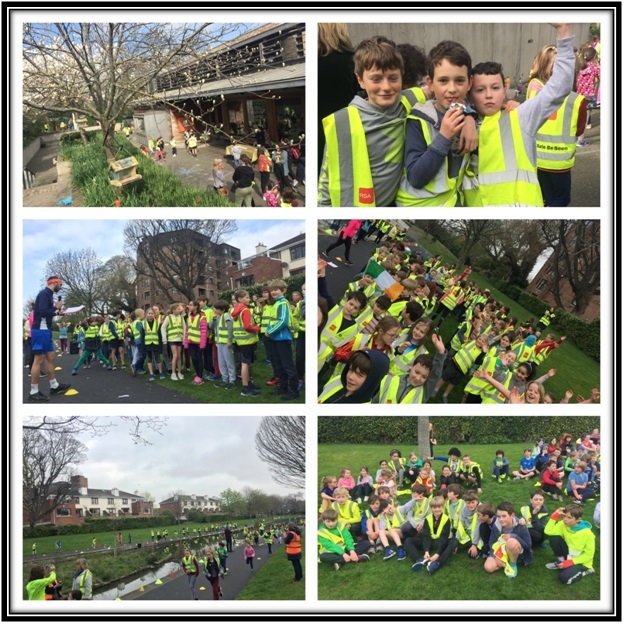 Easter Hamper Raffle:
Our final event of the term is upon us.
As is tradition, each year we raffle an Easter Hamper for each class and one for the teachers! J
Look out for the sample hamper at the gate from next Monday and the raffle ticket sellers will there all week.
Good luck to everyone!
The PA
From the BOM:
The Board would like to thank the Parents Association, parents, staff and children who made the 'Mission to Morocco – Run-a-thon' such a tremendous success.
Congratulations to our RMDS choir and the children from Rang 5 & Rang 6 who gave such terrific performances respectively at both Cór Fhéile and the National Children's Choir.
Voluntary Contributions. Thanks to everybody who has already contributed VCs, which are essential to the running of the school and just a reminder that we are still shy of our year-end target of €40, 000.
Thanks to Ann Swift for her fantastic contribution to supporting the choir and we wish her every success for the future.
Notices:
Extra Curricular Activities - New Coding Club!
We're delighted to launch a pilot Coding Club ECA class next term.
There will be two classes: one open to R1-R4, the other for R5&R6. With digital literacy becoming more and more important, this is a chance to develop a valuable skill while having fun. Please note: laptops will be supplied during the class. 
Run by The Academy of Code (theacademyofcode.com), both classes will take place on Tuesdays at 2.15 at a cost €10 per session (paid as a block at the start of term as per all ECA). Max 15 per class. Booking will be online, and booking information will be included in the ECA timetable circulated after the Easter holidays.
Dublin Community Clean-Up
Dublin Community Clean-Up takes place on Saturday 27th April 2019, proudly supported by the four local authorities.
Building on the success of previous calls to action – Dodder Action Day, Dublin Canals Action Day, Team Dublin Clean Up and Dublin Waters Action day – this year all have come together to make this Dublin's biggest volunteer clean-up on our streets, canals, rivers, mountains and coastline.
Dublin City Council will provide all the equipment necessary, i.e. bags, litter pickers and gloves and will collect all the bags after the clean-up.
We are asking all Community Groups, Residents Associations, Pride of Place Groups, Tidy Towns, Environmental Groups, Businesses, Schools and individuals to be part of the action.
To register now visit  www.dublincommunitycleanupday.ie  or contact the South East Area office at  southeast@dublincity.ie  or call 01  222 2362.
All registered groups will be automatically entered into the City Neighbourhoods Competition 2019 and could win a Prize of €1,000.
Please feel free to send us photographs of you/ your group on the day.
If you have any queries or require further information please do not hesitate to contact us,
Thank you for helping to keep Dublin clean.
Dates for your Diary
School reopens: Thursday, 29th August 2019 at 8.30am
October Mid-Term break: Monday, 28th October to Friday, 1st November inclusive
Christmas holidays: School closes on Friday, 20th December at 12 midday and reopens on Monday, 6th January 2020 at 8.30am
Patrick's Day bank holiday: Closed Monday, 16th March & Tuesday, 17th March
February Mid-Term break: Monday, 17th February to Friday, 21st February inclusive
Easter holidays: School closes on Friday, 3rd April at 12 midday and reopens on Monday, 20th April*
Public holidays: Monday, 4th May & Monday, 1st June
Summer holidays: School will close for the summer vacation on Friday, 26th June 2020 at 12 midday.
2019-2020 Dates are on the school calendar please be aware that the school may reduce the length of the Easter break to make up for time lost due to unforeseen school closures.
RMDS Easter Camp
15th – 18th April 2019 (4 day camp)

Check your emails for the enrolment form.
RMDS School Age Childcare
Childcare has some Ad Hoc places available on Mondays, Wednesdays and Fridays.
If you are interested in putting your child's name down advanced noticed is required through email: childcare@rmds.ie
Information from Caroline Carroll - Percival on 085-1156506 or email childcare@rmds.ie.