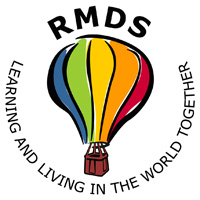 SCHOOL NEWS in Brief…..
5th March 2019
From the Principal's desk:
Wishing the very best of luck to our RMDS Choir, Orchestra and Rock Band who all take to the stage tonight in the National Basketball Arena as part of Cór Fhéile. Tickets are €5 for adults and €2 for children – all available on the door.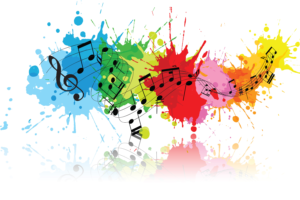 Well done to Rang 4 who took part in The RDS Science Blast this week. Their project 'Can we encourage our local community to help us solve Maths problems for fun?' was really impressive, getting wonderful feedback from the judges on the day – and they even featured on News2day and Newstalk. Check out their updates on our Twitter page - @RMDS_Ranelagh
Seachtain na Gaeilge continues in school next week….tá an-sceitimíní orainn! Any parents who have a cúpla focail and would like to get involved please speak to Aoileann or the class teacher.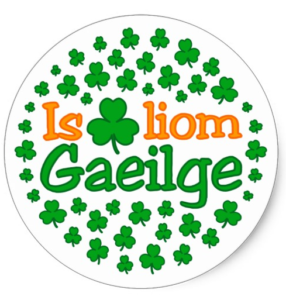 Remember school will close at 12 p.m. on Friday, 6th March to facilitate further training for staff on the new Primary Language Curriculum.
We wish all the children who are getting their Confirmation tomorrow a lovely day with their families.
Please check for lost property at the gate in the morning. All items left at the weekend will be donated to charity.
Rosemarie Stynes
From the Green School Committee:
Saving Water - Part 1:
Approximately 1% of domestic metered customers use 25% of metered water consumption.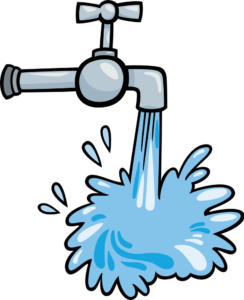 A vast quantity of treated water is wasted every day and that wasted water then has to be processed at a wastewater treatment plant.
There are three main causes:
1. Leaks between your water meter and your home
Domestic water meters are monitored for constant, excessive leaks but intermittent/smaller leaks may not be picked up. If you suspect that you have a leak between the street and your home, check: www.water.ie/for-home/first-fix/
2. Faulty toilet flush mechanisms that are constantly overflowing
Signs that this is the case - a small trickle of water down the inside of the bowl, a small but constant noise from the cistern (tank) filling, condensation on the outside of the cistern from cold water constantly entering.
3. A faulty ballcock in your attic storage tank causing an overflow
Signs are a constant noise in the attic from the tank refilling, especially at night when household usage is light. Some storage tanks have an overflow pipe that exits the building just below the roof line. If there's water flowing out of this, you need to investigate!
From the PA:
Date for Your Diaries:
Mother's Day Clothes Swap In support of Mother Earth - March 20th, 7-9 p.m.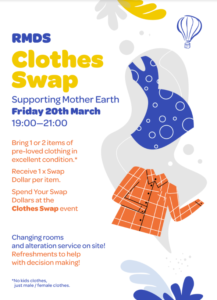 Calling all Fashionistas, or anyone looking to resist the temptation to rush out and buy a new outfit ... pick up a clean, perfect condition outfit swap instead!!
Bring cleaned, perfect condition outfit to school gates from Wednesday 18th - Friday 20th March.
This outfit could be worn on Mother's Day - so please give only clean and perfect condition clothes. Receive 1 ticket per item.
The swapping takes place from 7 p.m. - Changing rooms available, and alteration service on site!
Refreshments to help with decision making!
 Some Updates and thanks!
RMDS Parents' Quiz Night – Cash Prizes Update!
Many of you will have seen the lovely, leafy new plants in each of the classrooms, funded from the RMDS Parents night quiz and organised by the Green Schools Committee in collaboration with the PA (Thanks Andrea and Roly!)
The pupils have been busy picking out some names for their class plant – watch out for some updates here. (FYI – Plants help to counter CO2 in the air by releasing O2 which helps improve brain productivity and the overall classroom environment!)
Additionally these funds enabled R6 to take on a dance class, board games for R2 class and R1 are still plotting how to best use their funds! J
World Book Day Book Swap:
There was great excitement in the yard today as the children took an active part in the annual book swap.
Thanks to all the families who donated books and we hope everyone found something they liked – happy reading!
RMDS Annual Cinema night:
Last Friday we held our annual movie night at the school. As usual, the hottest ticket of the year across all classes. We hope the children (and adults) enjoyed the movies and the thrill of being in the school at night! J
The overall night would not happen without the incredible volunteering of so many parents! Thank you to everyone who helped in advance and on the night: The PA,  Melissa, Dori, Lorraine, Shona, Cliona, Mary, Roisin, Avril, Aoife, Bronagh, Lisa and everyone else who helped (apologies if I missed any names!)
A special thanks once again to Jarvis's Dad - Kieron for the great selection of movies' in movie night blurb, Juno's Dad - Brian for the posters, Mr. Fairbrother and Laoise and Romy's Dad - Tim for setting up the equipment!
The PA
Notices:
RMDS School Age Childcare
Information from Caroline Carroll on 085-1156506 or email childcare@rmds.ie.
Don't forget to keep an eye on the school website - www.rmds.ie!