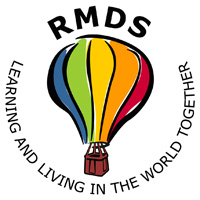 SCHOOL NEWS in Brief…..
7th November 2019
From the Principal's desk:
Welcome back to school after our midterm break. I hope you are all well rested.
I would like to welcome Georgia Statham who is covering Colette Desmond's maternity leave in Rang 3 for the remainder of the year. We hope she will be very happy here in RMDS and we send Colette our very best wishes for the coming weeks!
I'd also like to welcome Calin who has joined Senior Infants.
We extend our deepest sympathies to Caroline Carroll, our Forest School leader and Childcare Manager on the sad passing of her father this week. May he rest in peace.
As always we have a busy half term ahead of us starting with parent/teacher meetings next week….
Rang 2 and Rang 6 will take place on Tuesday, 12th and Wednesday, 13th.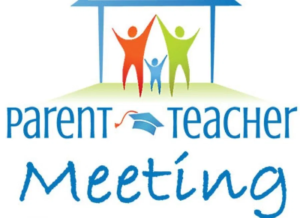 Junior Infants and Rang 4 will take place on Thursday, 14th and Friday, 15th.
Senior Infants and Rang 1 will take place the following week on Tuesday, 19th and Wednesday, 20th.
Rang 5 will take place on Thursday, 21st and Friday, 22nd.
Please note the formal parent/teacher meetings for Rang 3 will take place in February.
Please check for lost property at the gate in the morning. All items left at the weekend will be donated to charity.
Rosemarie Stynes
From the PA:
Goodbye Halloween.....hello Christmas!!
Well, not quite, but we had some great news and wanted to share some dates for your diaries!
RMDS Craft Fair
Kick off your festive season at the RMDS Craft Fair on Saturday November 30th and Sunday  December 1st at the RMDS school hall.
Pick up some Christmas treats from the selection of craft stalls and make sure to grab a warm beverage from the RMDS cafe. More details to follow from the Craft Fair Facebook page.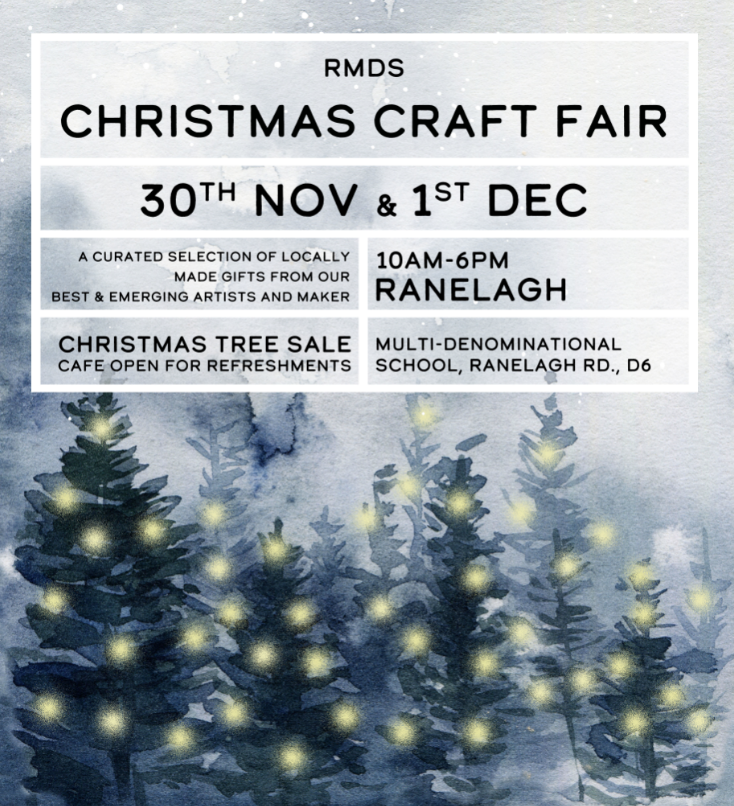 Back by popular demand, RMDS Christmas Trees!  
For the third year in a row you can come on down and pick up a top quality tree and a festive wreath.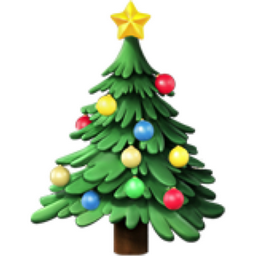 Gates will be open between 10:00AM and 6PM (approx) on the 30th November and the 1st, 7th and 8th of December.
We will be open to the public on the 30th, 1st & 7th December so tell your family and friends!!!  Proceeds will go directly towards RMDS.
We have plenty of spaces for volunteers in all time slots across each day. (Volunteers will be asked to help with the tree selling, netting the trees (such fun!) and helping the buyer get the tree into their car if required)
Contact pa@rmds.ie to volunteer!
Time slots available:
09:30 à 12:30
12:00 à 15:00
15:00 à 18:00
RMDS Christmas Fair
Coming Soon. . . The RMDS Christmas Fair is on December 8th 11 a.m - 3 p.m. Always a fantastic day out for all the family and a big fundraiser for the school! More information to come in the Christmas Fair website but if you can volunteer an hour or two on the day or think you can help in any way, please e-mail  xmasfair@rmds.ie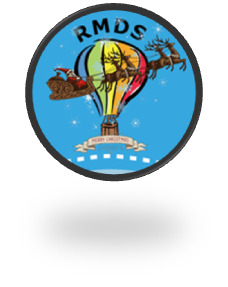 Here are a few ideas for how you can help. . .
-          Help out on a stall
-          Cook a soup or stew for Rudolph's Restaurant
-          Donate baked goodies
-          Donate a raffle prize
-          Organise company sponsorship
Thank you!
The PA
From the Exec:
Parent Reps to the Board of Management
This week, an email went out to all parents asking those interested in nomination and election as parent nominee to the new Board of Management to please complete, sign and date the Consent Form and return it to the school office no later than Monday, 11th November 2019.
We need one female parent and one male parent to join the new Board. The ideal nominee should be available for monthly meetings during the school term over a four year period, be comfortable working in a group setting and have experience in an operational or administrative capacity.
This is a great opportunity for two parents to add positively to school life and be part of policymaking in the school for the next four years.
If any parent has any questions or is interested in being part of the new Board, you can contact:
Rosemarie Stynes, Principal at principal@rmds.ie
David Phelan, Chairperson of the Exec at exec@rmds.ie
Rachel Sirr & Oscar Carolan, Parents' Association Chairpersons at pa@rmds.ie
Notices:
Class Photos
If anyone has an outstanding payment for their Class Photo can you please pay online or through the office asap. Photos will be available for collection from the office very soon!
RMDS School Age Childcare
Information from Caroline Carroll on 085-1156506 or email childcare@rmds.ie.
Don't forget to keep an eye on the school website - www.rmds.ie!