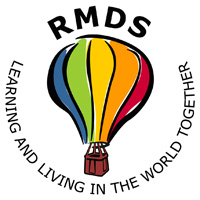 SCHOOL NEWS in Brief….
8th October 2105
Don't forget – Green school have recycled materials to take away at the gate again tomorrow – for you to make your Halloween costume for the Halloween Parade (23rd Oct)
From the Board of Management:
Dear Parent/Guardian,
Many thanks to all those who support or intend to support RMDS through your voluntary contribution (VC).  Envelopes can continue to be dropped into the office any time. There were a few recurring questions raised at the gate that I can address here:
The tax certificates are valid for 5 years from the initial submission date.  If you completed an application form more than 4 years ago please complete another and drop it in to the office anytime, just to be sure.

There is no minimum or maximum amount for the VC; every contribution is gratefully received irrespective of the amount and contributions are voluntary.  The figures we highlighted in our correspondence to everyone represent the actual cost above government funding that we need to raise per child in RMDS for those additional supports and activities.

VC's can be made at any time.  We announce the VC programme  in September so that we can estimate how much money we have to work with for the school year.  Contributions can be made by cheque, bank standing order or online through the RMDS website – Easy Payments Plus at this web link                                                     http://www.rmds.ie/about/voluntary-contributions/?cat=6.
If you have any other questions please contact me on 0872551661 anytime or drop in to the school office and chat to Mary any Monday or Tuesday.  All voluntary contributions are treated with sensitivity and are completely confidential.
Many Thanks
Will Connor, On behalf of the Board of Management
From the Executive (Patron)
Notice of election of new Board of Management (BOM)
The current BOM's term of office expires 30/11/2015 - thank you to them all for their great service to the school community.
The BOM comprises the Principal and 7 others:
1 Teacher Nominee
2 Parent Nominees
2 Community Nominees
2 Patron Nominees
From the current BOM, we have two who are willing to serve again.  One is from the teaching Staff and one from the parent body, in addition to the principal.
A new BOM will commence 1st December 2015 for a four year term. The rules governing election of the new BOM's is contained in the 'Governance Manual for Primary Schools 2015-2019 (available on the DES website).
A meeting will be held in the school in a few weeks time to elect the two parents nominees (male/female).  Details to follow in next week's newsletter.
CALLING for EXPRESSIONS of INTEREST
If you would be interested in serving on the BOM or in any other voluntary capacity - Executive (patron), Parents Association or the Christmas Fair committee, we would love to hear from you - please email Margaret Bluett at m_bluett@yahoo.co.uk
If you would like to speak to a current member of the BOM to better understand the demands we can arrange that.
Thank you to our current BOM:
Colm Healy - Chair
Geraldine Hall
Maeve Kinsella
Ciaran Fallon
Paul Fairbrother
Camilla Noonan
William Connor
Joan Whelan - Principal
From  the Executive/Patron
From the Principal's desk:
Special thanks to Padraic Mulholland, Simon, our GAA coach and to Ranelagh Gael who arranged for Sam Maguire to visit on Wednesday. It was a super occasion – Denis Bastick and Michael Darragh McAuley answered questions, posed for photos and were most impressed with our singing of Molly Malone.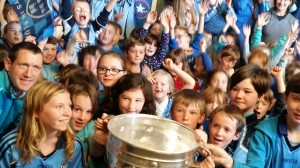 Thanks to those who contacted us re 1916 – anyone else out there with family stories or connections, please let us know, at the gate in the morning or by return email.
Joan Whelan
From the PA:
RMDS PA QUIZ!!!!!!  It's back!!!  The most tightly fought contest of the school calendar!
Date – Thursday 15th October
Venue – Larry Murphys Pub, Upper Rathmines Rd
Time – 20h00
Start to arrange your teams of 4 now!  Tickets will be on sale at the gate from Monday 12th October.  This year we are again encouraging teams to represent a particular class.  The winning teams will earn prizes for the classes they represent.  The prizes are chosen by the children and the teacher.  Happy swotting!
Avril Whelan, Chairperson
| | |
| --- | --- |
| Childs Name: | |
| Childs class: | |
| Address: | |
| Parents/guardian: | |
| Allergies/medications : | |
| Contact numbers: | |
Please pay through the RMDS website, go to childcare and click easy payment
PRICE; €70 / 2 Siblings €125
Date Tuesday 27th – 30th October- Time 8:30-2pm

GAMES,   ART/CRAFTS
         AND MANY MORE ACTIVITIES
Please leave applications in box provided.
Limited Places Caroline Carroll – Percival (Manager)
Information from Caroline Percival on 085-1156506 or email childcare@rmds.ie.
Don't forget to keep an eye on the school website, www.rmds.ie