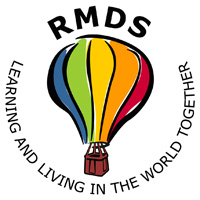 This week's Newsletter
11th June 2021
A word of warning, never say to anyone working in a school 'Oh things must be winding down now' as the end of year approaches.  It is the furthest thing from the truth.  In fact I would say the opposite is true as the pace in our school seems to get quicker with each passing day.
There is an excited energy in the school  as we continue to prepare the children for next year.  Going back over some of the key concepts to further cement them in the minds of the children, organising and filing work from this year, pouring over test results to see what areas we need to direct our attention to, reflecting on what worked well as we try to get the booklist ready for next year and the hundreds of ordinary things that happen in a classroom on any day.  Teachers are also looking at their new class.  As we have had two disjointed years we have decided to make as few changes to the staff as possible.  There will be some unknowns as we advertise for new appointments to fill a job share vacancy and two maternity positions in the coming weeks.
Meanwhile the classes all have an eye on their school tours with Rang a Cúig preparing for a trip to Baltinglass, Rang a Dó to Causey farm and Rang a hAon to the Zoo next week.  In a normal year some lucky parents would get to accompany the class on the tour and enjoy the excitement of the day, however this year we made the difficult decision to restrict it to school staff only.  A positive case will mean all these plans could change in a moment so please continue to be careful and don't send your children to school if they display any symptoms.
This week we also heard the exciting news that Caroline O'Dowd, a permanent member of staff who has been on a career break, gave birth to baby Jake.  We are delighted to share the news of her growing family.
The reports have been written, they are currently top of my to do list and we hope to share them with you next week.  From my experience, most children get to read the report even though they are written for you, the parents.  This year might be a year to rethink this as  there was a change to the standardised test we use, making them a little harder.  We have had two very disjointed years and the number in the testing box might be deflating.  Everyone has been working really hard and doing their best. This is always what we  focus on, the effort that has been made. Many children find the process of the test difficult and off putting, causing dips in scores versus where the teacher sees them.  The test is just a snapshot of one day  and should not become the focus.  The real focus should be on what the teacher has been saying, are they working throughout the year, are they making progress.  If we want the children to believe this we have to lead by example.  The true purpose of the test this year is to inform our teaching for next year so that we can  direct our teaching to identify areas that need more time and focus.  Is sharing this number with your child going to help them and their peers?   The reason we share the reports with you earlier is so that you can arrange a chat with the teacher to discuss anything that the report brought up.  If you have any questions, please get in touch.
A trip around the school…
Rang a Sé
We had a really busy week this week in R6. Everyone had a lovely long weekend and shared their news on Tuesday.
We did a project on WWII and presented them today.
We completed our Education Passports for moving on to secondary school.
We filled out a 'You Are' worksheet where each person left a comment for everyone in the class which will be presented to us at our Graduation.
Anna G is going to a Gaelscoil next year and has been doing lots of preparations for it. Here is an extract from a story she wrote this week. We hope you enjoy it!
Tríocha nóiméad ina dhiadh sin, bhí Aisling agus Katy chara maith.
'Is mi-' a dúirt Aisling, ach chuir guth Niamh isteach uirthi agus í i lár abairte.
'Tabhair isteach mé!' a ghlaoigh sí; 'buaigh tú, Katy!'
'Nííííílll!!!' a scread Jack, 'le do thoil Niamh! Tá sí i bhfolach áit éigin.'
'Níl.' arsa Niamh go ceanndána, 'buaigh sí.'
'Sea!!!' ar Katy de bhéic, 'buaigh mé!'
Léim sí as an gcrann agus ar an talamh na foraoise.
'Tar anseo, Aisling!' a ghlaoigh sí, 'buail le mo chairde!'
'Um...ceart go leor.' arsa Ailsing, agus an samhlaíocht ó Katy, nó bhí an guth de Ailsing neirbhíseach?
Léim Aisling go réidh as an gcrann agus lean sí Katy go dtí chairde ó Katy.
'Comhghairdeas!' arsa gach duine le chéile. Bhuel, gach duine ach Jack.
'Go raibh maith agat!' arsa Katy, rinne sé meangadh mór gáire, 'agus anois, buail le chéile mo chara nua, Ailsing!'
Ach, ní dúirt aon duine dia duit. siad sheas agus stán siad  go díreach Katy.
'Bhuel, téigh ar aghaidh, deir "dia duit",' arsa Katy go mífhoighneach.
'Katy,' arsa Ben go mall, 'níl aon duine ansin.'
'Cad atá tú ag caint faoi?' arsa Katy, trína chéile, 'bhí Aisling ag seasamh díreach anseo!' Rinne sí comhartha lena lámh i dtreo Aisling.
Ach thosaigh Aisling ag siúil chun bealaigh.
'Stad!' arsa Katy de bhéic, 'cén áit a bhfuil tú ag siúil?'
'Áit éigin i bhfad.' arsa Aisling gan stopadh a siúil.
'Ach cathain a chonaic mé tú?' a ghlaoigh Katy.
'Níl tamall fada, le cúnamh Dé.' arsa Aisling ar an drochuair, 'ana, ana, tamall fada...'
D'fhéach Katy ag an gcosán lán lábáin, agus thuig sí nár fhág Aisling aon lorg coise. Shúil Aisling chuig an dhá chrann agus rith Katy chichi. Leag Aisling a chos tríd an bhearna idir an crainn. Ach, nuair a shroich Katy ag an gcrann ní raibh an bhearna. D'imigh Aisling gan tásc ná tuairisc.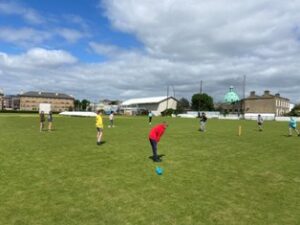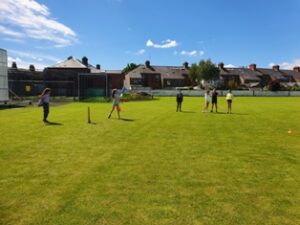 Rang a Cúig
It has been a very exciting week in Rang a Cúig! We started working on Chance in Maths, this is our final chapter this year and a really fun one! We learned about Dyslexia, how people with Dyslexia can see the world differently and how it can come with many strengths such as creativity or a talent for STEM subjects to name but a few. In Science and Geography this week we learned about people and communities, how supporting one another is important to allow everyone to thrive.
We started a challenge this week as part of our homework along with the whole school. It is about turning off the tap when you are brushing your teeth. This saves around 64 cups of water each time! Which is great for the environment. This challenge was set up by the green school committee and we are excited to see the results later in the month. Our school tour to Baltinglass adventure centre is next Thursday so we spent time discussing what we need to bring and what we will get up to there. We are very excited for this tour!
It is Pride month and we are learning all about LGBTQ+ rights and history. We have decorated our class for Pride. We have learned about Harvey Milk a prominent gay rights activist from the 1970's and the first openly gay city offical to be elected in the USA. We have also heard lovely stories from 'A Day In May' by Charlie Bird, a book of personal stories related to the 2015 marriage referendum in Ireland. Today we are going to head to cricket for P.E and we are very excited. This afternoon we are going to watch a play called 'Me,Mollser' about the character of Mollser from Sean O'Casey's 'The Plough and the Stars' specially adapted by the Abbey theatre for 5th and 6th class pupils.
Thanks so much for reading our newsletter and happy Pride month!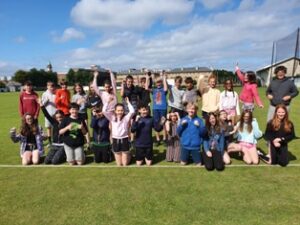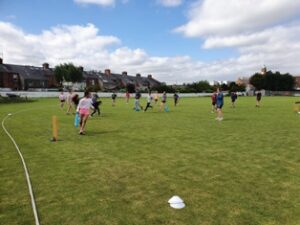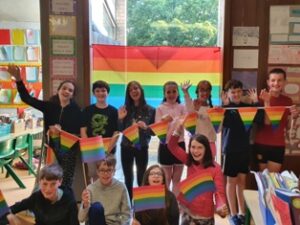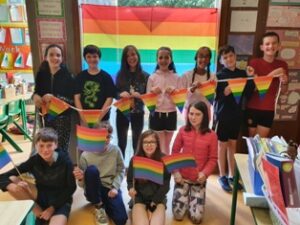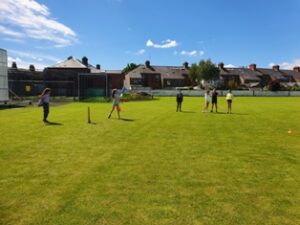 Rang a Ceathair
Rang 4 started playing cricket this week in the Leinster cricket club, it was exciting.
We started decimals in maths,it is kind of hard but now it's easier.
We also did music  in the park. By listening to sounds and then making them into a song it was very very fun!
For art we did structural design using paper. We weren't allowed to use glue or tape.
This week we did a lot of outdoor learning. It was even nicer because it was very warm outside. Including when we went to Iveagh gardens to build rafts with stuff we found there for science.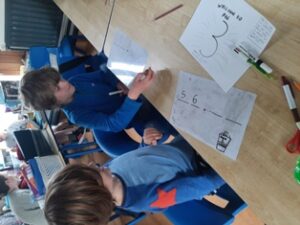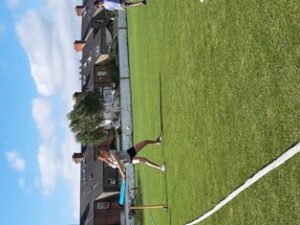 Rang a Trí
This week has flown by! We have been working on completing our Ancient Egyptian Project and they are now looking fabulous. They are packed full of interesting research.
We have been revising over areas of Maths in small groups to make sure we are feeling confident before the end of the year. Some people have also been working on solving mysteries within our revision tasks.
We have also been creating brilliant art projects for Ancient Egypt and turning ourselves into Ancient Pharaohs.
We are also finishing Stay Safe and have made a class agreement on bullying and now talking about touches. Ask us about what we have learnt!
We are all looking forward to our trip to Clara Lara on Monday 21st June. - details have been emailed today.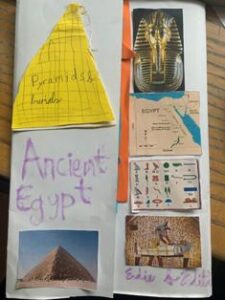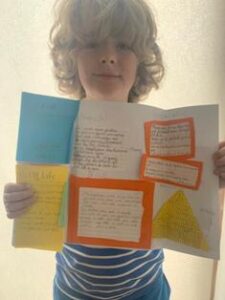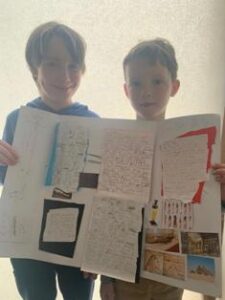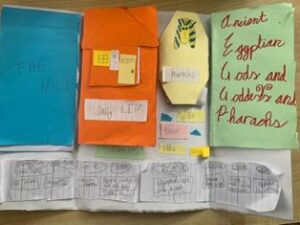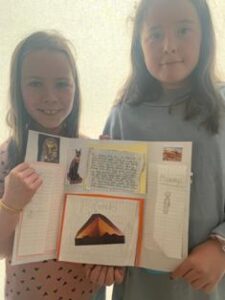 Rang a Dó
It's Time for Africa!
Over the past two weeks, Rang 2 have been working very hard on their Africa projects. The topics vary greatly from Freddie Mercury by our own Freddie, to African Elephants by Lorna and Francesca to 'The Big Five' by Lucy Mc Mahon. Did you know that Mount Kilimanjaro was climbed by someone in a wheelchair? Thanks Jake, great fact. Also did you know that Elon Musk's favourite movie is "Iron Man 2"? Thanks to Paul and Ethan for that fact. Rhino's communicate with poop and mark their territory . They can tell 5 things from another Rhino's poop.  Thanks to Bronwyn, Lucie and Mabel for that disgusting fact.  Toby and Wolfie discovered that the Sahara is the largest hot desert in the world. Hal and Robin's favourite fact is that there used to be a volcano in the place of Victoria Falls . Isabel and Elise informed us that the Arican dog has 4 toes instead of 5.  African Elephants' ears look strangely like the continent of Africa! Lorna and Francesca sure know a lot about African Elephants. The scientific name for a buffalo is Syncerus caffer . Thanks for dropping the science Arthur. Rhinos have been around for over 50,000,000 years thanks Lucy.
Lion cubs are covered in spots . Very interesting Estelle, also Cheetah cubs are born with mohawks. Thanks Arlo. Zambian people eat dog! Wow Ben. Meerkats' lifespan is 10-14 years. Thanks Matthias. Elephants drink 154 litres of water every day. Brilliant fact Finn.
African art is normal 3 rather than 2 dimensional . An artistic and mathematical fact from Iris.
African Lions are the most social of all big cats . Lovely fact Rachel.
Freddie Mercury changed his name from Farrokh Bulsara. Thanks Freddie .
We made Masai necklaces and beautiful art .
Another successful week in Rang 2
Well done everyone
Miss Coogan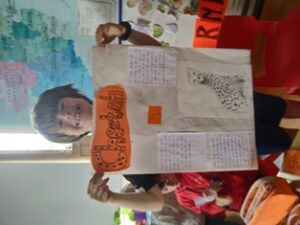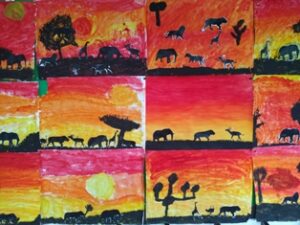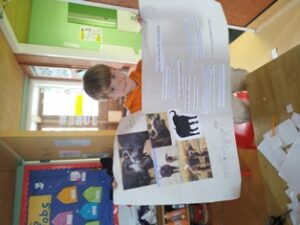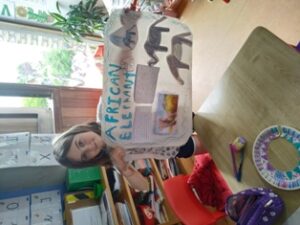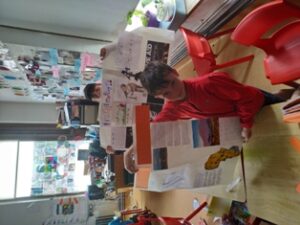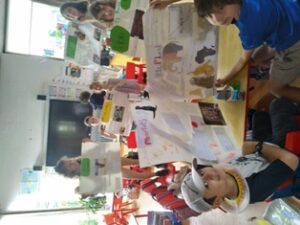 Rang a hAon
We had another great week in Rang a hAon! In Maths we've been revising time and have been having a Time Telling Tournament, it's been very competitive! We've been helping out the Green Schools by trying to remember to turn off the tap when we're brushing our teeth, we can't believe how much water it saves! In Art we have been working on constructing photo frames from lollipop sticks and next week we'll start painting and decorating them. In PE, we played a game of Rounders in Linear Park which was lots of fun! On Thursday, the class built a bug mansion for some snails they found in the Green Area, there's lots of future architects in the class! This week we've also been learning how important it is to be kind to ourselves as well as being kind to others. We created a Garden of Greatness in the classroom to remind ourselves about all the brilliant things we are good at.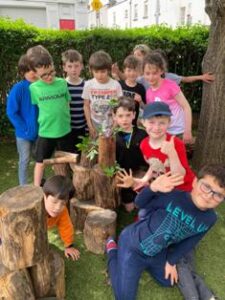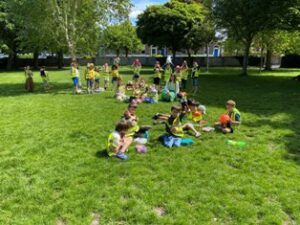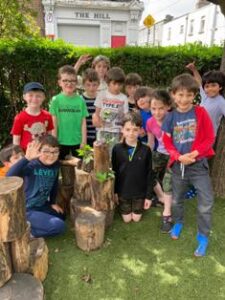 Naíonáin Mhóra
Senior Infants have had another busy week this week. We now have a vets surgery in our classroom for Aistear. Our poor teddies are sick and need lots of help from the vets in our class. We have been learning all about the vets and why animals go to the vet, our favourite part has been learning all about the different equipment that a vet uses everyday.
We had an amazing day in forest school this week, unfortunately it was our last week. We built a tent in the woods, played games, and made fairy houses. We also had yummy hot chocolate. It was lots of fun! We are going to miss going to forest school.
We have lots of wobbly teeth in Senior infants this week, the tooth fairy has been very busy!!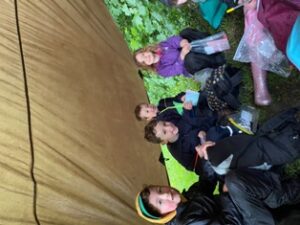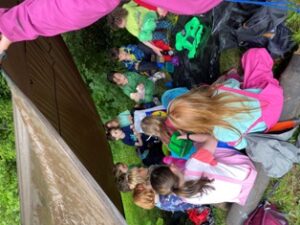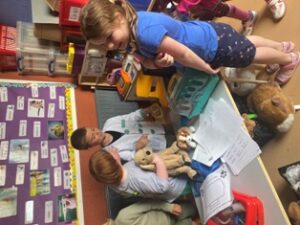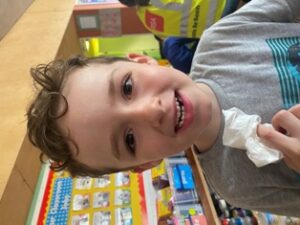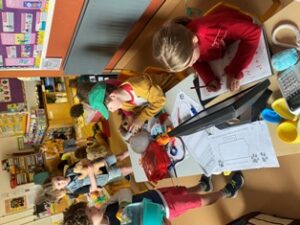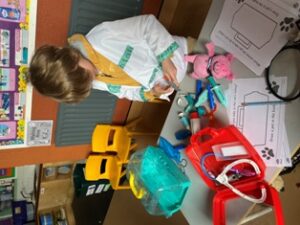 Naíonáin Bheaga
What a super week we have had in Junior Infants.  We made dinosaur fossils using coffee grounds, flour and water. It was lots of fun. We have learnt lots about dinosaurs this week.  A tyrannosaurus' tooth is as big as a banana!  Lots of people brought in dinosaurs and dinosaur books.  We learnt a poem about 5 enormous dinosaurs.
Our summer tree is finished now.  We have all helped to make the picture.  We think it is beautiful.
Our last theme for Aistear is the Sea.  We are looking forward to playing with the water and learning all about the sea.