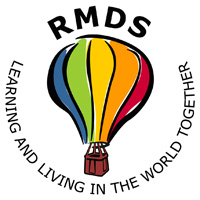 RMDS
School News in Brief….
11ú Márta 2022
From the Green Schools Committee.... 7
RMDS EXTRA CURRICULAR PROGRAMME 2021/22 36
From the Principal's Desk…. 
Dia daoibh, and fáilte go dtí Seachtain na Gaeilge anseo i RMDS! You will read more about some of the activities that we have been up to this week and that are planned for the week ahead as you go through the classes! However, we are particularly proud of our Céilís today - which, despite the weather, we managed to pull off!
Firstly, I would like to thank you for your incredible support for our Ukrainian Fundraiser with all proceeds going to the Irish Red Cross. The final amount raised was €5000. Thank you to the Parents' Association and the Student Council for all their organisation and to you all for making our Bake Sale such a success. It was lovely to see our whole school community come together once again for such an important cause. The children did an amazing job both with their baking skills and with their creative sunflowers showing our solidarity with Ukrainians and our hope for peace.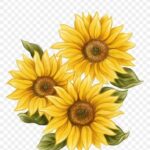 As I mentioned in last week's newsletter, parental involvement is so important in RMDS and is a vital element in the ethos of our school. We cherish the importance of the relationship between home and school for each child. Therefore, we hope to gradually reintroduce parents coming back into the classrooms with their children first thing in the mornings.
From the 22nd March we will assign two classes each morning where parents will be invited into the class with their child. I would ask that only one parent come in each morning with each child for the moment and if possible, we would ask that you minimise bringing younger children into the building with you. 
There are two weeks of school between the 22nd March and our Easter holidays. Therefore we will stagger classes with parents invited in as follows:
Tuesday 22nd: JI & R3
Wednesday 23rd: SI & R4
Thursday 24th: R1 & R5
Friday 25th: R2 & R6
---------
No parents in Monday 28th March
Tuesday 29th: JI & R3
Wednesday 30th: SI & R2
Thursday 31st: R1 & R5
Friday 1st: R2 & R6
Children will come through their assigned gate as normal for these two weeks.
It may be overwhelming for some of the younger children in particular to have you in their classroom and then for you to have to leave, so we ask you to please trust us if your child does become upset.
It is important that all children are in school on time for 8.30 am. We would ask that all parents are out of the classroom by 8.45 am so that teaching and learning can begin sharply. 
We will review after the two weeks, taking into account Covid numbers across the school, with the hope of opening up the school as normal in the mornings after the Easter break. 
From this Monday, 14th March Junior and Senior Infant parents and minders will collect the children at 1.10 pm in the yard. Junior Infant parents will enter through the Side Gate and Senior Infant parents will enter through the Back Gate.
Also from Monday, 14th March Rang 1 & Rang 2 will leave school at 2.10 pm through the Back Gate with Rang 3 & Rang 4.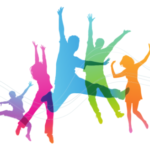 Our Extra Curricular Activities Programme will start the week of the 28th March. Sign up will be this Monday 14th & Tuesday 15th March. I have included all information and sign up sheets at the end of this newsletter.
Regarding Covid-19, as always, if a child has any new onset symptoms and feels unwell or seems off-form, do not send them to school and administer an antigen test. You can contact your GP for advice if necessary.
A reminder again that school will also close on Wednesday, 16th March @ 2.10 pm next week and open again on Tuesday, 22nd March @ 8.30 am. 
Please check the RMDS Calendar on our website for all dates of upcoming events.
Enjoy the sunshine while it lasts agus Lá Fhéile Pádraig sona daoibh go léir!
Rosemarie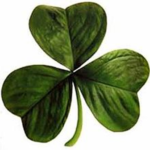 From the PA….
Sincere thanks to the fantastic team of bakers, slicers, money box shakers, pourers, artists, cleaner uppers and cyclists that channelled our concerns about the people of Ukraine into something that can help. We raised €5,0000 which has already been paid over to the Irish Red Cross.  We clearly all enjoyed being together too!
We had a great meeting in the Hill last week and are progressing the issues discussed - Sports Day and funding some classroom materials.  Getting parents back into the school in a safe way was also discussed and we will see that starting to happen gradually from the week after next! Whoop!
Have a lovely weekend!
The PA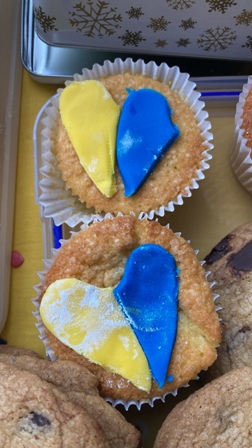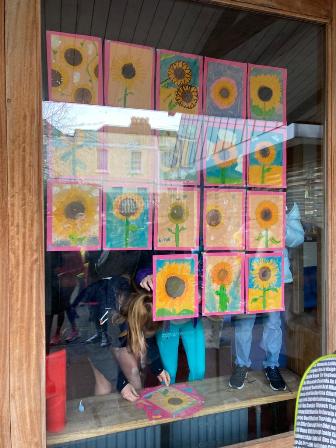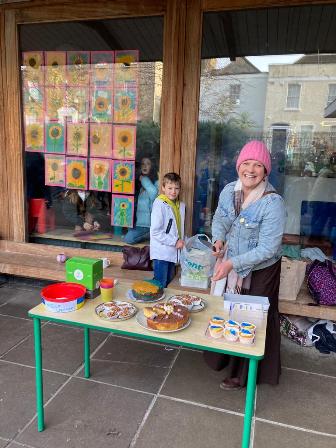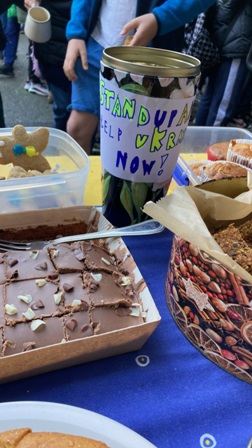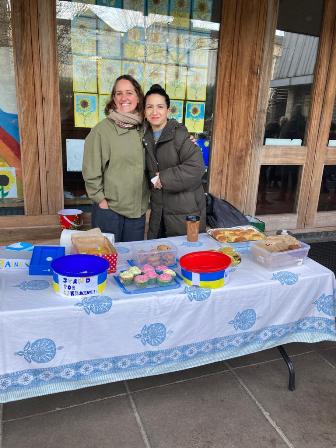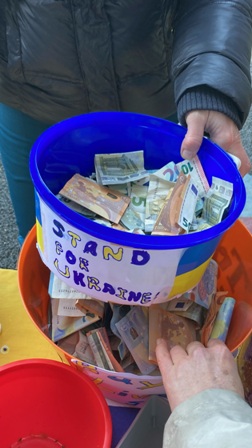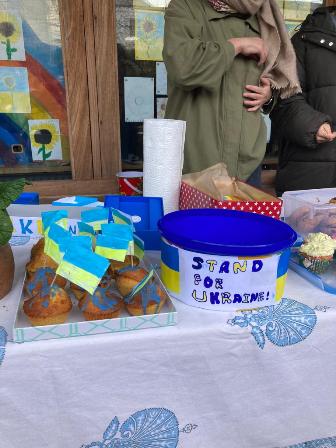 From the Green Schools Committee....
Green Schools Tips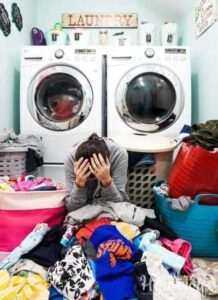 Laundry
Unnecessary Washing
Different clothing types require different washing intervals: hoodies don't need to be washed as often as underwear. Only wash clothes that are actually dirty. For example, a pair of trousers worn once with a bit of mud on the knee can be spot washed or a lightly worn blouse or shirt can be aired and reworn.
Divide worn clothes into those that are ready to be reworn, those that need spot washing etc. and those that need laundering. It makes life much easier if you explain the reasoning behind this to your children and ask them to help out.
Temperature  
The majority of electricity used in a washing cycle is for heating the water so washing at a lower temperature really saves energy. Detergents are now formulated for this and it's rare now that you need to wash above 40℃. The Eco setting on your machine is able to save energy by washing at a lower temperature and just taking a bit longer.
In addition to saving energy, washing in colder water prevents clothes shrinking, prevents colours bleeding and fading and ensures your clothes last longer.
When consistently washing at temperatures of 20℃ to 40℃, you can get a build-up in your machine so you need to run a maintenance wash once a month. With the machine empty, add detergent or special washing machine cleaner and run a cotton cycle at the highest temperature to clean it out. Some machines have a special Drum Clean option.
Detergent
You are likely using too much detergent. Firstly, the detergent manufacturers tend to overstate how much you need. Secondly, Dublin has soft water, so less is needed in any case. Thirdly, detergents are more effective and are more concentrated than before, so you don't need as much as may have been needed previously. Fourthly, we tend to dose the same amount regardless of how lightly or heavily soiled clothes are.
This all leads to waste, costs you more and is worse for the environment. If you do use too much detergent, residue will be left on your clothes. This is hard on your skin and exacerbates eczema. It's unnecessary to use the extra rinse option if you are worried about detergent residue, just use less detergent!
There are plenty of good Eco washing detergents out there. Some are less effective on really dirty whites as they don't contain enzymes, optical brighteners, bleach etc. On the occasions that you need extra cleaning power, you can always add a small scoop of a laundry booster like Vanish.
Soaking
An easy way to soak stained or really dirty clothes is to start your washing cycle and after 10-15 minutes pause it, usually by just pressing the start button again. You can even do it overnight. Just be careful, in that some fabrics and metal fasteners can't be soaked.
Drying
Line drying is best for the environment but we definitely don't have consistent weather for this! However, even if you're just able to partially dry the heavy items like towels and jeans outside, it makes a big difference. You can finish them off inside if needs be. You need to be careful drying clothes on racks and radiators though. If there's not sufficient ventilation, you'll get condensation on cold surfaces and this can lead to black mould. If lack of ventilation is a problem, try using a dehumidifier.
As regards tumble dryers, more efficient heat-pump models are available. They take longer to dry than the standard condenser models, so take that into consideration.
Roland Ramsden
Andrea Scott
Green Schools Committee Parent Representatives
THIS WEEK'S
News from around the Classes…..
Junior Infants
Here is our Junior Infants news in photos….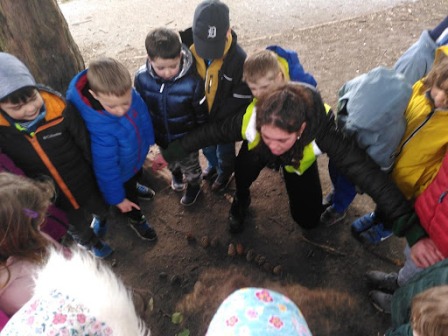 We made a pictogram in the park.
Look at the bubbles we made!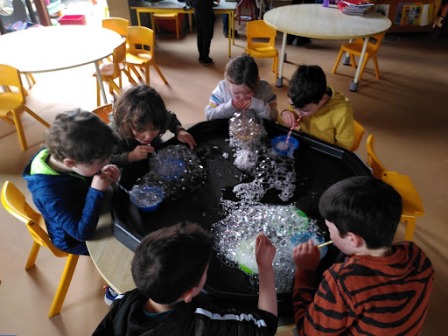 We are making pet dioramas.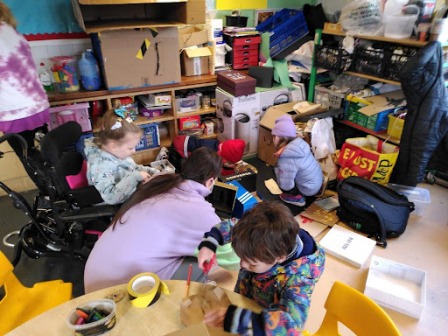 We made clay figures to go in our dioramas. We will paint them next week.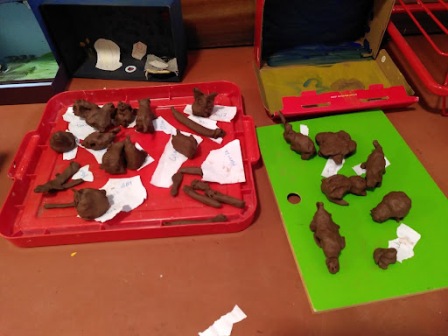 We said goodbye to our student teacher Ms. McGoldrick.  We will miss her!
Senior Infants
We did circuits in PE this week . We dressed in yellow and blue to support Ukraine and we had treats first thing on Thursday morning from the Bake Sale. That was fun! We went to the park on a scavenger hunt and then we played in the sunshine for a while. We would also like to thank Ms. McCormack for working with us for the last few weeks. We worked hard and had great fun too!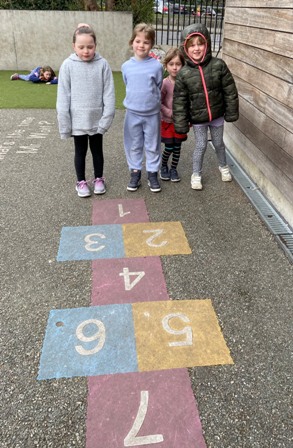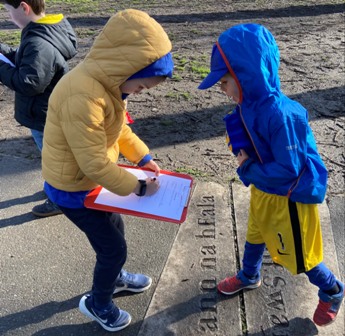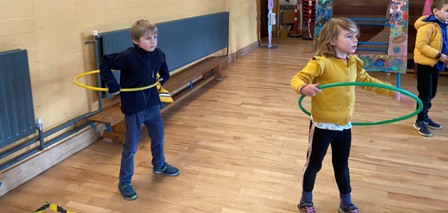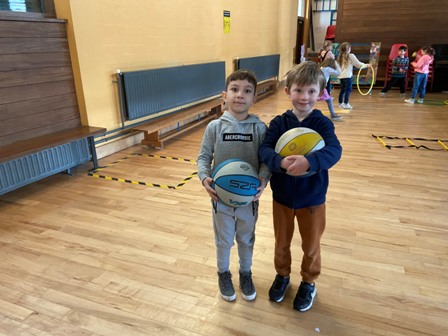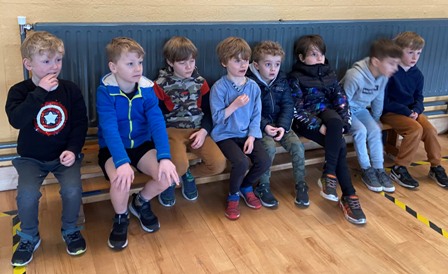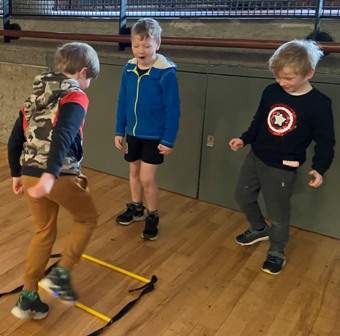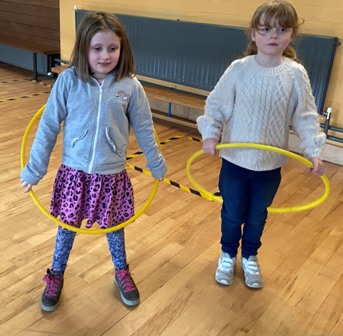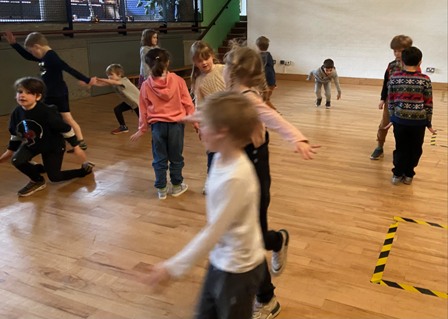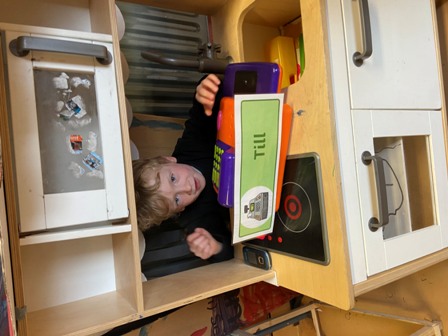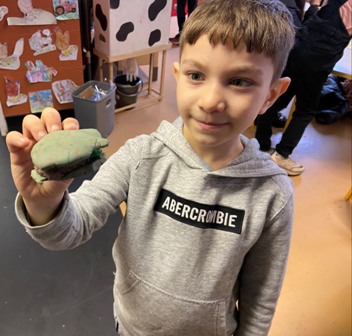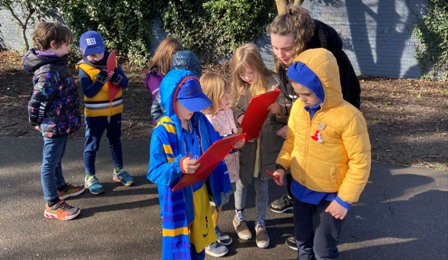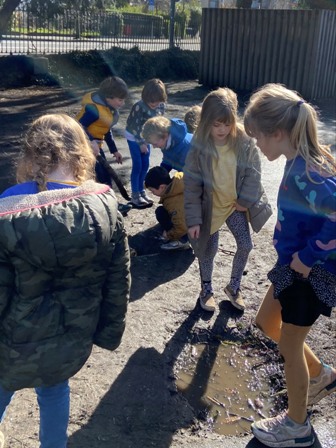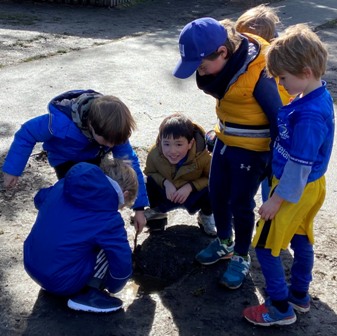 Rang 1
We had another great week in Rang a hAon. This week we celebrated International Women's Day by talking about all the women we look up to. We also wrote about the women in our lives who we see as role models. In art, we finished working on our clay projects and started to paint them as well. We did a hand passing tournament in GAA and had a Bake Sale in aid of Ukraine on Thursday morning. The class made a big effort to wear yellow and blue to show their support too. We also spent the week celebrating Seachtain na Gaeilge! We have been learning an Irish dance called "The Siege of Ennis" and we did a Ceilí with Rang a Dó on Friday.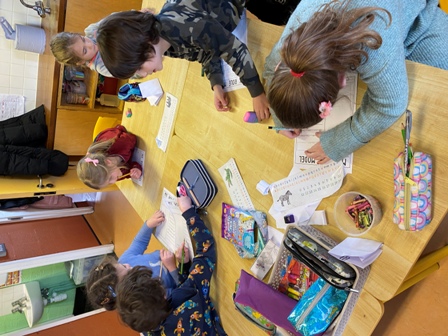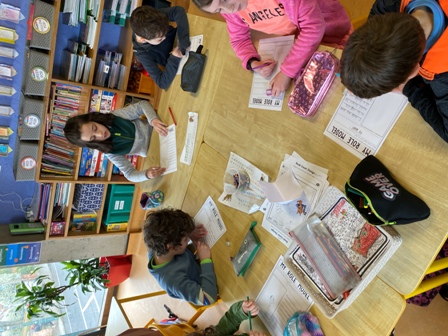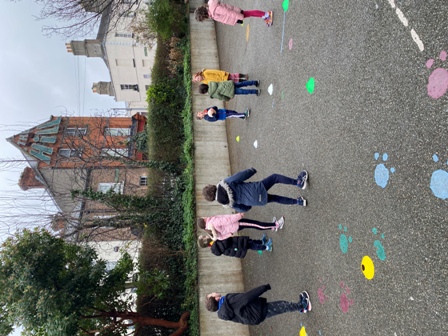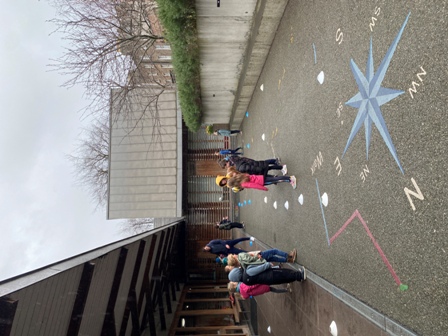 Rang 2
What a brilliant week we had in RMDS! We have been having a great time in Forest School despite the weather. We made a tight rope and a brand new hut with an archway. 
We have also been learning a lot about character strengths and using our inner strengths when dealing with stressful situations in Weaving Wellbeing.
We made self portraits with our own personal strengths on them and discussed times when we use these strengths in our own lives.
On Thursday we had a very special and historic event take place in our school. The Parents' Association and the Student Council arranged a whole school Bake Sale in aid of the people who are affected by the Russian invasion of Ukraine. Everyone was wholeheartedly involved in this endeavour, and it was wonderful to be able to partake in a whole school event again and to unite for a just cause.
Rang 5 have been coming to our class for léitheoireacht bheirte (paired reading) since last  Thursday. Again this is a lovely initiative and great to be back doing things like this once again. 
We also learned an Irish dance ahead of our Céilí this morning. The dance is called 'The Siege of Ennis' or 'Ionsaí na hInse' as Gaeilge. Rang 2 are experts if any family member would like to learn the steps!
Tóg go bog é!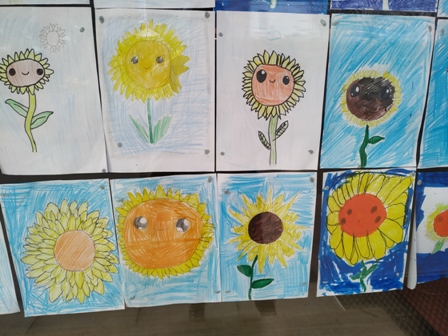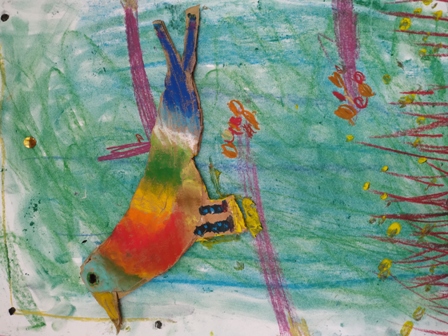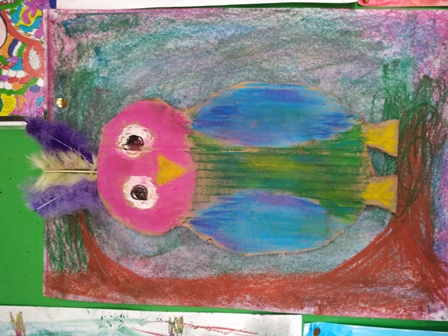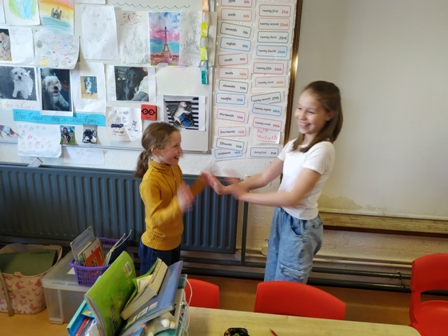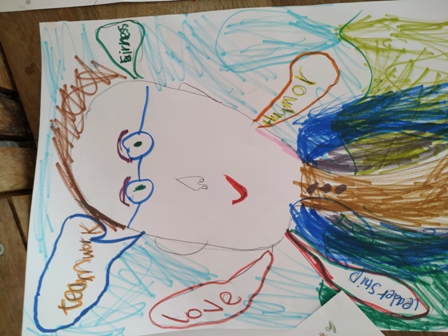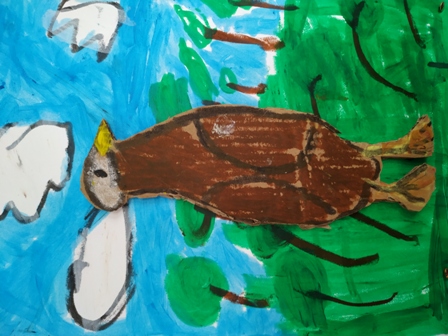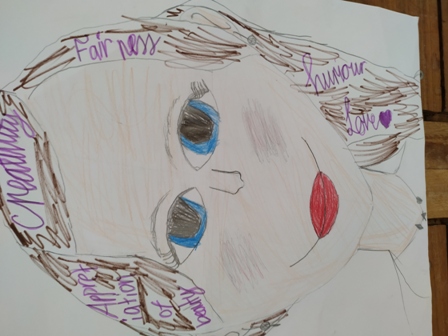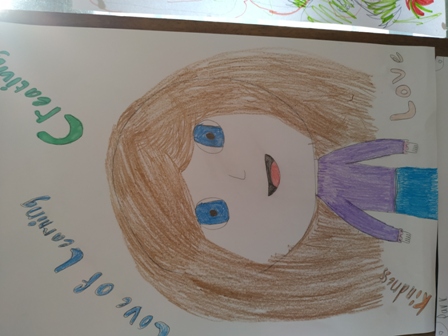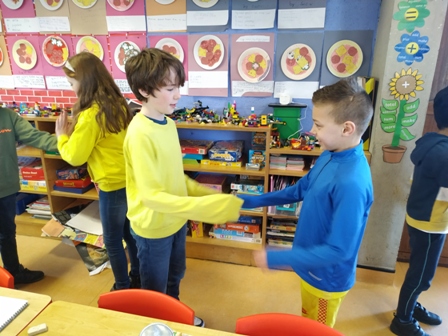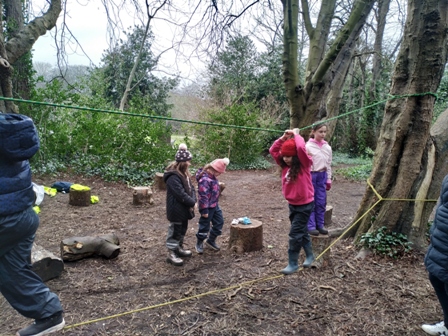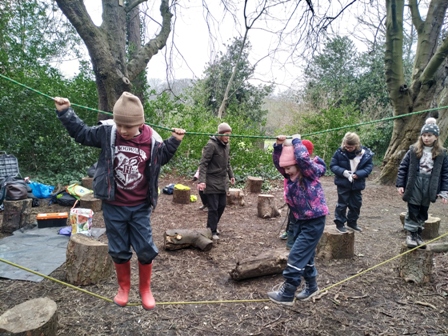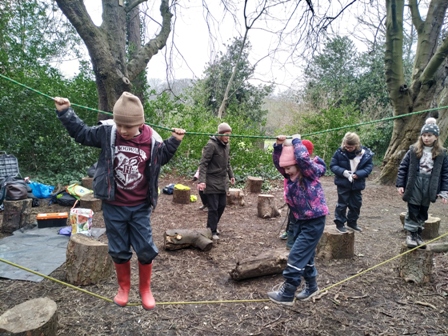 Rang 3
We have had another exciting week in Rang a Trí. We would like to thank Ms. Marren for all her support, dedication and fun while teaching us for the last three weeks. It is her last day today. Thank you from all of Rang 3 and we will be celebrating in the park Friday afternoon. 
In maths we have been learning about weight and estimating what things weigh and solving problems involving weights. 
In science and for Engineer's Week we had fun making a protective structure around an egg. We then dropped it from a height to see which group protected their egg well. Out of 8 groups, 4 eggs broke and 4 survived! We had a lot of fun making them and can now tell which materials worked best. 
In English we have been writing letters of complaint. Watch out as we are now very convincing and might begin demanding refunds everywhere we go! 
In Gaeilge we have been working on a seó faisin for Seachtain na Gaeilge and also practising for the Ceilí with Rang 4. 
We also watched a clip about an experiment for International Women's Day and had a chat about what happened. Ask us to tell you about it!
Lastly we really enjoyed making cakes and raising money for Ukraine. We all agreed that it felt good to be able to do something to help. Thank you for all your efforts with this!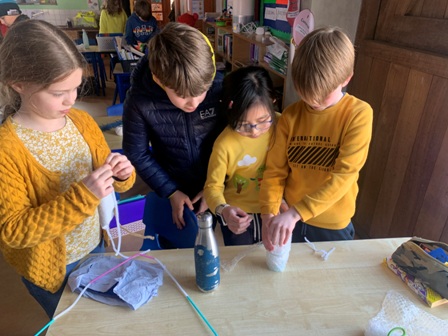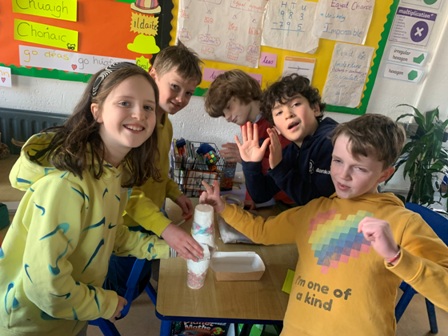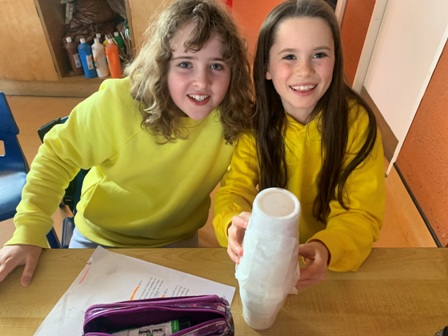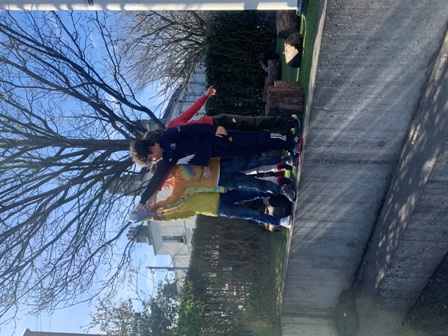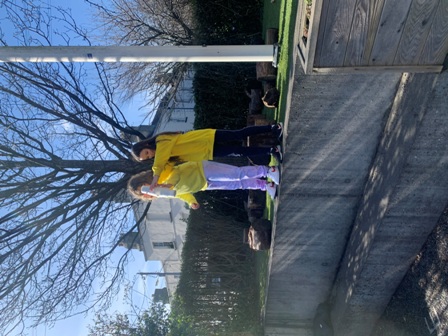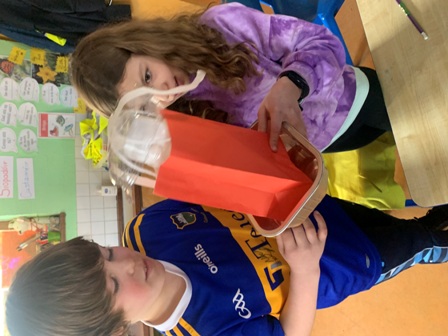 Rang 4
This week we painted sunflowers for Ukraine because it's their national flower. We also had a Bake Sale to raise money for Ukraine and dressed up in blue and yellow. 
We learned some Irish dances and had a Céilí.
We did division in maths as well as the 3, 4 and 8 times tables. 
We also learned the flower names as Gaeilge as this week was also Seachtain na Gaeilge.
It was International Women's Day on Tuesday and we did a little project on famous women.
By: Nina and Onni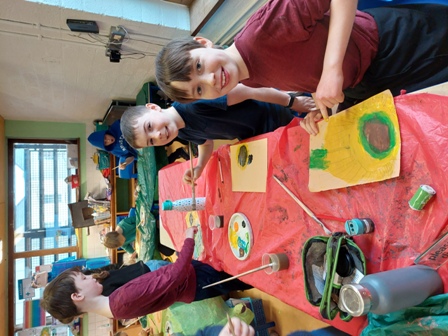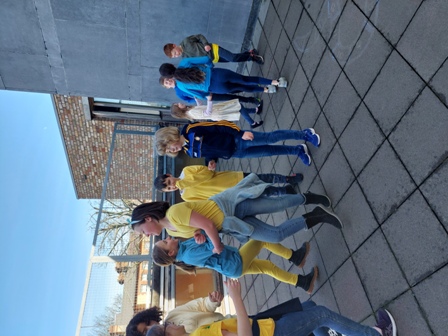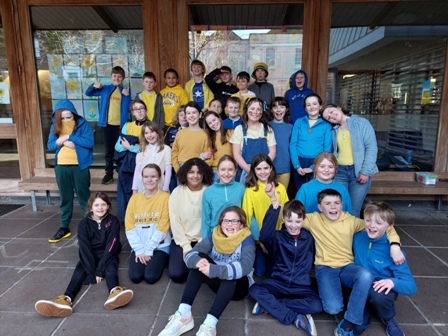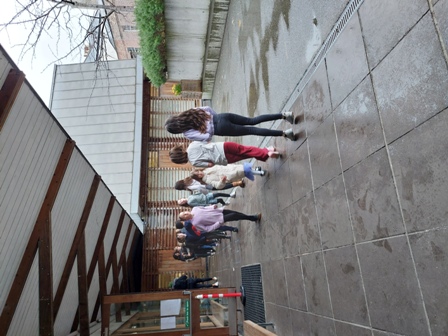 Rang 5
Dia daoibh! It is Seachtain na Gaeilge at the moment so we have been doing lots of fun activities as Gaeilge. 
On Monday we chose a number of pictures to use for our memes as Gaeilge. We then got these pictures printed out and wrote funny captions on them as Gaeilge. We are having a meme competition so a winner will be picked next week and they will get a prize. As we really like memes in English it was very funny to get to make some of our own in Irish. 
For the second time we met up with Rang 2 and we read books as Gaeilge with our buddy. Half of the group stayed upstairs with Ms. Coogan and half of the group were in our class with Ms. Nic A'Bhaird. We are already looking forward to the next time we get to meet up with and read as Gaeilge with our Rang 2 buddies! 
We really enjoyed helping the Senior Infants with their Céilí. We helped them learn 'An Damhsa Mór'. It's very nice to be able to see other classes and we will hopefully be helping our Senior Infant buddies again soon by bringing them to assemblies. We practised for our own Céilí by learning and practising three dances. The Céilí is a really fun way to be active.
This week the school had a Bake Sale and all of the profits went to Ukraine. A lot of people in Rang 5 baked at home so their baking could be included in the Bake Sale.  We wore Blue and Yellow to school on Thursday as well. These are the Ukrainian colours. If you were at the Bake Sale you may have seen our lovely sunflower art on the window. We made these as the sunflower is the national flower of Ukraine.
On Thursday we did a Tráth na gCéist. With Rang 6 we did a Kahoot quiz where all the questions and answers were as Gaeilge. Half of the group were in Rang 6 and half were in Rang 5. We really enjoyed the quiz. It was really fun and we even got no homework for doing so well. We brought in items related to physical activity that we enjoy and did a show and tell with them on Friday. 
As you can tell it was a jam packed week in Rang 5 and we really enjoyed it all. Go raibh míle maith agaibh agus slán go fóill!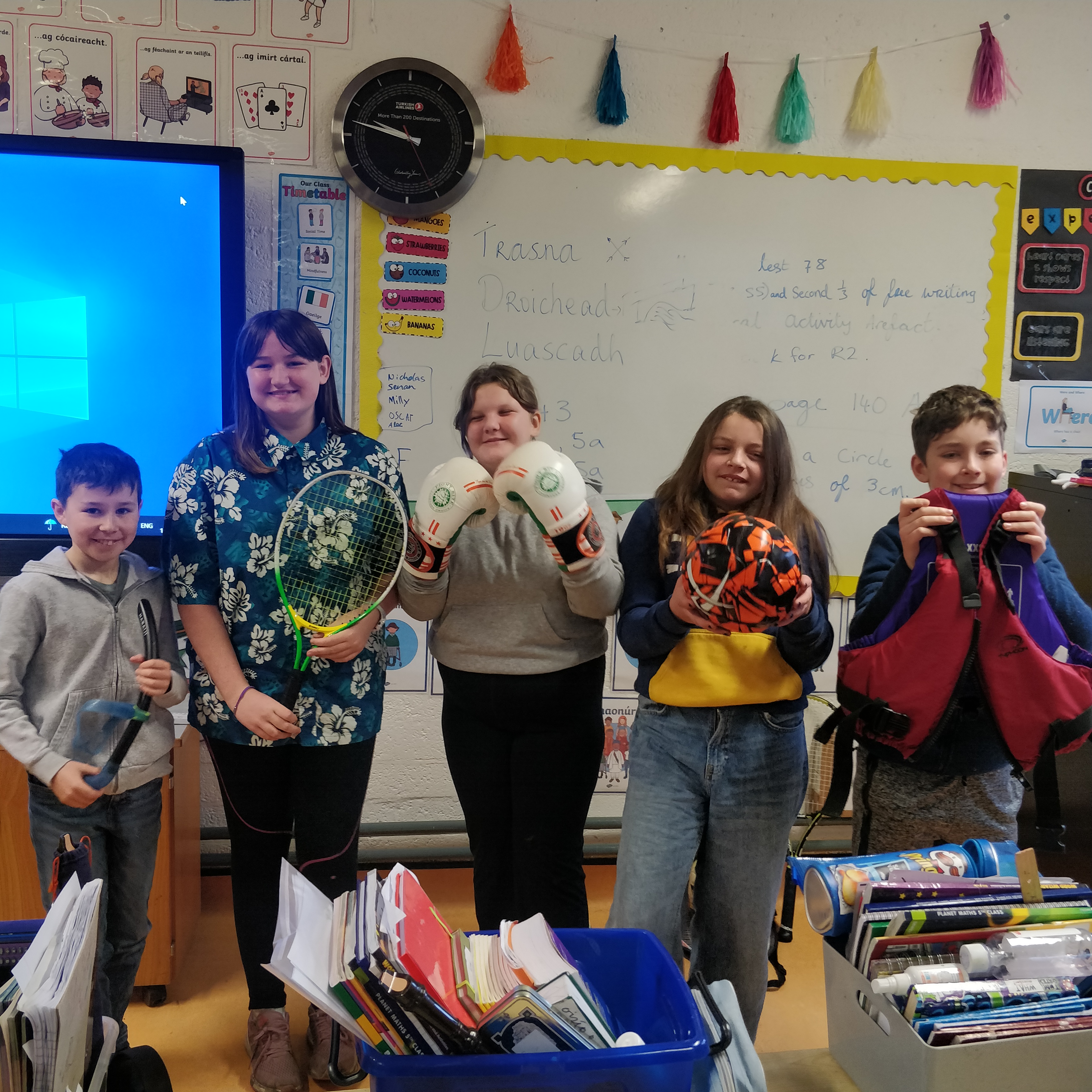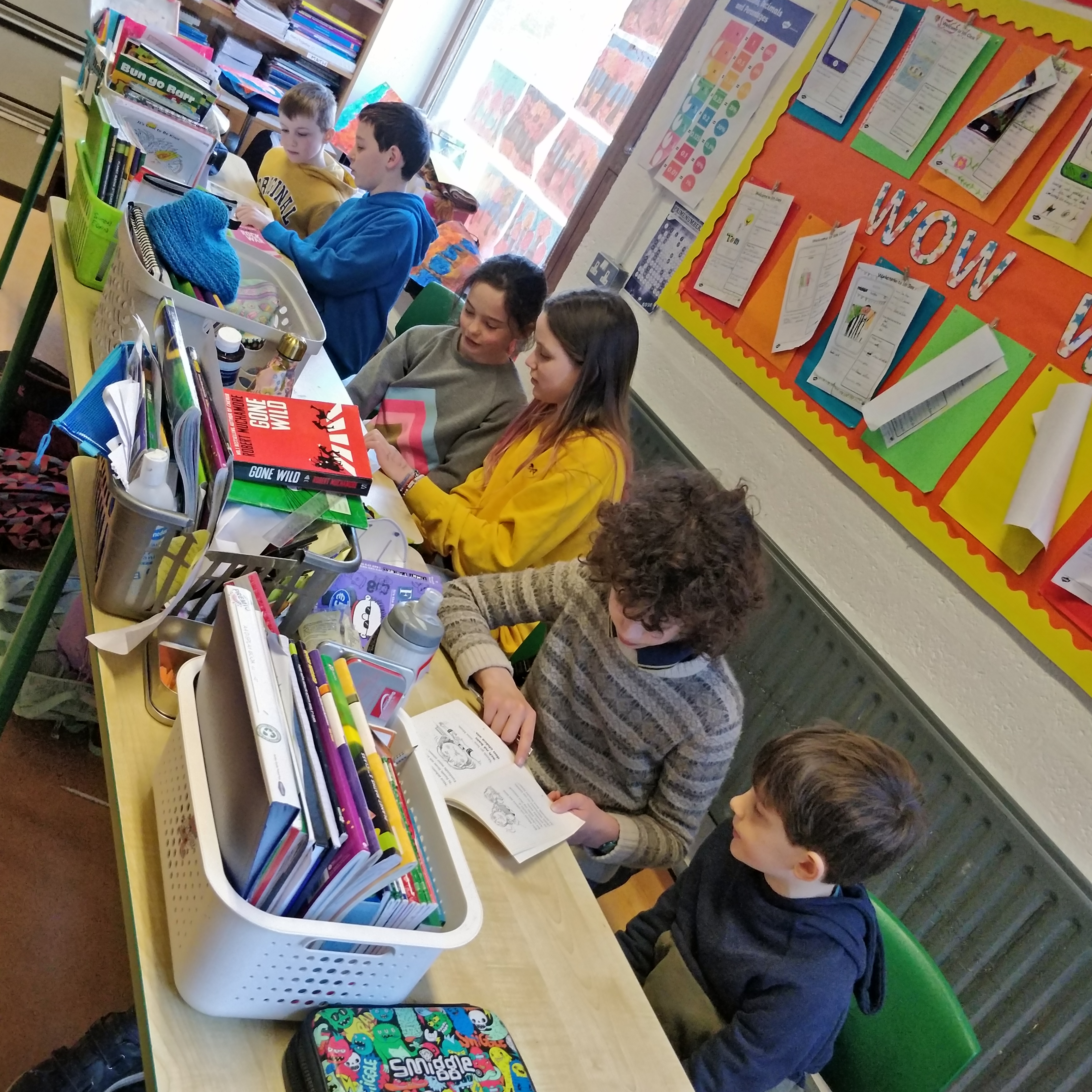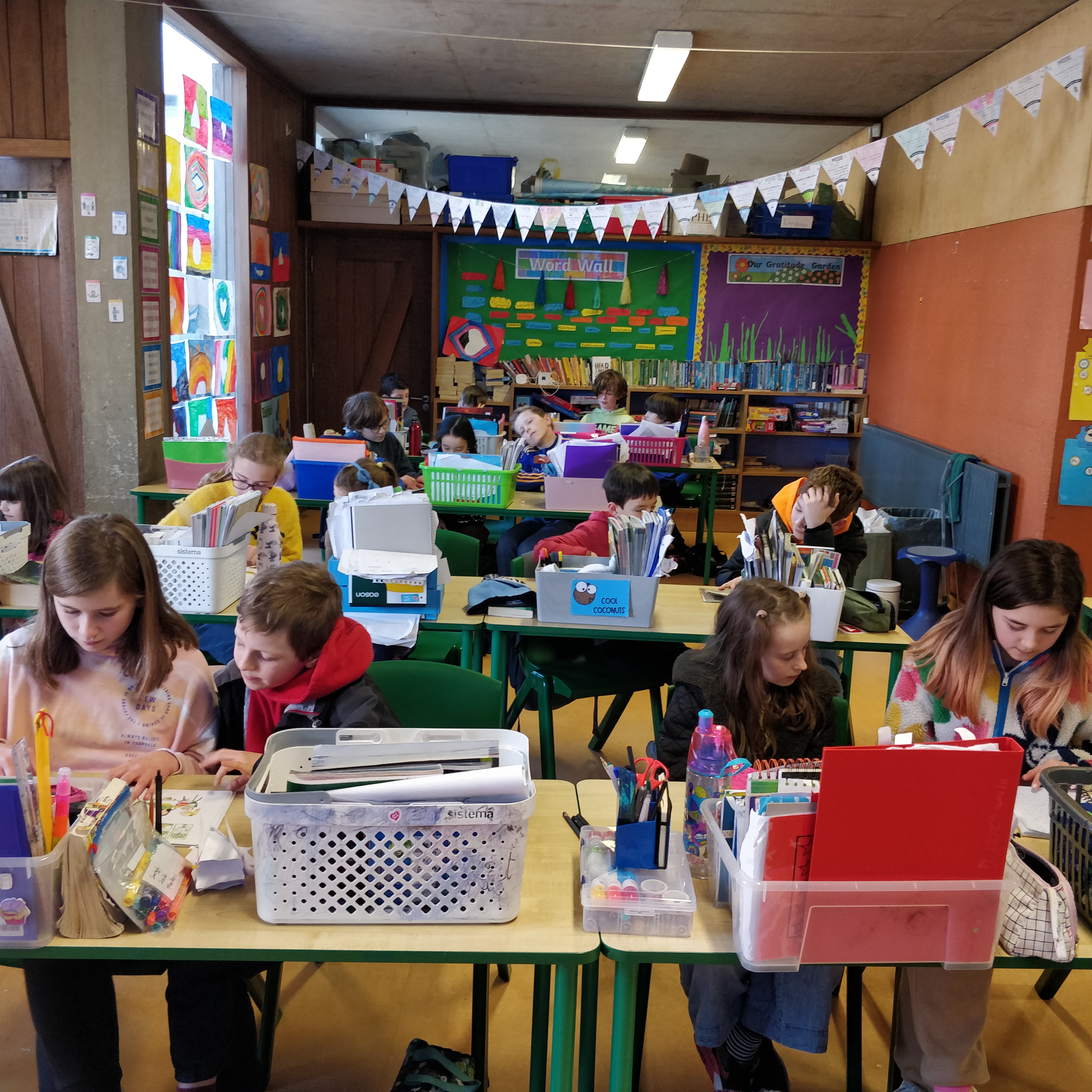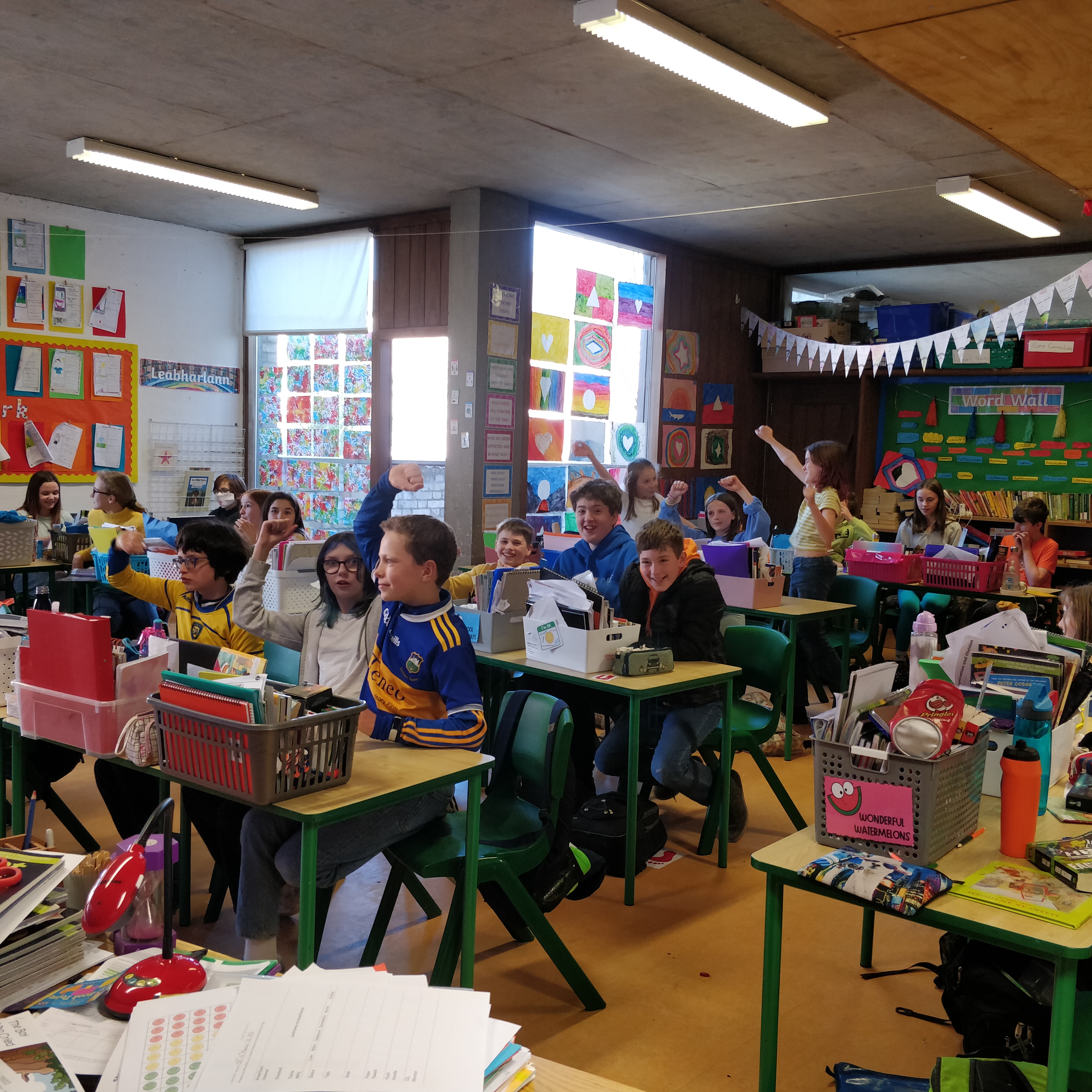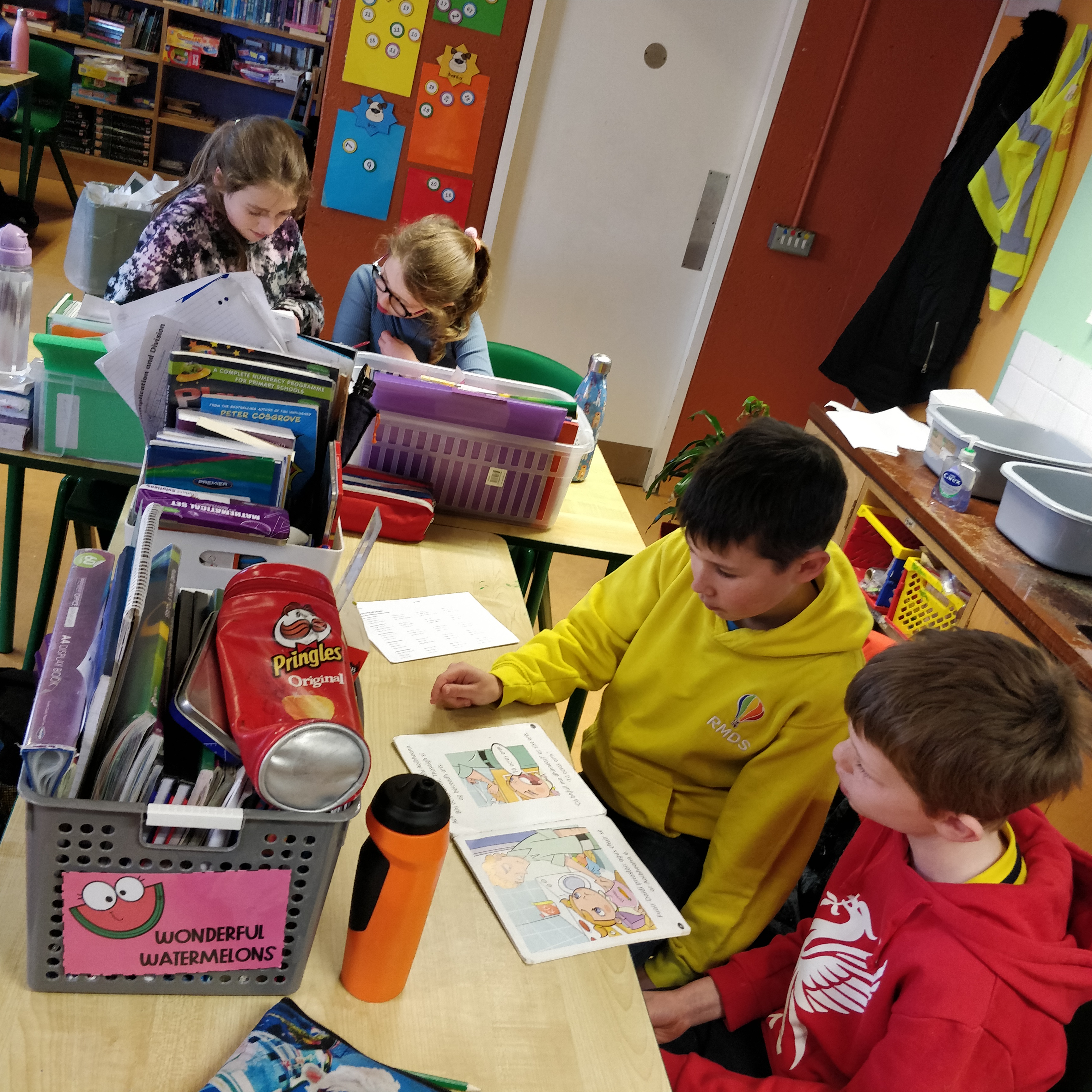 Rang 6
This week was packed with fun things in Rang a Sé! This week is Seachtain na Gaeilge, so we learned a song as Gaeilge called 'Beidh Aonach Amarach' and we also learned 'Bhuaigh me an Crannchur'.
We learned our dances for the Céilí and danced 'Damhsa Mór' with our buddies from Junior Infants! 
On Tuesday we learned about International Women's Day and wrote about a woman who we admire. On Wednesday we did a drama activity called "The Island" with Ms Tracey and it was so much fun! In Maths, we are learning about area this week. 
We really enjoyed the Bake Sale on Thursday, raising money for Ukraine. 
We would also like to thank Ms. Tracey for all her help over the last few weeks!
By: Lila and Limor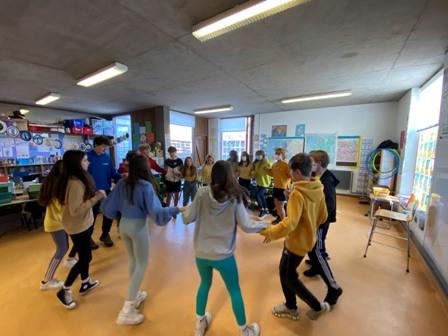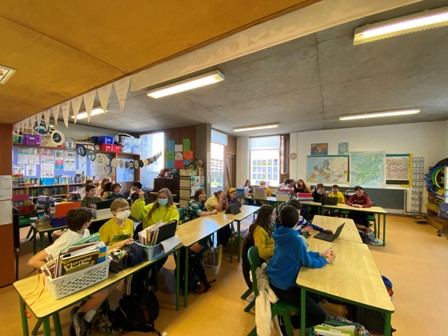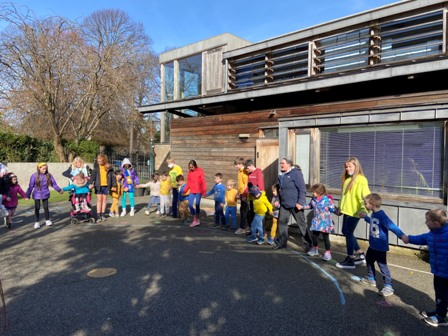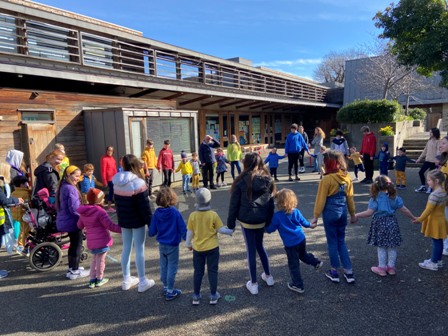 Ranelagh Multi-Denominational School, Ranelagh Road, Dublin 6, D06 Y658
Telephone/Fax: (01) 4961722 ● E-mail: secretary@rmds.ie
______________________________
Roll No. 19928Q ● Principal: Rosemarie Stynes
RMDS EXTRA CURRICULAR PROGRAMME 2021/22
Welcome back, finally (!) to another term of Extra Curricular Activities at RMDS!  
This is a 10 week term, running from week of 28th March to 16th June.
Please note: School is closed for Easter Holidays: Monday, 11th to Friday, 22nd April inclusive.
School is also closed Monday, 2nd May & Monday, 6th June so activities that would have taken place on these days will have their last classes on June 20th and 27th instead.
Notes:
Soccer: Tom Shannon is coaching the RMDS squad again for this school year, with Paul Power as assistant coach. Please note: Max. 30 places available - early booking advisable. 
If  paying online, you must use your child's name as the reference.
All applications: Classes run on a first come, first served basis, and often fill up very quickly. 
Put completed forms in envelopes in the box at your entrance gate or at the office. 
Please use a separate form and envelope for each application. 
Extra application forms are available from the office, or write out the information on a sheet. 
Classes will only go ahead if there are sufficient numbers enrolled.
Payment: Payment for most classes can be by cheque or electronically. 
At the first class, teachers will supply bank details to pay directly. Payments must be completed by the end of the first week of classes. Please ensure you put your child's name as the online payment reference.
Cancellation: ECA teachers will contact you directly if classes are cancelled for any reason. Cancelled classes will be made up at the end or, if that's not possible, monies will be refunded.
Collecting from classes: Children should be collected from the front door (Ranelagh Road) for activities taking place in the school. For activities beginning later in the afternoon, children should be dropped to the front door. Children doing classes in Mount Pleasant LTC or in Herbert Park must be collected at those locations. Please collect your child promptly.
Extra Curricular Activities are for everyone. Financial support is available and will be dealt with the utmost of confidentially and respect. Please tick the box on the form if you require support.
To ensure that all children enjoy these classes, we expect the same standards of behaviour as we do in school. All children are expected to act with respect and kindness to their peers and teachers. Children who are not able to do this will not be allowed to take part and monies paid will be refunded. Contact the Extra Curricular teacher in the first instance regarding any issues or  difficulties that arise. If that does not resolve the problem, please contact the Principal.
RMDS ECA Timetable – Spring/ Summer 2022
DAY
OPEN TO
CLASS
TIME
WHERE
COST
CONTACT
Monday

R1-R4

ART

(No class 2nd May & 6th June.

Last class 27th June instead)

2.15-3.15

 JI 

€60

Aoileann Farley

R4-R6

BASKETBALL (Snr.)

(No class 2nd May & 6th June.

Last class 27th June instead)

2.15-3.15

 Mount Pleasant 

€60

Áine Grennan

Tuesday

R2-R6

CHESS

2.15-3.15

 R4

€60

Sara Reilly

  R3-R6

HOCKEY

2.15-3.15

 Mount Pleasant

€60

TBC

  R1-R3

BASKETBALL (Jnr.)

2.15-3.15

 

Mount Pleasant

€60

  

Áine Grennan

Wednesday

R1-R6

DRAMA

2.15-3.15

GP Room

€60

Ciara O'Byrne

R4-R6

SPANISH

2.15-3.15

R5

€70

Gerardo Antonio

Sosa Aguileta

Thursday

JI – 2nd

IRISH DANCING (Jnr.)

2.15-3.15

GP Room

€70

Adrian Gallagher

R3-R6

IRISH DANCING (Snr.)

3.15-4.15

GP Room

€70

Adrian Gallagher

R1-R5

LEGO CLUB

2.15–3.15

SI

€60

Maria Dillon

R4-R6

SCHOOL SOCCER

2.30–4.00

Herbert Park

€80

Tom Shannon
Extra Curricular Activity Application Form – Spring/Summer 2022

Name of ECA Class:

Name of Child & Rang:

I enclose a cheque for €

     

OR

I will pay the teacher electronically.

(Delete as applicable)

Signed:

(Parent /Guardian)

Mobile:

Email:

I wish to avail of financial support (Please tick)

☐ 
Please use a separate form for each activity.
Extra Curricular Activity Application Form – Spring/Summer 2022

Name of ECA Class:

Name of Child & Rang:

I enclose a cheque for €

     

OR

I will pay the teacher electronically.

(Delete as applicable)

Signed:

(Parent /Guardian)

Mobile:

Email:

I wish to avail of financial support (Please tick)

☐ 
Please use a separate form for each activity.