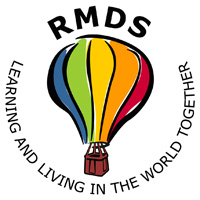 12th November 2021
School News in Brief….
From the Principal's Desk….
A reminder that our Parent Teacher meetings kick off next week. Meetings will be via Zoom and the link will be sent by email from the relevant class teacher.
Meetings will take place as follows:
Tuesday, 16th November & Wednesday, 17th November - Rang 2 & Rang 6
Thursday, 18th November & Friday, 19th November - Senior Infants & Rang 4
Junior Infants & Rang 5 will take place the following week on Monday, 22nd November & Tuesday, 23rd November as will Rang 1 & Rang 3, on Wednesday, 24th November & Thursday, 25th November.
An email went out this week as a reminder that the final date for ordering your Design A Card items is Monday, 15th November. All orders placed before 15th November will be available for collection at the school Christmas Fair on Saturday, 11th December. Alternatively, you can have your order delivered to your home address through the ordering process with a charge of €10.00, and late orders will be charged this amount as these will be delivered directly to your home. This is a great fundraiser for the school and your kind support is really appreciated. If you have any queries at all, please contact the office.
Our Winter Concert will  be recorded and released as a webinar to parents online on Friday, 17th December.
Please check the RMDS Calender on our website for all dates of upcoming events.
Thank you to all the parents who filled out the online questionnaire regarding School Communication. Please follow the link from your email if you haven't already done so and would still like to give some feedback.
Finally, we extend our sympathy to the family of Désirée Prole who passed away in the last week. Désirée was the first Principal of RMDS. Her memory and legacy lives on in the school today. She strived for a school that is a kind and happy place for children to attend. Her determination and reliance against the challenges of setting up a new multi-denominational school were to be admired as she worked tirelessly with the families at that time, some of whom are still connected to the school to this day. Our thoughts are with her family at this sad time. May she rest in peace.
Rosemarie
From the PA….
Ho Ho Ho and a merry little Christmas! Greetings from the PA and thanks to all the Senior Infants' parents for attending this morning's coffee morning. It was great to see all the faces in the yard this morning.  It was a great chance for Rosemarie and Therese to have some face time with the Senior Infant parents.  We're planning a similar event for Rang 1.
Preparations are well under way for the biggest event of the year – the RMDS annual Christmas Fair. Reports are coming in of a special visitor who may be in attendance from the North Pole. Look at out rmdsevents.ie to book your ticket – more details to come in the following weeks. As part of the Fair we always look to parents to provide gifts for our fantastic raffle and details for tickets will be published soon.  If you would like to donate a gift for the raffle please contact xmasfair@rmds.ie. Raffle tickets are on sale on www.rmdsevents.com
We are finalising details of all the stalls for gifts and food that will be available on the day and anyone available to help out can contact us at xmasfair@rmds.ie.
Continuing our tradition of bringing Christmas cheer to the school, here's a reminder that we'll be selling Christmas trees, wreaths and sundries in the last weekend of November (27th/28th November) and first weekend of December (4th/5th December).  Mark it in your diary and make a family day out of it!
Calling all thespians (or non-thespians!) rumour has it there may be the second RMDS PA Christmas play! Watch this space for more information as we finalise details. Roll it there Colette! Ho Ho Ho! Merry Christmas!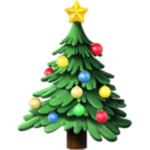 Gráinne & Joss
PA Co-Chairs
From the Green Schools Committee....
Draughts
When stale, interior air is intentionally replaced with fresh air from the exterior in a controlled manner, it's known as ventilation. It's important for interior air quality and to reduce interior moisture levels. Draughts occur when the supply of air is unintentional and unregulated. They can create an uncomfortable interior environment and increase heating bills.
The majority of draughts in winter are caused by warmer, less dense air rising in a building and finding its way out through the top. This is replaced by denser, cooler air drawn in at the bottom of the building from outside.
So if you can reduce the pathways that allow air to leave at the top of your house and the pathways that allow it to enter at the bottom, then you'll greatly reduce your draughts.
Next Week: Detecting and Eliminating Draughts
Roland Ramsden
Andrea Scott
Green Schools Committee Parent Representatives
THIS WEEK'S
News from around the Classes…..
Junior Infants
We made a bed for Fidelma the Frog to hibernate in.  Someone is trying it out for her!  It looks very comfy.
In Outdoor Learning we found interesting and beautiful things and put them in a circle to make a pattern.
We made another batch of playdough in Aistear.
Here is Dr. O'Herlihy working hard in his surgery.
Our news reporters are Liliana and Ivo.  This is what they enjoyed this week.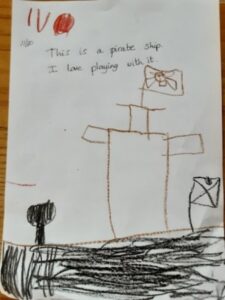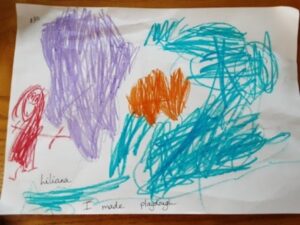 Senior Infants
This week we have photos of our two favourite activities at school: Aistear and GAA!
Why don't you ask us a little bit about what is happening in each of our photos...we would be delighted to tell you!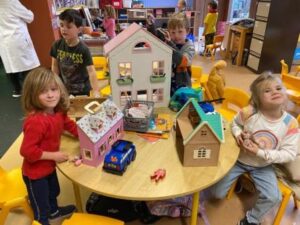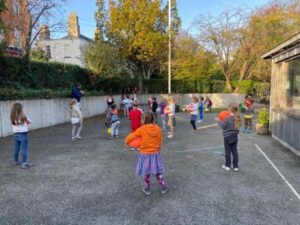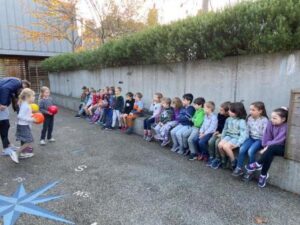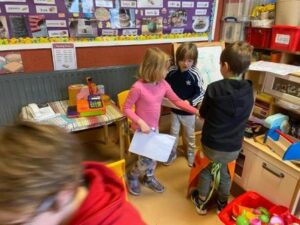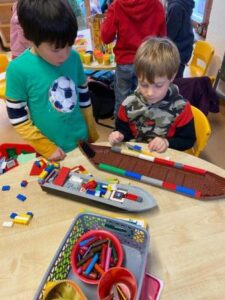 Rang 1
We had a very exciting week in Rang a hAon as we celebrated Iris and Ava's birthdays! We took a trip to Belgrave Square and had lots of fun playing in the playground and the park. For Science Week we did some food based experiments and made our very own rainbows using Skittles and are eagerly waiting on the results of our Gummy Bear Experiment. We have been practicing really hard for our Assembly next week which is all about Diwali. We have also been creating some Diwali inspired artwork too.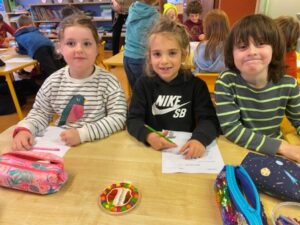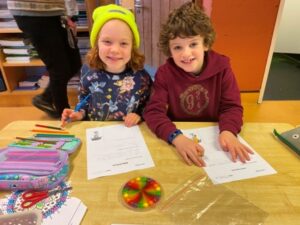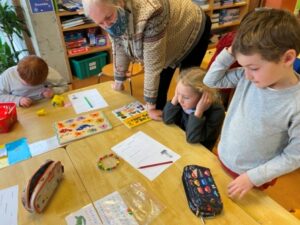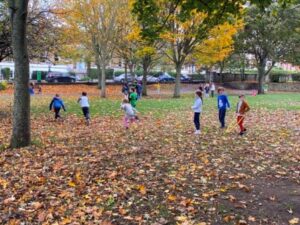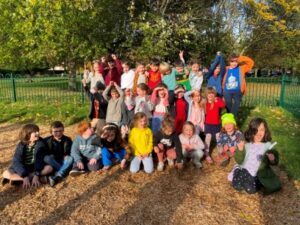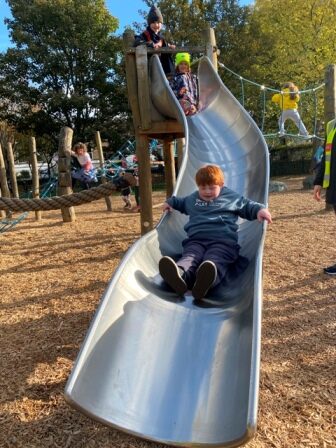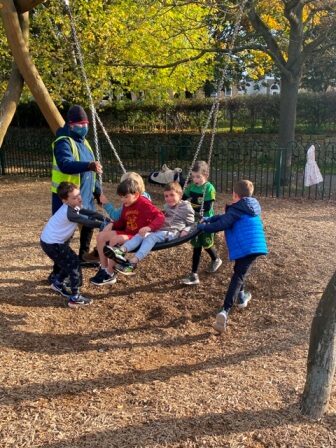 Rang 2
Hi everyone!
Who is your favourite in the Bake Off? We have been baking away along with the 'Bake Off' contestants this week and have made some lovely food from pancakes to Oreo cupcakes. We sent in videos and really enjoyed this homework.
We also created some beautiful art inspired by artist Anday Warhol. He is famous for pioneering the pop art movement and featured popular food brands and products in his art. We hope you like our colourful creations,
We also had a lovely day in Belgrave square as a treat for the November birthdays . Edie and Joey were celebrated by their classmates and we sang, climbed, played tag and drew together.
In Gaeilge we have been learning a lot of language about food we have at lunch time . Ar mhaith leat ceapaire le saléid agus cáis? Sounds good, Rang 2!
We hope you all have a great weekend and are inspired to bake something healthy and nutritious.
Finally it was a pleasure to meet June's new baby brother at the school the other day. His name is Sonny and we look forward to seeing him in RMDS in around 5 years.
Slán libh!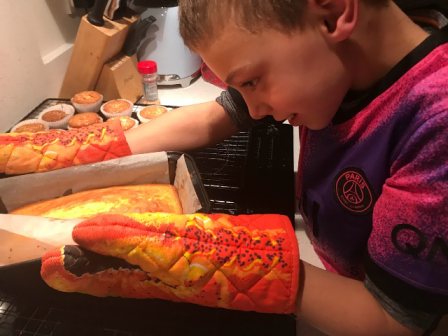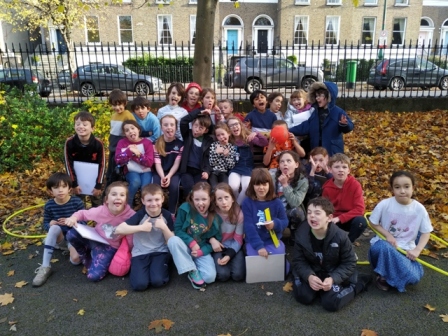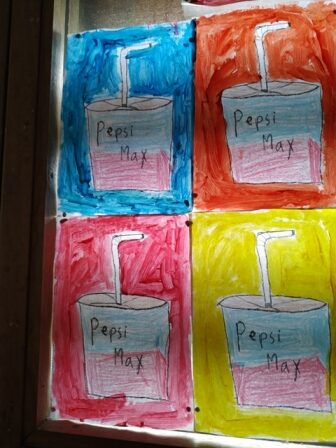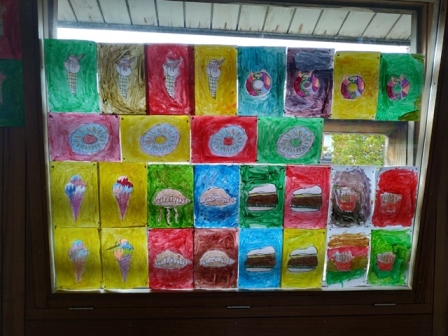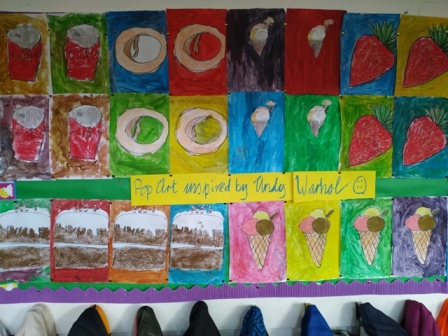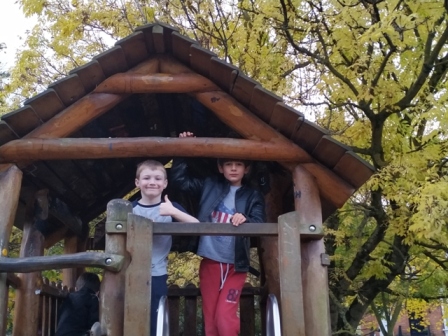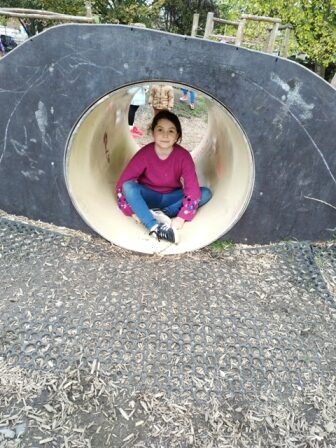 Rang 3
Rang 3 have had a very exciting week. The highlight was probably Dermot Bannon coming into our class. We designed Mr. Fairbrother's house for him and drew pictures of our plans. When Dermot Bannon came in, we told him about our plans and his film crew filmed us. He asked lots of questions and was really interested in our designs. We spoke really well and very clearly and we think he was impressed with us. Some of our designs included climbing walls on the side of the house, slides into hot tubs and even secret playrooms for the children! He also gave us a homework pass which we were delighted about.
We also had a great time in Forest School this week. We made little fires in one group. We made tree spirits with clay and some of us put them on the trees. We climbed on ropes and also had a competition where we jumped into piles of leaves. Ms. Blayney won the competition for the best dive!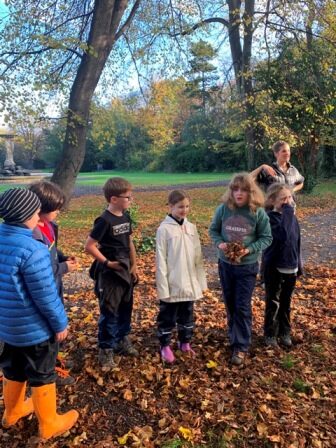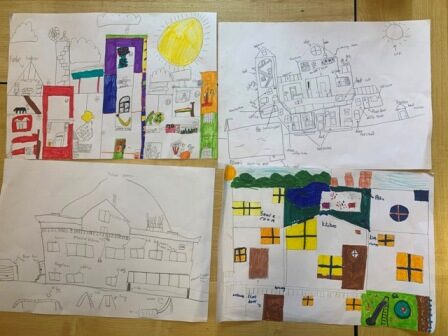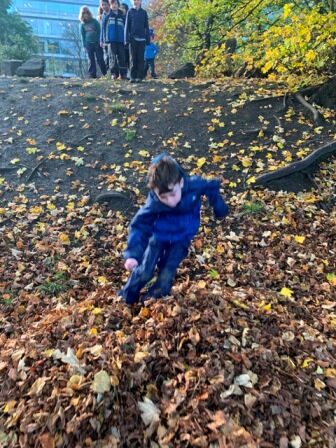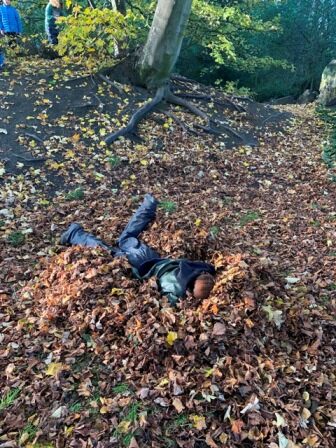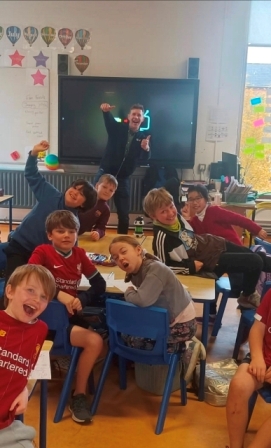 Rang 4
This week, we met Dermot Bannon and we will be on a tv show called 'Room to Improve'.
On 'Room to Improve' we also did skipping.
Dermot Bannon gave us no homework on Thursday! :)
This week we did area in maths.
We wrote a small over-exaggerated news piece on Thursday.
We did square art inspired by Piet Mondrian.
Some people presented their Viking Project this week
We are learning about Buddhism.
We helped Mr. Fairbrother with the layout of his house.
We started our S.T.E.P.S. Engineering prototype.
We are currently working on an instructional way of writing.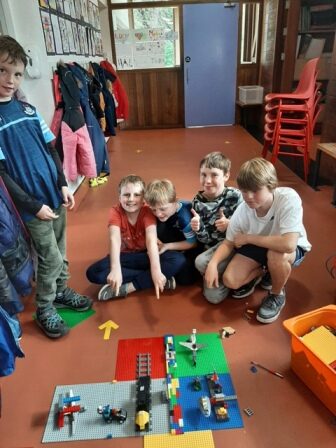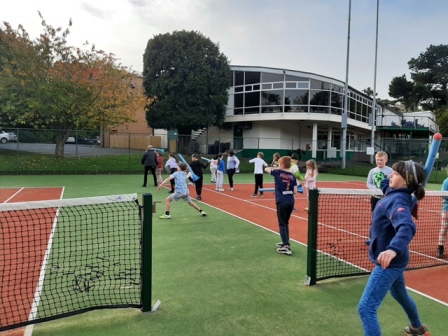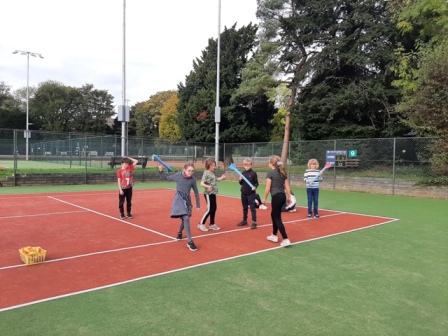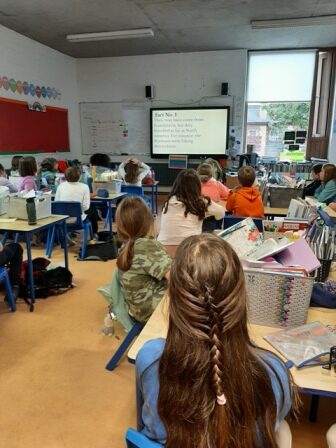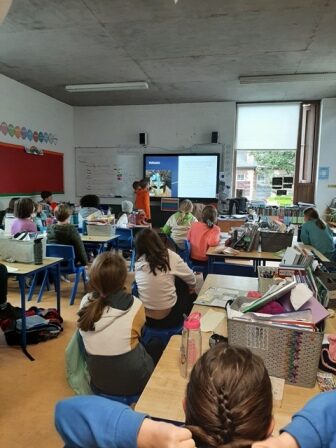 Rang 5
For art we collected autumn leaves and made interesting woodland animal faces with them, mainly foxes. They look lovely, displayed outside our classroom!
We played dodgeball and football at PE.
Some of us finished our Mayan projects, which are due this Friday. We looked up information, in pairs, under a few different categories, using the chrome books and our history books. One of the sports they played was called Pitz or the Ball game.
In maths we have been revising fractions and learning about proper, improper fractions and mixed numbers. In Core Curriculum we have been learning about Holi, which is a Hindu festival to welcome the spring. It is said to be the most colourful festival in the world. We also learned about Ms. Prole, a former principal of RMDS, who unfortunately passed away earlier this week. We were glad to learn about her legacy and how she contributed to the school.
Ms. Curran visited our class on Thursday afternoon to talk about Haiti, a country where there was a huge earthquake and where she actually went herself afterwards, to help. This was so interesting.
We are doing free writing for our homework this week, which is a bit different from normal spelling work. We are using the spellings from our Learning Words list in the writing.
Thanks for reading!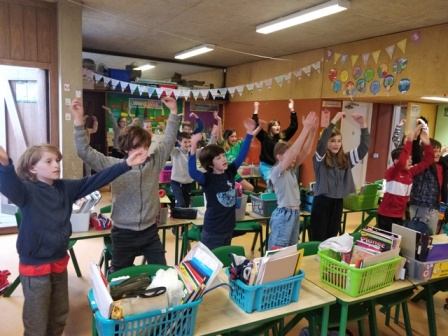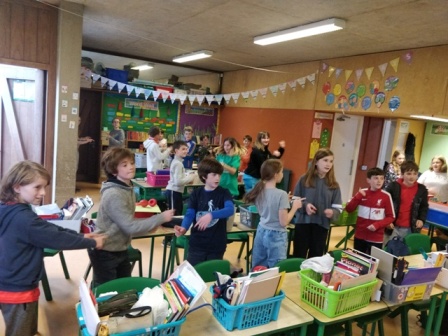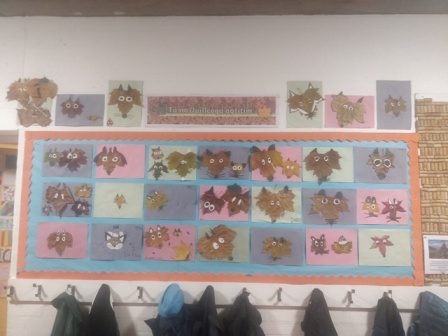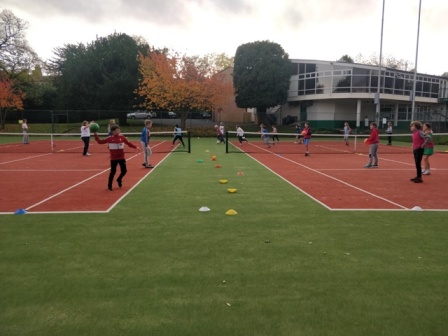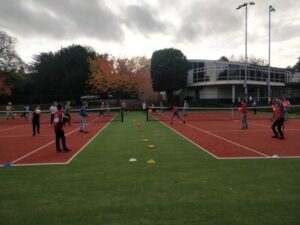 Rang 6
Hi everyone!
We had a fun and busy week again this week.
Ms. Grennan set up a reading corner or 'cosy corner' in the room. Each day a pod sits up there for 15 minutes of silent reading. We love the new cushions!
We worked on the Persuasive Writing genre again this week. We wrote debates on the motions: 'Should zoos be shut down'. Most people in the class were for this motion and agreed that zoos should be shut down. The points for and against the motion were really interesting.
Our topic for maths this week was Number Theory. We learned about square numbers, the square root of numbers and factors.
For PE this week, Ms. Grennan let us decide what games we wanted to play. We chose soccer and dodgeball which were great fun.
In art we used the technique of Pointillism to create autumn leaves. We used cotton buds and autumnal colours. We drew a leaf of our choice, cut it up and put it back together almost like a jigsaw. They turned out nicely and we've been getting lots of compliments.
We also met Dermot Bannon on Thursday. He came while we were on yard and we asked him a couple of questions.
That's it for this week!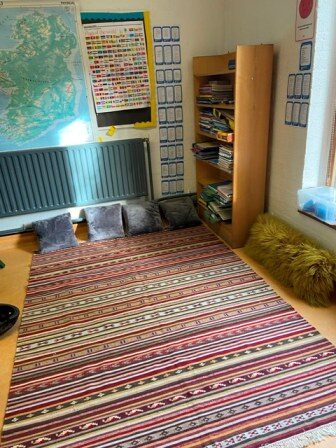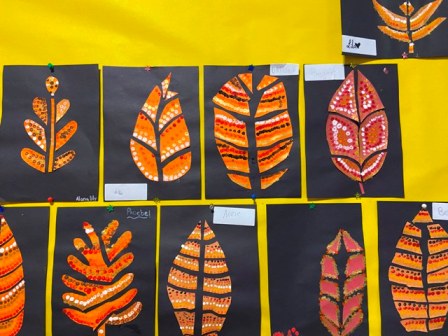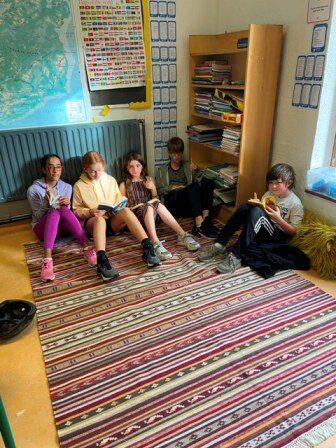 Ranelagh Multi-Denominational School, Ranelagh Road, Dublin 6, D06 Y658
Telephone/Fax: (01) 4961722 ● E-mail: secretary@rmds.ie
______________________________
Roll No. 19928Q ● Principal: Rosemarie Stynes