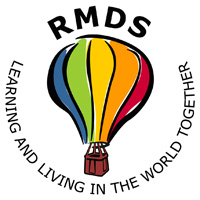 From the Principal's Desk…. 
A reminder that the Christmas Concert will take place this Tuesday, 20th December here in the school as follows: 
9.30 a.m: Junior Infants, Senior Infants, Rang 1 and Rang 2 
11.00 a.m: Rang 3, Rang 4, Rang 5 and Rang 6. 
Jackie has asked me to mention to you that the clampers are keeping very busy around the school these days! So please be careful if parking on the day of the winter concerts. Please make sure you are parked legally and have paid (enough!) before you come in! 
I would like to thank the PA – and in particular the Christmas Fair and Christmas Tree Committees for all the work that went into making the Christmas Fair such a wonderful day this year for all the family led by Eimear Marrinan (Aoibhinn - SI's mum), Gráinne Fahey (Edie – R5, Iris - R4 & Tara – SI's mum), Lorraine Hackett (Edith - R5, Toby - R4 & Stella - R2's mum), Rachel Sirr (Romy - R5's mum) and Oscar Carolan (Noah – R6, Jake – R4 & Luke - R1's dad) and supported by so many of our wonderful parents. The time, energy and planning does not go unnoticed and is so very much appreciated! Well done to Rang 6 who displayed excellent entrepreneurial skills through the setting up of their impressive stalls. Thank you to our beautiful choir who performed on the day and to Therese Coogan & Aoileann Farley for their dedication and hard work with the choir over the year. It really added a special touch to the whole day! 
Thank you also to the PA for enabling us to take a trip to the cinema this week. It was a really lovely day, and a chance for the whole school to partake in a treat together. 
A reminder that school will close for the winter holidays this Wednesday, 21st December at 12pm and reopen on Thursday, 5th January 2023. 
I will be taking some leave after Christmas for a few weeks and will be leaving you in the capable hands of Paul Fairbrother who will be Acting Principal, and Aoileann Farley who will be Acting Deputy Principal until my return after the midterm break. 
I would like to take this opportunity to wish you a really lovely Christmas with your family and friends. I hope it is a restful, peaceful and enjoyable break. 
Rosemarie 
From the Board of Management…. 
The BOM congratulates Maria Dillon and Therese Coogan on their recent appointment to the two Assistant Principal II positions and wish them every success in the same. An unannounced Incidental School Inspection from the DES took place recently. Feedback from the inspection was very positive. We would acknowledge the work of the staff in this regard, and thank them for their dedication. 
The formal annual review of the Anti-Bullying Policy has now been completed by the BOM. As usual, there will be a focus on Anti-Bullying Awareness throughout the month of January. The BOM formally welcomes Sarah Reid who has joined the BOM as the Mothers' Parent Nominee. 
There will be a lunch option available to all children from mid-January, through 'The Lunch Bag'- Further details will follow on return to school after the winter break. 
Thanks to all who were involved in the hugely successful Christmas Fair, including the Christmas Tree selling. 
Finally, the BOM wishes to thank the school community for their ongoing support in 2022, and would like to take the opportunity to wish all a very Happy Christmas and New Year. 
From the PA…. 

A HUGE thank you to everyone who came out last weekend to support both the RMDS Christmas Fair and Christmas tree sales! We made a whopping 10k for upgrades for the school including upgrades to the yard and outdoor equipment. This will have huge benefits for every child in the school and this work will be carried out in the coming year. In particular, a MASSIVE thanks to all of the volunteers on the day, and those that helped organise, manage stalls, manage volunteers, put away equipment and set up! Without you the Fair wouldn't have been possible - Santa really does have a great group of elves! And of course how can we forget the School Choir, AND our wonderful Rang 6 who completely WOWed us on the day. You should all be so proud! 
To close us out, the rChristmas Raffle has now taken place and the prizes and winners are below. Prizes will be put in school bags on Monday, or we would ask if you won something other 
than a voucher that you collect from the office on Monday. Thanks everyone, and have a wonderful break. See you next year for the Fair 2023!! 
Santa and his Elves
Name 
Raffle Prize Winners 
Class

3FE 

Coffee & Aeropress Lennon Darcy 

Seniors

Blooming Amazing Florist 

Voucher Senan Guiney 

R6

Bunsen Burger 

Voucher Louise Tierney 

R5

Butlers

500g box of chocolates & Scoop

 

Voucher Joey Scullion 

R3

Cinnamon 

Voucher Tiffany Freedman 

R3

Clayton Hotel Dublin 

Clayton Hotel Dublin 

Clayton Hotel Limerick 

1 x weekend stay vouchers Mary Connery 1 x weekend stay vouchers Sarah McNamara 1 x weekend stay vouchers Faye Healy 

SI 

JI 

R3

Donnybrook Fair 

Emer Rogers Jewellery

Hamper Grainne Fahey 

9 carat Gold earrings, handcrafted 

by Emer Robers Eddie Ryan 

SI 

SI

Firebyrd 

Flavour of Italy 

Voucher Aoife O'Brien Cooking Class Voucher Nora Corcoan 

R1 

R2

GMale 

Voucher Conor Kremin 

R1

Hillarys Nails 

Voucher Ann Ungvarsky 

R2

Host 

Voucher Izzi Geoffroy 

JI

Joys Flowers 

Voucher Luke Carolan 

R1

Michie Sushie 

Voucher Tom Griffiths 

R6
My Pilates Partners

6 months subscription to on 

demand Roshan McPartland 

R6

Nightmarket 

Voucher Eilí Hanley 

R3

Oslo 

Voucher Alice Carson 

R1

Oslo 

Voucher Aimee Lenehan 

R2

Pizza Yard 

Voucher for 1 Yard Pizza Dylan McCluskey 

R5

Redmonds 

3 Bottles of Wine :) Rachel Sullivan 

JI

Scoop 

Voucher Ciara Loughrey 

JI

Scoop 

Voucher June O'Leary 

R3

Siam Thai 

Supervalu 

Supervalu 

Swan Centre Leisure 

Voucher Calin Naci Cusack Voucher Sadie Kate Egan Voucher Ella McGrath One Month Family Membership Aoibhin Marrinan 

R3 

R6 

SI 

SI

Tap House 

Voucher and a Bottle of Whiskey! Estelle Delaney 

R4

The Blink Bar 

Voucher Téo Hanley 

JI

The Company of Books 

Voucher Robin Storey 

R1

The HIll Pub 

Voucher Vanessa Webb 

R2

The Village Barber 

Voucher Iarla Brooks 

SI

The Yoga Hub 

Voucher Lisa Murphy 

R4

Urban Health 

Brunch voucher Anna Coote 

SI

Wilde & Green 

Voucher Jonah Flanaghan 

SI

XPert Hardware 

Voucher Rachel Murray 

R5
Enjoy this little snippet of the day in pictures…..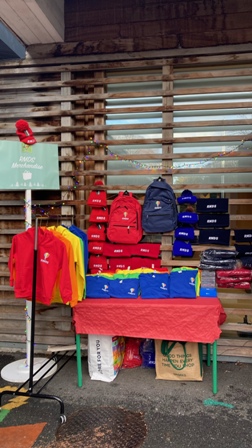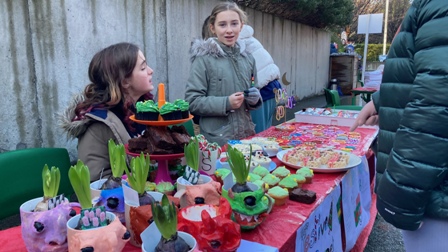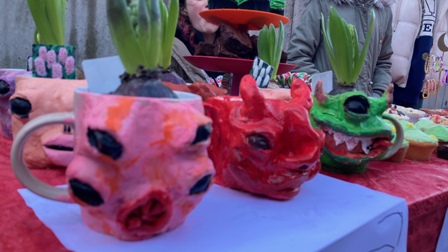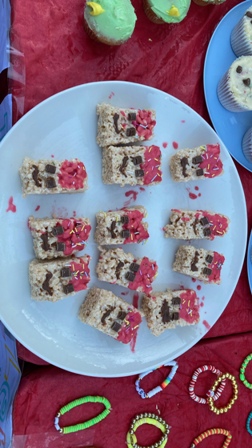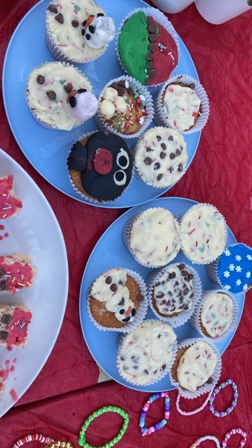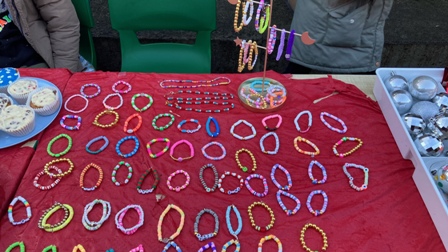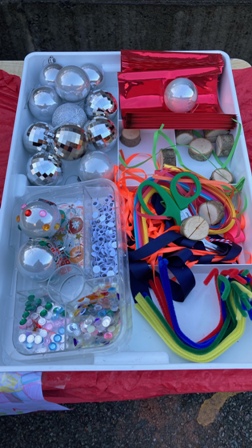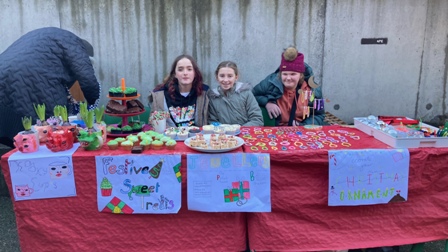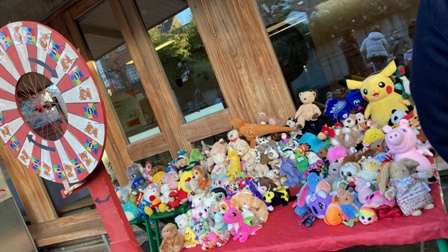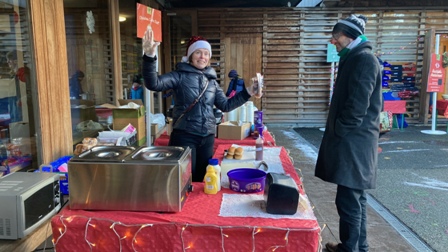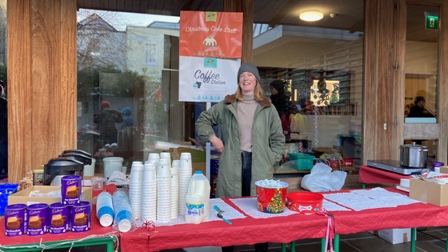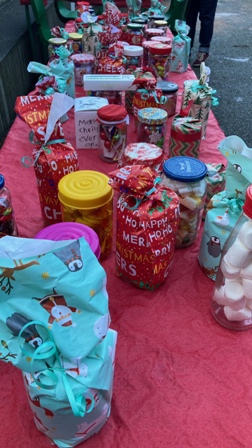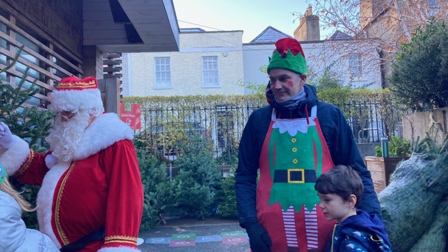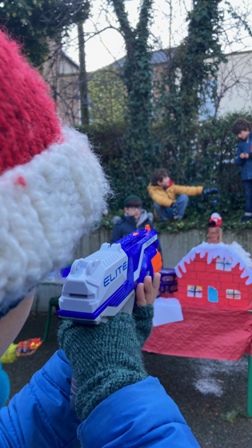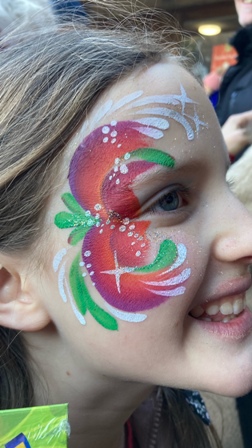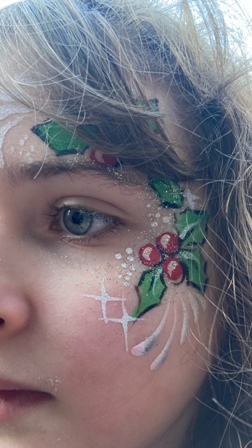 From the Green Schools Committee.... 
Green Schools Tips 
Wrapping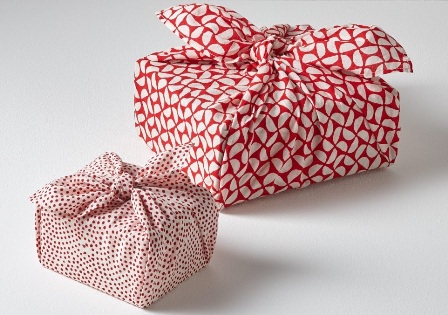 Use pieces of fabric to wrap presents and save the pieces for following occasions. It's how the Japanese wrap presents - look up 'Furoshiki'. 
Another way to conserve resources is to use gift bags or boxes and hang onto them. 
Plain wrapping paper can be recycled but please remove ribbons and bows beforehand. Foil-based wrapping cannot be recycled and needs to go in the general waste. 
Leftovers 
Under normal circumstances it's hard to judge how much the family will eat at any given meal, and during Christmas, we especially tend to over-cater. 
Leftovers are inevitable but that needn't lead to food waste. 
www.lovefoodhatewaste.com/recipes have some great ideas for cooking with them. 
Have a great Christmas! 
Roland Ramsden 
Andrea Scott 
Green Schools Committee Parent Representatives 
From the Student Council…. 
The Student Council would like to thank everyone for their support and generosity for this year's Festive Charities. We raised a wonderful, incredible total of €1871.08 - of which, every cent will be split equally between St. Vincent de Paul and The Irish Red Cross - Pakistan Appeal. Thank you all so very very much! 
General Notices…. 
Review of the legislation that provides for education for children and young persons with special educational needs - Public Consultation 
The Department of Education has commenced a review of the legislation that provides for education for children and young persons with special educational needs. 
The Education for Persons with Special Educational Needs Act 2004, is often known as the EPSEN Act and provides for the education of children aged under 18 years with special educational needs. 
The purpose of the review is to ensure that legislation on education for students with additional needs is up-to-date, fully operational, and reflective of the lived experiences of students, families and school communities. The review will help develop an understanding of what aspects of the law is working well and whether aspects of it should be amended. 
As part of the review process, a public consultation is taking place. This consultation will seek the views of a wide range of organisations and individuals that have experience with the law and with the services provided under it. It is an important part of the review that the lived experiences of students and families are recorded. 
To achieve this, the Department of Education is sharing the information about the public consultation and the link to the survey with school communities (www.gov.ie/epsenreview). The Department especially wants to hear from students and their parents, and from young people who left school in recent years. 
It is vital that the public consultation reaches a large number of people, so that a wide variety of views and experiences of different individuals can be captured. 
The Department is committed to ensuring that the views of persons with disabilities are fully considered in policy making. It will also hold focus groups with parents and students over the coming months. 
When the survey process is completed, the Department will produce a consultation paper, and will run further consultation events. If you would like to be invited to a consultation event, please contact the Department on epsen@education.gov.ie. 
Ranelagh Multi-Denominational School, Ranelagh Road, Dublin 6, D06 Y658 
Telephone/Fax: (01) 4961722 ● E-mail: secretary@rmds.ie 
______________________________ Roll No. 19928Q ● Principal: Rosemarie Stynes