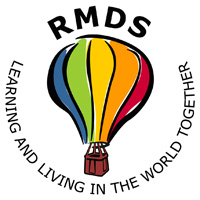 RMDS
School News in Brief….
18th February 2022
From the Principal's Desk….
A reminder that school closes at the usual time today Friday, 18th February for midterm break and reopens on Monday, 28th February.
School will also close on Wednesday, 16th March @ 2.10 pm and open again on Tuesday, 22nd March @ 8.30 am. 
Please check the RMDS Calendar on our website for all dates of upcoming events.
Wishing you all a lovely, restful midterm break!
Rosemarie
From the PA….
We hope you all have a lovely (well earned!) mid-term break and look forward to kicking off the return to school with an exciting in-person PA meeting on the 28th February in the Hill Pub at 8.30! We'll be discussing the relaunch of Sports Day so anyone with an interest in the event is especially welcome! 
Joss & Gráinne
PA Co-Chairs

THIS WEEK'S
News from around the Classes…..
Junior Infants
Another busy week in Junior Infants!  Our new theme is pets.  In Aistear we have been playing in the Dog Groomers.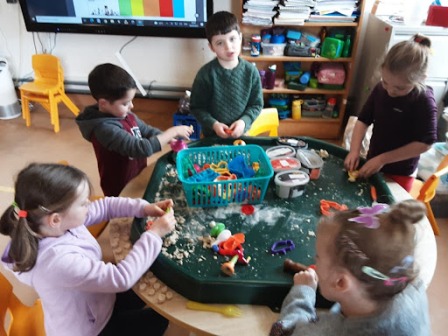 Our pet treats factory has been very busy selling treats to the dog groomers.
We made pet playgrounds, kennels and a tunnel in Junk Art.
We met Lennon's dog Albert.  He is very big and gentle.  We are looking forward to meeting lots of pets after the midterm.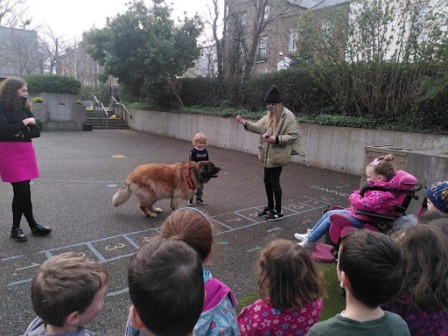 Look at the pattern we made!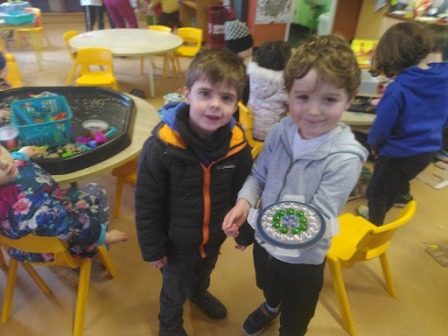 We built a very tall tower.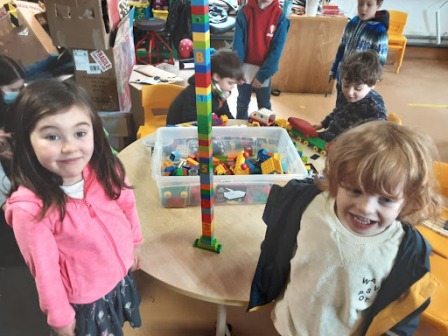 We made jigsaws during morning activities.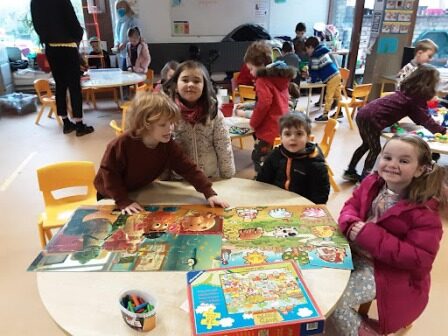 Look what we made with the sorting toys!
Aimée, our TY student and a former pupil of our school, taught us a new card game.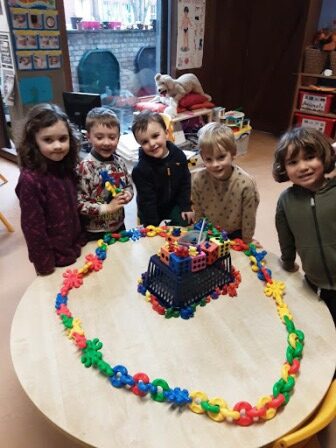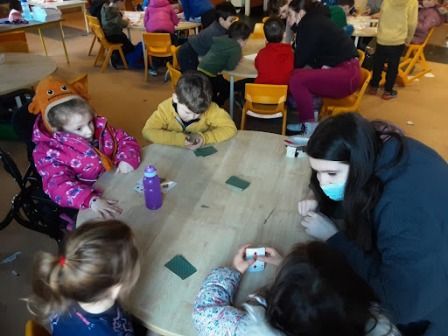 We built a tower of straws.  
Senior Infants
We've learned lots about the farm in Aistear this week .We even milked a pretend cow.  We did drama about The Three Billy Goats Gruff.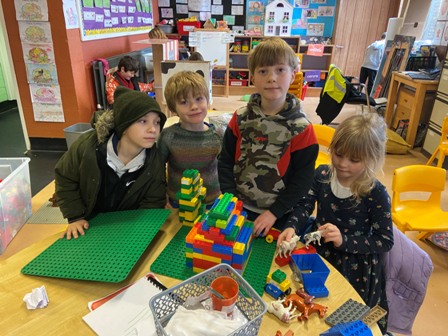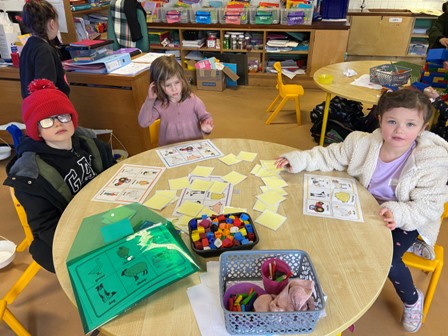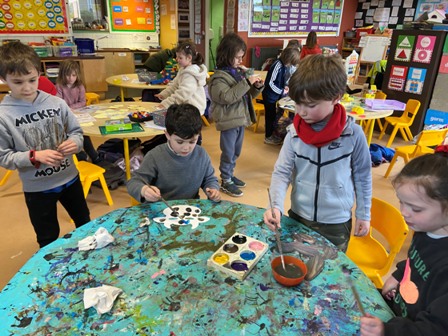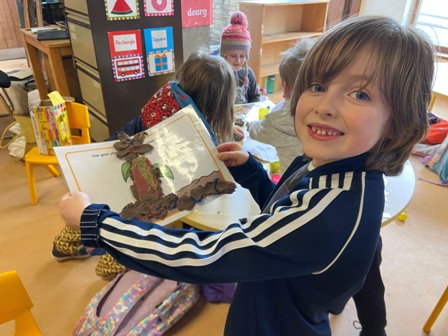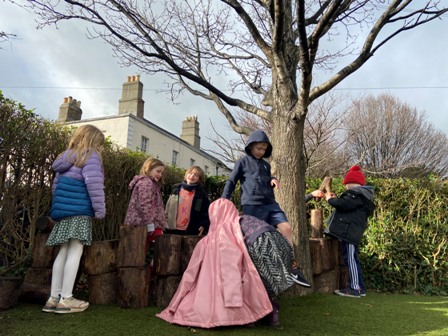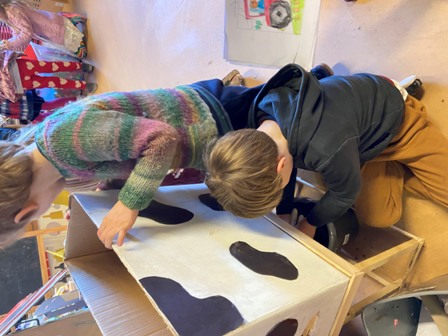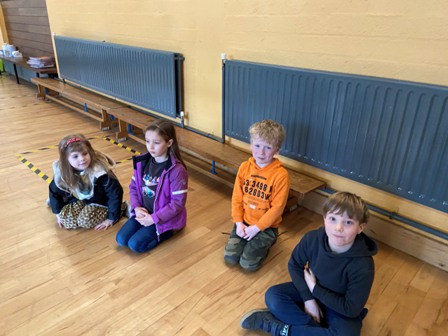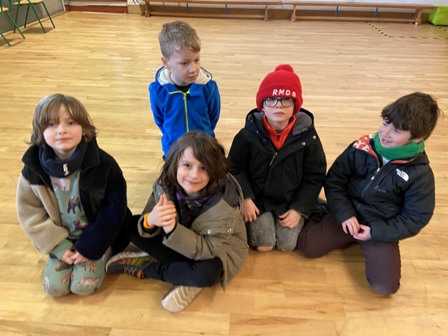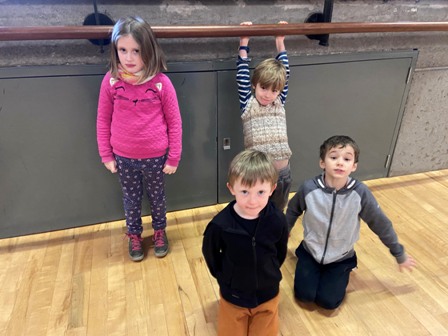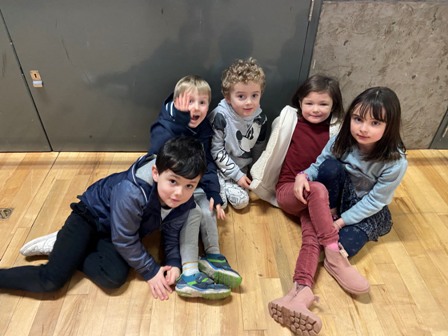 Rang 1
We had a lovely week in Rang a hAon this week as we learned about all things spring! We have been keeping an eye out for all the signs of spring that we are learning about. We noticed that lots of flowers have started to grow in the yard and some people have daffodils and snowdrops growing at home too. We made baby birds in nests for art and talked about the differences between winter and spring in science. Some people in the class are entering the Texaco Art Competition too and have been working really hard on their entries. We didn't have GAA this week, so instead we made some obstacle courses in the yard. It was lots of fun! Christina brought in loom bands for the class and we have been busy making bracelets and necklaces too!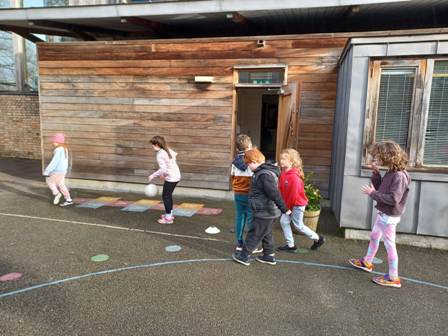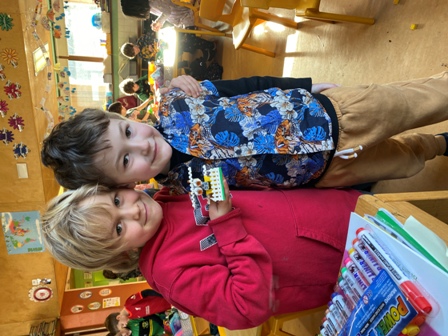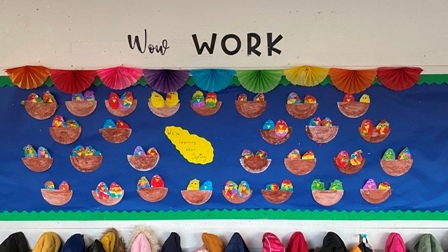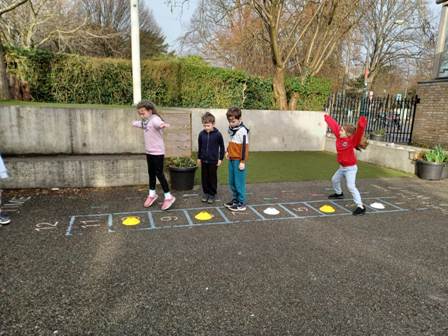 We hope you all have a great mid-term break!
Rang 2
Hello everyone!
Despite the cold and windy weather recently, the daffodils are thriving on the roof garden. Rang 1 and Rang 2 planted them back in October as part of the Green Schools initiative this year. Aren't they lovely? 
The Irish for Daffodil is "Lus an Chromchinn" meaning the "bloom with the bent head".
We have been making papier maché balloons as our "Support Balloon" activity . Support balloons remind us that we have many strengths within us to help us when things get hard, like family, friendship and pets.
Forest School is going very well . Claudia brought some clay this week and we got stuck in making some forest creatures and some beautiful bowls too.
Our maths STEM activity in class was making pizzas and working out what fraction of the pizza we covered with a particular pattern.
We hope you all have a lovely mid-term!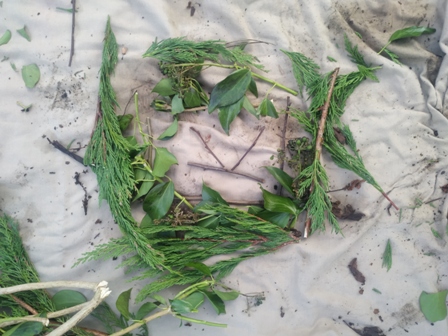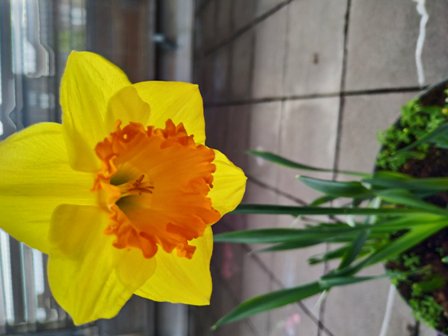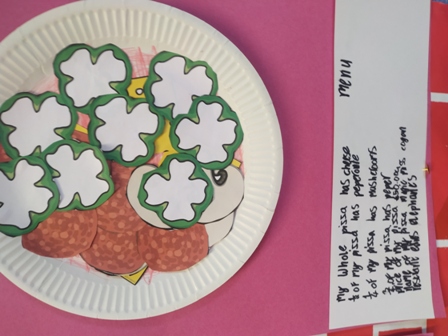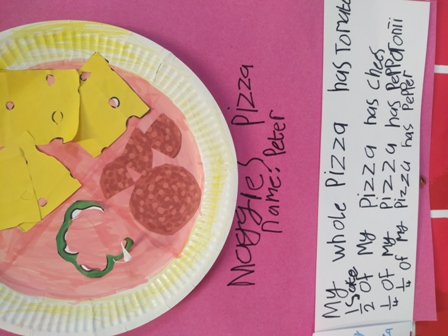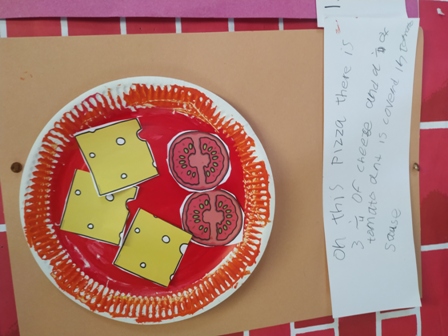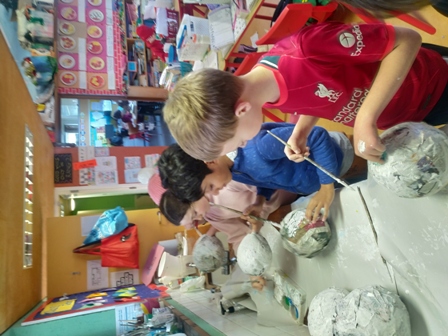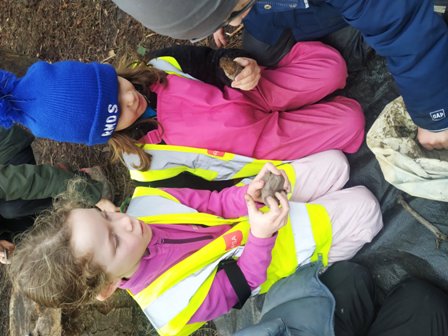 Rang 3
We have had a busy but great week this week in Rang 3 with Ms Marren as our teacher. Here is a summary of some of these amazing things we have been learning. 
In maths we were looking at Chance. We were predicting the probability of something happening and using vocabulary to decide if an event was impossible, likely, unlikely or definitely going to happen. 
In English we were writing poems and focusing on Valentine's Day. We also looked at figurative language such as alliteration and metaphors. 
In history we did mini projects on schools in the past. Have a look at some of our examples in the pictures. 
In PE we had a fun orienteering session in the park. 
In Gaeilge we have been learning all about spring (an t-Earrach). Please ask some of the new vocab we have learnt! 
We are also sharing our display of our finished Egyptian work in the pictures. Hope you enjoy them! 
Our secret students were Isabel and Ben. Well done!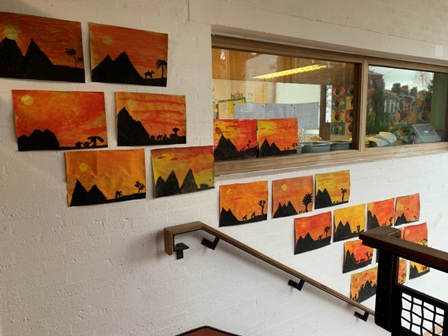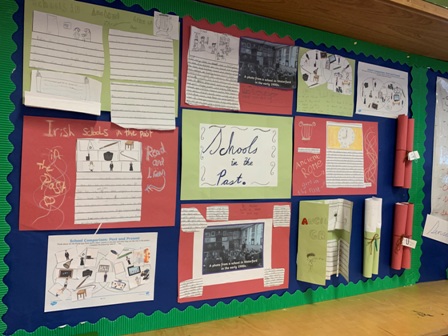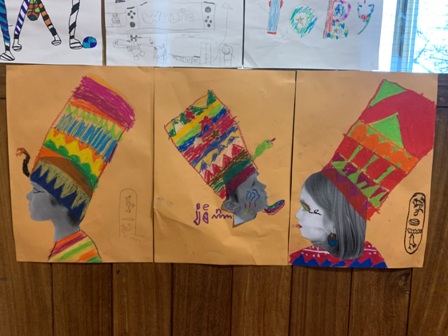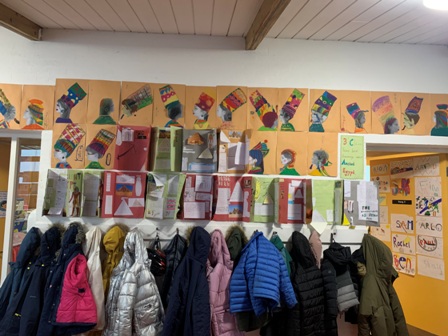 Rang 4
This week we finished the drawings for the Texaco Art competition and everyone did a great job! We're also doing reading in Irish and started an experiment called "The Fruit Battery". We also are learning chance in maths. In Word Wizard we learned about Gorta Self Care Africa which is a charity that helps tackle poverty and improve the lives of local communities in nine countries across sub-saharan Africa. In art we painted  Lunar New Year animals and put them in paper frames. We made dot art which is where you get cotton buds and paint and dot them on the page. It was lots of fun. We were also practising songs for Peace Proms. 
By: Mia and Lina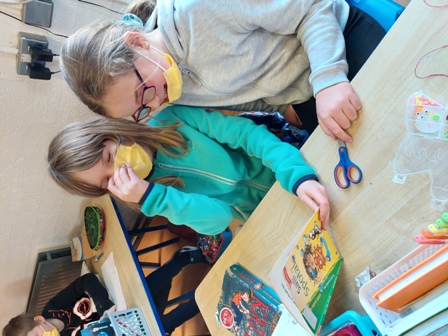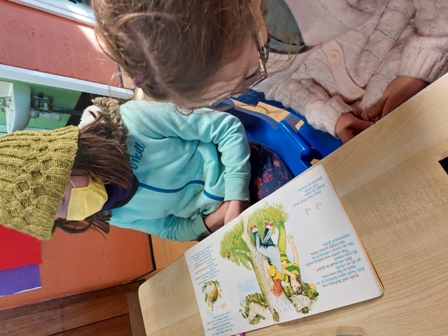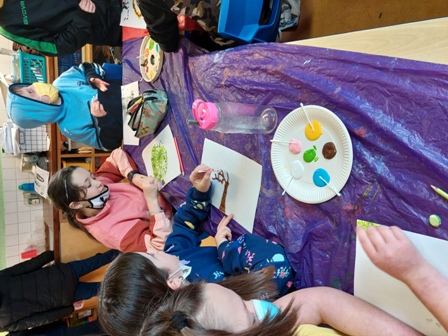 Rang 5
It has been another busy week in Rang a Cúig and we are looking forward to a little break over the mid-term. 
In English this week we wrote reports on either France and Mexico. We learned about both these countries in geography last week so it was great to put our knowledge to use. We used mindmaps to plan our reports and got to do some research in the chrome books before finally writing them. We are very proud of them. 
This Monday we made Valentine's Art by cutting out hearts on card, holding down the card on a sheet of paper and using paint and cotton buds to dot around the hearts. It left us with beautiful heart silhouettes. In maths we learned about percentages and practised our problem solving skills. 
We learned 'A Song to St.Brigid' for our assembly today. Unfortunately the assembly was cancelled due to the storm but we are looking forward to it after the mid term. 
For P.E we did rugby with Ken. It was very fun but we left a little bit early as it was very cold and windy. 
One final thing we learned from this week was Future Faigh in Gaeilge - a way to learn the Caol le Caol, Leathan le Leathan rule. We have had a great week in Rang a Cúig but we are looking forward to our week off now.
Thank you for reading!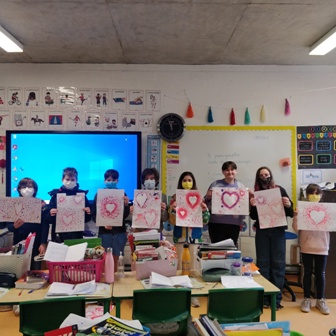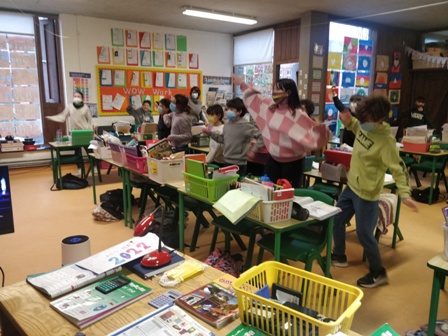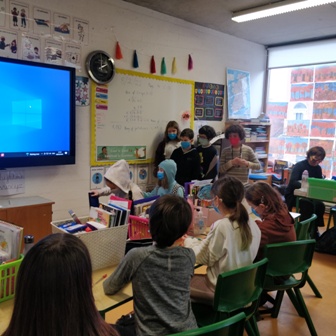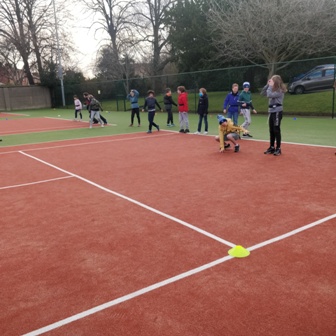 Rang 6
We had a great week this week in Rang a Sé. Last Friday half the class made their Confirmation and they all had a great day. In school we had a pizza party. R6 was turned into a pizzeria!! The classroom was set up with different stations for toppings. We had the bases at one, the tomato sauce at another, cheese after that, then we had meat toppings and veg toppings on the last. Two people in the class made vegan pizzas. We cooked them up in the staffroom and ate them in the classroom. The room smelled sooo good!! 
After that we had rugby with Ken where we played some warm up games and at the end played a game of boys against girls. The girls were the winners on the day but the boys were at a disadvantage as there were only four of them. 
Ms. Treacy started teaching the class on Monday. We are doing loads of nice lessons with her. We started learning about World War 2, the countries involved, the events that took place and we have started a project on it with a partner. 
We created spinners in science and we tested them in the classroom. We made different sizes and dropped them from different heights to test them. 
In art we worked on some sketching. We sketched a soldier at war. We painted the backgrounds too and will create a silhouette next week.
On Friday we are going to meet up with our buddies on the yard for some games. We'll tell you all about it in our next newsletter.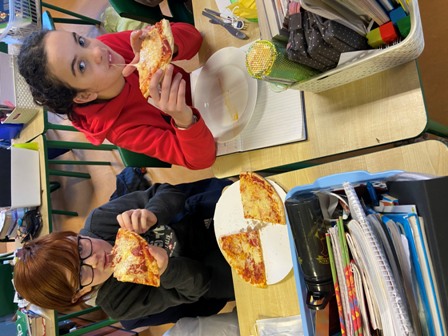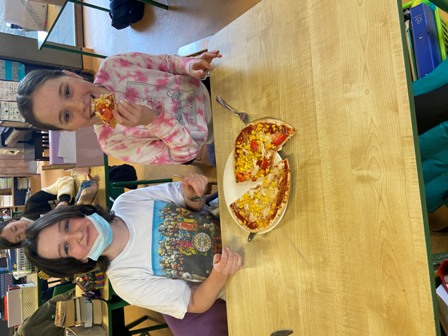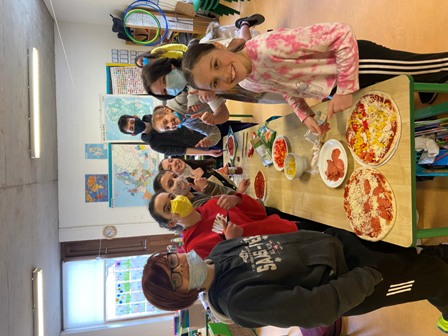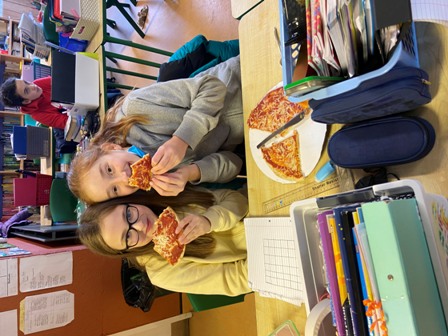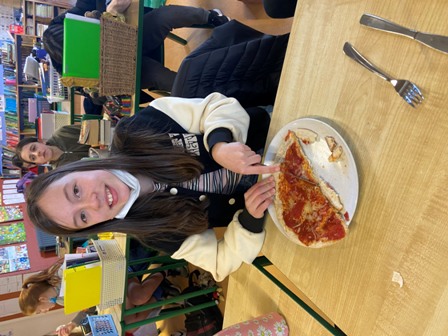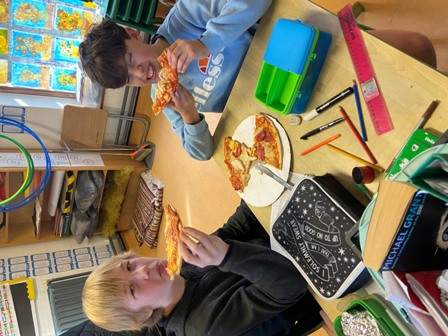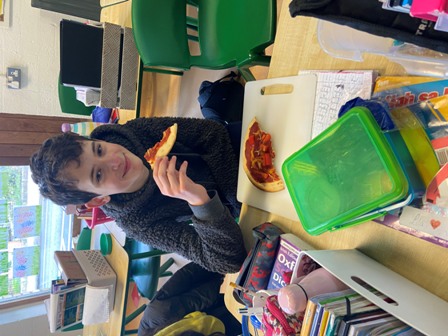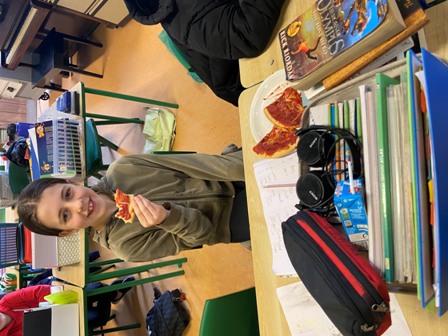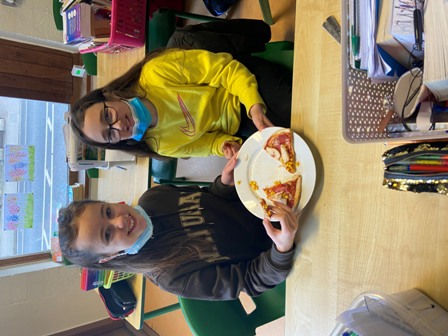 Ranelagh Multi-Denominational School, Ranelagh Road, Dublin 6, D06 Y658
Telephone/Fax: (01) 4961722 ● E-mail: secretary@rmds.ie
______________________________
Roll No. 19928Q ● Principal: Rosemarie Stynes