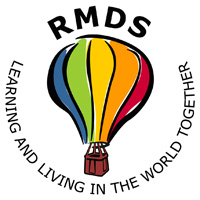 This week's Newsletter
18th June 2021
What a week! We are not only basking in the beautiful weather but we're also basking in the success of yesterday's school tours. The smiling joyful faces of the children getting on and off the buses was as good as any tonic.  The children were high on life and the weather played its part.  We're hoping for similar good fortune next week as Rang a Trí and Ceathair head to Clara Lara and Rang a Sé head to the West.  Rang a Sé will be looking for a bit of wind too as the midges in Delphi have had 18th months without their regular supply of children and teenagers to feed from.
Again the word of warning - a positive case will pause these tours so please continue to be vigilant around any symptoms.
The reports are due to be released through Aladdin Connect. If you have any issues with the app, contact the office.  If you have any queries about the content of the report, get in touch with the teacher.  It has been such an usual year it seems surreal that we are preparing for the 2021-2022 academic year.  We are currently looking through booklists, checking any textbooks that weren't fully utilised and passing them on for next year.  Looking at how we can support the children in filling any gaps that the pandemic has created.  That said, I do think that we are in a good place.  While there is always room to improve and we constantly strive to, the children are happy and feel safe. That is our first area of focus.  Everything, but especially learning, is more difficult if that isn't the case.  Thank you to all of you who have helped to make RMDS a safe place where daily activities look broadly similar to what they were before anyone knew anything about Covid 19.
A big success was being able to facilitate  Forest School in Rang a Trí, Rang a Dó and na Naíonáin Mhóra.  Thank you to Caroline Carroll and Aoileann Farley, our Forest School leaders.  Caroline has been our Forest School Leader for over 10 years but she has decided to use the ropes and tarps for a hammock next year and is deservedly putting her hiking boots in the air.  This week we as a staff had a small outdoor event to mark her Forest School retirement and to acknowledge all that she has given to the school with her passion and love of all things foresty. The programme wouldn't be the success that it is without her.  We brought back her partner in crime Joan Whelan for the event.  That means that there will be changes to the programme next year as we try and fill a pair of massive boots.  For now let's just be grateful for an amazing ten years.  Thank you to our Forest Queen.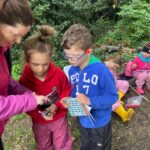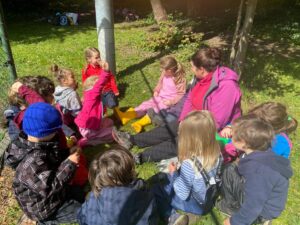 Next week we also prepare for another set of farewells as the graduation ceremony for Rang a Sé will be held on Friday.  It will again be a virtual event as gatherings are still not recommended.  Last year we weren't even able to gather the children together so this is a step forward and we welcome every single one.  I received another letter from the Department telling us to prepare to reopen the schools in the same way that we did on our return after Easter.  I have been enjoying seeing the little footprints at the entrances to the school fade during the year, looking forward to when they will be a distant memory. Unfortunately we may have to get the stencil out and repaint them but we'll get the front door fixed first!
Today we had Sport for Everyone Day lite and to augment the inclusive nature of this day our first ever Pride event.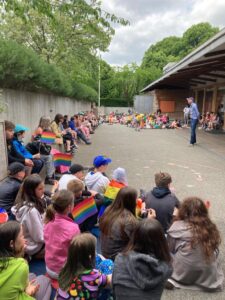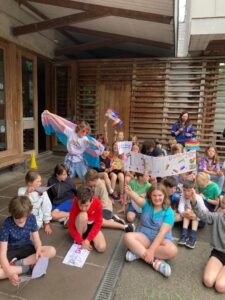 The children are busy working on a highlights of the year newsletter which will include pictures of their tours that may not be ready by next Friday but it'll be worth the wait.
The PA
The PA are working on a Voluntary Code around the use of smartphones.  You should have received an email earlier looking for you to sign up to it. If you didn't the link is here It's a three second job and definitely worth looking into.  Google may have been listening in to my conversations about this and my youtube feed suggested this video which if you do consider signing up to the voluntary code is worth a look.  It certainly gave me pause for thought.
Green School News
The green school committee have been busy counting up the water savings classes make by turning off the tap when brushing teeth. In a follow up to the energy saving strategy for the power hungry data centres around the world. Roland from the Green School Committee wanted to share this simple thing everyone can do.
Reducing your Gmail storage
In the Search Box located at the top of the Gmail window on your web browser, type: has:attachment larger:10MB
This will list emails over 10 Megabytes in size.
You can then check out, select and delete redundant attachments. After working through the 10MB attachments, change the 10MB in the Search Box to 5MB and try again. Keep reducing the size in MB until you've had good clear out…
We also need to say a big thank you to Roland for making up trolleys that are helping with the greening of some of our unloved spaces around the school.
Have a lovely weekend everyone,
Paul