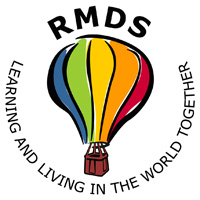 This week's Newsletter
Hello everyone, you can tell we are getting more comfortable in the 'new normal'. Rang a Dó went swimming yesterday and really enjoyed the freedom of walking to the pool and being outside.  This doesn't mean we are being complacent.  The changing area was sanitised before we arrived and once in the pool chlorine will do its job. I think now more than ever we need  not to  be complacent.  Keep wearing your masks, reduce our contacts and maintain social distance. 
One of the things I have been worried about is the absence of the children's voice without the student council.  We are still trying to find a way to make this work.  As I was talking to the children about the return to school and taking the time to hear their voices, we were discussing the upcoming virtual assembly which Rang a Dó have just performed.  Pupils in Rang a Cúig suggested that one class could be an audience so we tried that out today.  It wasn't perfect but it was a great start and well done to Rang a Cúig for the suggestion,  Rang a Dó appreciated the audience.  I think we'll have a system ready for the annual concert when it comes around in December.  If  any parents who work in that area could advise what we can do re the sound quality I'd appreciate it.
We are learning new things and making some mistakes as we go along. We are following Becketts advice about failing.  This is something I always say to the children, there is nothing wrong with making mistakes.  It's only if we don't learn from them it's a problem.  Although I don't think that's going to get printed on as many cups and cushions as Beckett's quote.
The thing we are currently working on is homework.  We are trying to find a system that works for children, parents and teachers.  Mary and I spent a lot of time testing out the homework option on the Aladdin Connects App (you would have used this app to see last year's reports) this week.  We are going to try it out in some classes next week.  The app also promises that we can use it for late or sick notes.
I can't wait to try out the permission slip feature for the upcoming visit of the Lord Mayor Hazel Chu and Dublin Fire Brigade to the school, more details to follow.
We are in touch with Dublin City Council about getting more bike racks outside the gates.  Well done to all of you getting to school in such a healthy way.  Anna and Áine (Ms Shackleton and Ms Grennan)  on the active school committee are very proud of you all.
The teachers are working on a welcome video and class guidelines in lieu of the regular class meetings which would be happening next week.  There have been rumours of WhatsApp groups getting concerned about the best way to access the class teachers, sorry that we hadn't it ready in time to stave off the WhatsApp anxiety.
In the meantime here is a roundup of what has been happening in the school this week.
Paul
This Week in Rang a Sé
This week in Rang a sé we got up to all kinds of fun stuff like art, P.E, learning the song: "Get by with a little help from my friends" and the cup song. 
In art we did abstract self portraits. We used a step by step guide and coloured it in with bright colours and we outlined the drawing with a black marker.
 In P.E we practised our throwing and catching skills and then we played a game called "no mans land". It was really fun.
We loved the assembly. We sang the song "get by with a little help from my friends" with second class leading the assembly. The original song is by the Beatles. 
In maths we did addition and subtraction in our Planet Math. We did a test at the end of the week.
We did lots of Irish such as Bun go Barr and Léigh sa Bhaile. 
 We started the Spellings for me program and it has gotten off to a great start. It is for 1st class to 6th class. Everyone enjoyed it.
We had a great week here in Rang a Sé. We can't wait for next week. 
By Jarvis and Darragh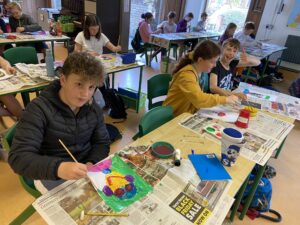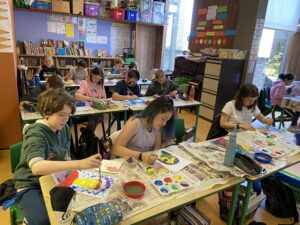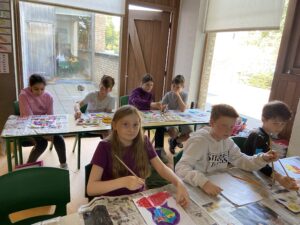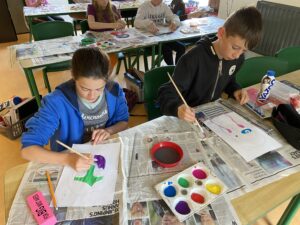 5th Class News
The week started off very well because we did painting using templates or silhouettes of shapes. They are now hanging up in our room and look amazing!
We ended up debating about women's rights because Ms Nic a Bhaird read us a story about pioneering women in sport.Katie Taylor, Sonia O Sullivan and Rachel Blackmore were some of these amazing women mentioned.
 We made music with objects which were on our desks, like rulers, lunchboxes, pencils etc. in each pod. We performed each piece for the class and invited Ms Brennan to our mini concert too. 
We ended the week really nicely because we had our first virtual assembly done by R2. We learned the song "With a Little Help from my Friends" by the Beatles during the week and joined in from our classroom. We had a great week!
By Alana  and Jack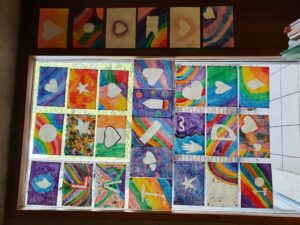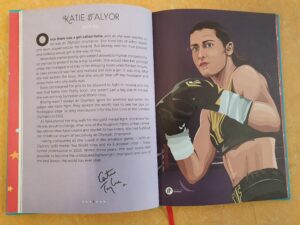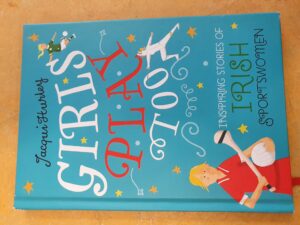 Rang a Ceathair
This week Rang a Ceathair used great persistence to learn a new skill - origami. They worked together to help each other create an origami crane. They also wrote their own comics as Gaeilge. 
Rang a Ceathair have been learning about Judaism as part of their core curriculum in the lead up to Rosh Hashanah, which starts Friday 18th. They have been doing research at home on types of transportation, sharing what they learn in class with their peers.
Rang a Ceathair also did collages of themselves with different paper. This week we also learned about rounding thousands, hundreds and tens. 
By Tom Conmy and Daniel
    
Rang a Trí
Rang a Trí have been talking about having a growth mindset. This is how to talk to ourselves when we find something difficult and keeping our minds open to challenges.  You can see one of our posters below.
 Some of the things we tell ourselves are : 
 I can't do this YET but I will once I try. 

Don't give up.

I can learn from my mistakes , they are opportunities to learn
We also wanted to show our mask portraits which show we are still smiling behind our masks!
In P.E we learnt ball skills and different passes. 
The winner of the Pod Points on the first week was The Snow Leopards Pod and last week was The Monkeys Pod!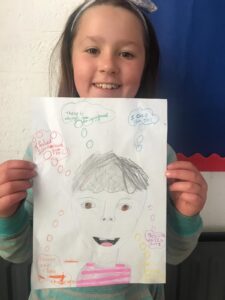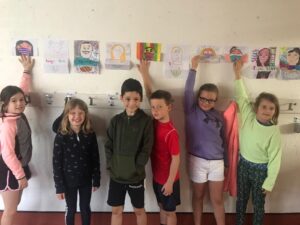 Rang a Dó
Here is a link to Rang a Dó s Friendship assembly.  Apologies for the terrible sound quality.  It is great though, you might say perfectly imperfect. The picture is of Rang a Sé watching it live, it was really lovely seeing and hearing them sing along.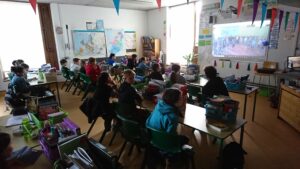 Rang a hAon
We have had a busy week in Rang a hAon and have been doing lots of "fun learning". The class started homework this week and have been enjoying doing some reading and maths at home. We have been learning all about Autumn and the changes it brings, along with the animals who like to hibernate. We have been practicing our "ch" sound and the class played Bingo on their new mini whiteboards. We learned about Kandinsky and his abstract paintings and the class did their own fabulous interpretations.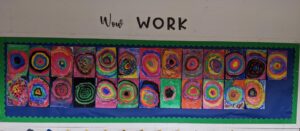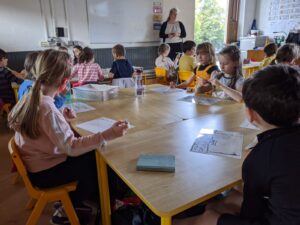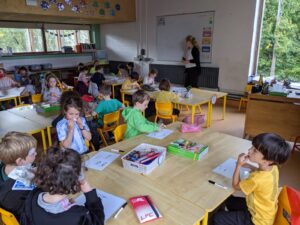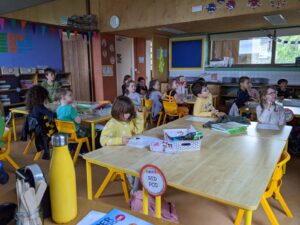 Senior Infant News:
We have been working hard in Senior Infants all week. We are really good at our Jolly Phonics and we have been making a big effort with our handwriting. We have made even more lovely Autumn art this week. We all love playing together and are looking forward to next week already!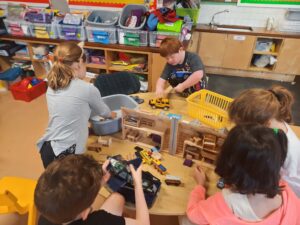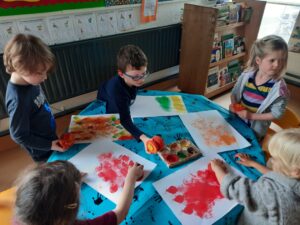 Junior Infant News
We have just completed our first week of long days and we have had lots of fun.  We have been sorting and matching bears, farm animals, buttons beads, pine cones and lots more.  Outdoor learning is lots of fun. Every week we stop and look at the oak tree outside the park.  We can't wait for next week.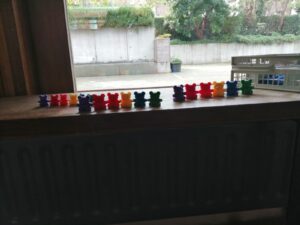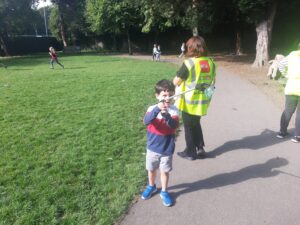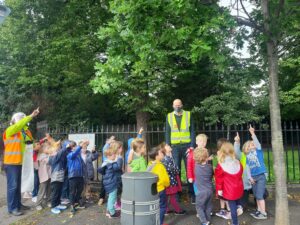 From the PA
The PA would like to extend a warm welcome back to all the parents and children, with a special thanks to Paul and the RMDS team for making it possible!
We held our AGM virtually this week and it was great to see some familiar faces as well as new ones!
The PA committee and class reps were duly elected and are:
Co-Chairs: Rachel Sirr & Oscar Carolan
Treasurer: Cormac Ó Foghlú
Secretary: Lorraine Hackett
Class reps: JI: Jane Trenaman; SI: Aoife Kelly; R1: Anna Carroll; R2: Bronagh Hayden; R3: Clare McCluskey; R4: Lorraine Murphy; R5: Inga Ryan and R6: Clodagh Moran
The PA meets monthly and all parents are welcome to come along, just drop a note to pa@rmds.ie
The current Covid restrictions means we need to review our normal calendar of events and the approach we can take for these. We may need to  move some events and fundraising efforts to a virtual model, so if there are any parents with online event management experience we'd love your thoughts and suggestions – contact us at pa@rmds.ie
Running Group
If you think you might enjoy a run (and a chat) after dropping the children to school, you're in luck. The parents' running group is going strong.  All levels welcome!!
Contact Avril @ 086 6088066 for more information. 
Thank you
Rachel & Oscar
Lost Property
Hopefully this week we will have better luck finding the owners.  Last week's hoodies are still here :-(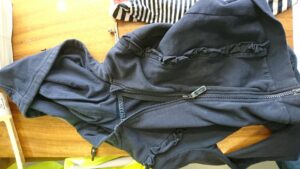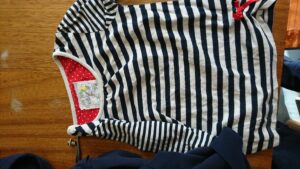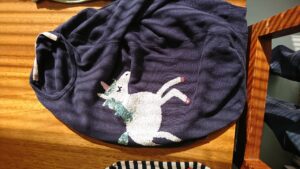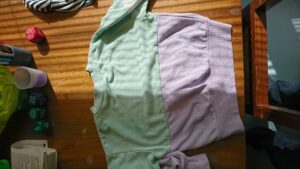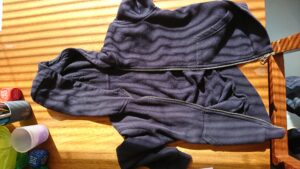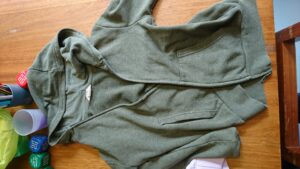 A final piece of advice for any WhatApps worriers.  Office hours are 9-5.  There is no teacher reading emails before 14:10.