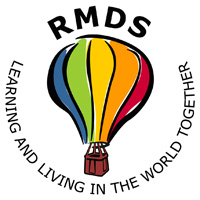 This week's Newsletter
19th March 2021
Our blossoms aren't out but all the children are back so this week has been a good if slightly fragmented one. Today had the same buzz of excitement and energy that we would normally have.  Things are returning to normal which is a wonderful thing to be able to type.
That said we still need to do what we have been doing. We need to keep our contacts to a minimum and protect ourselves with the simple things like hand washing and wearing masks.  The numbers remain high and we need to continue to exercise caution.  Thank you to those of you who have kept children at home and protect us all in so doing.
The climbing frame is always a big hit in January when we take it out.   The Student Council had mentioned bringing it out to the yard in December and I am glad that we have been able to follow through on that for the whole school.  It has been on yard all week and it has proved to be a very popular addition.  I am amazed by the upper body strength of the children as they carry out all sorts of stunts on the Monkey bars.  Rang a Sé took all our gymnastics equipment out to the yard and were vaulting over the box outside my office window.  The eight years of practice is showing.
We said our goodbye to Aisha in Rang a dó today. Unfortunately Mary in Junior Infants wasn't able to make it in but we did get to wish her well at home time.  We wish them both every happiness in their new home and new school in Beaumont.
It's hard to believe that the Easter break is next week.  In the interest of having one full week we won't have a half day next Friday as we normally would.  School will close at the normal time of 13:10 for the infants and 14:10 for the rest of the school.
That should give us enough time to rekindle my Anica Rice impersonation as I run from class to class for the raffle.  More details are in the PA section.
Have a look at what has been happening around the school this week.
Rang a Sé
This week was our first week back at school. We had lots of fun getting back into the groove after having 3 months of online school. It was Seachtain (or Coicís [fortnight] ) na Gaeilge this week. It was really fun and we did a few activities in Irish, including a quiz which the Red and Orange pods won, and we made posters with seanfhocail (old quotes) on them in art. We learned about Irish Culture and History including a lot about the 1916 Easter Rising. We also started reading our Class Novel: Friend or Foe. We did fractions, decimals and percentages in maths and had a test on Friday. On Wednesday we had a day off for Saint Patrick's Day, which we'd also been learning about in Gaeilge. We did lots of mindfulness activity sheets with Shamrocks and animals. In English we watched two videos, one with an author called Rob Buddolph and another with David Walliams. Then we tried out writing stories using only pictures! It was great fun and a perfect way to start our first week back at school. 'Till next week… byeee!
Síbha, Anna BC, Fionnán.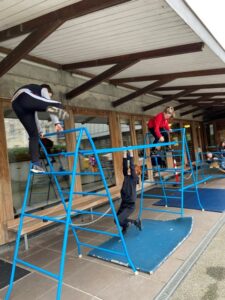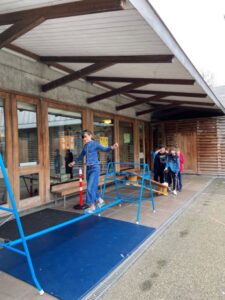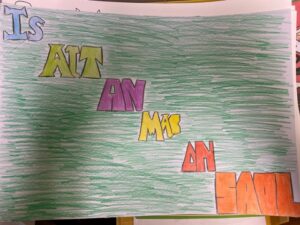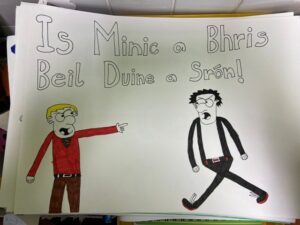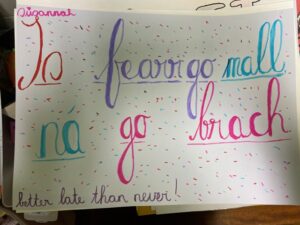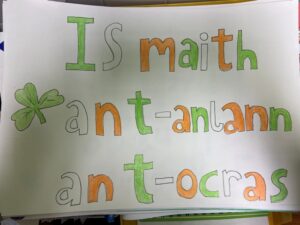 Rang a Cúig
This week in 5th class we have been learning about percentages and decimals in maths.
In Irish we did a Kahoot quiz for Seachtain na Gaeilge. It was really fun! We also did a few stories as Gaeilge from our Léigh sa Bhaile book. They were about Saint Patrick's day and Seachtain na Gaeilge.
In English we have started planning for our write-a book. We also did some Comprehension work about an extract from the bookHoles.
In Art, we made some St Patrick's day art. They were very interesting and we got to take them home in time for St. Patrick's Day!
We also did the climbing frame as a special treat and everyone had a lot of fun.
Ms. Nic A Bhaird  introduced us to a very fun maths game which was very exciting and difficult too. It helped us with our times tables.
In History, we learned about a woman called Gránuaile who was a very cool pirate and merchant.
We are very glad to be back in school here in Rang a Cúig and had a great week!
By: Prosper and Alice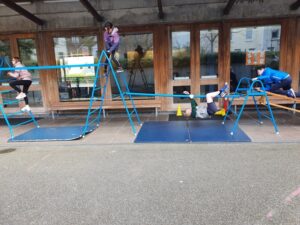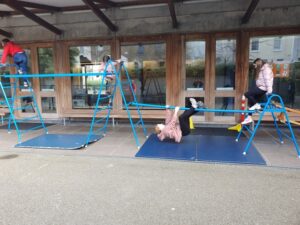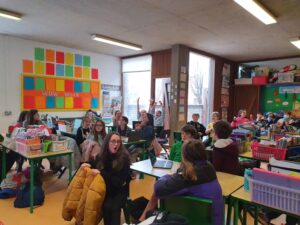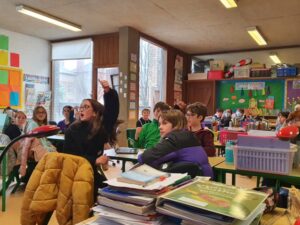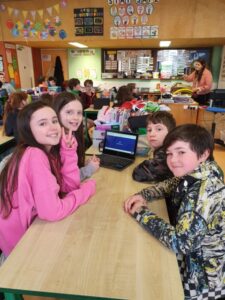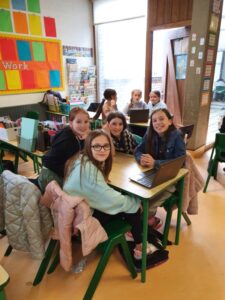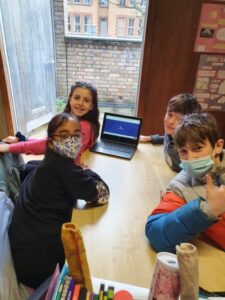 They also put together some nice pieces for St. Patrick's Day
Rang a Ceathair
R4 enjoyed this week, we are very EGG-cited for Easter and to be back at school! We filmed a video of our Dreoilín dance that you can check out here (https://youtu.be/d8TiqgVUKPE).
For St. Patrick's Day, we went for a walk to Dartmouth Park. Ms. Delaney made brownies for Oscar's birthday. We learned about Dublin landmarks and will do a collaborative project with R3 next week.
In Maths, we have been learning about 3D shapes. We cut out the nets of shapes to make our own. We have started our plans for write-a-book in English. Some of us have started typing. We also learned about the EGG-cellent poem, The Daffodils by William Wordsworth.
We created St. Patrick's Day art and a Kahoot quiz as Gaeilge.
Rang a Trí
3rd class have settled in well this week and are excited about learning in the classroom again.
We learnt about symmetry in maths and made some great symmetrical patterns. We will show you a photo next week of our display.
In Geography and English we are researching Dublin landmarks and will soon be using our persuasive skills in writing to tell you why you should go and visit them.
In history and for St. Patrick's day we learnt about Cuchlainn - ask us to re tell the story!
We had a substitute teacher called Ms Fitzgerald, she was impressed with our work.
Green School News
National Scoot to School Week takes place next week, from March 22 to 26. National SOW Day (Scoot on Wednesdays/Weekdays) will be held on Wednesday 24 March.
If you can join in with the rest of the country
PA News
Although it feels like September with the kids just back at school (YAY!!), Easter is just around the corner and so is the. . . Easter Raffle! Tickets on sale now at rmdsevents.com and the draw will take place at school on Fri Mar 26. One hamper on offer for each class.
All funds raised will go back to school for various projects, including:
Replacing windows in Junior Infants and Rang a Cúig and replacing a cracked pane.
Upgrading the emergency lighting in the school corridors.
Leaky gutters are damaging the roof of the verandas and need to be replaced (this is a longer-term project.)
More equipment for outdoor play.
Ongoing improvements to the sensory room.
Rang a Dó
What a busy week . We had a lovely celebration for St. Patrick's day in the class by singing the Gaeilge Macarena, and performing a dance on the roof garden. We went over to Ranelagh Gardens to spot the ducklings that hatched there recently. Our shamrock is beginning to sprout and should be thriving in time for St. Patrick's day 2022.
We are sad to be losing our lovely Aisha this week as she is heading over to Beaumont, but she has promised to stay in touch.
We headed into Merrion Square and had a look at the lovely Gerogian houses on the way. Miss Pigott told us all about the special windows over the door, and how their beautiful patterns prevented burglars from breaking in .
A big happy birthday to Shay from our class , and Happy Iranian New Year to Robin also.
Can't remember the days of the week as Gaeilge, this might help
Rang a hAon
We were so excited to see the rest of the school come back this week. We had a busy week learning all about St Patrick and we even did some PE as Gaeilge! We have been learning about the different parts of a flower and are growing our own seeds in the classroom, they are getting really tall. In PE, we have been loving using the climbing frame in the yard and building different obstacle courses.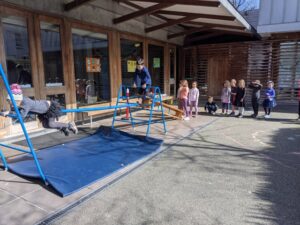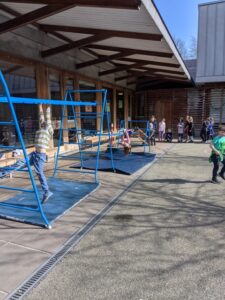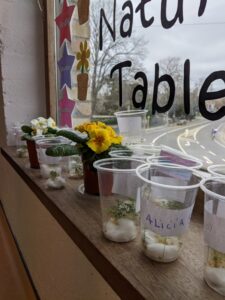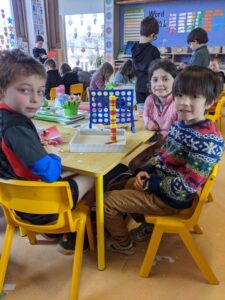 Naíonáin Mhóra
Senior Infants have had a brilliant week in school this week. They have been learning all about the post office in aistear, we have excellent postmen and postwomen in the class. All of the boys and girls loved dressing up in green on Tuesday and learning all about St. Patrick's Day.  We made a video for St' Patrick's Day https://youtu.be/c2TJUpxWMLA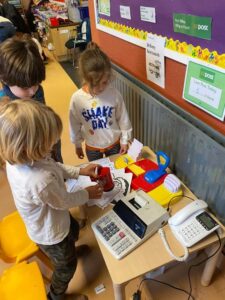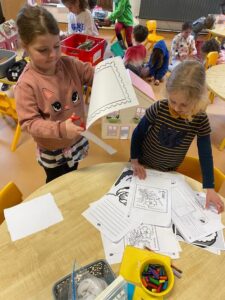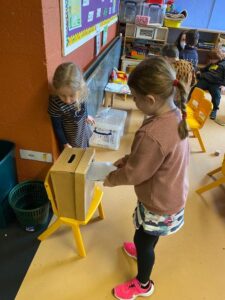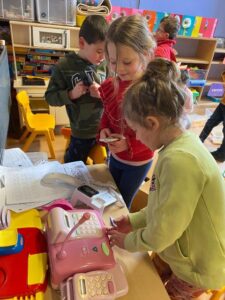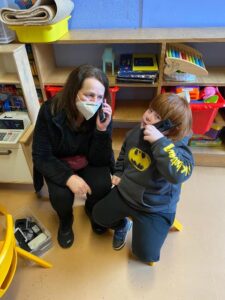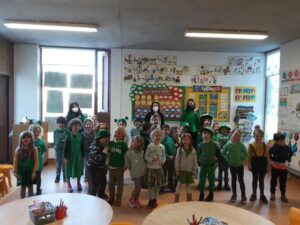 Have a lovely weekend everyone,
Paul