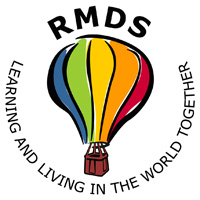 This week's Newsletter
21st May 2021
This week something memorable happened and I'm not talking about the car that parked in our front door in the early hours of Monday morning. Rang a Trí have taken on the role of investigative journalists and are chasing up every single detail of the story, expect a full report next week.  I am referring to a lovely chat I had with a grandmother at home time. She was there to collect her grandchildren.  She hadn't been able to do this since March 2020.  We've come a long way since then. With almost 50% of the staff now vaccinated, is it too much to hope that things will become 'normal' again?
The songs of Charlie and the Chocolate Factory have been bouncing around the school as Rang a Sé are putting together their production which we hope to  share with you next Thursday.  I love the collaborative effort that is the musical, as the children take on different roles.  The backdrop is looking brilliant, the stage has been dragged from under the school and put together.  Teams are deciding what their choreography might look like while some are busy adding drama to their voices and finishing touches to their lines.
We plan on a webinar style event so that everyone in the school can see it safely.  There will be no repeat of the Winter concert-hopefully.
World Outdoor Classroom Day was yesterday.  The tradition continues where the day would require full sets of waterproofs and umbrellas.  We had scheduled our day for today but today, while better than yesterday, is not the day to be outdoors. We will try again another day.
Yesterday's weather was particularly awful at drop off times and lots of people desperately tried to find the shortest route to school.  Some of you however, gave Jackie palpitations as you parked at the side gate on Mount Pleasant Place going up the hill.  That is possibly the worst place to park on any day and particularly on a wet day.  We would ask everyone not to stop here at any point even if it is just a five second pick up.
The CHY3 forms are in the post and you should be receiving them soon.  I don't know anyone who likes filling in forms but it is a relatively painless way to make your generosity work harder and would be much appreciated.
Cricket will resume in Leinster Cricket Club for rang 4,5 agus a 6.   Thank you to the parental support who have helped get this up and running and who also provided alternatives if it didn't work out.  We are hoping to get back swimming with Rang a Dó and we continue to plan our Sport for All-day.  Our second school tour of the year is scheduled for next week as Senior Infants look forward to a trip to the farm.  These are all things which are making it feel normal, long may it continue.
Thank you all for your support in dealing with no front door access.  I don't know if we can get the front door repaired before the end of the year.  We have had people out measuring and I will inform you as soon as possible.  When arriving at the school outside of drop off and collection times, continue to use the buzzer at the front door and then walk to the gate on the lane to meet Mary Holder or Barbara Gallivan.
The back gate is now quite busy so I would ask that we continue to line up in classes 2m from other children and especially from other classes.  We have just five and a half weeks left and it would be great if we could finish the year without a case in the school.  Let's continue to practice social distancing.
And now a trip around a very busy school..
From the Parents' Association
We had a great session on Tuesday evening on the topic of children's use of smartphones and other devices.
Ronan Munro talked about how, through his work as a barrister, he saw the damaging effects that unfettered phone use can have on children's development. That prompted him (along with other parents) to set up a voluntary 'no smartphones in primary school' code for parents in his children's school.  He explained that the idea was to start a conversation among parents, to provide an alternative viewpoint and to encourage parents to put some thought into the decision about whether to buy their children smartphones.
We'd love to know if RMDS parents would be interested in doing something similar so please drop us a line at pa@rmds.ie if you have any thoughts.
Fiona Jennings from the ISPCC also joined to share their new Digital Hub, which has resources and advice on how to keep children safe, and have positive experiences, online.
Parents also shared resources they found useful, so sharing those here too:
https://www.childline.ie/online-safety/
Colman Noctor, child & adolescent psychotherapist talks about the impact of phone use on children's development, friendships etc... https://youtu.be/AzFRW5zJyjY
Thanks,
Oscar and Rachel
Rang a Sé
This week in R6 we were very busy preparing for the 6th class musical. Every day we practiced and on Thursday the stage was set up! A lot of people were working very hard on the backdrop and we're proud to say that it looks pretty good! On Friday we brought in all our costumes and we're very excited for dress rehearsal. This week we were meant to be doing rugby and cricket but unfortunately it lashed rain on both Thursday and Friday. We're looking forward to doing it next week, though.
We all studied very hard for our end of week test - this week we revised all the irish tenses and learnt a list of verbs. The main focus this week was on the musical - which is happening in less than a week's time - so there isn't much else to report, really. Anway, that's it for today. We hope you have a nice weekend and stick around for news of our musical!
Anna Godson O'Doherty and Alannah O'Keeffe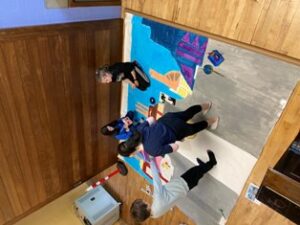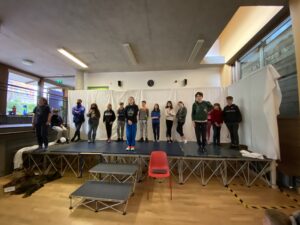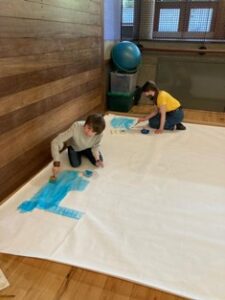 Rang a Cúig
This week we started multiplication 2 in maths, it is one of the last chapters that we have to do.  We learned how to multiply decimals and we went over repeated addition again.
This week we also finished our class novel 'Under the Hawthorn Tree'. It was based on three survivors of the Great Irish Famine, the book showed us their journey of survival. It is such an incredible book so we won't spoil it for you.
This week was our last week of Stay Safe, our final topic was internet safety. We talked about being careful on the internet and never to meet someone from the internet in real life without an adult. We finished our planet art that we started last week, we made a starry background on black paper and we cut out our planets and stuck them on. Now the planets look amazing. You can see them in the pictures below (excuse Ms.Nic A' Bhaird's silhouette the light wasn't working with us).
Unfortunately, Emma from our class is in the hospital so to make her feel better we made her some get well soon cards.We hope Emma will be back in class with us soon! Today we are finishing the tippy taps that we started yesterday. They are outdoor eco-friendly taps made from bamboo sticks and reused milk bottles, we made one for each class to be used for outdoor learning. Sadly our cricket and outdoor learning day were canceled this week due to bad weather, but we still had a lot of fun.We watched 'Charlie and the Chocolate Factory' to practice for 6th class musical as we will be singing the background music. We are very excited to film the musical soon. We have had a great week in Rang a Cúig.
By: Joe and Bobby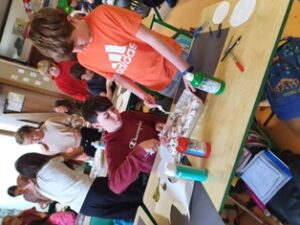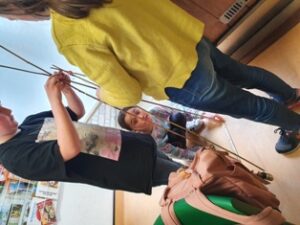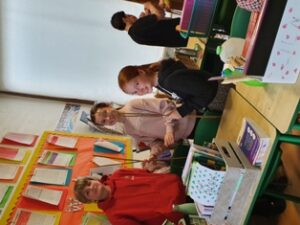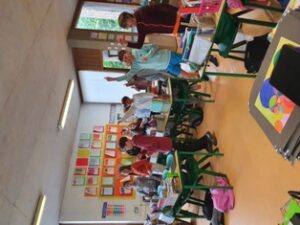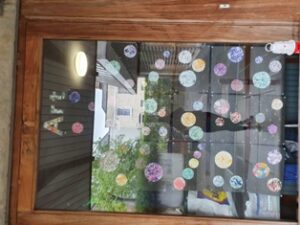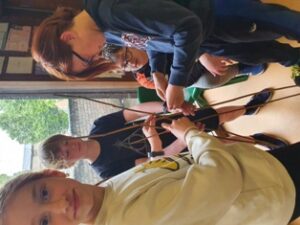 Rang a Ceathair
This week a car crashed into the school. It didn't do too much damage. We're learning how to crochet.
We made pompoms and put it on our May Bush and also learned about it.
We finished adding and subtracting time, we went to Leinster Cricket Club to learn cricket.
We learned about cyberbullying and watched a video on how to avoid it. We learned about recount writing and some students in the class talked about their recount writing.
By Conn and Lois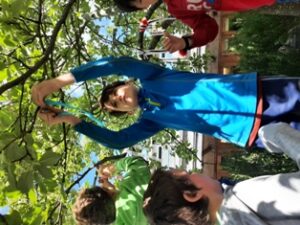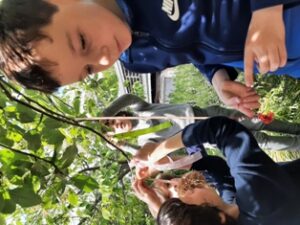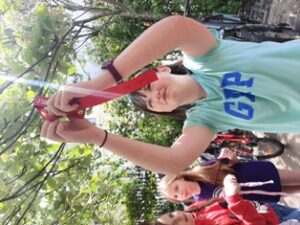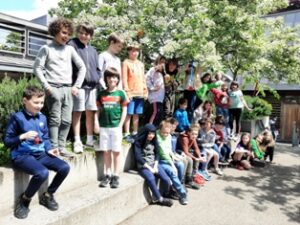 Rang a Trí
Maths- We were learning about patterns in Maths and did lots of revision of our x6 tables. We played splat and stand up sit down games! We are all getting very good at them now.
English - Our newspaper report is almost ready for publication. We have been writing about the car crash that happened outside the school. We have become very good reporters and interviewed Mr. Fairbrother to find out all the facts.
Gaeilge- we played matching games with verbs and are practising asking and answering questions in past tense.
Stay Safe - we have talked a lot about staying safe and friendships and bullying. Ask us how to identify bullying and who we can tell when we feel unsafe.
Our kindness monitors have caught people being extra kind this week. One example is seeing someone helping someone to cheer up when they were not feeling well.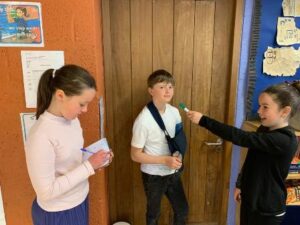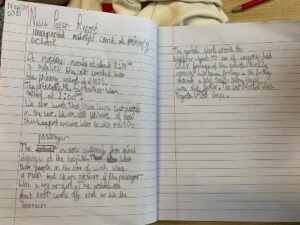 Rang a Dó
Another very busy week for Rang 2! We have been learning The Wellermen Song and we made a video of us singing it in pirate costumes,
We made beautiful summer meadow art with 3D bees and butterflies.
We learned about biodiversity as it was biodiversity week. Bio stands for biology or all living things and diversity stands for variety . We learned that one small change in an ecosystem can have a huge effect.
It has been suggested that the wolf is reintroduced to Ireland. What do you think?
We have also been collecting items for bug hotels as even the smallest insect is vital for the planet's survival.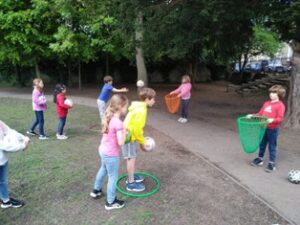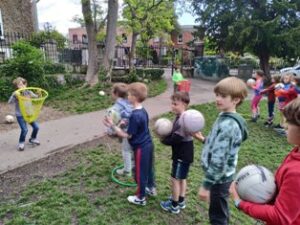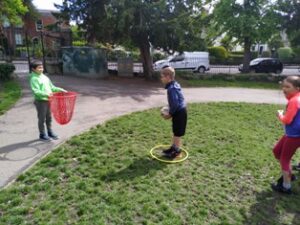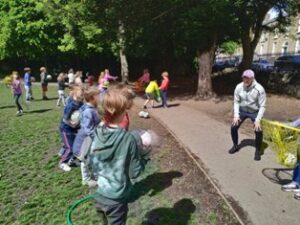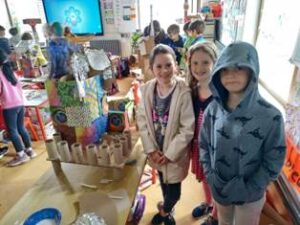 Rang a hAon
This week in Rang a hAon, we have been learning about length. We have been doing lots of measuring in the classroom and even made a flower garden that shows all of our different heights. We did a length trail that taught us all about 1m and it was a lot of fun! We had a great time at GAA on Wednesday and have gotten really good at soloing and hand passing. We had a competition to see how many times we could throw a ball into a hoop in two minutes and the girls team won this week! Despite the rainy weather on Thursday, we managed to enjoy our break times with an active game of Would You Rather and played a real life video game. In Art we made some jellyfish puppets to go into our Octopus's Garden.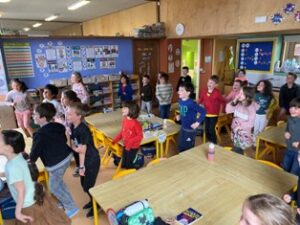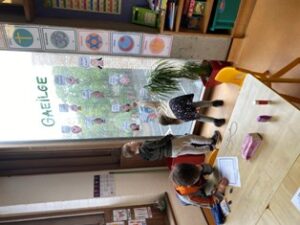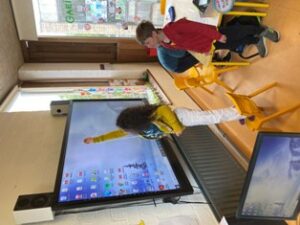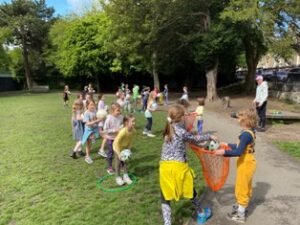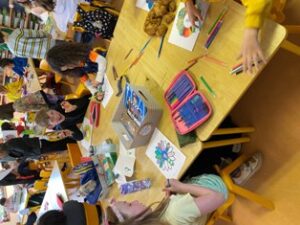 Naíonáin Mhóra
We have had another great week in Senior Infants.
We have been very busy everyday. In maths we learned all about money and the different coins. We have been using what we have learned in our framers market. We love shopping in the market and buying lots of yummy food.
Forest school this week was so exciting. We learned how to peel sticks using vegetable peelers, when we were finished peeling we designed our sticks with markers. One of our highlights of forest school is the delicious hot chocolate.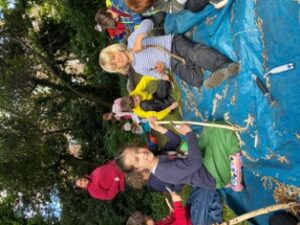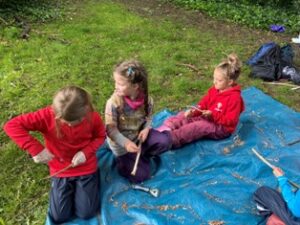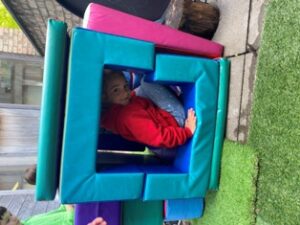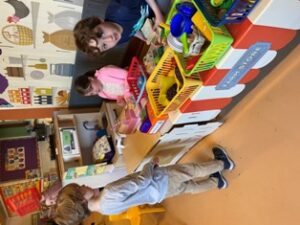 Naíonáin Bheaga
Ms Farley let us choose  our new topic.  We are learning all about bees.  Did you know that bees do a waggle dance to tell other bees where to find the best pollen.  We made bees in art and pretended to be bees in Aistear.
We made a television in junk art and we have been playing in it during Gaeilge.  Cuir ar siúl an teilifís,  Cad atá ar an teilifís.
We talked about feelings - happiness, sadness, fear and anger.  We listened to music and decided if it was happy, sad, scary or angry.
In Maths we are learning about weight and we are using the balance scales.
We hope we can do outdoor classroom day next week.