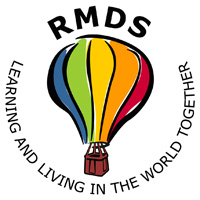 RMDS
School News in Brief….
22nd October 2021
From the Principal's Desk….
Thank you to all the children, parents and staff for a very successful first half term back at school. It has been very busy and I think everyone is ready for a little break!
The good news is that our front door is finally back in action! Thank you to Fergus and Andrew who have been helping us with this. From Monday, 1st November Junior and Senior Infants will line up outside the front door before coming into school. Junior Infants will line up on the right and Senior Infants on the left. Infants will still exit at hometime as before. Therefore, Rang 3 and Rang 4 will be the only classes coming through the back gates in the morning. 
As always, to help with reducing the amount of traffic around the school gates, children are asked to walk/cycle/scoot to school if it is at all possible.
Wishing you all a lovely midterm break and I look forward to seeing you back with us on Monday, 1st November!
Rosemarie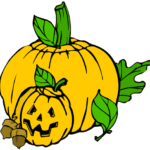 From the PA….
Halloween!
What a fantastic display of creative costumes from the children and teachers this morning!  The raffle sales were a big success too - a whopping €2545 which will go to the school for further works to the Sensory Room.  Thanks to Catherine (Izzy - R6 & Arthur's - R3 mum) for putting together the fantastic hampers.
PA Meeting
The next PA meeting is on Monday, 1st November at 8.30 p.m.  If anyone not already on the mailing list would like an invitation to the meeting please email pa@rmds.ie.  We welcome your contribution to how the PA is run.
Events
Remember this afternoon's Junior Infants meet up in Dartmouth Square at 1.10 p.m and the Senior Infants parent/guardian coffee morning on the 12th November after drop off!
Have a lovely break!
Joss & Gráinne
From the Green Schools Committee....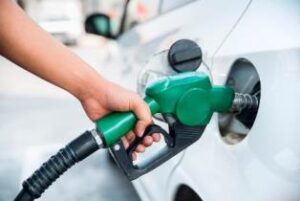 Tips for Reducing Fuel Consumption
Plan your Journey
Consider walking, cycling or public transport instead of driving. Car share for sports matches and birthday parties. When you need to drive, try to plan your route out beforehand, especially if you have multiple stops and avoid traffic when you can.  
Rolling
Increasing the distance between you and the vehicle in front provides the space needed to decelerate through easing off the accelerator, rather than having to brake. Read the road ahead and aim to be as smooth as possible in your driving. So more rolling and less stopping and starting. It's also more relaxing that way and makes for a safer journey. Avoid coasting in neutral though.
Gears
In a manual car, aim to change up through the gears promptly. By keeping engine revs low, this saves fuel. On some cars, a green light indicates when to change up.
Tyre Pressure
Under-inflated tyres create more friction with the road surface and this wastes fuel. The correct tyre pressure for your vehicle is stated in your manual. Once you find it, save it as a note on your phone so it's easy to find again. And set a repeat reminder to check your tyre pressure.
Drag
Roof boxes and roof-bars create extra drag and are usually only needed occasionally. When you're finished with them, take them off. At motorway speeds, keep your windows up as open windows create turbulence and drag.
Reduce Weight
Remove any items that 'live' in your boot that are not essential.
Maintenance
Getting your car serviced regularly saves on fuel.
Idling
Avoid running the engine when waiting in your car. Rather than idling to run the heater, wrap up well.
Roland Ramsden
Andrea Scott
Green Schools Committee Parent Representatives
THIS WEEK'S
News from around the Classes…..
Junior Infants
We made potions in Aistear this week.  We collected leaves, petals, berries and mashed them in a mortar and pestle, then we added secret ingredients, stirred it very well and said a magic spell.  Beware these are very powerful.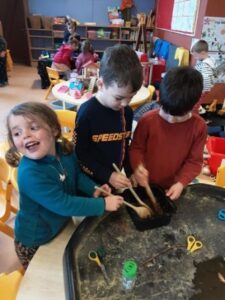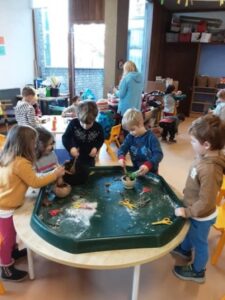 We made patterns in Maths with conkers, pine cones and leaves.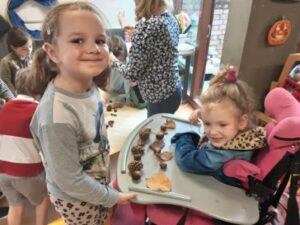 We really enjoyed the assembly last Friday and loved singing the African Song Che Che .  It was about Black History Month.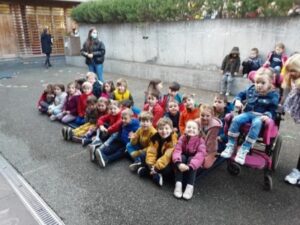 Lennon and Oliver are our news reporters this week.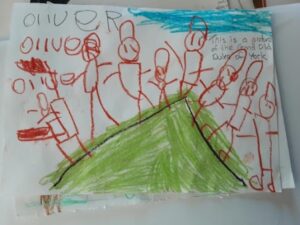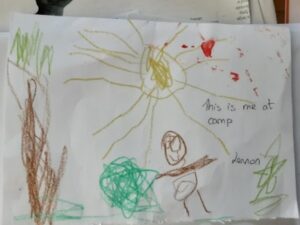 Andrew sent in a video of the Real Grand Old Duke of York.  Here is a picture Oliver drew of him with his army.  
Today we dressed up for Halloween, played Halloween games, met our buddies and went on a Halloween parade.   
Slán ó Junior Infants!
Senior Infants
We had a spooky week in Senior Infants. We had our concert today and we sang all of our Autumn and Halloween songs. We also enjoyed the parade and saw lots of spooky Halloween costumes.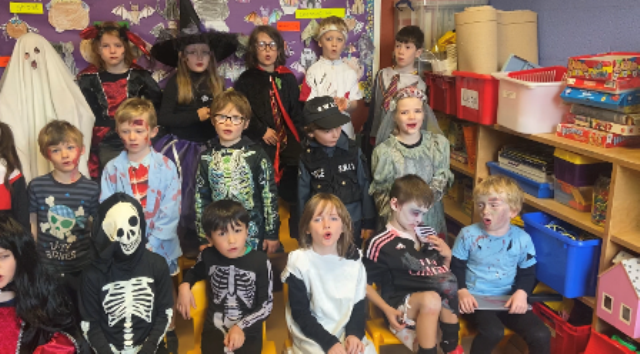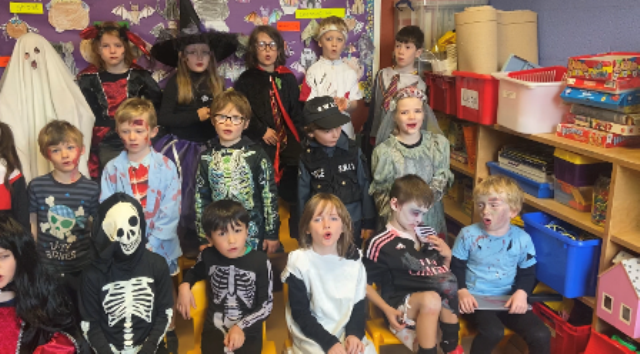 Rang 1
It has been a very exciting week in R1 as the class starts to get ready for Halloween. We have been learning all about how Halloween is celebrated in different countries and designed our own Dias Los Muertos calaveras. We also learned about the history of Jack-O-Lanterns. In art, we constructed some pumpkins from orange card and we have been listening to lots of Halloween stories and music. The class had some amazing Halloween costumes on Friday and were so excited for the Halloween Parade!
We hope you all have a lovely mid-term break!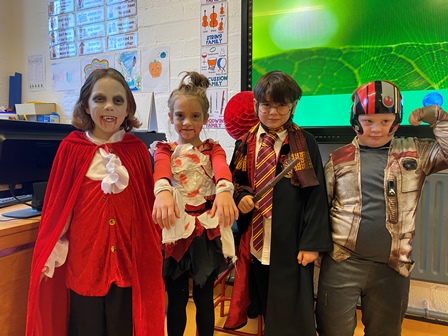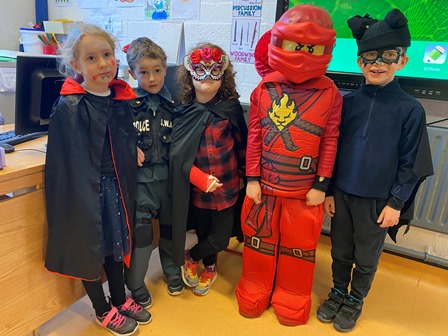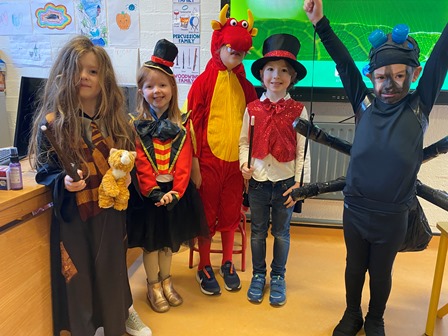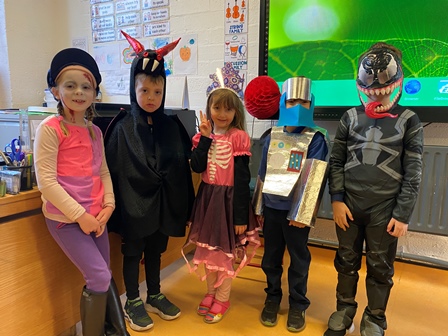 Rang 2
Dia dhaoibh go léir!
What an exciting week we have had! We kicked it off by celebrating the October birthdays in Ranelagh gardens. We had a beautiful day and everyone played away happily.
We had our final swim before half term on Thursday in Swan Leisure and had fun playing some games. 
In Core Curriculum we learned about Dia Do Los Muertes and made some lovely sugar skull art. We also learned about staying safe around fire. There are two phrases to remember "Stay Low and Go!" and "Stop, Drop and Roll!"
In Gaeilge we learned the Oíche Shamhna song and read a story called An Cailleach agus an Púca.
We also learned about Bram Stoker and the origins of the Dracula story. Did you know he was a Romanian prince?
We hope you enjoy our Halloween snaps. Please visit the school website in the coming days to see all Rang 2 costumes.
Have a wonderful restful mid-term!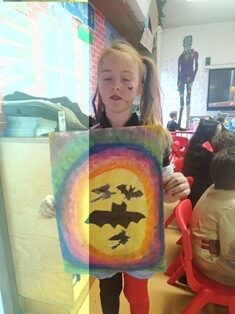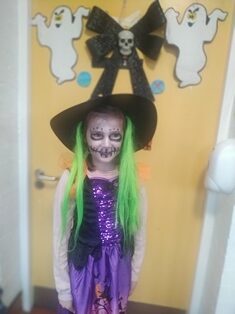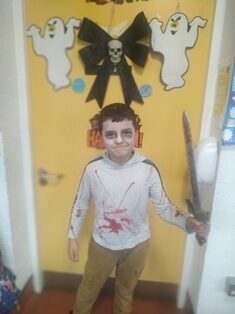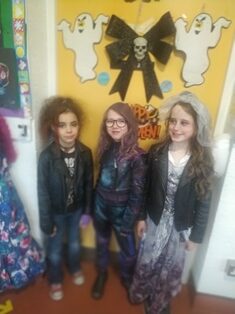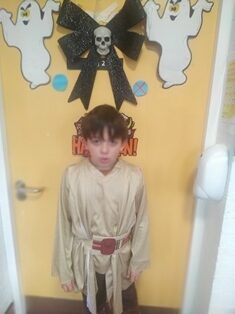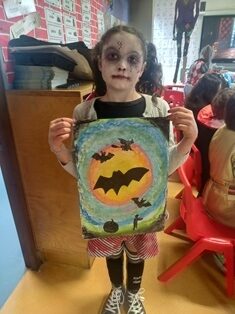 Rang 3
It has been another busy week in Rang a Trí. Last Friday we did our assembly for the whole school and we were really proud of ourselves. We researched famous Black people who fought for their rights in the past and we also learnt about Black people who are doing great things today. We read some books by Black authors and told the assembly about them also. We finished the assembly with Che Che Kule which is a call and response song from West Africa. We all said our pieces confidently and clearly and acted out the freeze frame scenes. Ms Blayney was very proud of us all. We will continue to learn about the topics we talked about as the year goes on but already we are noticing things that seem unfair or unjust, asking why and thinking about what we can do to make things better. One thing we said we would do is support Black authors and some people have brought some books in to share with the class. 
Another highlight was Forest School, of course. One group worked in tribes and had to find a set of keys that were hidden in a den. The tricky part was that they were blindfolded and had to trust each other to lead them safely to the keys.  It was great. The other group had a very very wet day but didn't care!! We put up the tarp and some of us didn't even sit under it! We used lots of the tools again including drilling and sawing of wood. We also spent a lot of time defending our den and at the end we all played Eagle Eye while Annie and Claudia took down the tarp. 
In maths we learnt how to collect our own data based on things we wanted to know about the class. We created a tally chart and a bar chart to represent the information we gathered. 
In English we wrote a suspense piece in writing. Lucie won the prize for the writing with the most suspense. She had us all on the edge of our seats! 
In Gaeilge we made a puppet show to tell the story of Oíche Samhna. We created the backgrounds and puppets and told the story. It was fun.
In art we created lots of spooky scenes using halloween colours. 
Have a lovely Mid Term Break Everyone. We are really proud of ourselves for this term! :)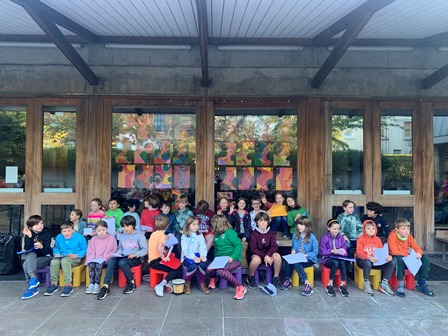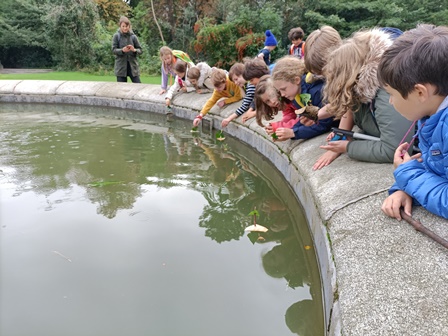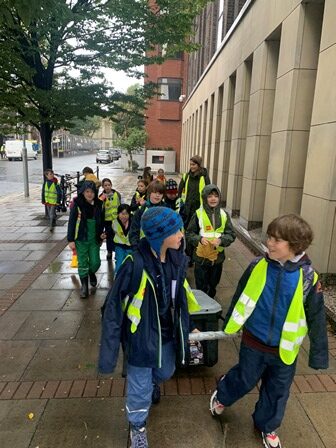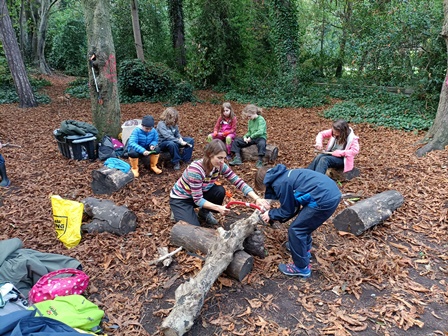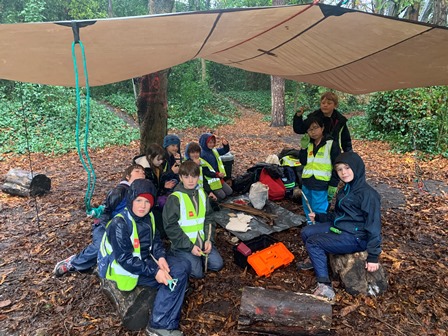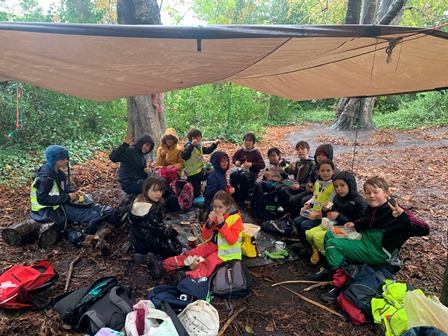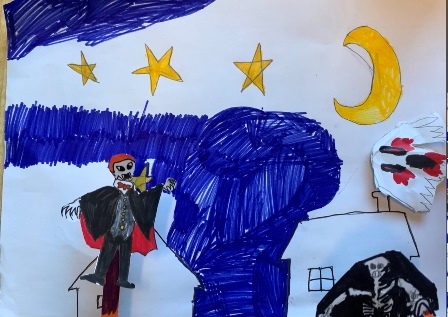 Rang 4
Happy Halloween everyone! R4 had fantastic costumes today for our Halloween parade. 
This week was another busy one! We finished subtraction in maths and finished our class novel 'Seven Spiders Spinning'! We loved the fun of reading all the character voices and acting out the events. We also wrote our own silly epitaphs in some "Grave Humour"! 
We did some spooky art of ghosts. Have a look at the pictures below! We continued to work on our Viking and Engineering projects. We learnt about the importance of braids to the Black community.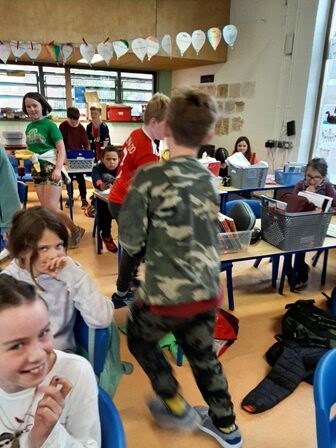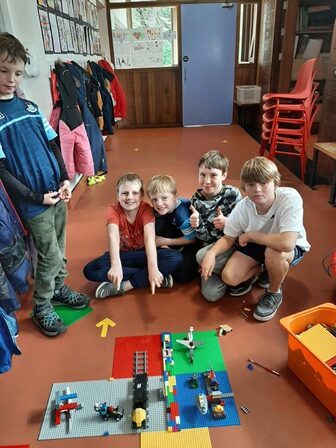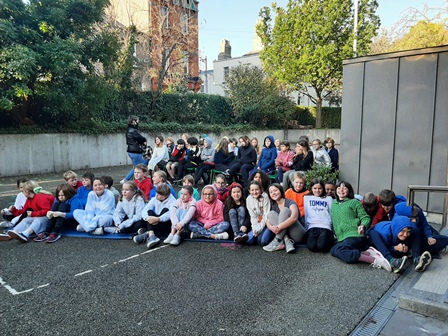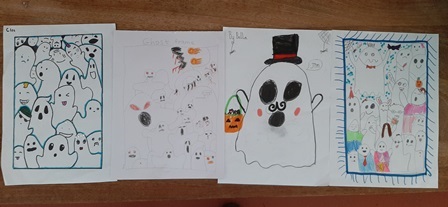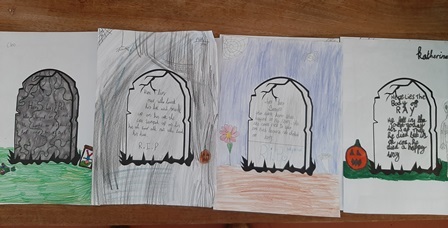 Rang 5
This week in Rang a Cúig we started long division in maths. We have learned all the steps and are now trying the sums ourselves. We created Halloween ghost art and tried Halloween mindfulness colouring too. We played soccer and hockey in P.E, which was lots of fun. We got an extra long P.E as a reward for getting 10 stars in our class star jar! In Core Curriculum we learned about the History of Halloween and how it is celebrated around the world. In Drama we did still images and thought-tracking again based on our 'Girls Play Too' book. This time we based our images on the story of Ellen Keane, the paralympic swimmer, who won Gold in Tokyo. We are very excited to dress up on Friday and watch a movie. Thanks for reading!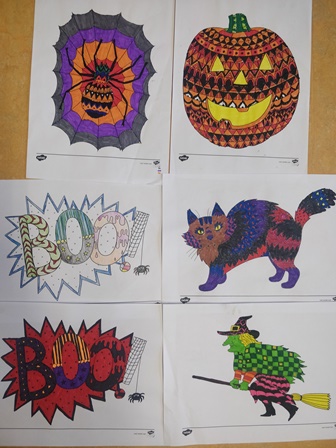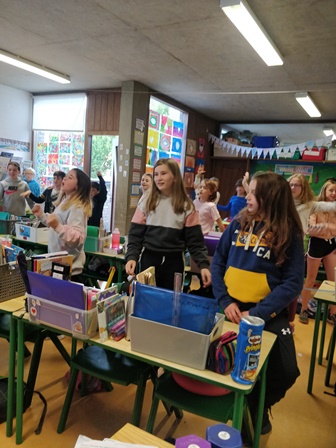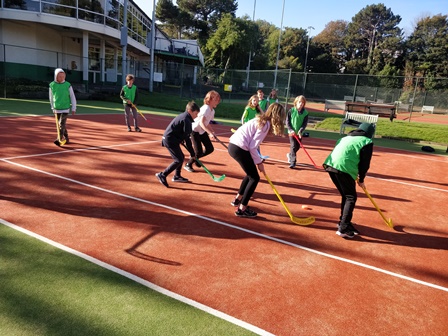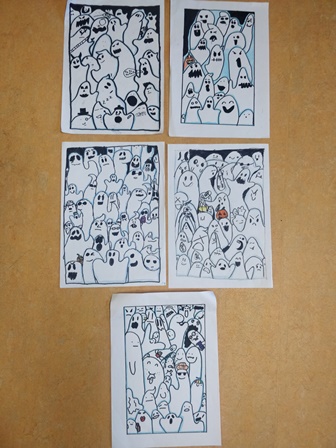 Rang 6
Hi everyone and welcome to R6's newsletter this week!
We had a really busy and fun week again this week. 
We finished our novel 'The Boy in the Striped Pyjamas'. It is a great book and we'd definitely recommend it to a friend. We are really looking forward to watching the movie and comparing them. 
In maths we worked on 2D shapes and in Irish we learned new phrases and vocabulary on Halloween. 
Art was really fun this week. We used chalk pastels and drew pumpkins that looked 3D. In PE we played hockey. One match drew 5-5. It was really competitive!
Everyone is dressing up on Friday which will be exciting and we are really looking forward to seeing our Junior Infant buddies all dressed up. 
Happy Halloween!!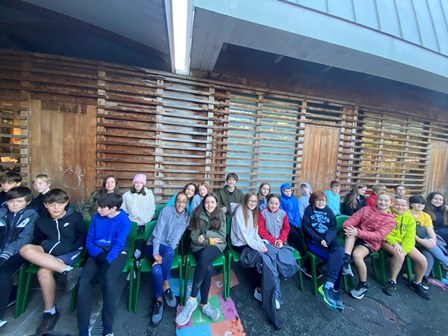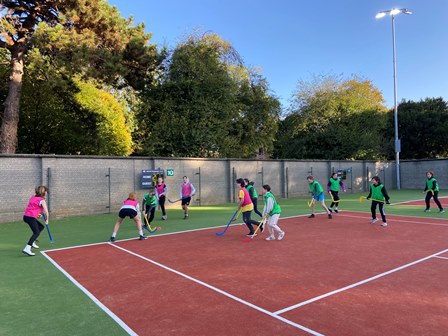 Ranelagh Multi-Denominational School, Ranelagh Road, Dublin 6, D06 Y658
Telephone/Fax: (01) 4961722 ● E-mail: secretary@rmds.ie
______________________________
Roll No. 19928Q ● Principal: Rosemarie Stynes