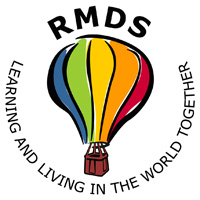 This week's Newsletter
23rd April 2021
I hope everyone was able to take some time to appreciate and acknowledge Earth Day.   One thing that living through this pandemic has taught us is we cannot take things for granted. What was is not what it always will be.  That is not always a positive or a negative just a reality that we shouldn't forget.
As a school community we have been complaining about the rubbish in Linear park for a while now.   Rather than continue to complain about it we have decided to adopt the park as part of the National Spring Clean campaign.  When classes are using the park they bring litter pickers and bags to remove rubbish they see.  On Monday, the infants collected two bags of rubbish and we let the council know so that they are aware how inadequate one bin at the gate is.  We want to leave our area better than the way we found it.
In another green initiative the classes have all adopted the personal hand towel for each child (which was trialled very successfully in Senior Infants) rather than continuing to use large volumes of paper towel which is then sent to landfill.  Thank you for your co operation with this.  If your child forgets their towel on any day, the paper towel is still an option.
Outside of this, the week has been beautifully uneventful, you may have noticed that I took the green news section into my own so that I had something to say.  Meanwhile, the classes are getting on with their regular work while we are all optimistic we might be able to go to local outdoor venues for trips,  I'll let the children tell you about all that they have been up to.
Rang a Sé
This was our second week back after the Easter break and six weeks since we came back after our extra long Christmas break. We have been practising the script for our musical Charlie and the Chocolate Factory. We also have a date that we hope to be filming it on, the 27th of May! We have started a new chapter in our Planet Maths Book on Using Percentages. We also started doing rugby with Ken for PE and it was really fun and refreshing. This week we started typing up our Write-A-Book. We gladly finished typing on our Friday deadline and next week we will be focusing on formatting and printing our books. In history this week we learnt about the civil war in Ireland, Fianna Fáil, Cumman na nGaedheal, Michael Collins, Eamon de Valera and William T. Cosgrave. Congratulations to Laoise who's 13th birthday was on Friday!!!
Enjoy the sunshine,
Susannah and Conn. :)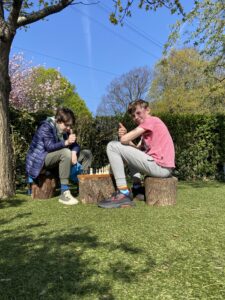 Rang a Cúig
We had a great week in Rang a Cúig. We started everyday with Mindfulness.
In Maths we completed Length, we measured our yard and Linear park. We finished our write-a-book covers, got them laminated and they look great!  It was Earth day on Thursday so we went to Linear park and picked up litter to help our local environment. After that we did Rugby with Ken in Mountpleasant and had a great time. This week we also started learning about the Famine. We found this topic interesting but very sad. We started reading a new class novel based during the Famine called 'Under the Hawthorn Tree' by Marita Conlon-McKenna.  We also did some Drama based on the Famine. Two people from our class Milo and Gwendolyn were interviewed on camera this week, they were asked about their experience during the Covid-19 pandemic and this video will be shown at the Lord Mayor Youth Awards.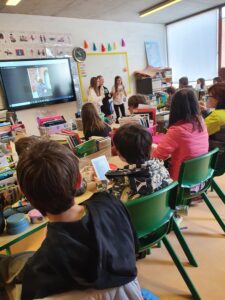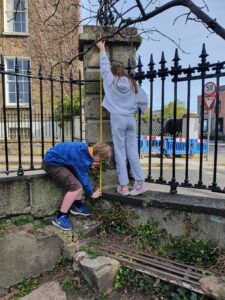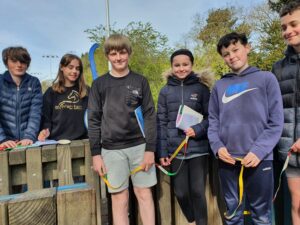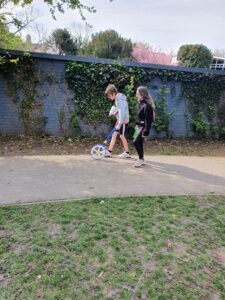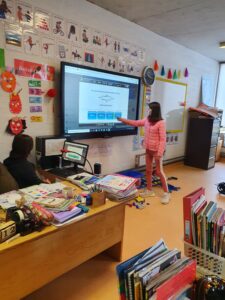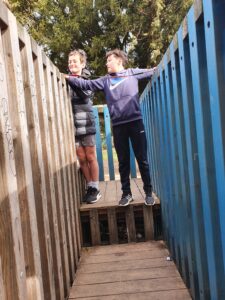 Rang a Ceathair
On Thursday, we did rocket launch 2.0. We have solved the issues we experienced in 1.0. We will continue Science Blast work next week. Rugby with Ken started again this week. We painted our Dublin landmarks and are almost ready to display them. In Gaeilge we saved Princess Peach in a rock-paper-scissors Mario game. We learned about the UN Children's Rights Convention. One of our rights is to know our rights!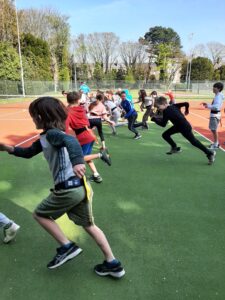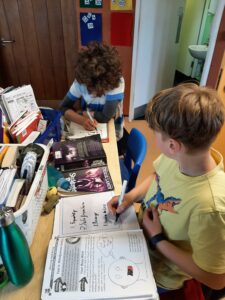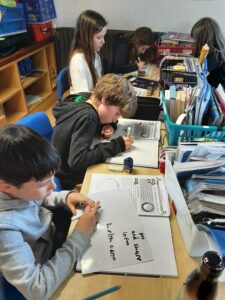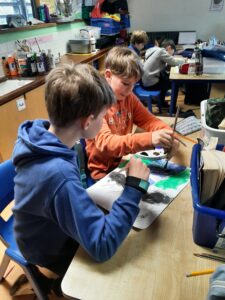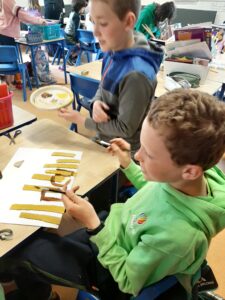 Rang a Tri
Maths: We have been learning about 3D shapes  and made some using blue tack and toothpicks.
Gaeilge: in gaeilge we have been learning about an aimsir with Ms McCoy.
Write a book: We have been writing our write a books and are very excited to find out who will win the awards!
Earth day art: we made collage fish using recycled paper and magazines. We watched a video and discussed the single use plastics and the damage they cause the environment.  We will be writing about this next week.
The winners of last week's pod points were The Flying Hamsters and the Terrible Teddies.
Written by Edie and Romy.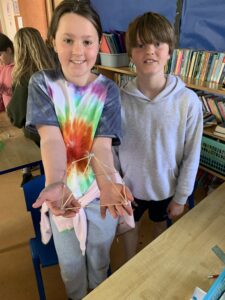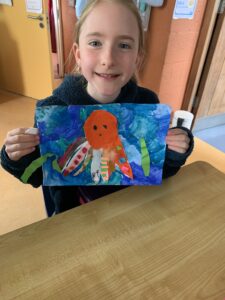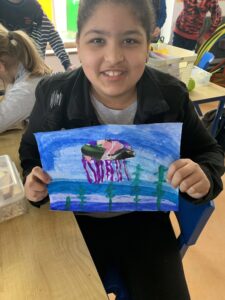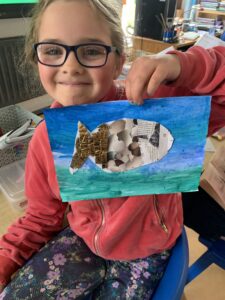 Rang a Dó
This week we started Forest School. It was really fun and we loved it.
We had lots more room in Iveagh Gardens. We played Eagle Eye.
We learned about heat and we did two really good experiments.
We finished reading Esio Trot with Miss Fitzgerald.
In PE we completed an obstacle course and we also did some trust exercises.
We had to put a balloon in between two people and run a race without popping it.
In drama we predicted what happened next in Esio Trot and we acted it out. Arthur's one was hilarious.
In art we made clay reptiles.
Fun Fun Fun !!!
Enjoy the lovely sunshine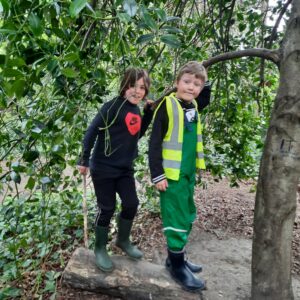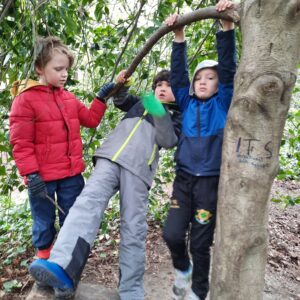 Rang a hAon
We had a great week in Rang a hAon and have been very busy working on our Write A Books. The class have been finishing off their first drafts and started on their final versions. There are lots of brilliant stories about witches, fairies, warriors and even some super sandwiches! We started Data in Maths and the class completed some surveys about the different ways we get to school and our favourite subjects, PE and Art were the big winners! We have been working on a project in Art and creating some mythical creatures out of clay. We have been really enjoying the lovely weather and inventing lots of new games on the yard.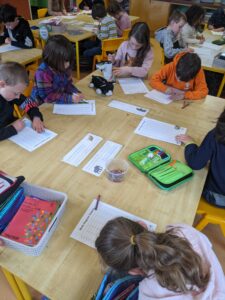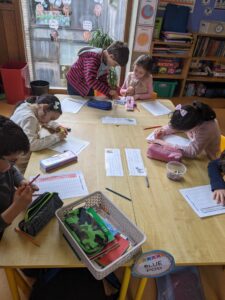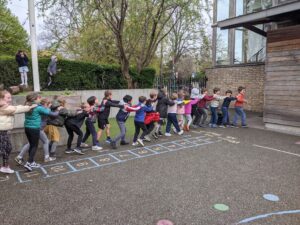 Naíonáin Mhóra
This week has been a busy week in Senior Infants. We have had lots of fun in School.
We have spent a lot of time outside as the weather has been so nice. We were so lucky to go to linear park, the roof garden and Mount pleasant.
We had PE over in Mount pleasant, where we practiced relay races. We did bunny hop relays, walking relays, skipping and running relays, it was great fun! While we were there we spotted a beautiful cherry blossom tree. We took a lovely class photo under the tree.
This cherry blossom tree inspired our art lesson this week, some of you may have spotted our gorgeous cherry blossom trees on the classroom windows.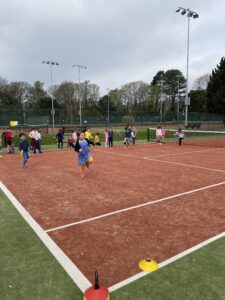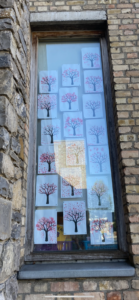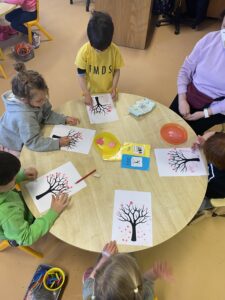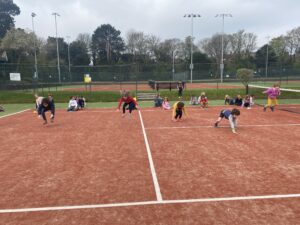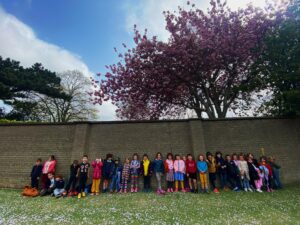 Naíonáin Bheaga
We have been working very hard this week.  We saw the first leaf on our oak tree outside the park.  We have been planting lots of seeds this week in Aistear with Ms Hurley. We have lots of new plants on our terrace and Ms Farley, Anne and Christina cleaned it.  Some of the parents gave us some plants and they look lovely. We are making a jungle out on the roof terrace!  If anybody has any more shade loving container plants we would love to have them.   We are learning all about the Farm and we made pigs, cows  and sheep in art. Another great week in Junior Infants.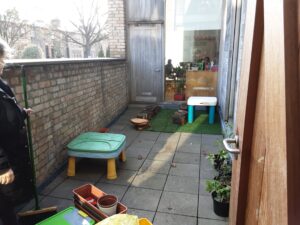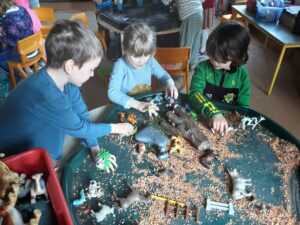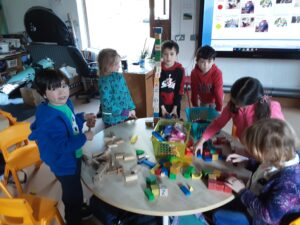 Parents' Association
The Parents' Association are looking at possible options for a community event in this summer term.  The current PA team are coming to the end of their term and would be very excited to talk to anyone who might be interested in joining the association.  The current co chair option has worked so well that we will continue with it if possible.