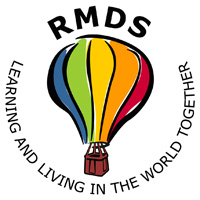 RMDS
School News in Brief….
24th September 2021
From the Principal's Desk….
Hi everyone,
After a very busy week we had a fantastic assembly this morning with the whole school in their class bubbles and pods outside. The theme of the assembly was Friendship and School Community - both important themes to start a new school year with. Thank you to Rang 6 for leading the assembly so well this morning. It was a really lovely occasion for all the children and staff.
As before, and in keeping with the most recent guidance from NPHET, it is still essential that pupils do not attend school if displaying any symptoms of Covid-19. In addition, do not send your child to school if they have:
Been in close contact with a household member who has tested positive for Covid-19 ● Been living with someone who is unwell and may have Covid-19
If your child is going for Covid testing we would appreciate if you could please let the school know, as so many of you have been doing. Thank you for your continued co-operation with this!
Rosemarie
From the Board of Management…
The new school year has gotten off to a great start. The BOM sends a big welcome to the Junior Infants and to the new children who have joined further up the school! We look forward to our new families becoming involved in the life of our school and feeling a part of the RMDS community.
A huge thank you from the BOM to the parent body for all the support in ensuring RMDS was so well supported through Voluntary Contributions last year.
Thanks are also due to the PA for all its work on fundraising. Fundraising and VCs are vital to the running of the school and are very much appreciated. It is through this that we are able to provide additional staffing resources throughout the school, swimming, Forest School, additional sports coaching, maintain the building, invest in a Sensory Room and also continue to invest in IT, to name but a few items.
With this money, we have also purchased 24 hour insurance cover for every child in the school. If your child is unfortunate enough to suffer an injury and needs to avail of this please let the school know so that they can provide you with the necessary documentation and information.
The school uses Aladdin Connect to help communicate with families, especially at this time when we are not seeing each other in person as much. Please download the app and make yourself familiar with it. If you have any trouble accessing your child's details please let Mary or Barbara in the office know.
We will be looking to fill the role of Treasurer on our Board in due course. If you, as a parent, or someone you know in the local community has an interest in all things financial and is good with figures, and would like to play a greater role in our school please get in touch with Rosemarie.
From the PA….
Our PA AGM will be held via Zoom on Tuesday, 28th September @ 8 p.m. If you are interested in attending please email pa@rmds.ie and we will send you on all the log in details. All parents are welcome so please do come along and see what we're about! On the night we'll select our new committee and start planning for the year ahead.
THIS WEEK'S
News from around the Classes….. Junior Infants
We had a great week in the sunshine and even attended our first RMDS assembly today.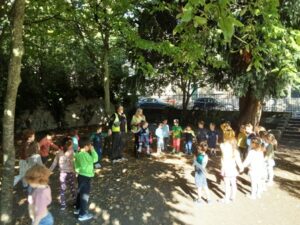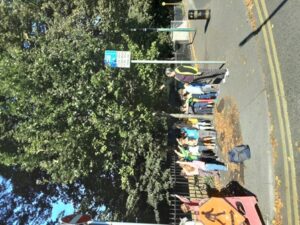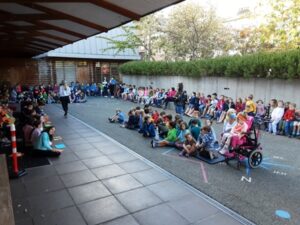 Senior Infants
SI went on a nature walk to Belgrave Square. We saw lots of different things, like railings, gates, nettles, cobwebs, dustbins and more.
We also had a teddy bears picnic and played in the playground. We had great fun!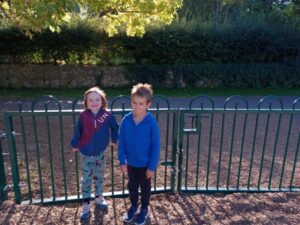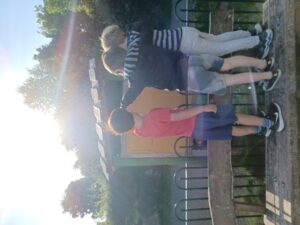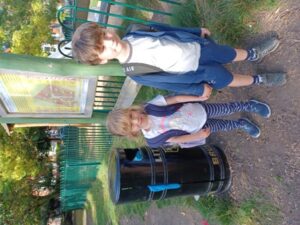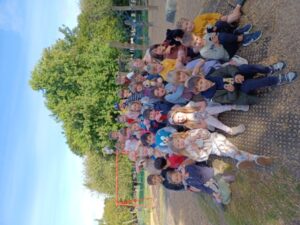 Rang 1
We had another lovely week in Rang a hAon. The class have been working extra hard on their numbers and did their very first spelling test. We loved learning "Lean On Me" for Rang a Sé's assembly and were practicing every day! We learned about famous self-portraits in art and created our very own.
This week's Classroom Correspondent is Ellis - "We have been learning lots of things. We learned about the invention of the bike. I like doing GoNoodle and reading with Ms Pigott and playing in yard. On Thursday and we played Bingo and it was really fun!"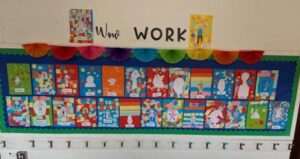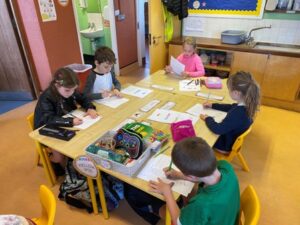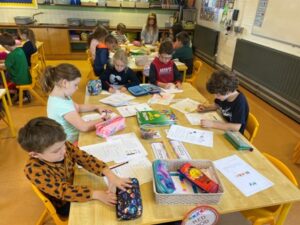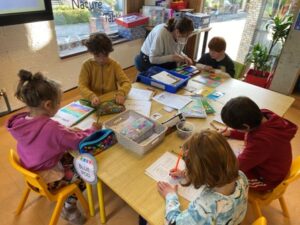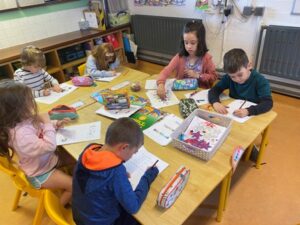 Rang 2
Dia dhaoibh go léir!
This week has been very exciting for Rang 2 as it was our first week of swimming in Swan Leisure Centre as a class. Everything went very well and we are looking forward to Thursday mornings so much.
We made some lovely art using 2D shape collage. These were inspired by the artist Paul Klee. He loved shape, colour and balance.
We are also very excited to be asked by Ms Farley to get involved in the Green Schools Committee this year. There was great enthusiasm throughout the class and we are all keen to do what we can to be kind to our planet.
We learned to do the Hócaí Pocaí in Irish and we are having great fun in class. See you next week
By Ríain and Kalel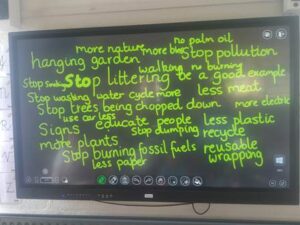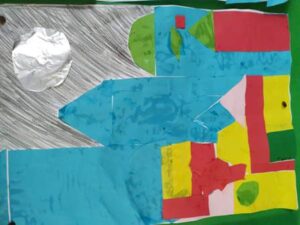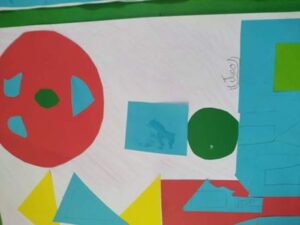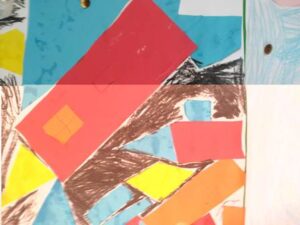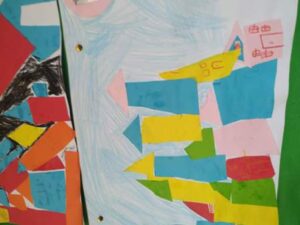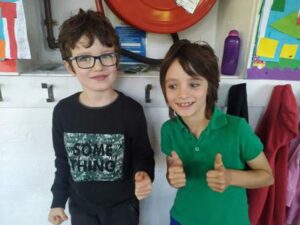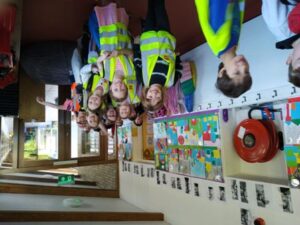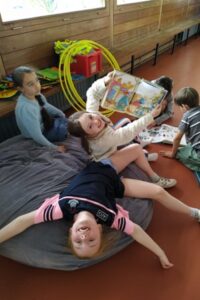 Rang 3
In maths we have been learning how to round to the nearest 10 and nearest 100. For Culture Night last Friday we did a draw along and drew robots. You can see some pictures of our creations below. We all had a fun time with Simon doing GAA on Wednesday. Ms Blayney made us a calm corner to read and relax in and for when we need to regulate our emotions. We have started to read a book called 'Way Home' about a boy who is homeless. There are lots of interesting senses used in the book.
We made an award chart. When we get all of the routines we get a class prize. Everyday Ms Blayney picks a secret student that has tried their best to follow our class agreement all day. This person is a secret and revealed at the end of the day. We have been doing a lot of reading so far. We did some drama in Irish about a mouse in the classroom. By Isabel and Elise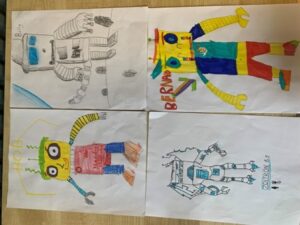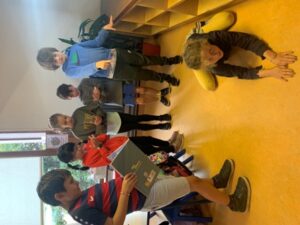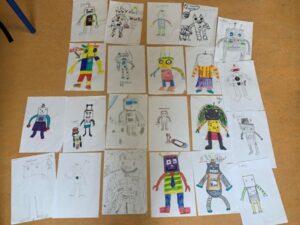 Rang 4
This week we brainstormed some ideas for the STEPS engineering competition we will be doing this year. In maths we learnt how to use a calculator and practiced some addition. We practiced writing informal letters in English. We learnt about 'caol le caol agus leathan le leathan' in Gaeilge. We drew robots for Culture Night with a bilingual video and drew lots of different lines. We also drew mazes around ripped paper.
It was a busy week!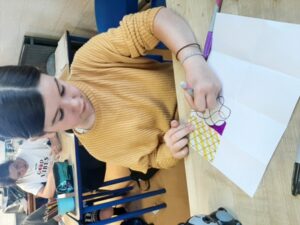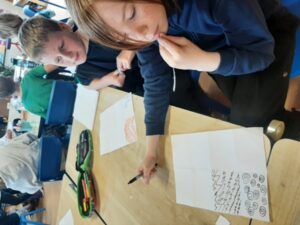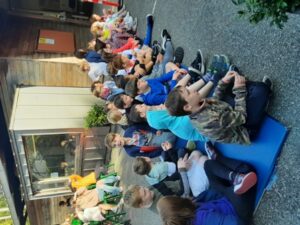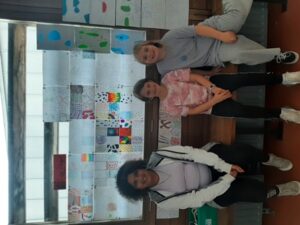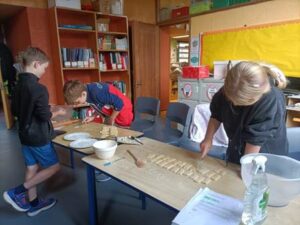 Rang 5
This week in Rang 5 we learned about friendships and made our own timelines from when we were born. In maths we were doing the topic Data. We made a class bar chart about 'Our Favourite Foods'. We started doing colouring during mindfulness while we listened to calm, peaceful music. We are enjoying this. We took part in our first whole school assembly on Friday morning and it was great seeing the other classes altogether!
We had two different teachers earlier in the week as Ms Nic A'Bhaird was out. Ms Brennan taught us on Monday and Ms McCoy taught us on Tuesday. We focused on our ball skills in PE and played 'Around the World', which was fun but was hard also. Finally, we loved playing our class game of 'Heads Down,
Thumbs Up' when we got all
our work completed.
By Rowan and Zoey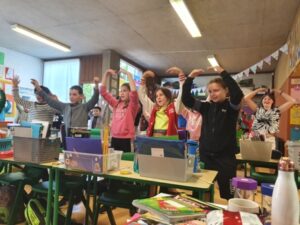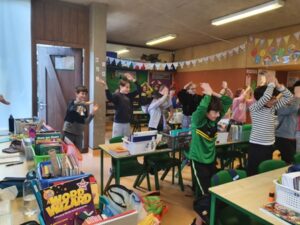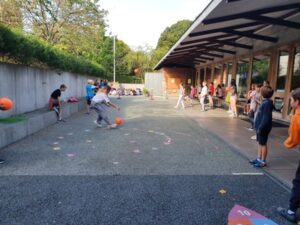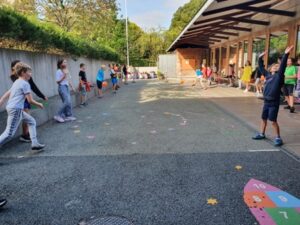 Rang 6
This week has been a very action packed week. We have
moved onto data in maths. We have learned about trend
graphs and finding the averages of sums. In art we created
our names in perspective and everyone enjoyed it. In P.E we
had a very competitive game of dodge ball and even Ms
Grennan joined in. We have been learning about recount
writing in English. We have started our class novel 'The Boy
in the Striped Pyjamas'. We have read the first chapter and
are excited to get going with it. Our school assembly on
friendship was on today and we lead it with the Cup Song.
We also met our buddies after which we were so excited
for! :)
Thanks for reading!
By: Alana and Milo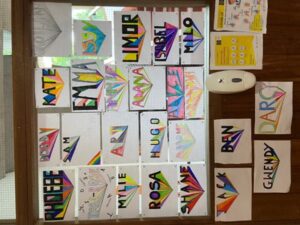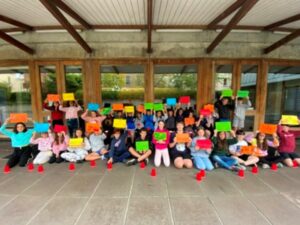 Ranelagh Multi-Denominational School, Ranelagh Road, Dublin 6, D06 Y658
Telephone/Fax: (01) 4961722 ● E-mail: secretary@rmds.ie
______________________________ Roll No. 19928Q ● Principal: Rosemarie Stynes