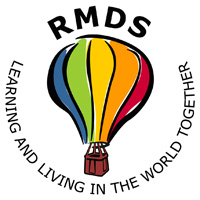 RMDS
School News in Brief….
26th November 2021
From the Green Schools Committee....                                                                                         4
Rang 1                                                                                                                                            15
Rang 2                                                                                                                                            17
Rang 3                                                                                                                                            22
Rang 4                                                                                                                                            26
Rang 5                                                                                                                                            30
Rang 6                                                                                                                                            32
From the Principal's Desk….
As Parent/ Teacher meetings conclude this week, I would like to thank everyone for their attendance. It has given teachers and parents a really important chance to interact on a more focused level in relation to each child.
Please check your emails for an up-to-date plan from the Department of Education regarding the use of antigen testing of asymptomatic children in primary school.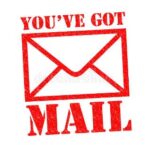 It is really vital to remember that the most important way to protect against any onward spread of infection is that if your child has any symptoms of COVID-19, including a new cough, shortness of breath, high temperature, sore throat, they should self-isolate at home and you should book a COVID-19 PCR test for them. PCR tests can be booked here:  https://www2.hse.ie/conditions/covid19/testing/get-tested/
Children who have symptoms should not use antigen tests. They should stay at  home and organise a PCR test for Covid-19. If you have any concerns about your child you should contact your GP, as per normal. 
In addition, do not send your child to school if they have:
Been in close contact with a household member who has tested positive for Covid-19
Been living with someone who is unwell and may have Covid-19
Please see link below for parent-focused public health advice about COVID-19 symptoms.
https://www.gov.ie/en/publication/a04fc-advice-for-students-and-their-families/#health-advice-for-parents
Please check the RMDS Calendar on our website for all dates of upcoming events.
Rosemarie
From the PA….
RMDS Xmas Fair - 11th December - 11h00 - 15h00
Only 15 sleeps to go to the Best Family Day Out this Christmas - and the biggest fundraiser in the School Calendar!!!  We still need your help to make this our most successful Fair yet!
If you can spare a couple of hours on the day helping out on a stall please email Avril/Eimear xmasfair@rmds.ie.
Rudolph's Restaurant needs your amazing lasagnes, soups, stews on the day - Please email hanleykaty@gmail.com to confirm your dish.
The Christmas Café would love some baked treats - Please email brid_nunan8@gmail.com.
Older classes are dropping in their once loved (clean!) teddies to the office for Teddy Tumbola - thanks in advance - their new owners will treasure them!
Any outgrown RMDS hoodies (excellent condition) can also be dropped in for resale at fair
RAFFLE - TICKETS NOW ON SALE AT WWW.RMDSEVENTS.COM PLEASE SUPPORT!
Thank you to all of our generous supporters to date - we are amassing an incredible prize pot!!
A reminder also that the Design-A-Card Christmas Cards & Santa Socks will be available to collect at the Christmas Fair also.
Christmas Tree Sales at RMDS
Only 1 sleep to go!!!  Almost as exciting as the Toy Show countdown!!!!!  Trees on sale all weekend from 11 - 4pm.  Trees are Wicklow grown, and come from our trusted supplier who has provided excellent, long lasting, quality trees for several years now.  We will also have planters, wreaths and the best craic tree sellers ever.  Drills are at the ready to attach stands - so this one stop Christmas Tree experience is a MUST ATTEND EVENT!!  Thanks in advance to all our valued customers and super-sellers ahead of a great weekend!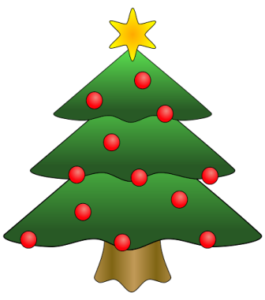 The PA Christmas Play has been cast!! Tune in at 6pm on the 20th December!! Link to follow.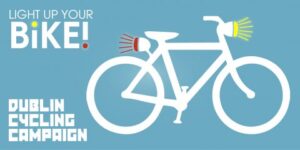 The Dublin Cycling Campaign (thanks Lorcan Staines) has donated 50 sets of bicycle lights to promote the Light Up Your Bike Campaign.  Pick up a set for your mini cyclists on Monday morning at the R5/R6 and R3/R4 drop off gates.  Anyone interested in joining/setting up/promoting a school cycle bus can contact the PA for support and contact details for other interested cyclists.
Thanks everyone for the fantastic turnout for the Rang 1 Coffee Morning this morning - we hope our new families feel more integrated into the school community!
From the Green Schools Committee....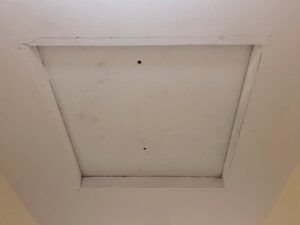 Detecting and Eliminating Draughts: Part 2
Entry points for cables and pipes can be sealed with a variety of products; expanding foam, sand & cement, caulk, Polyfilla etc. This also has the benefit of limiting insects and rodents coming into your home.
With a suspended timber floor at ground level, you can get draughts coming up through the gaps between the floor boards and the gap where the skirting meets the boards. Seal the gaps with the appropriate colour caulk and consider putting down underlay and carpet. Please do not block air-bricks as a solution, there needs to be airflow below the floor to reduce the chance of timber rot.
Open fireplaces create huge draughts. A stove greatly reduces this and is also far more fuel efficient. If a stove is not viable, fit a chain/cable operated Chimney Closure that opens and closes the flue when necessary. Chimney Balloons are a good short to medium term solution. Don't use anything flammable to block up the chimney flue like an old pillow, newspaper or bubble wrap. Sparks can fall down from a neighbouring flue and set them alight.
Ceiling downlights, especially at top floor level, are a pathway for draughts. If you're still using halogen bulbs in your downlights, the intense heat they emit exacerbates this. Replace the fittings with fire-rated versions. They are sealed at the back and limit draughts. Also use LED bulbs.
A traditional attic hatch is usually just a loose rectangular piece of painted timber. It can be made airtight by using self-adhesive bubble seal on the receiver that the timber drops into. Purpose made hatches are available for retrofitting that are properly sealed and insulated.
Roland Ramsden
Andrea Scott
Green Schools Committee Parent Representatives
THIS WEEK'S
News from around the Classes…..
Junior Infants
We have been learning about day and night.  We talked about what we do in the day time and what we do in the night time.  We talked about people who work during the night. We learnt about the artist Van Gogh.  We looked at some of his famous paintings and then we drew Starry Night pictures with oil pastels.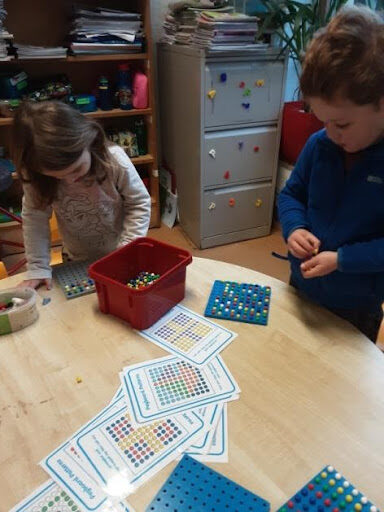 We love making patterns with the pegboards.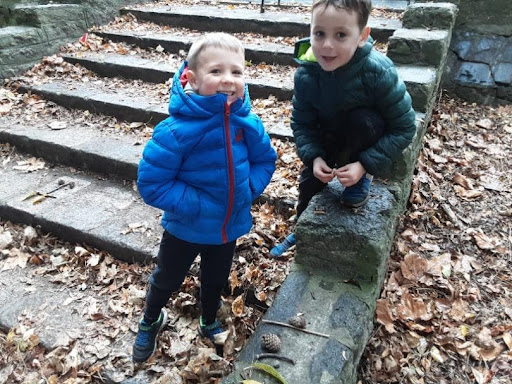 We learned about the number 2 in maths.  We collected 2 leaves, 2 sticks, 2 stones and 2 pine cones with our park partners and made a pattern.
It has turned very cold.  We talked about ice and frost.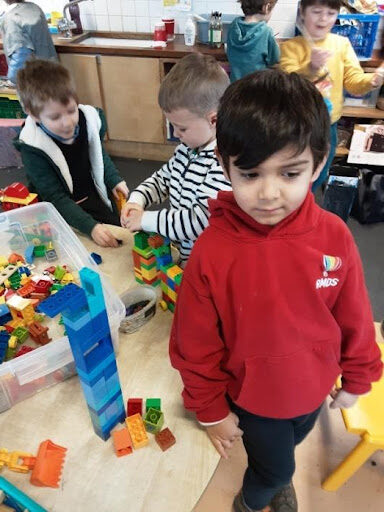 Look at this impressive ice tower!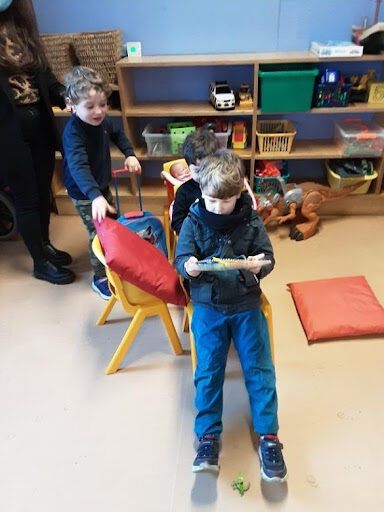 Look at the ambulance we made!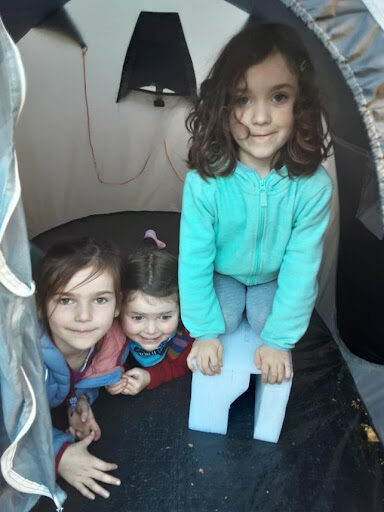 We love playing in the tent.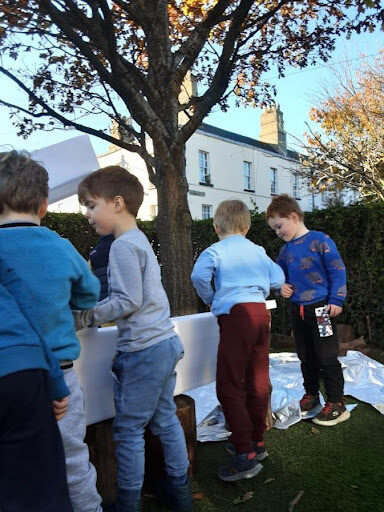 We made a cannon.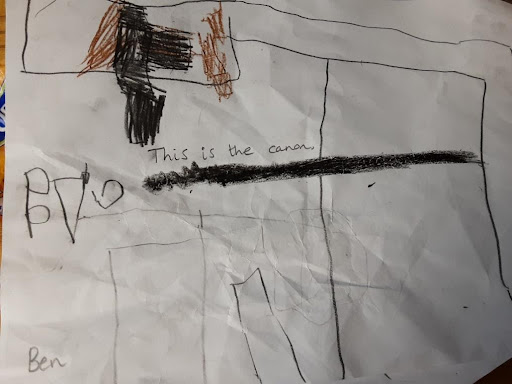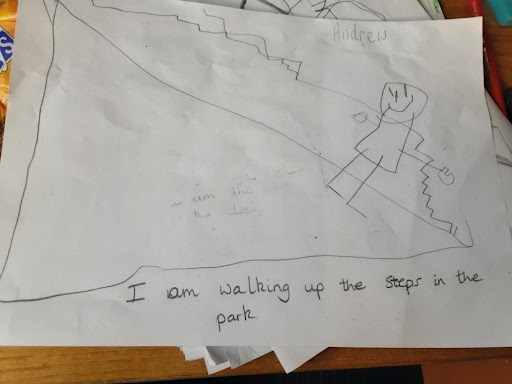 Ben and Andrew are our news reporters this week.
Senior Infants
We've been working  hard all week but the best fun we had was playing with a big box, packaging and fabric on yard.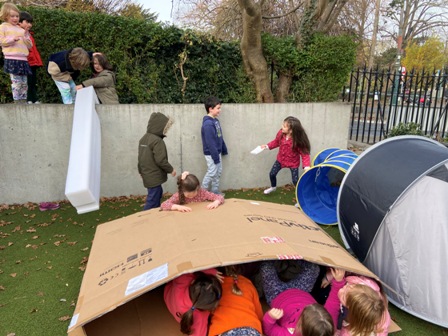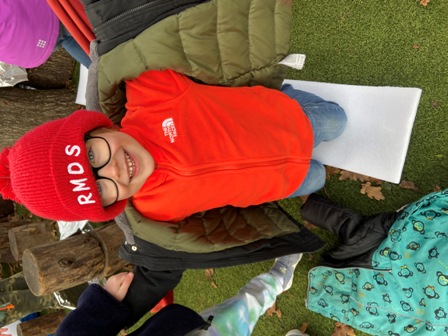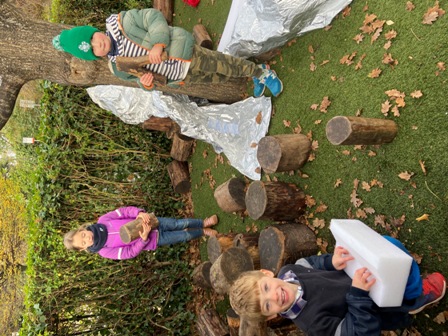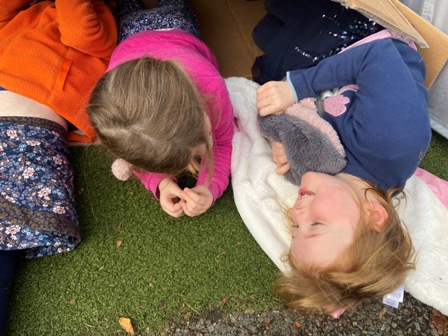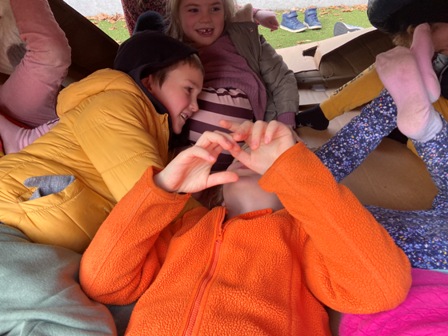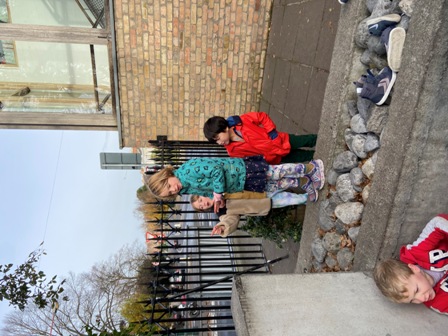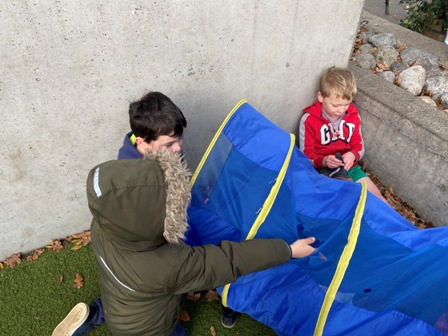 Rang 1
It's been a busy week in Rang a hAon! We have been learning all about toys from the past in preparation for the Toy Show tonight! We found it very interesting to see some of the toys we play with now are the same toys that our mums and dads played with when they were young. Arlo told us all about how Thanksgiving is celebrated and we made Thankful Turkeys to show all the things we are thankful for. As it is getting colder we have started learning about winter. We talked about the trees losing their leaves and made snowy pictures in art using lots of different materials to create the snow. We were very lucky to have Ms Ryan and Ms Pigott teaching us this week too. We had great fun and started making some Christmas fairies and elves.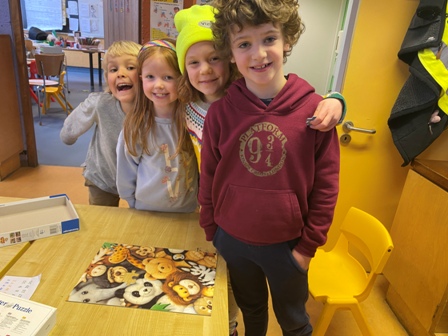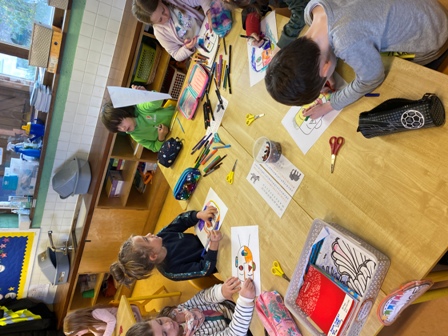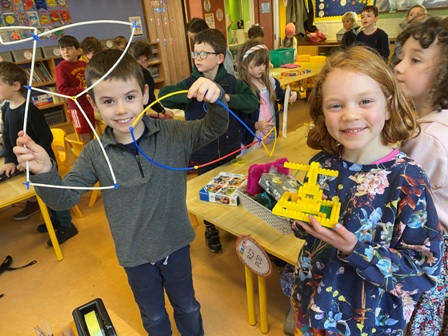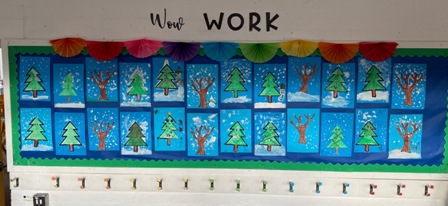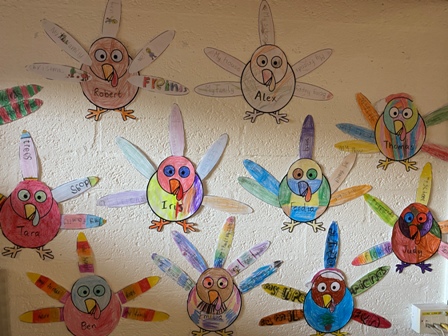 Rang 2
Happy Thanksgiving everyone! Here's a little joke you can share with your friends this weekend:
"Why did the farmer have to separate the chicken and the turkey?" "He sensed fowl play." ;-)
We are thankful for a lot in Rang 2 such as sports, pets, school and friends, of course, but most of all we are very thankful to have a home to share with our families.
We have been discussing homelessness in Rang 2 this week and we were very lucky to have a Zoom call with Fay's uncle Kieran who works for The Welcome Organization in Belfast.
He was great and we really learned a lot from him. We also learned a lot from two teachers from RMDS. Ms Dillon and Ms Curran do great work with St. Vincent de Paul and they came in to chat to Rang 2 also. Go raibh míle maith agaibh.
We also looked at old shop fronts and designed our own. We also created a paper village and learned about fox and badger homes. We will make dioramas in art for you all to enjoy in the next news installment.
Slán from Rang 2!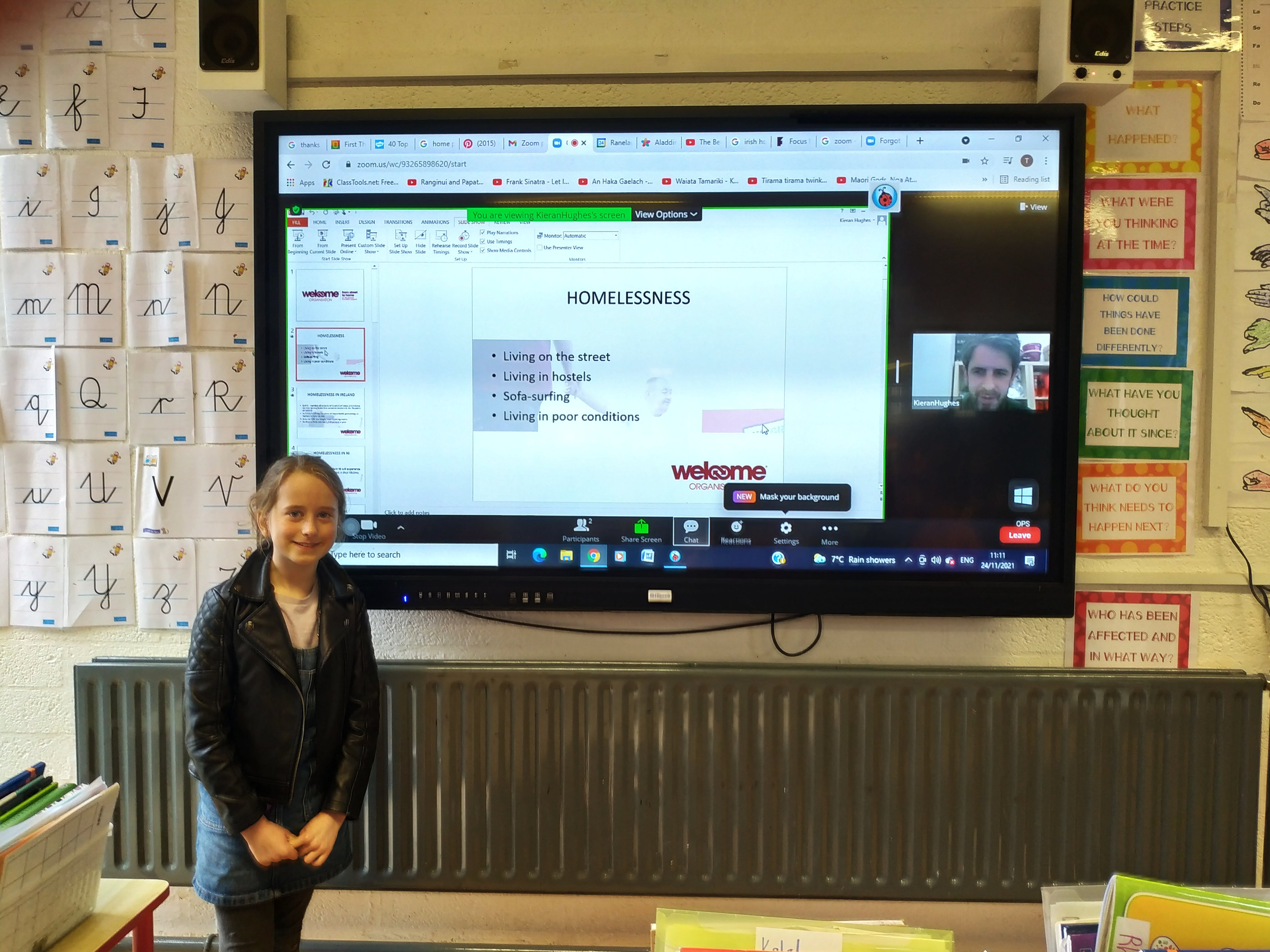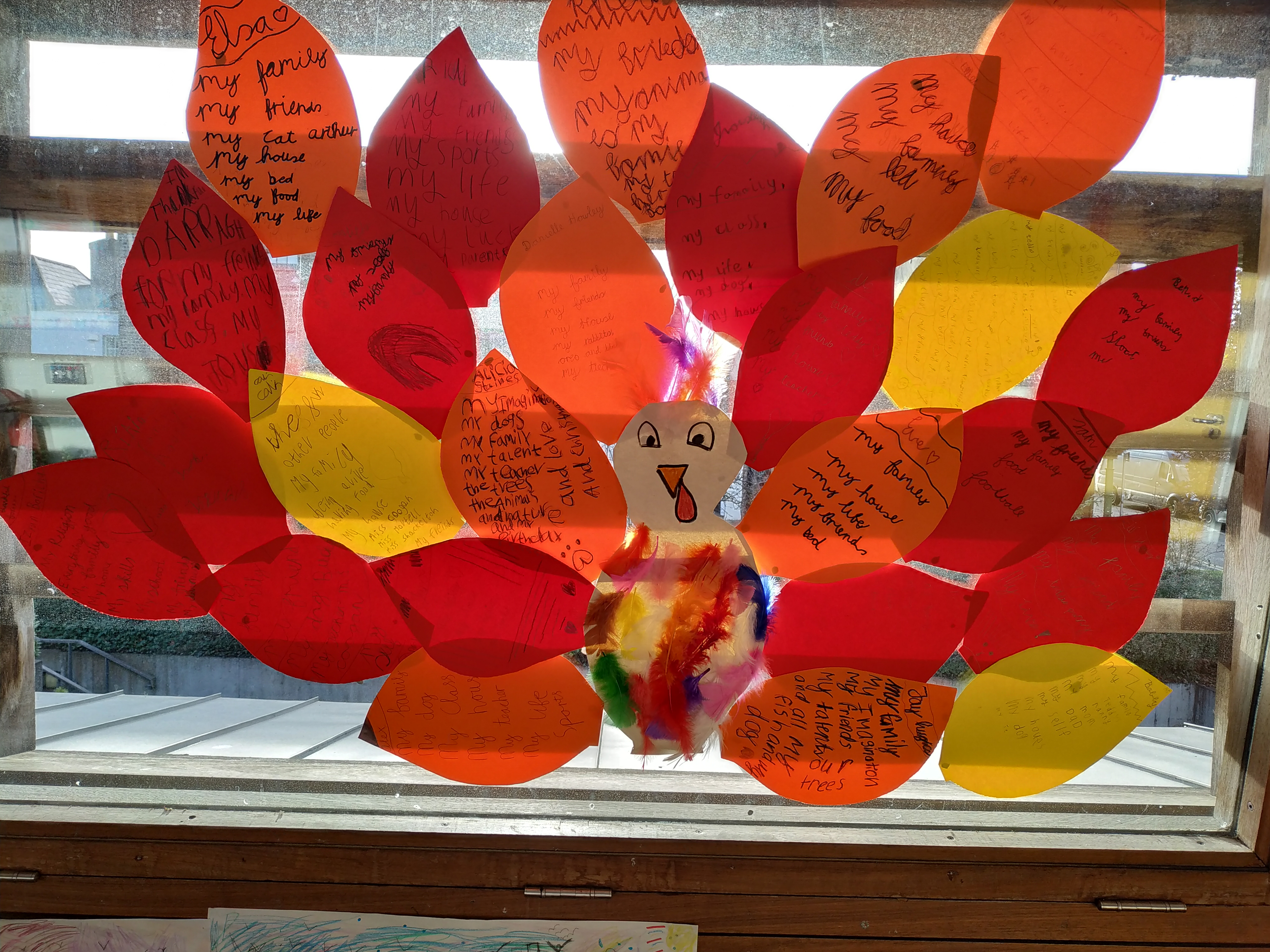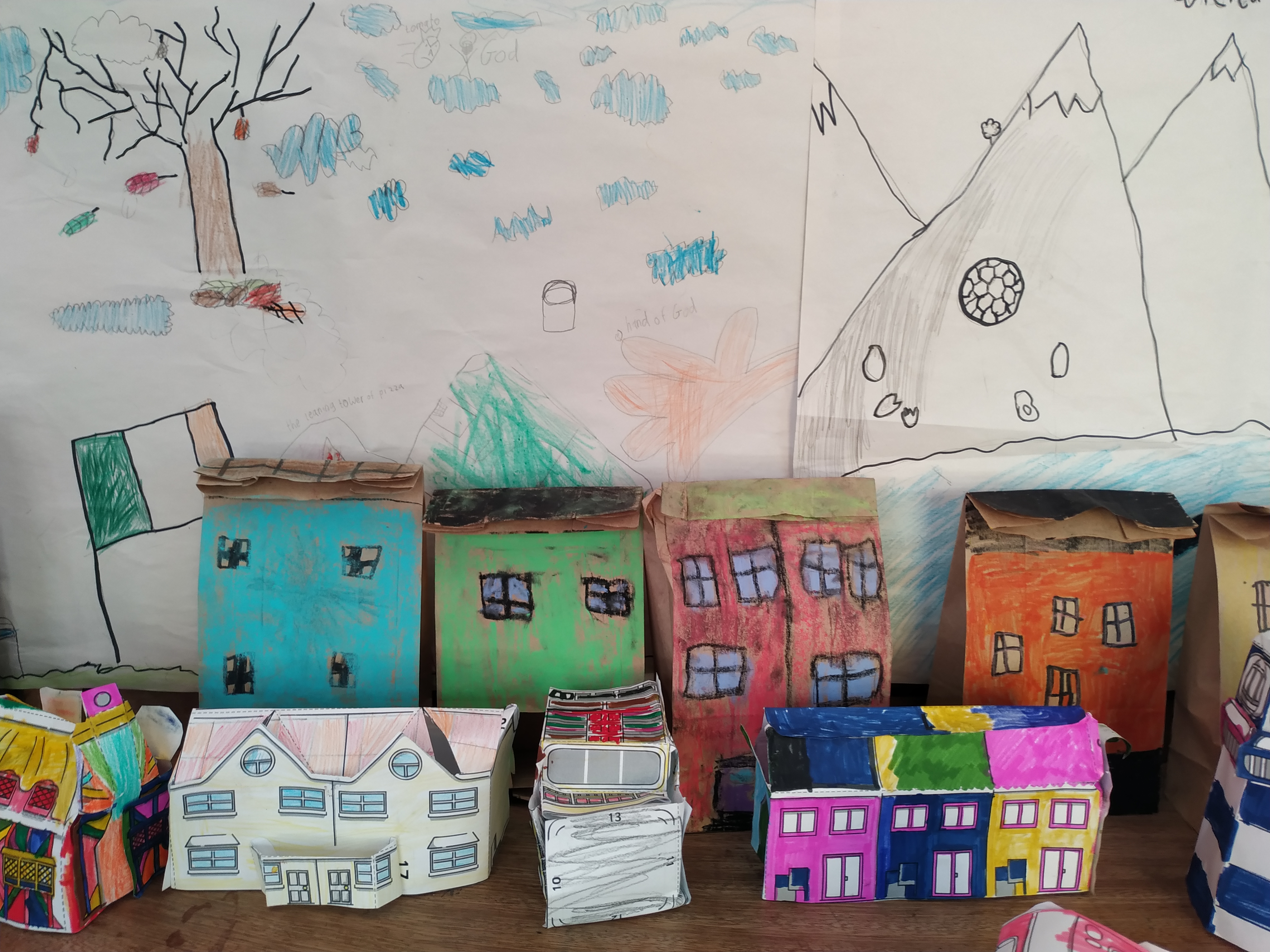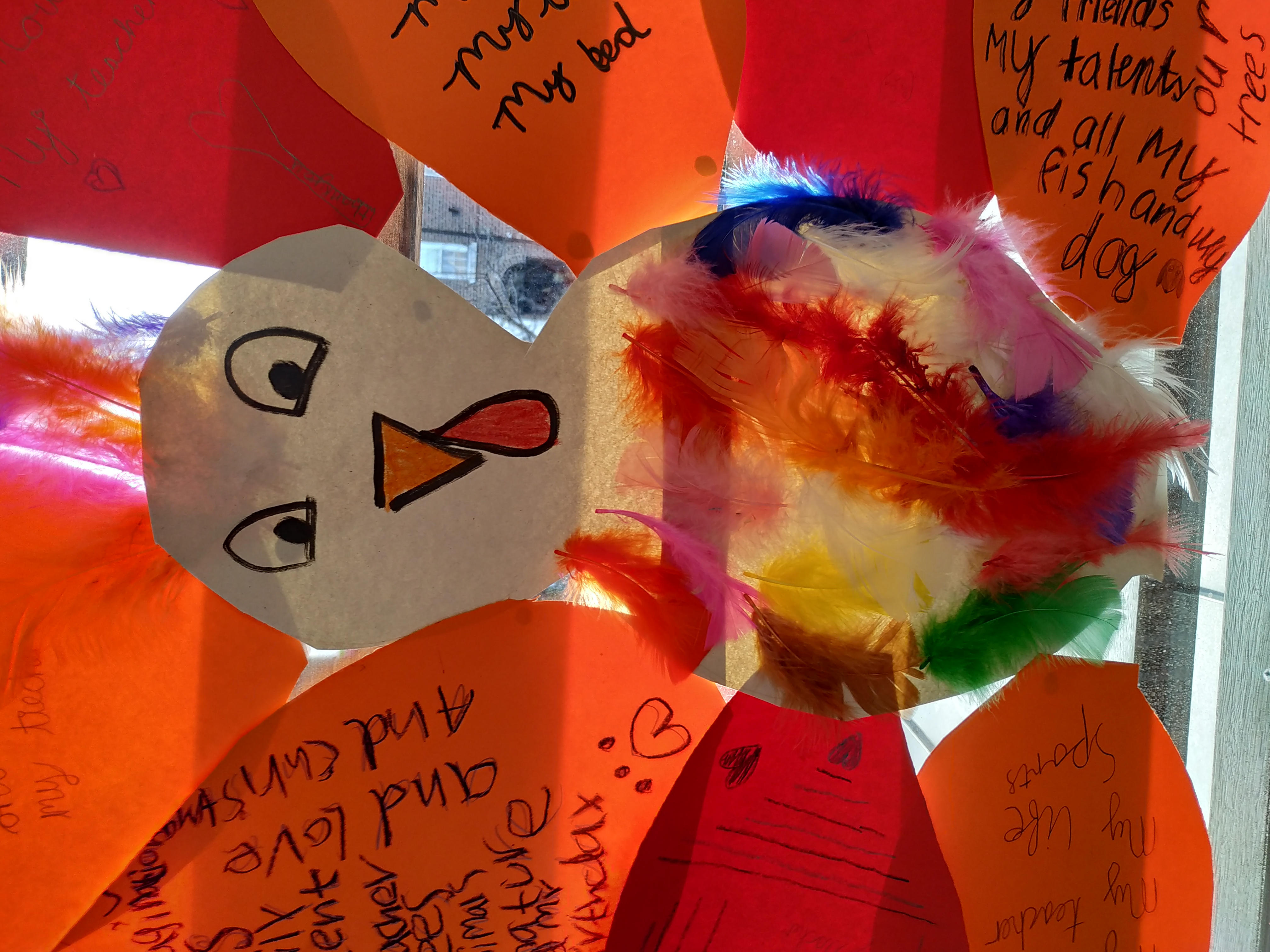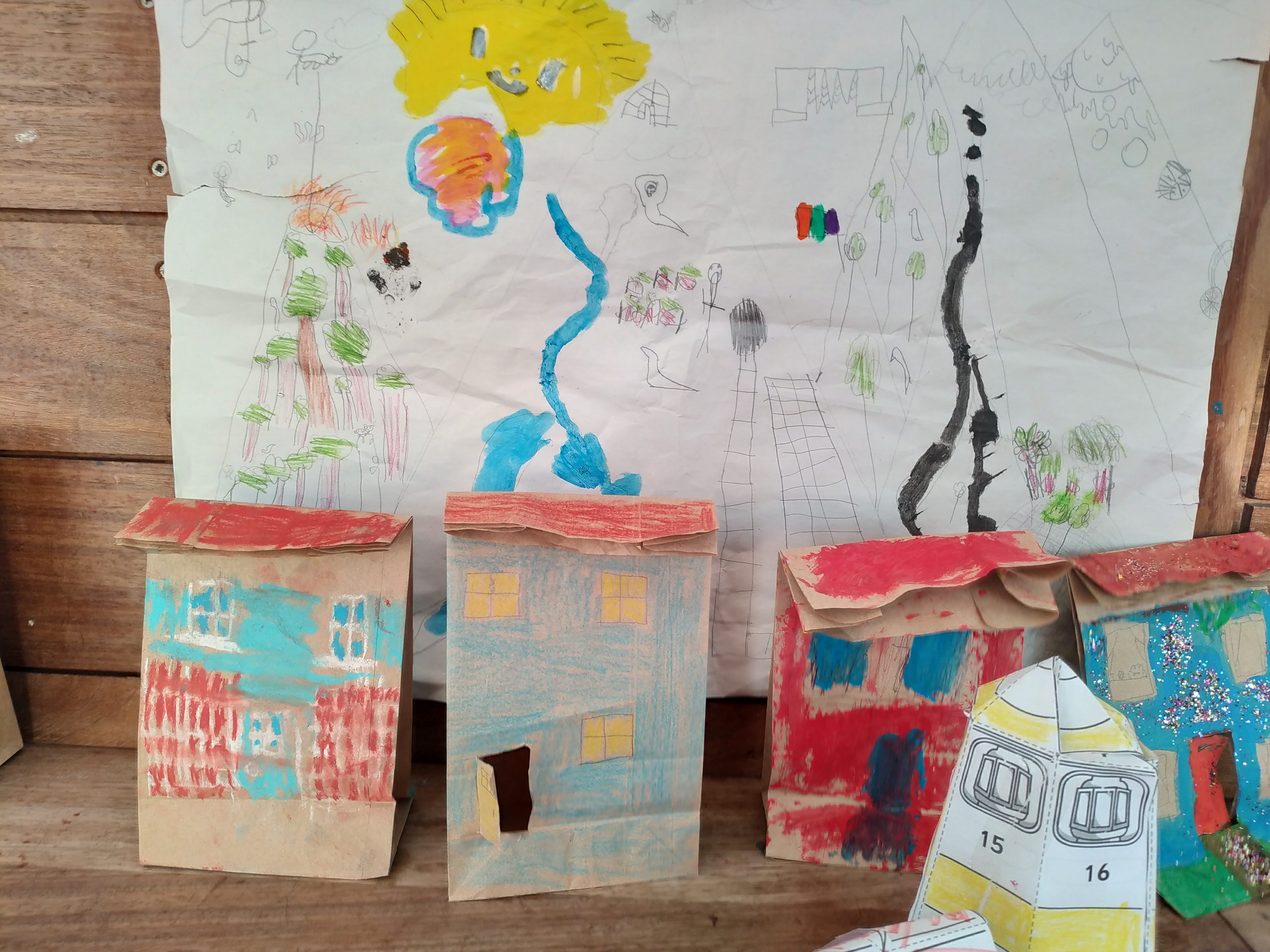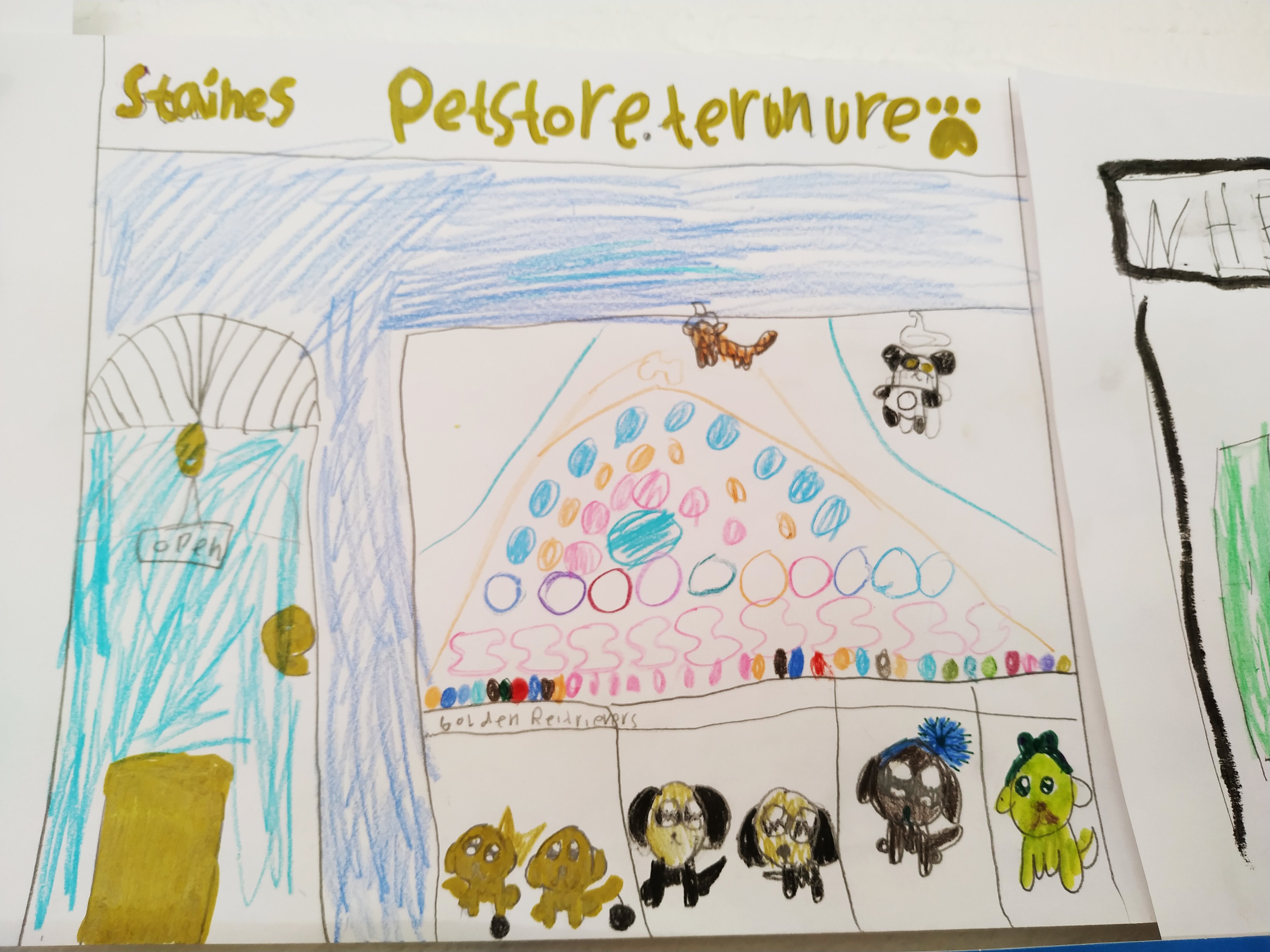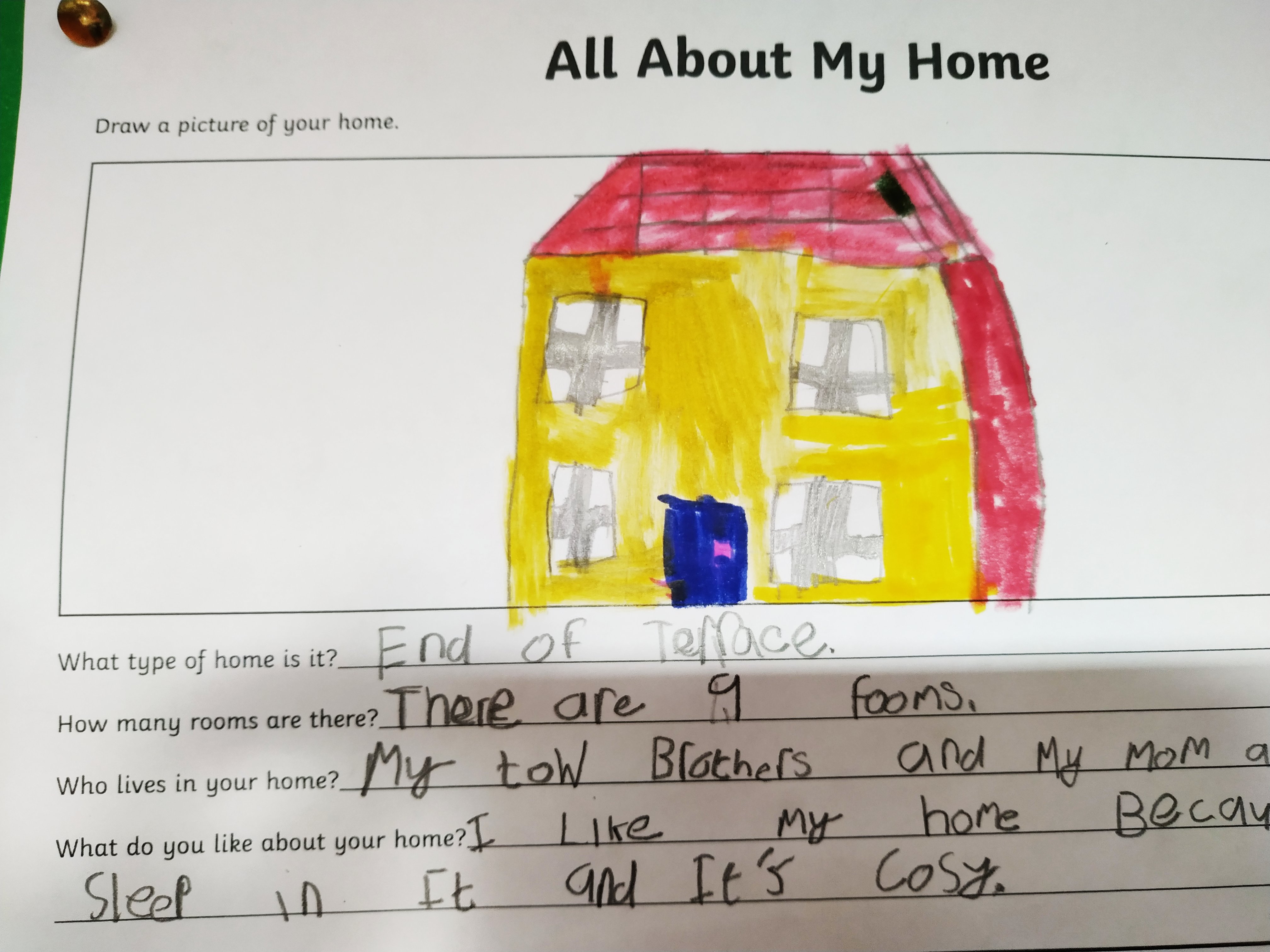 Rang 3
This week we are dedicating our newsletter piece to Forest School. We had our last week this week and would like to share with you some quotes from our class about our thoughts on Forest School.
"It was a such a great learning experience for the class," said Ms Blayney.
"My favourite part was making snowmen from pieces of wood that we cut using a saw," said Estelle.
"I loved making a couch out of leaves and making wooden snowmen," said Iris.
"My favourite part was carving sticks to make a sword and tools for chopping," said Arlo.
"I loved making wooden cookies," said Rachel.
"My favourite part was making stuff out of wood," said Shay.
"What I loved most was playing eagle eye," said Matthias.
"I love Forest School because it was just so much fun," said Aron.
"I loved making a den," said Ethan.
"Making snowmen was something I loved as well as all the other crafts," said Lorna.
"Making giant piles of leaves and jumping in them was the thing I loved most about Forest School," said Anna.
"I enjoyed playing on the swing we made and also playing eagle eye in the maze," said Francesca.
"Eating our lunch in the forest was really exciting," said Hal.
"I enjoyed making a den and eating our lunch in it," said Wolfie.
"Making God's eyes was my favourite part," said Lucy.
"I absolutely loved making our dens and the blacksmiths work place," said Arthur.
"I thought everything was amazing," said Freddie.
"We made tree spirits with clay. That was fun," said Finn.
"I loved carving sticks and making decorations with wood. I also enjoyed playing in the maze," said Elise.
'My favourite part was making a bow and arrow," said Ben.
"Making fire was my favourite part," said Bronwyn.
"I think that playing eagle eye in the maze was the best part," said Jake.
'I liked playing eagle eye in the maze," said Sam.
"The thing I liked about Forest School was using the blind folds. One person was blindfolded and the other led them to a tree," said Lucie.
"My favourite part was playing in the maze," said Mabel.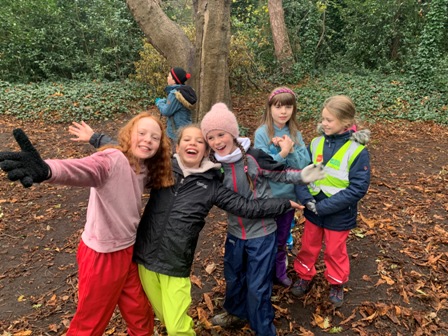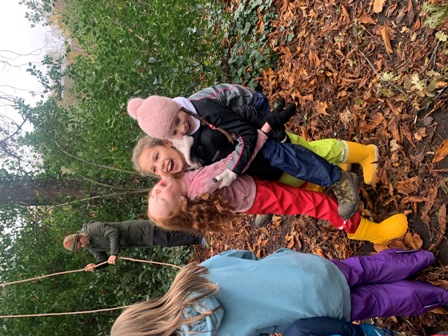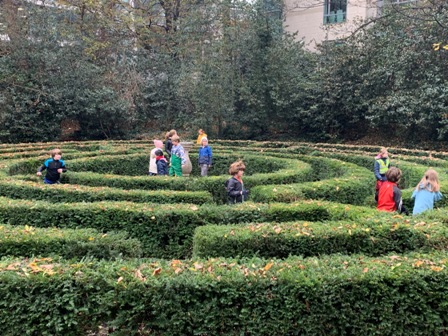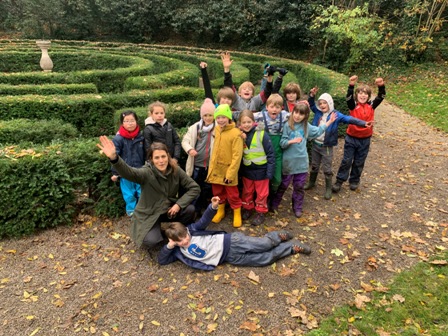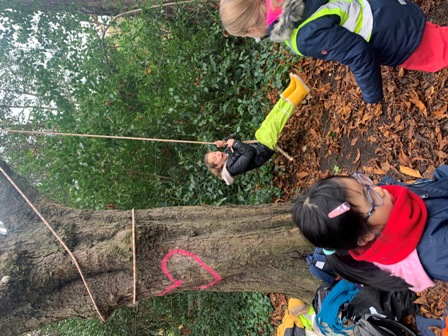 Rang 4
Rang a 4 had a lot of fun this week. We got to meet an army engineer, Ciarán, who saw our STEPS project that we worked very hard on with our teams. We finished our Buddhism project and drew mandalas. Some people finished their mini book on Buddhism. We also did winter windows that you will see at the end.
We had a lot of fun on Friday when we were jumping in PE at the tennis courts across the road from school. We started narrative writing and finished multiplication in maths. We described our classroom as Gaeilge.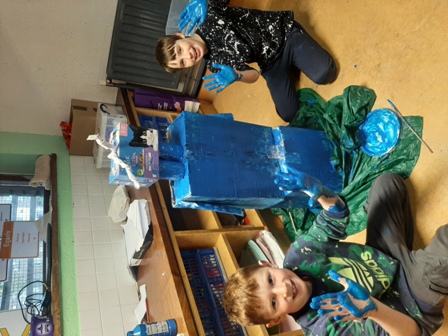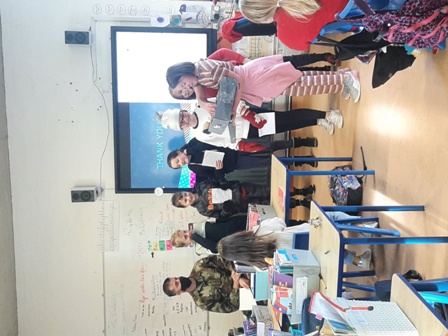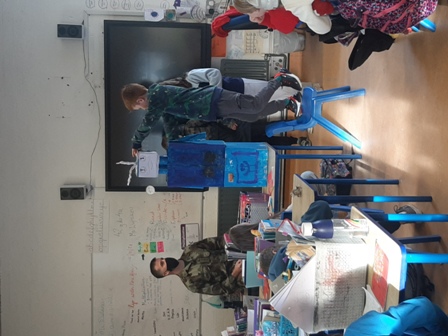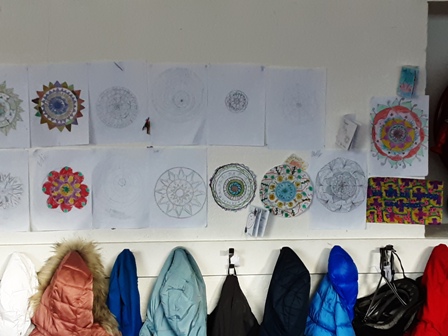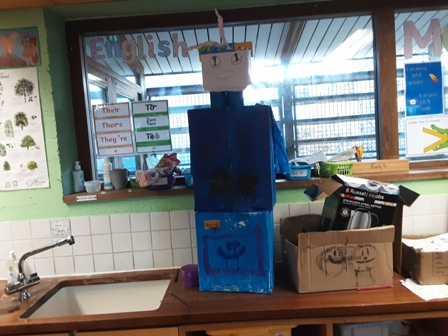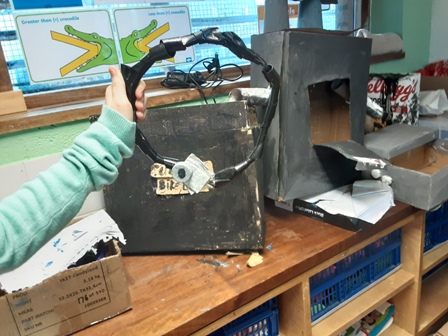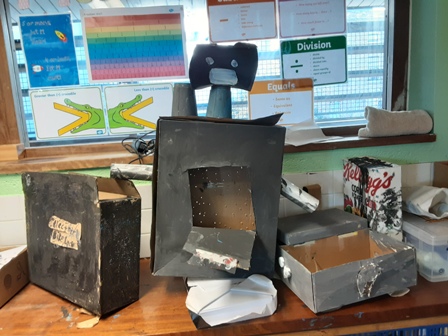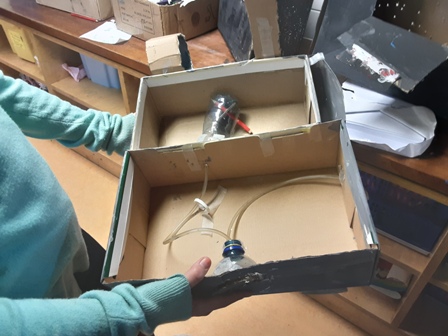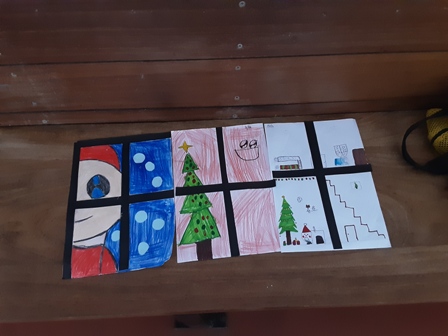 Rang 5
Hello! We were very busy in Rang 5 this week. Here are the things we have done. On Monday and Tuesday our Parent/Teacher meetings were on so we had a substitute teacher for both days. On Monday Mrs. Ryan was our teacher and on Tuesday Ms. Brennan was our teacher.
This week we continued learning about fractions in maths. It was hard but soon we got the hang of it. In English we are learning about writing emails and also read a story called 'The Big Bad Wolf's Complaint' which was funny. We did music where we all got our own instruments and had to make a story with them. The stories were great and creative. There were many different instruments and sounds.
On Wednesday we started learning about Hinduism for our Winter Concert. It is a very interesting topic to learn about. There are many different gods in Hinduism and we all look forward to learning more about them.
On Thursday we had PE. In PE we did an obstacle course and it was very fun.  There were 4 different teams and we did relay races through the obstacle course. Everyone enjoyed it very much. We also followed an art video that showed us how to draw a turkey to mark Thanksgiving.
Finally on Friday we started making our props for the Rang 5 Winter Concert. They are going to be very colorful and will look great! The play will be amazing!  Thanks for reading.
By Noah and Nicholas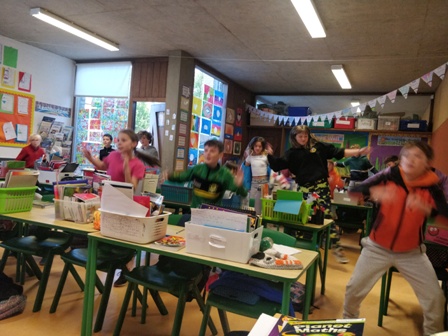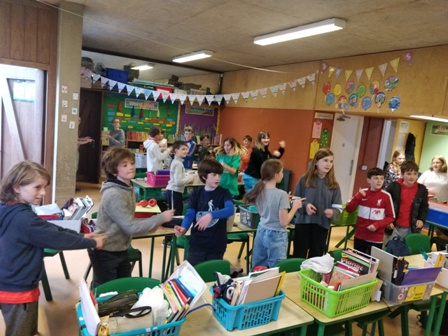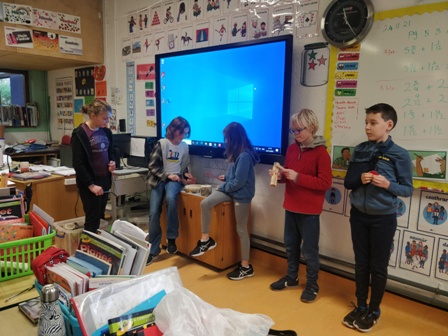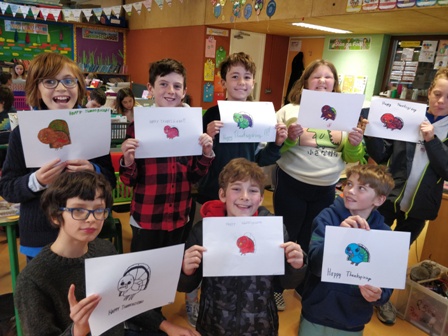 Rang 6
We have had a great week here in Rang a Sé. Last Friday we had our multiplication test and did really well. In art we made really cool Mayan ceremonial masks because we were learning about the Mayan as a civilisation in English. This week in maths we have been learning about decimals. We started our winter play on creation stories. We chose The Big Bang. We started learning The Big Bang Theory Song and love it. It is so fast so we need to learn the lyrics really well. We also started thinking about the Christmas Fair this week and the R6 Business Initiatives. It is a great event each year and so exciting for R6 so we can't wait. We started learning about The Skin in English in report writing. It was very scientific and factual. We learned lots of new information. In P.E. we played soccer and hockey. We had a wet yard one of the days and did some dancing and a classroom workout. Here is a clip of the dance:
Enjoy!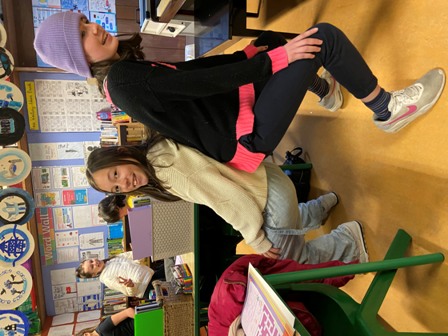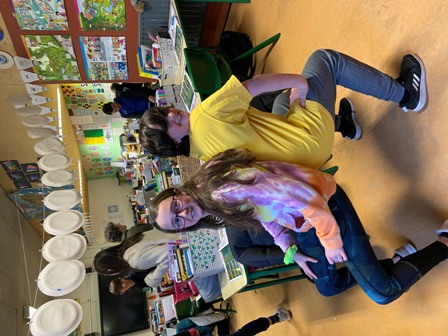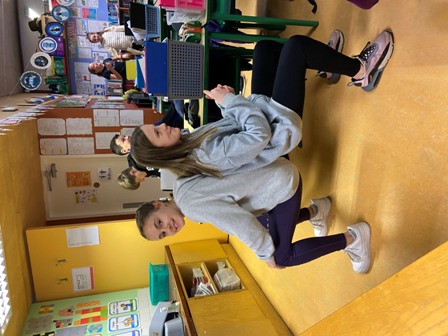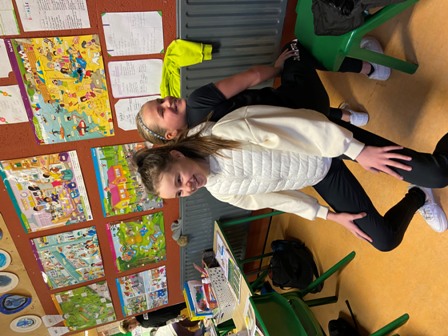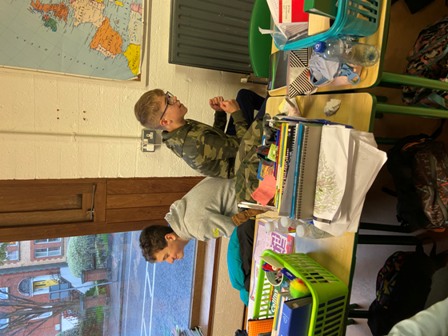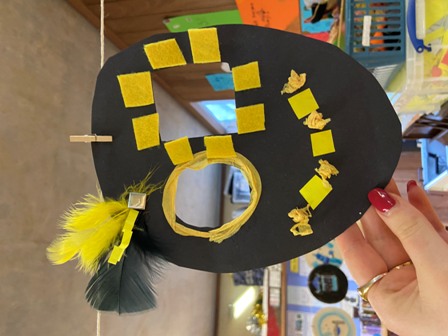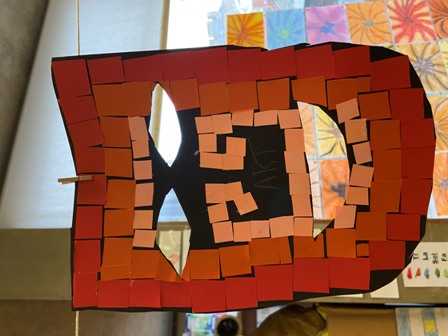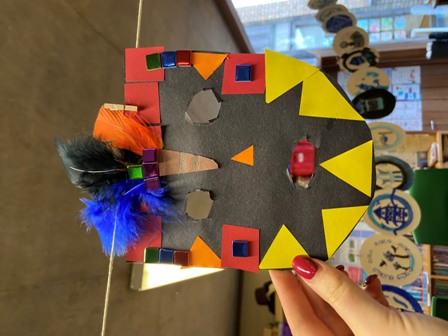 By Shane and Sam
Ranelagh Multi-Denominational School, Ranelagh Road, Dublin 6, D06 Y658
Telephone/Fax: (01) 4961722 ● E-mail: secretary@rmds.ie
______________________________
Roll No. 19928Q ● Principal: Rosemarie Stynes