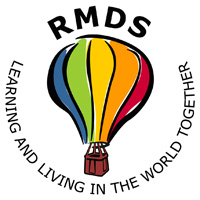 RMDS
School News in Brief….
19th November 2021
From the Principal's Desk….
Hello everyone,
We had another busy week here in RMDS.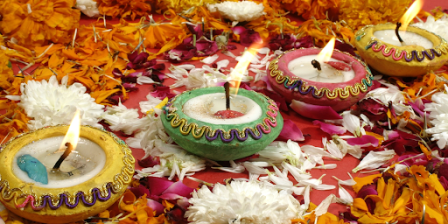 This morning we were able to have another beautiful outdoor assembly with the sun shining. Rang 1 led the assembly on Diwali for us. We are so grateful for these rare opportunities to come together as a school, and feel so blessed to have had such beautiful weather to be able to sit outside together. Ask your child to tell you a little bit about what they learned at Assembly this morning. They might even sing the song they learned for you!
There are some updates on what is happening in the school at the moment below.
As always, please keep an eye on the RMDS Calender on our website for all dates of upcoming events.
Parent/Teacher Meetings
Thank you to everyone who has attended our Parent/Teacher meetings so far. They are a vital part of the communication link between home and school.
Meetings will continue as follows next week:
Monday, 22nd November & Tuesday, 23rd November - Junior Infants & Rang 5
Wednesday, 24th November & Thursday, 25th November - Rang 1 & Rang 3
Meetings will be via Zoom and the link will be sent by email from the relevant class teacher.
Class photos
Michelle, our photographer, has advised that there has been a slight delay with the development of the class photos so photos will be available from the week starting 29th November.
Extra Curricular Activities
The BOM had been exploring options to restart ECAs on a phased basis making preliminary contact with facilitators. However, due to the unfortunate increase in Covid-19 numbers at the moment a decision has been taken not to re-start classes this term and this will be reviewed again after the winter break.
National Council for Curriculum and Assessment (NCCA)
Parents! Do you know that the Primary Curriculum is changing?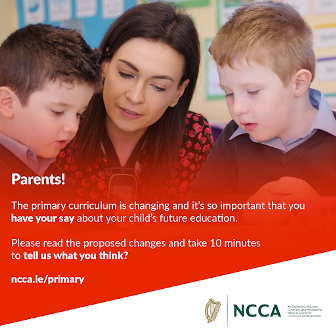 What children learn and how children learn in primary school is changing. The proposed changes aim to enhance children's learning in school and provide for even more relevant and meaningful learning. You can find the proposals HERE.
As a parent, it is important that you have a say in shaping your child's future learning. Consultation will close by the end of February 2022.
Please take 8-10 minutes to tell us what you think HERE
Want to know more? Visit the NCCA website www.ncca.ie/primary
Covid Update
Please clink on the link to see the latest statement from Minister Foley and Minister for Health Stephen Donnelly regarding arrangements for a new system of antigen testing of asymptomatic close contacts in primary schools.
According to the Department of Education, information materials are being prepared for issue to schools next week. The programme will be in place on or before 29 November.
As always, if a child has any new onset symptoms and feels unwell or seems off-form,  do not send them to school and contact your GP for advice if necessary.
In addition, do not send your child to school if they have:
Been in close contact with a household member who has tested positive for Covid-19
Been living with someone who is unwell and may have Covid-19
Please click on the link to see parent-focused public health advice about COVID-19 symptoms.
Thank you for all your co-operation with keeping our school as safe as possible for everyone.
Rosemarie
From the PA….
Preparations for the RMDS Christmas Fair are well under way - and once again this is shaping up to be one of the best family days out EVER!!! The Fair will take place outdoors in the school yard on the 11th December from 11am to 3pm.
This event is not only a great family day out, it is also the biggest fundraiser in the school calendar.  We really need your support and hope to see you all there on the day!!!  We will have sanitizer stations and will encourage mask wearing on the day.
Ahead of the event - here's what you can do for now to support:
Log onto com to buy raffle tickets. We have an incredible prize pot - don't miss out!!!
Any final raffle prizes - please email xmasfair@rmds.ie
Volunteer to help out on a stall at the fair by emailing xmasfair@rmds.ie
The Teddy Tombola is set to make a return to the fair this year - this is a big hit with the younger classes.  We are appealing to the older classes to wash and leave any pre-loved teddies with the school secretary before December 11th.
The Christmas Cafe and Rudolph's Restaurant will also open again this year, so arrive hungry!!! Closer to the day we will ask you to volunteer to bring baked goods and soups/lasagnes/stews on the morning of the fair.
Christmas trees will be on sale over the two weekends before the Fair, so please support and buy your trees, wreaths, and festive planters from the school yard on 27/28 Nov and 4/5 Dec.
Aside from the Christmas Fair, the Student Council are currently choosing some outdoor materials for each class to buy from the PA budget. Purchases for the Sensory Room from your Halloween Raffle contributions are about to be ordered too, so thanks again for your support!
PA & Christmas Fair Committee
From the Student Council….
The Student Council right now are Isabel Moran, Issy Wheatley, Ben Mahon, Alice Conor, Lila Hackett, Rowan Fanning and Joe Lyons.
At the moment the Student Council are working on doing an inventory on the equipment in the yard bags for each class. We are working with the Parents Association who have provided money for each class so that the yard bag for each class can be improved.
Other things which we are trying to improve in the school are:
The Student Council discussed the reintroduction of Extra Curriculars but since Covid numbers have gone up the Board of Management have decided that we are going to look at that again after Christmas. We will give feedback on the most popular Extra Curriculars to the Board of Management.
We can't go into classes at the moment so we emailed the teachers to make sure each class has a suggestion box which children in the class can communicate with us through.
We are working to choose another charity to donate to, along with St. Vincent de Paul for our annual RMDS Christmas Appeal.
From the Green Schools Committee....
Detecting and Eliminating Draughts: Part 1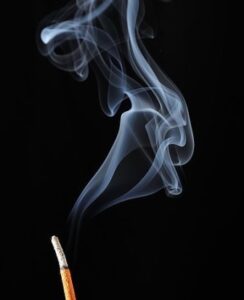 Some pathways for draughts are more obvious than others. An easy one to spot is if you can see daylight shining around the edge of your front door or letterbox there more than likely is a draught. Some pathways need a bit of detective work and a lit incense stick makes a great tool.
On a windy day or a cold night with the heating turned on, slowly and carefully move the lit incense stick closely around the edge of your exterior doors and windows, skirting boards, ceiling downlights and attic hatches.
Also check the entry points where electrical cables, telephone cables, cable TV, satellite TV, the gas flue, water pipes, waste pipes and soil pipes penetrate the exterior walls. Some of these points will be located by the front door, by your boiler or under the kitchen sink.
If the column of smoke is disturbed, then it shows that you have a draught that needs attending to.
Badly fitting doors and windows are often culprits and a competent joiner will resolve this. If there's no seals present, you may be able to install them yourself. There are companies that specialise in draught-proofing timber sash windows.
Existing seals become compressed over time and often painted over, so they lose their effectiveness. Irish Intumescent Systems at 11 Synge Place, D08 CXV0 in Portobello sell replacements. They also sell self-adhesive seals suitable for draught-proofing your attic hatches.
There should be some form of seal at the bottom of your exterior doors. They're often manufactured by Exitex and you can get replacement rubber seals if they've become compressed or damaged. Maintain the rubber with an occasional wipe of silicone oil. Some use a brush strip and this can be replaced too if needs be.
Fit an interior letterbox cover on your front door. These usually have a brush strip and a flap. If your keyhole doesn't have a swinging cover, they're easy to fit.
Next Week: Eliminating Draughts: Part 2
Roland Ramsden
Andrea Scott
Green Schools Committee Parent Representatives
THIS WEEK'S
News from around the Classes…..
Junior Infants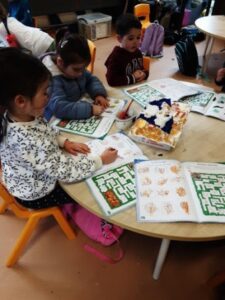 We are working very hard on our colouring and writing.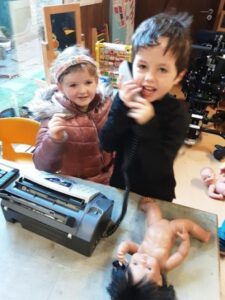 We are working in the Doctor's Surgery.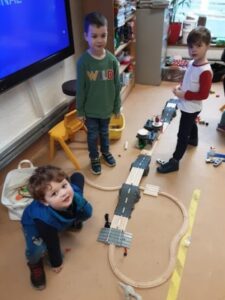 We enjoyed playing with the train set.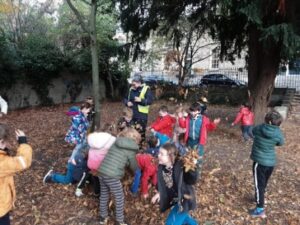 There are lots of leaves in Linear Park!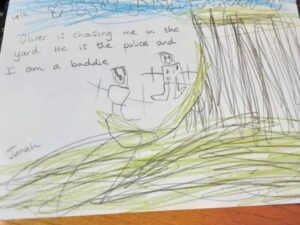 Our news reporters are Suki and Jonah.
Senior Infants
We are making a café in Aistear. We have jelly cakes, hot sauce, cup cakes, gingerbread, burgers and chips and blueberry pie, yum!!!
We've learned about Emperor penguins and we made our own penguins.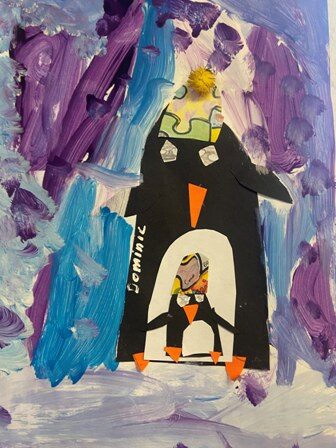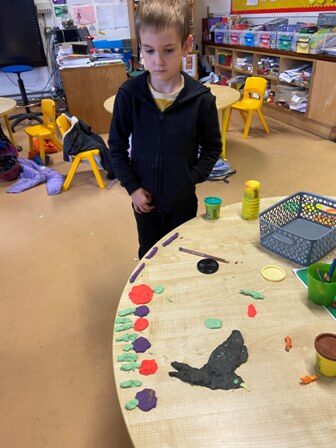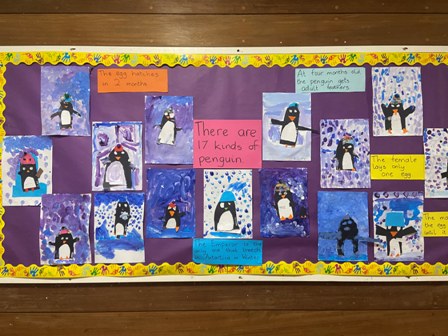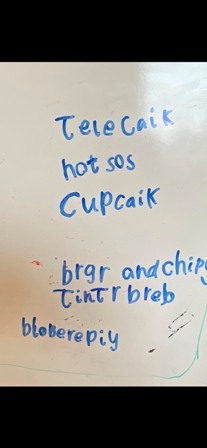 Rang 1
It was a very exciting week in Rang a hAon as we had our Assembly on Friday. The class had been working so hard and were looking forward to the Assembly all week. We loved telling the rest of the school all about Diwali and singing "This Little Light of Mine" together. Everyone was brilliant and they should all be so proud of themselves. This week, we also planted some bulbs on the Roof Garden for spring. Each pod got their own pot and we planted a mix of tulips and daffodils. We'll be making sure they have everything they need to grow over the next few months.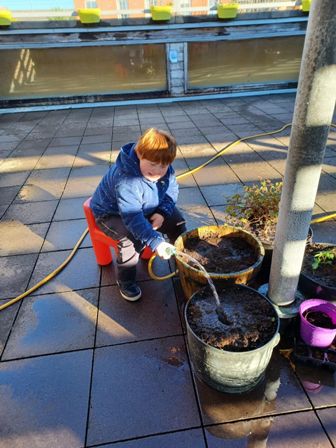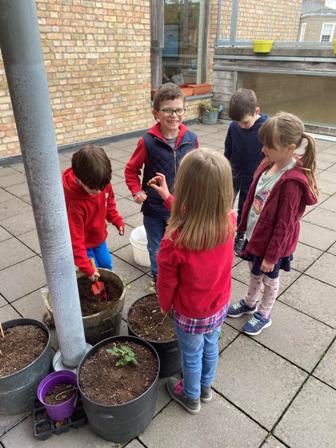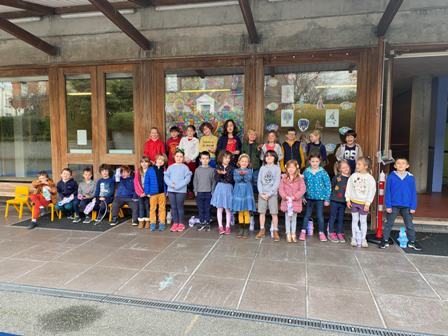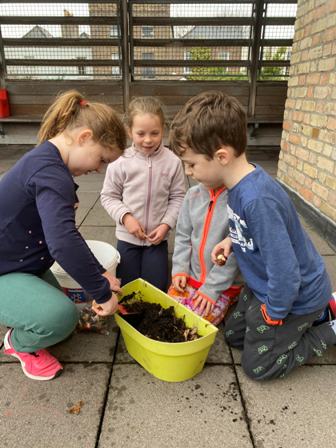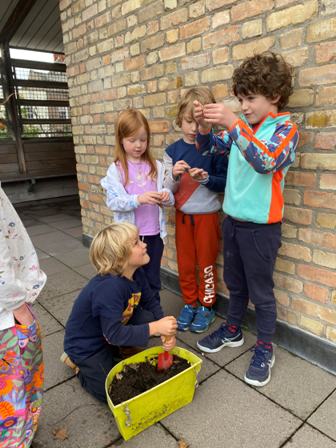 Rang 2
Hi everyone!
We have started a new theme this week which is 'Houses and Homes'. We are learning about the different types of homes we all live in and some more unusual ones also. Ms Pigott told us all about how a yurt is made.
We have also been using Google maps to look at one another's homes . We will be examining materials and also making dioramas of foxes and badgers' homes this Friday in art. We will show them off here next week.
Ms Pigott has also started a new craze in Rang 2 which is making paper stars and castles. We have some lovely ones already .
In Gaeilge we are learning all about the seomraí an tí (rooms of the house).
Slán libh go léir!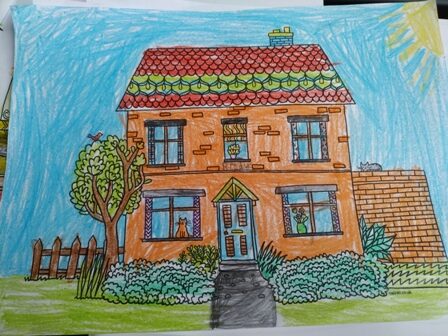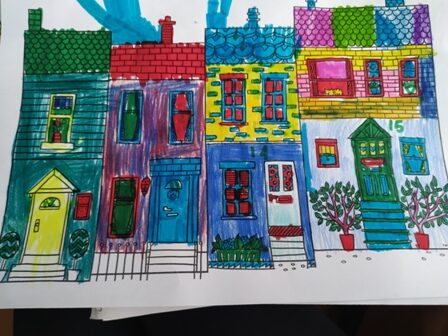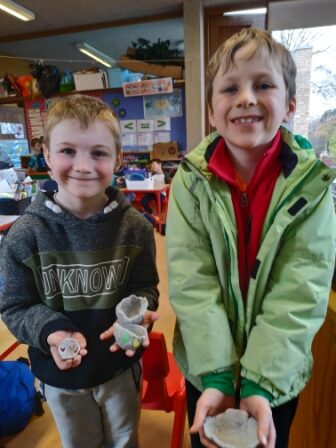 Rang 3
The highlight of this week was when we made ice cream in science. It was Science Week last week and although we made balloon rockets we had planned to make ice cream also and didn't have time so we made it on Thursday instead. We put chocolate milk into ice and salt. Ask about the science of how it worked!
In Forest School we made 'God's Eyes', using wool and sticks. Some of us will be decorating our Christmas tree with them this year. We also made a den with lots of branches that had been cut down by the park warden. We also talked about gravity and tested wind resistance.
In the yard we had a full class football match which was fun and we managed to organise it ourselves.
In maths we started fractions and made a fraction wall.
We finished our reports in English.
In Gaeilge we are able to describe our classroom and used verbs in the past tense.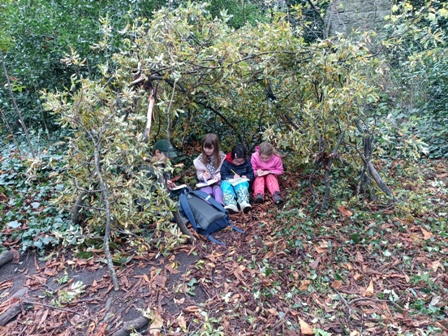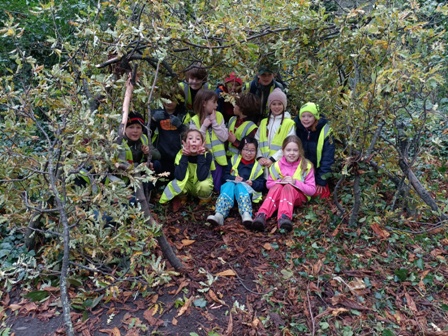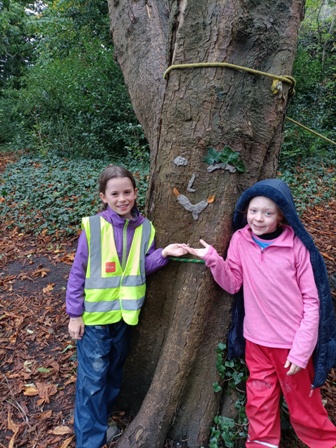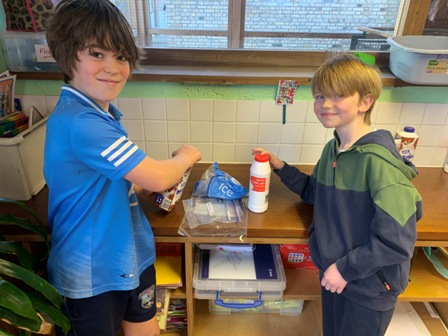 Rang 4
MATHS: This week we learnt how to survey people with a tally sheet and then put the information on a graph. We also picked a topic and surveyed the class.
GAEILGE : In Gaeilge this week we learnt how to tell the time. Mr Fairbrother has been asking us "Cén t-am é?" in the mornings.
ART: This week in art we made nature mandalas out of what we found at Ranelagh Gardens.
ENGLISH: This week we've learnt about Buddhism and even made little booklets about different types of rituals.
HANDWRITING: In handwriting we are continuing to do "Go with the Flow" and this week lots of people got their pen licenses. Yay!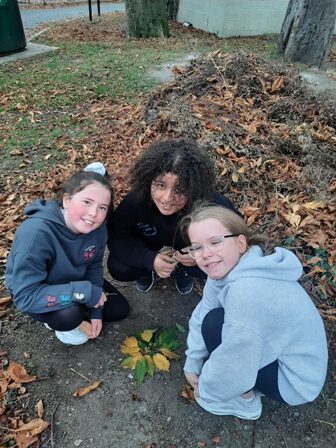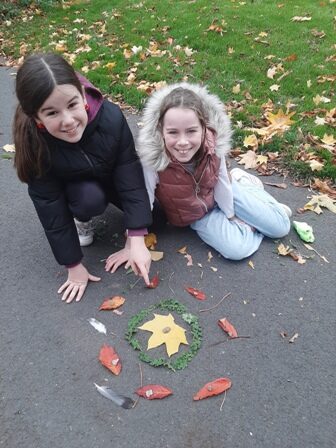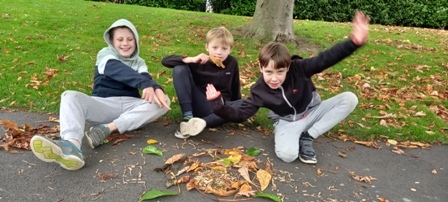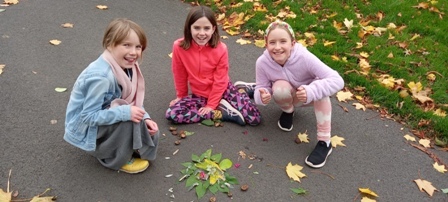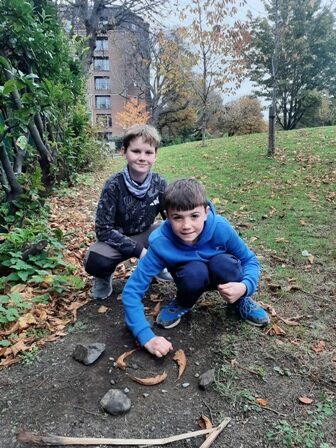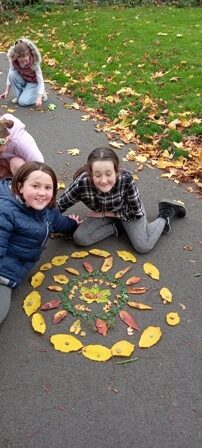 Rang 5
We have had another great week in Rang a Cúig. We finished our Mayan project and we have been presenting them to the class. We have been peer assessing the projects with the '2 stars and a wish' technique. We have learned so much about Mayan society and their day-to-day lives. It has been enjoyable making and presenting these projects.
In Maths we have been working on fractions this week. We have been working on presenting our fractions in their simplest form. It is tricky but we are getting the hang of it. In English and science we learned about the life cycle of a slammader. In P.E. we played some yard games and a whole class game of soccer which was really fun. We have had a great week.
Thanks for reading!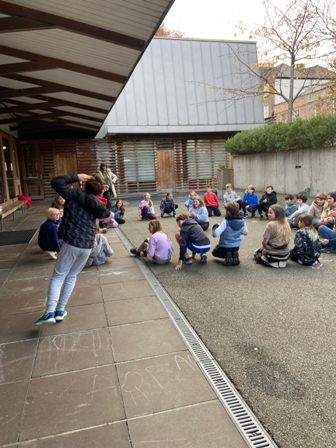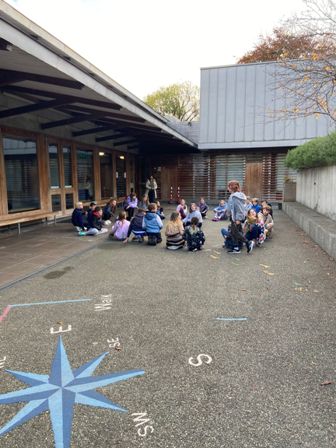 Rang 6
This week was really fun. We had such a great time!
Last Friday we did some Northern Lights art with chalk pastels. You can see them outside our classroom.
Our parent/teacher meetings were on Tuesday and Wednesday so we had Ms. Brennan and Mrs. Ryan on those days.
Over the week we did some work on the Irish coast in geography and we found it really interesting and learned some new things about it as well!
In maths this week we worked on multiplication. We worked on multiplying by decimals.
In English we were doing a reading comprehension on the Maya. This gave us an idea to do a project on an ancient civilization of our choice.
On Thursday we had P.E. We played soccer and rounders and we really enjoyed it.
Ms Brennan brought in bookmarks for us to colour in mindfully on Tuesday. We laminated them and gave them as gifts to our friends and family, or we could choose to keep them for ourselves.
Check out our singing as Gaeilge. Bhíomar ag canadh "Counting Stars" as Gaeilge.
We hope you enjoyed reading about our week!
By Caoilin and Art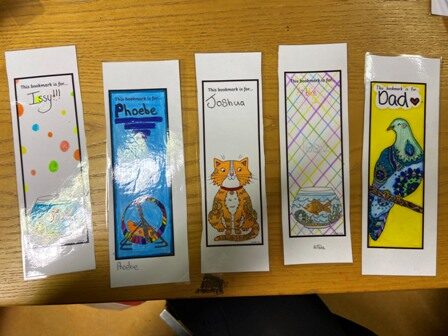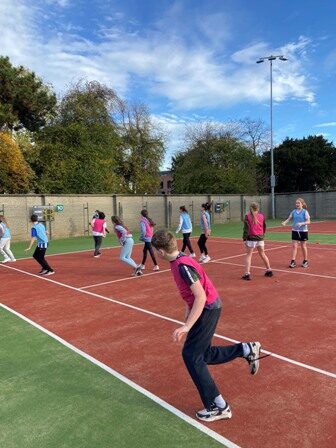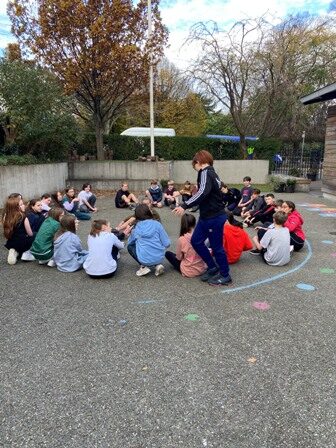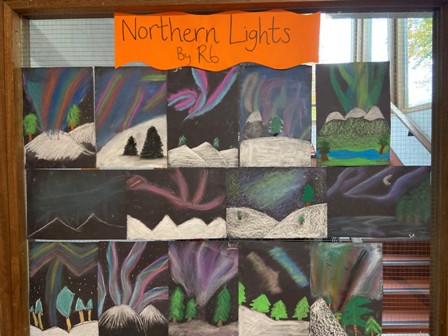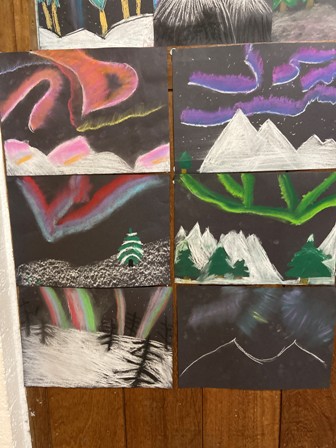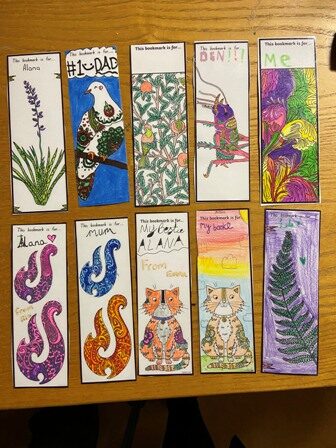 Ranelagh Multi-Denominational School, Ranelagh Road, Dublin 6, D06 Y658
Telephone/Fax: (01) 4961722 ● E-mail: secretary@rmds.ie
______________________________
Roll No. 19928Q ● Principal: Rosemarie Stynes