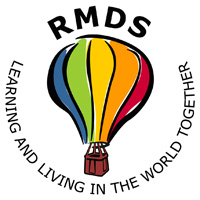 This week's Newsletter
28th May 2021
I am still on a high after yesterday's amazing performance of Charlie and the Chocolate factory by Rang a Sé.  As I said  yesterday, I love the collaborative nature of the musical and how all the talents in the classroom from artistic, dramatic, constructive, logistic and many more  get to shine.  If the performance itself was poor the process would still make it worthwhile.  The performance yesterday was not poor.  Yesterday's event was brilliant and I'm going to steal a line from a parent 'The only thing missing was the applause,' which the performance so richly deserved.  I was so excited by the faces as they came off stage, each and everyone delighted with themselves.  Those are the moments that make my job  incredible.  A link to the performance is available in Rang a Sé's newsletter.  A huge thank you to Conor Smyth (Alannah in rang 5's dad) who ensured that the quality of video and sound reflected the performance.
A similar highlight to the year is the 'Write a Book' project and we are due to have the celebration of this next Thursday.  It is an amazing achievement that each child in the school has written a book and gone through all the various editing processes that come with writing.  This year we have changed the format slightly and we will be working with the school council to see if it works.  We are looking to highlight key elements of what makes a great story.  We might even try and get some of the children to share their stories because that is arguably the real reason to write one in the first place.
It was my daughter's first birthday this week and I found myself reflecting on how quickly the year has gone and how much has been achieved. There is one month left to go and we have a lot yet to do.  June in schools is one of the busiest times as we start to get all that we imagined we could do, done. Making sure that we are ready to pass the class on to their next teacher and that we let that teacher know all that we have learned about the children.  We also try to communicate that to you the parents in the end of year report which is no mean feat.  Children cannot and should not be put in boxes and yet the report asks us to do just that.  When you receive your report remember that it is a small part of the person that they are and no report could possibly contain how individual each child is.  Before the Department issued a standard report our school reports had grown to an A3 double sided page and were still limited. This year more than any other, remember that, and if you have any concerns, arrange a chat with the teachers.
We may have to get Jackie a slot in the Newsletter.  As we utilise more exits to the school the need for a few more Jackies has become apparent.  Particularly on the exit from the lane where the children have run across Ranelagh Road rather than go into the village to use the pedestrian crossing.  We are lucky to have one Jackie, there is no chance of getting another so in the acknowledgement of the need for a village to raise a child, if you see our children doing this warn them or if you are not comfortable doing that, let me know. Many of you have already and I have spoken to the classes and we are putting measures in place but they're not Jackie.  It is a bend on a busy road and needs to be treated as such.
Simon from Ranelagh Gaels has finished his training sessions with us and we feel so lucky to have had his expertise available to us for as long as we did.  I thanked him on your behalf for all that he has done this year with the children.  His classes are a highlight in the week for the children and we as teachers are always learning from him.  We look forward to cricket which hopefully will get started today after last week's washout.   
We are going to have to find a Covid safe way of saying goodbye to Colette Desmond who handed in her notice this week.  She has been in Cork for the past year with her young family and has decided to make the move permanent.  We are very sad for ourselves as she has been an amazing teacher, colleague and friend for the past 11 years.  We are in equal part delighted for her as she moves on to this exciting next chapter in her life.   
School is an ever changing place and nothing ever stays the same but with our strong ethos of care and compassion we hope that her replacement will go on to be as amazing in their own individual way.
Board of Management
The Board would like to thank those of you who have returned your CHY3 forms.  If you have yet to do so please do before it disappears behind the couch.
The Board were happy to approve the tours selected by the teachers this year in the knowledge that the teachers will be mindful of regulations regarding Covid.
The Board would then like to thank all the teachers for all that they have done in very difficult circumstances to make school as normal a place as possible.
The next meeting of the Board will be held on Tuesday 22nd June.
Rang a Sé
Have a look at the Musical 'Charlie and the Chocolate Factory'.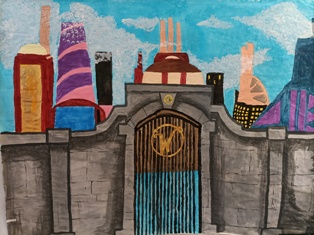 Rang a Cúig
This was a very busy week in Rang a Cúig, we spent a lot of the week practicing our songs for the musical. We performed the backing vocals for the 6th class Musical 'Charlie and the Chocolate Factory', and we had a great time! We performed in the live streamed show but also took part in several full rehearsals. After the Musical we watched the movie 'Willy Wonka and the Chocolate Factory', we also got the night off homework as a treat. This morning we watched the musical recording because we were always too busy singing the songs to relax and watch the show properly. This evening before we go home we are going to get a treat for working so hard all week and performing so well in the musical. We are looking forward to our own Rang a Sé musical next year!
In Maths, this week we completed Division 2 which was a tricky topic that involved the long division of decimals. We are happy to say we have the hang of it now. Unfortunately, cricket has been cancelled for a second week due to bad weather so instead we are going to make some posters in Art to promote cleanliness and tidiness in Linear Park. This evening members of An Garda Síochána are coming in to talk to us and we are very excited to see them. They visited us a few times in Rang a Cúig and we have always enjoyed it. We hope you enjoyed reading our newsletter and have a great weekend!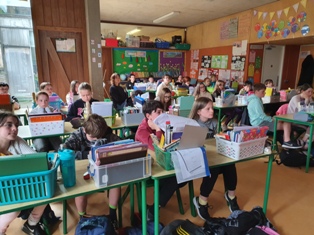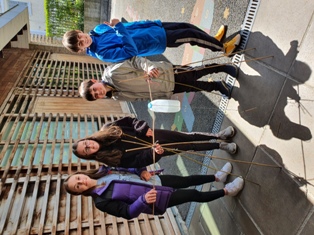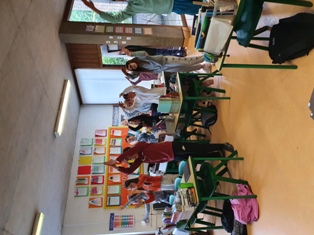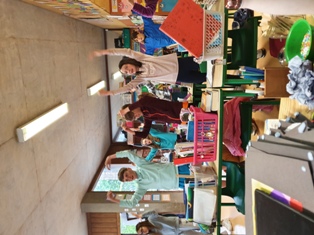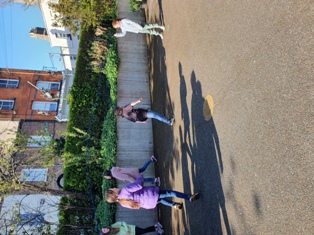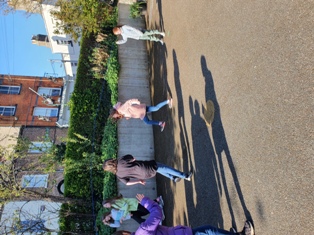 Rang a Ceathair
This week was very fun, we did lots of things. R4 were very proud to receive their Science Blast trophy for their project and research about rockets.  The award was presented by their judge, Space Engineer Hannah. Well done everyone!! 
On Monday, we did lots of crocheting. Most of us are learning chain stitching, We are doing number sentences and word problems in maths the test was on Thursday
We are reading a class novel called Holes. We think it is very good!  When we finish reading the book we can watch the movie. We finished the stay safe project. We learned to never take anything from a stranger, never keep a secret and be safe online. 
On Thursday our class went to Belgrave park to play and do drama. Our drama was fairy tales with a twist. We had lots of fun! One of the fairy tales was the three little wolves and the big bad pig! We also had PE in the park
This Week Was Very good.
By Noah and Alec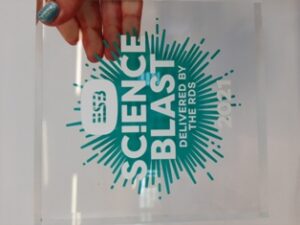 Rang a Trí
We have been working on our newspaper reports for the last two weeks. We are very proud of what we achieved. We became reporters and interviewed people involved and wrote our newspaper using factual and formal language. We have chosen Seán's to show you as an example. We hope you enjoy reading it and finding out all about what happened to the school door. The pictures show our first draft.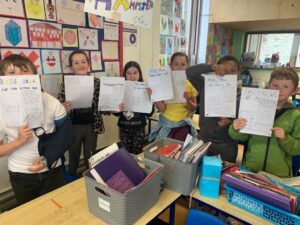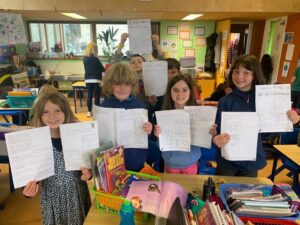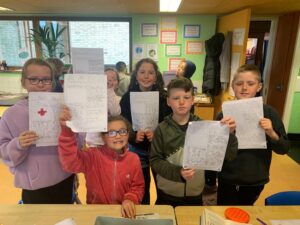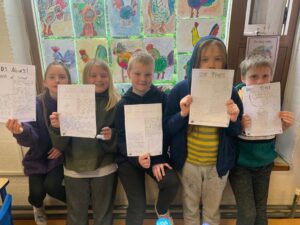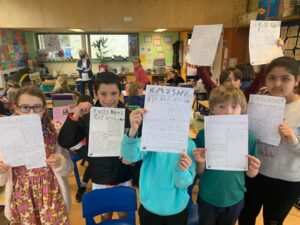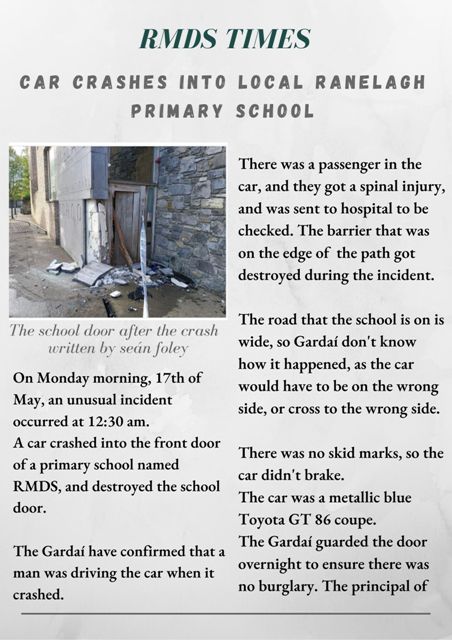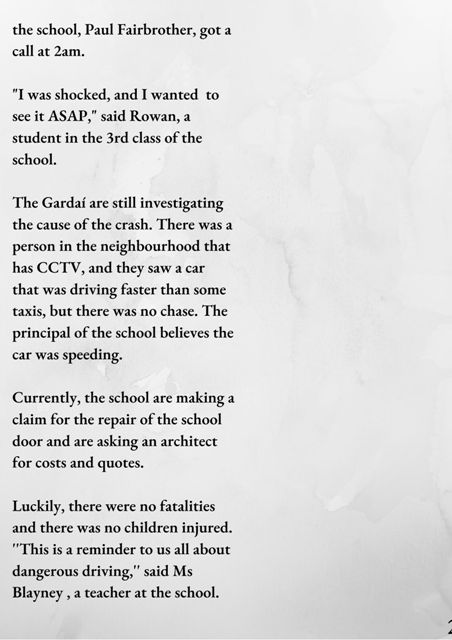 Green School News
Rang 1 have been working with the green school team planting strawberries on our roof garden.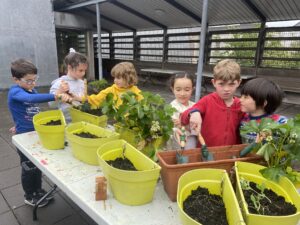 Data Centres and the Environment
More and more of our information is stored online through our use of Gmail, Outlook, Yahoo! Mail, iMessage, WhatsApp, iCloud, Google Drive, Dropbox, Facebook, Instagram etc.
It's hard to visualise, but every photo we take and upload and every email sent, gets stored across multiple Data Centres. These centres have to be built and powered and their numbers and capacity have increased rapidly in the last 10 years.
Because of the Internet, the centres don't have to be located in their main country of use. And for various reasons, Ireland is an attractive location.
So a disproportionate number of Global Data Centres are being built here. This has implications of increasing our overall national energy use and emissions at a time when we attempting the reverse. As a country, we need to take this into consideration when formulating Government Policy around this issue. For Irish Times article on the subject, see: https://tinyurl.com/afb6zm6a
At the individual level, we can try to minimise our own impact on the amount of data storage required:
We can be more selective about the photos and videos that we take and share.

We can change the default resolution that our photos and videos are taken in to match the end viewer. Unless that viewer is going to be printing photos at A3 size or viewing videos on a 4K TV, the resolution can be reduced right down.

We can limit using burst mode when taking photos and make sure to choose one good one and delete the remainder.

We can keep videos short.

We can explain to our children that media storage is not an infinite and free resource and that it comes at a financial and environmental cost. We can point out that if they're never going to look at the photo or video again, was it worth taking and is it worth keeping?
Next week: Reducing your Email storage
Rang a Dó
It has been a mixed bag weather wise this week, but Rang 2 made the best of the beautiful weather at every opportunity. We took off to Linear park for lunch on Thursday . We made skipping videos to show the younger children how to skip . 
We also demonstrated rounders to Rang 1 and they loved it . Rang 2 are very good teachers!
We have been collecting items for our bug hotels and cannot wait to make them.
Rang 2 have also been learning about older people and as part of homework they asked an older person in their families to tell an interesting story from their lives. We have learned that Iris's Great Granny raised and educated 5 children on her own. Arlo's Great Great Granny's house was hit by bombs twice and she survived. Arthur's Great Grandad was the engineer for the famous Dublin Pigeon Towers, Matthias Granny had a close call with a herd of Cape Buffalo in Zambia and Zimbabwe. That Ethan's Great Grandad was captured by the Germans but heroically escaped. That Freddies's Great Grandfather was a station master in Dundalk in 1922 and played his part in assisting the rebellion against the Black and Tans.
What exciting lives they have lived.
Have a great weekend.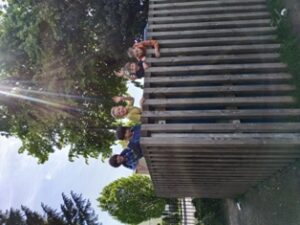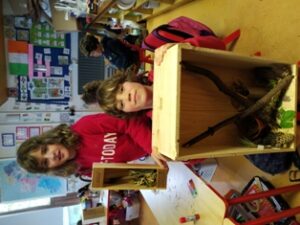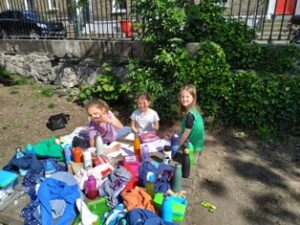 Rang a hAon
We had a great week in Rang a hAon this week. In Art we made Imagination Portraits and painted what makes up our imaginations. They are so colourful and really brighten up the hallway. On Wednesday, we had our last GAA session with Simon. The class have learned so many new skills with Simon and have loved taking part in all the drills and games so a big thank you to Simon for all his help, we'll miss you! On Thursday, we visited Linear Park for small break and had a great time collecting pine cones and different leaves and flowers and identifying them on a special app. Ms Pigott did lots of skipping with the class and Rang a Dó showed us how to play rounder. We are so excited to try it out next week. We also got to watch Rang a Sé's performance of Charlie and the Chocolate Factory, they were absolutely brilliant, well done everyone!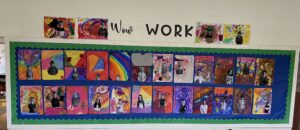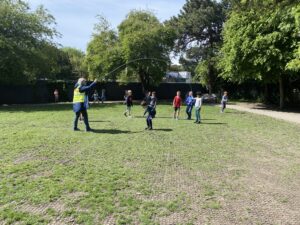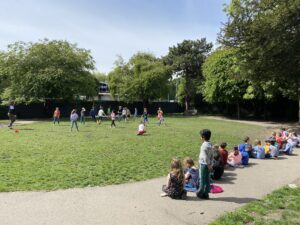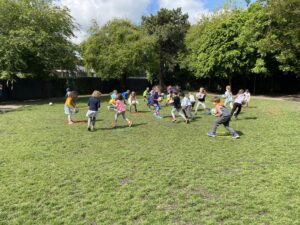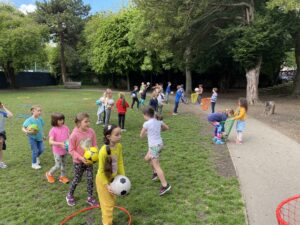 Naíonáin Mhóra
Senior Infants have had such an exciting week in school. We went on our school tour on Tuesday to Airfield farm. We had the best day!! We saw cows, pigs, donkeys, sheep, lambs, goats, hens and calves. We have been learning all about the farm in Aistear, it was so much fun seeing a real farm and we finally got to see a cow being milked. We also learned a lot about different bugs and went on a bug hunt. We caught lots of frogs, snails, worms and insects. We played lots of games in the woods and playground, It was a great day out. 
On Wednesday and Thursday we had forest school. Caroline taught us all about fire, we learned how to light a fire, fire safety and how to put out our fire. We collected lots of twigs and made a fire in the woods. We then got marshmallows and roasted them over the fire, they were delicious!!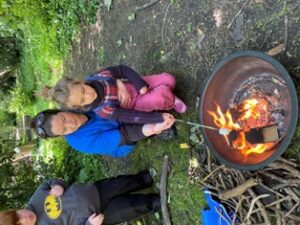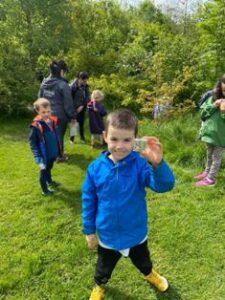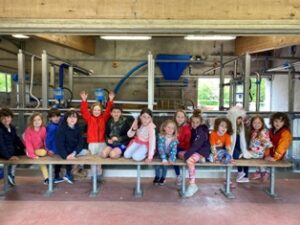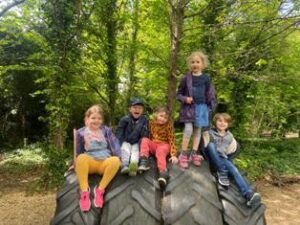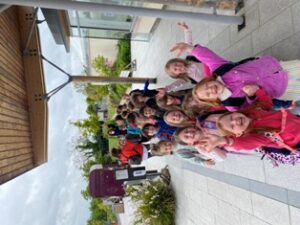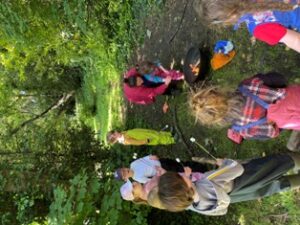 Naíonáin Bheaga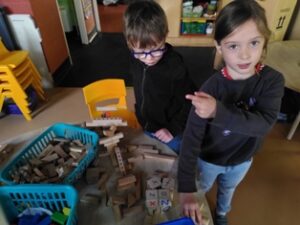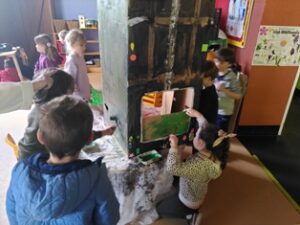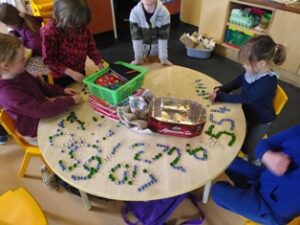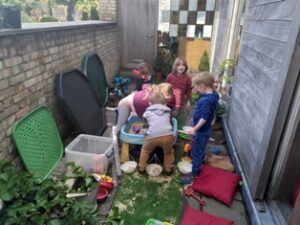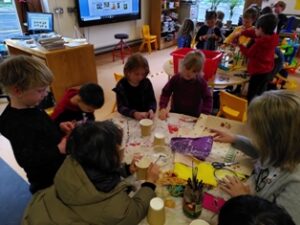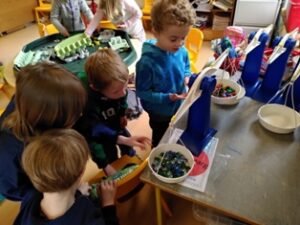 Lost Property
There was an explosion of lost property this week, can you help find it a home.