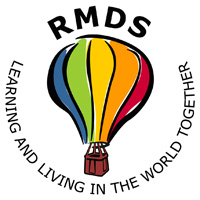 RMDS
School News in Brief….
3rd December 2021
From the Green Schools Committee.... 4
From the Principal's Desk….
The Winter Concert will be streamed live as a webinar on Friday, 17th December via Zoom. 
The webinar will take place as follows:
9.00 a.m. - 10 a.m:     Junior Infants, Senior Infants, Rang 1 and Rang 2
11.00 a.m. - 12.00 p.m:   Rang 3, Rang 4, Rang 5 and Rang 6.
Our theme this year will be Creation. The children and teachers are fully immersed in the creative process of creating scripts, backgrounds, costumes and props. It promises to be a great show!
School will close for the Christmas holidays on Wednesday, 22nd December at 12pm and will reopen on Thursday, 6th January 2022.
Please check the RMDS Calendar  on our website for all dates of upcoming events.
Regarding Covid-19, as always, if a child has any new onset symptoms and feels unwell or seems off-form,  do not send them to school and contact your GP for advice if necessary.
In addition, do not send your child to school if they have: 
Been in close contact with a household member who has tested positive for Covid-19
Please see link below for parent-focused public health advice about COVID-19 symptoms.  
https://www.gov.ie/en/publication/a04fc-advice-for-students-and-their-families/#health-advice-for-parents 
Rosemarie
 

From the PA….
RMDS Christmas Fair - 11th Dec - 11am - 3pm
Plans are in full swing for a fantastic Christmas Fair Day on the 11th December.  As with last year - we, the parents, have a responsibility to ensure that the school meets with Department of Education and Public Health guidelines, and that we continue to uphold all of the incredible work done in the school to keep it a safe place for all.  Our Fair will take place once again in the yard - rain, hail or snow. We will be there - all wrapped up!  As will Santa!!
We are asking all who attend to:
Please be mindful of social distancing

Adults to wear masks 

Sanitise at stands on entry and exit

Adhere to one way system in yard - entering through the back gate, departing through the side gate (slight socially distanced queuing possible if yard is busy!)

No access

to school - only yard (bathroom stops before you leave!!!)

We encourage take-away coffee drinkers to stroll to local parks once Christmas Fair business is done and pockets are empty!
To avoid crowding, we are suggesting the below times for classes to attend - but we appreciate that the suggested class times may not suit all and that families with siblings will overlap. 
No one will be turned away!
11h00 - 12h00

- Junior Infants & Senior Infants
12h00 - 13h30 

- 1st, 2nd & 5th classes
The Fair is a big fundraiser for the school - and we really need your support on the day.  Here's what you can do in the run up to the fair:
If you can spare a couple of hours on the day helping out on a stall please email Avril/Eimear at

xmasfair@rmds.ie

Rudolph's Restaurant needs your amazing lasagnes, soups and stews on the day - please email

hanleykaty@gmail.com

to confirm your dish

The Christmas Cafe would love some baked treats - please email

brid_nunan8@hotmail.com
RAFFLE TICKETS NOW ON SALE AT WWW.RMDSEVENTS.COM PLEASE SUPPORT! 
Thank you to all of our generous supporters to date. We are amassing an incredible prize pot!!
Christmas Tree Sales at RMDS
The tree sales got off to a bumper start - but we are preparing for a massive weekend of sales this weekend!!  Don't miss out!!!!  Trees on sale all weekend from 11 - 4pm.  Trees are Wicklow-grown, and come from our trusted supplier who has provided excellent, long lasting, quality trees for several years now.  We will also have planters, wreaths and the best craic tree sellers ever!  Drills  are at the ready to attach stands - so this one stop Christmas Tree experience is a MUST ATTEND EVENT!!  Thanks in advance to all our valued customers and super-sellers ahead of a great weekend!
From the Green Schools Committee....
Have a 'Green' Christmas!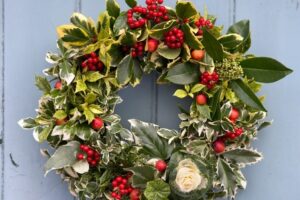 When choosing Christmas decorations, ideally go for classic designs. You won't get bored of them and they'll last for years. Collect pine cones, crab apples, holly and ivy to decorate the house. Use a timer on Christmas tree lights.
Consider Secret Santa/Kris Kringle as an alternative to the normal present giving. It facilitates putting more resources into gifts and these are more likely to be better appreciated and last longer.
Simple wrapping paper can be recycled but please remove ribbons and bows beforehand. Foil-based wrapping cannot be recycled and needs to go in the general waste. Consider using gift bags or boxes and hang onto them for next year too.
It's easy to get carried away, over-cater and end up with food waste. It's a good idea to do meal planning ahead of time, including how you'll incorporate leftovers from previous meals.
Roland Ramsden
Andrea Scott
Green Schools Committee Parent Representatives
From the Student Council….
Hello everyone, we are here to tell you about our upcoming Christmas Charity event. On the 16th of December we are holding a Pyjama/Christmas Jumper Day where every class will have the chance to turn their classroom into a cinema for a few hours! The charities we have chosen to support this year are Saint Vincent de Paul and The Gavin Glynn Foundation. Two really worthy organisations!!! Donations can be made online and we will give you the link and some more information next week.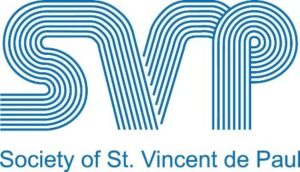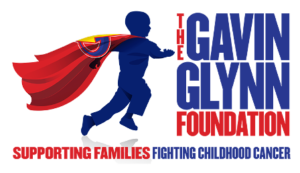 THIS WEEK'S
News from around the Classes…..
Junior Infants
We are very busy getting ready for our show.  We are making an ark and a rainbow.
Ms Farley gave us ropes in outdoor learning.  We tied them onto trees and played limbo.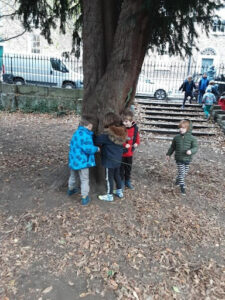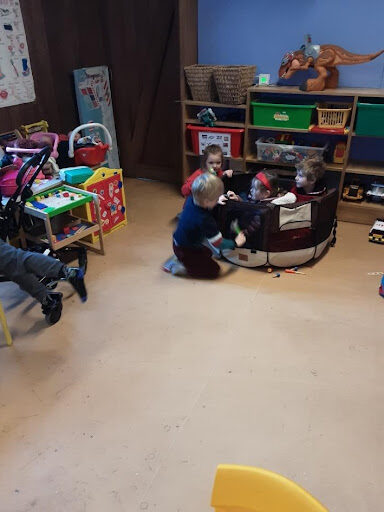 We are building the Ark before it starts raining!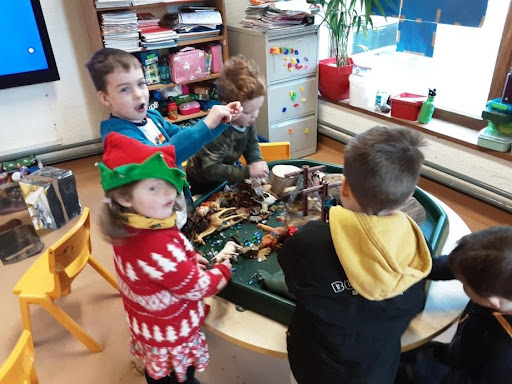 It has started raining and we are trying to save all the animals.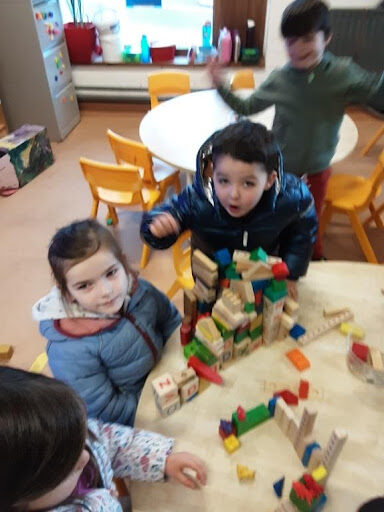 Our news reporters were too busy this week to do their report.  We'll be back next week.  


Senior Infants
We went to Belgrave Square for some hot chocolate and we had lots of fun together.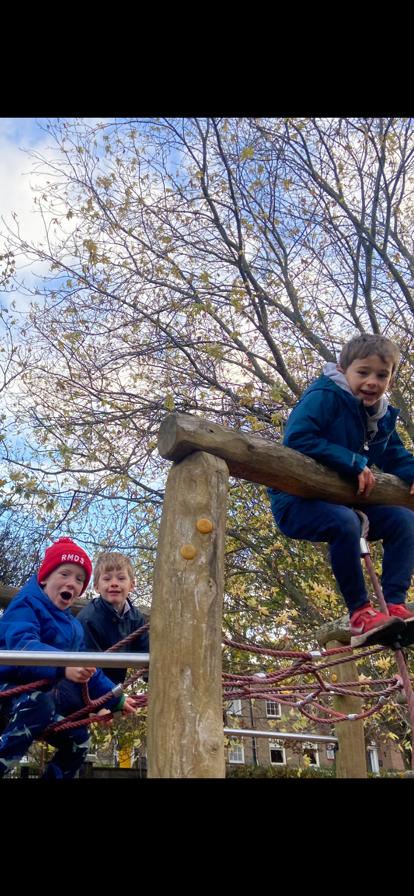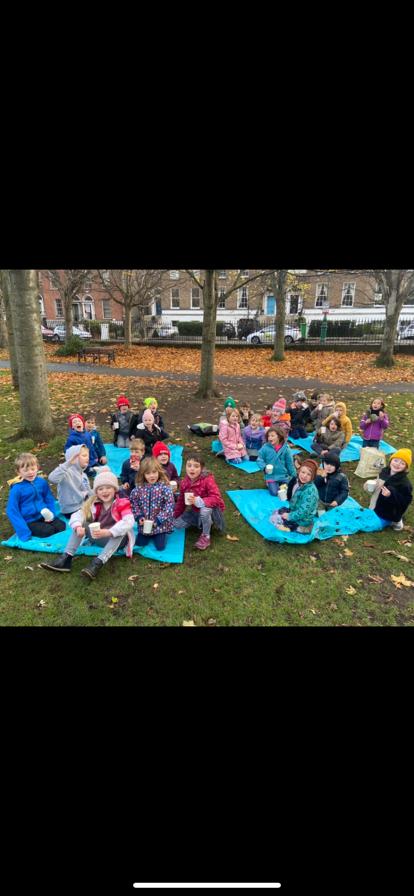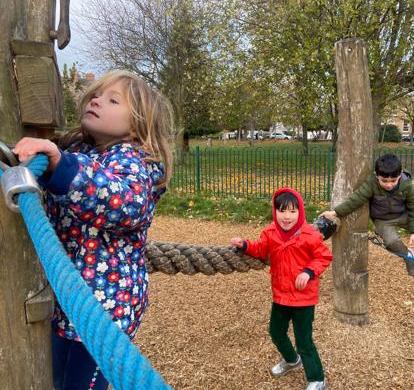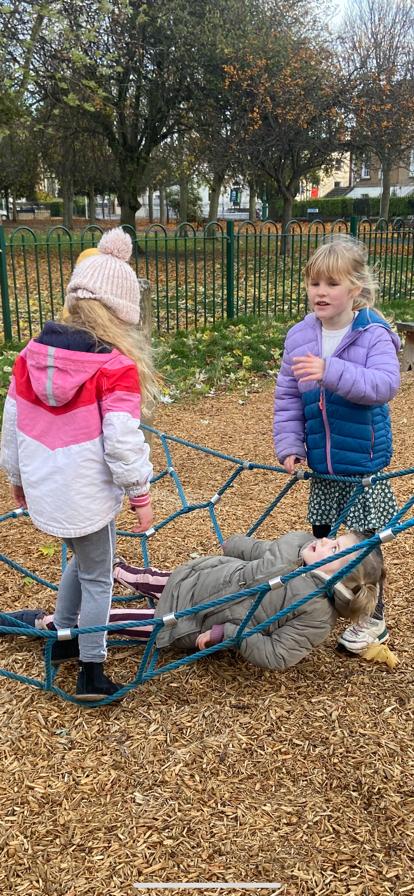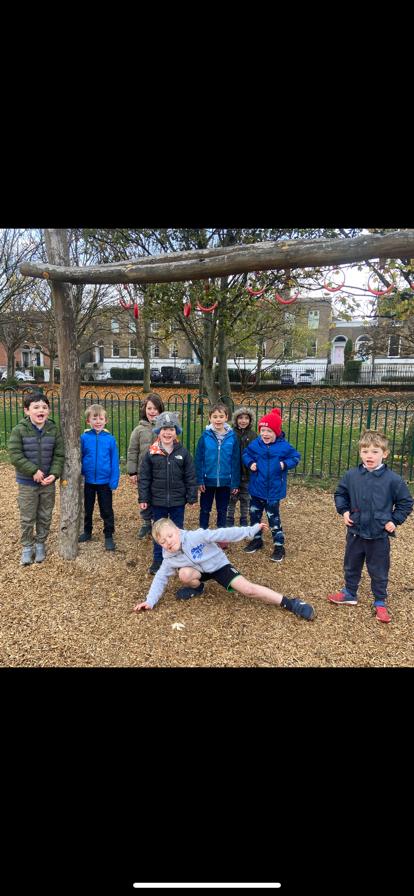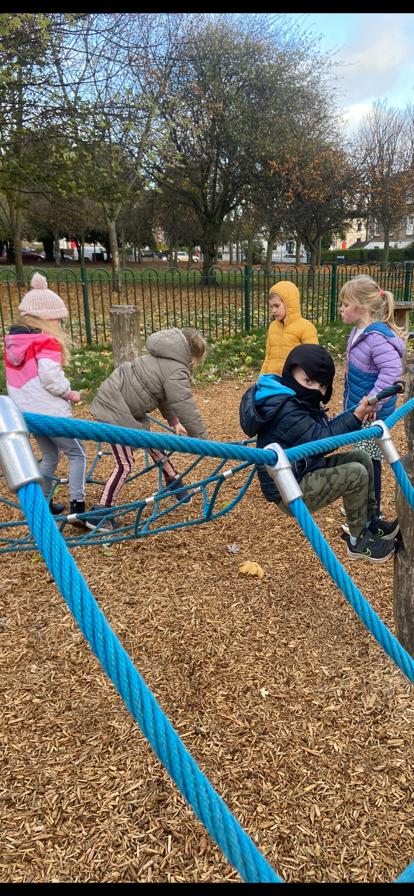 Rang 1
We had a very exciting week in Rang a hAon this week as we had a very special visitor! Our Elf on the Shelf came back this week and has been up to mischief in the classroom. We have been learning about toys from different parts of the world and using Google Earth to visit these countries too! We made our own snow globes in art and we were delighted to be back with Simon for GAA on Wednesday. On Thursday, we celebrated Ben's birthday with a trip to Ranelagh Gardens. We have also started working on our Christmas Concert and are so excited to start practicing.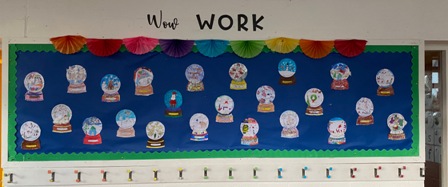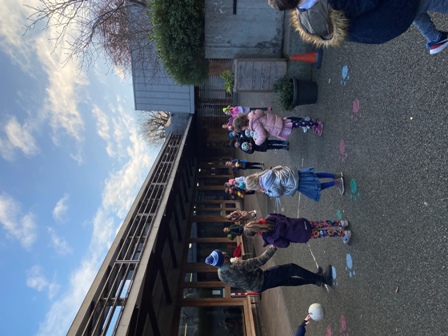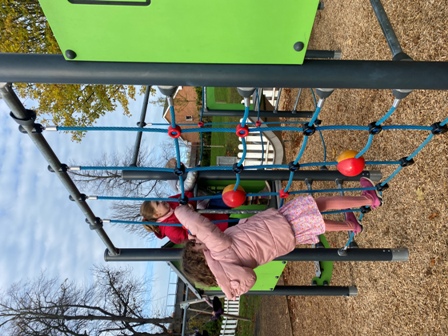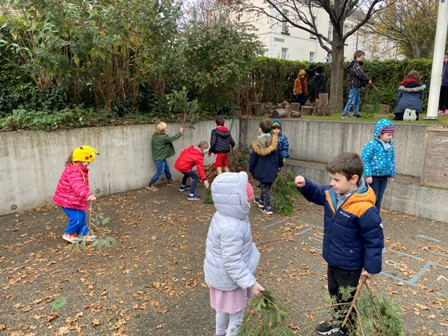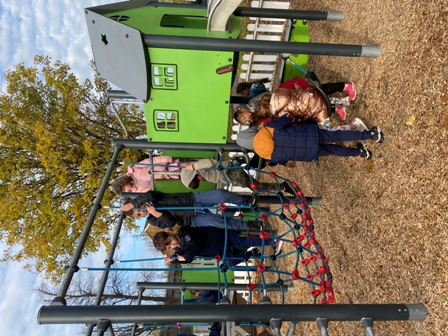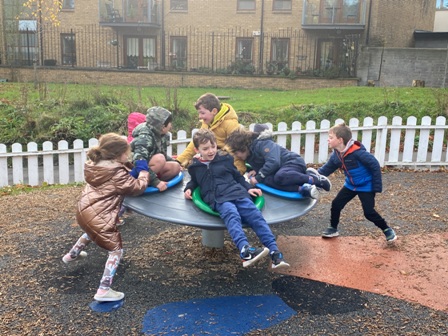 Rang 2
Hi everyone!
We are very excited in Rang 2 . We started to work on our play. We are learning lines and coming up with some great ideas. We have also been singing lots of songs.
We also learned about Hanukkah. What an interesting story it is! We learned about Judah Maccabee and his struggle to overcome Antiochus  and his army. All Jewish people began celebrating Hanukkah last Sunday and this celebration will last for 8 days. So chag sameach to all of the Jewish community from Rang 2.
We have also been adding some touches to our dioramas this week. We hope you like them. 
In Gaeilge we have been learning about An Geimhreadh. Tá sé an-fhuar agus dorcha. 
See you all next week!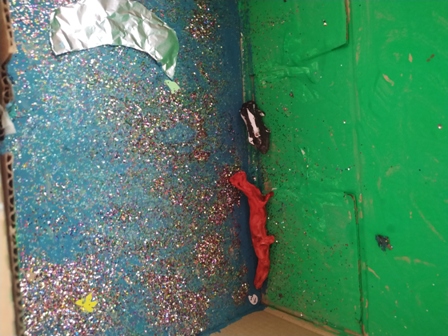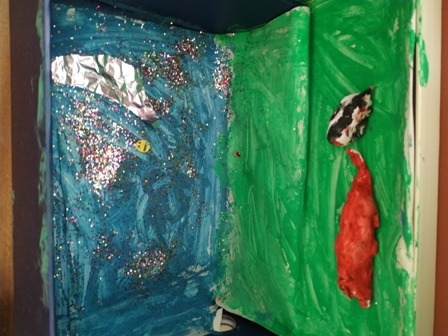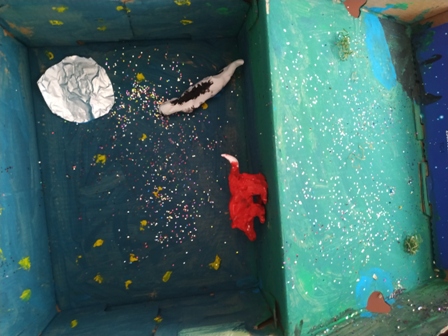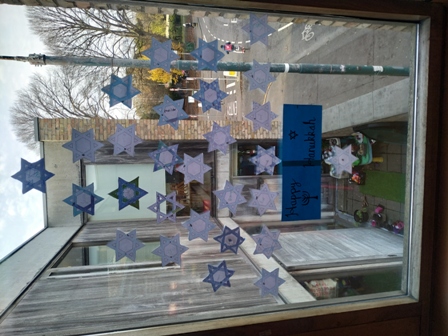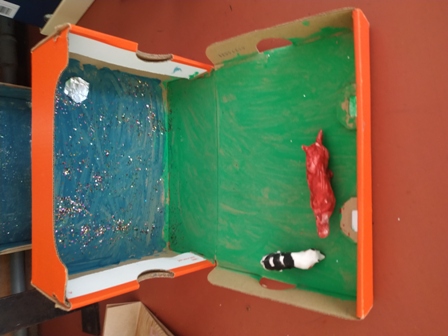 Rang 3
Maths - This week we started multiplication. We can draw arrays and pictures to explain multiplication and also we can solve problems with x2, x5, x10 multiplication. 
English - We looked at playscripts and have started to write our playscript for the winter concert. Ask us about it! It is an Aborigine story from Australia. 
Gaeilge - We started our topic of Bia. We have been telling the time as Gaeilge.
We started an advent calendar as part of our Core Curriculum. Each day we are doing an act of kindness and also receiving a mini reward in the run up to the holidays. We talked about giving and receiving at this time of year to show appreciation and gratitude for what we have. 
We also started to decorate our classroom. We made 3D snowflakes.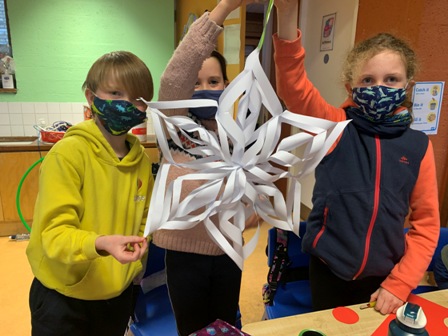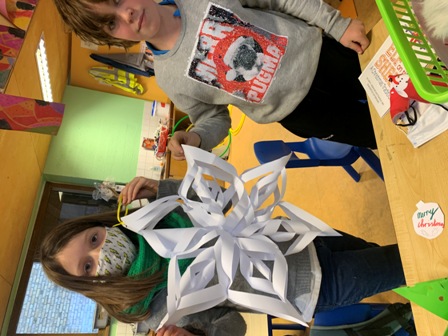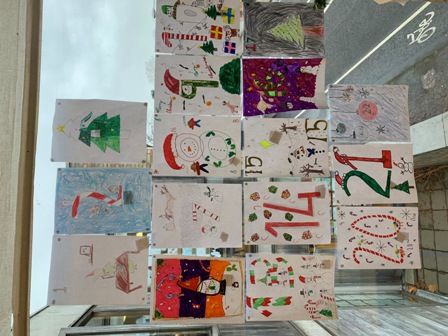 Rang 4
We finished making our advent calendar on Wednesday. We also created an army of penguins! The first treats were bonus DEAR time and a Secret Santa draw.
We started division and now we have a good idea what it is.
In English we learned about seed stories and how to use 'show don't tell' in our writing. Our teacher, Ms Delaney, has been going to people in our class to talk about our writing. We have been editing our writing in our English copies.
We were working on finishing off our STEPS project and learning songs for Peace Proms! See a sneak peek of our singing from Monday here:
Wednesday  was the first day of wearing masks.
We started skipping with Mr Fairbrother and if you mess up the skip or miss the skip you are out. You can get back in if the class gets 5 skips for each person.
We made winter windows and designed some winter scenes.
We made mini books about Vesak and Wesak. 
By Emmett and Dominic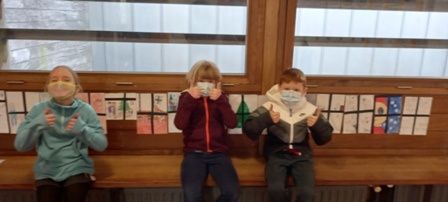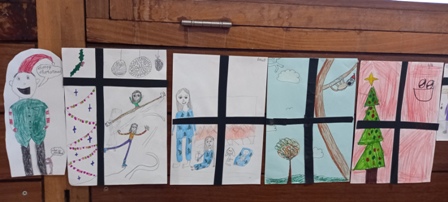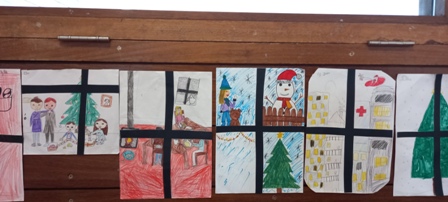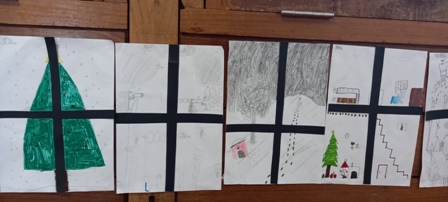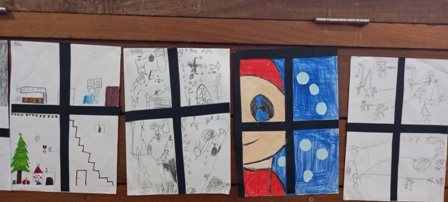 Rang 5
This week in maths we started lines and angles. We learned how to measure angles with a protractor for the first time ever!
We also worked on our Christmas play. We are doing the Hindu creation story. We learned Winter Wonderland on the boomwhackers and on Friday we filmed ourselves playing the boomwhackers for our Christmas play. On Thursday we drew the backgrounds for the Christmas play and we also made up some Hindu dances for P.E. We got a couple of new books for the class library. Last Friday we played ultimate frisbee with Jamie. He taught us loads of cool tricks and at the end we played a game where we split into pairs and he would throw a frisbee, whoever caught the frisbee got a point. 
Thanks for reading!    
By Conn and Leo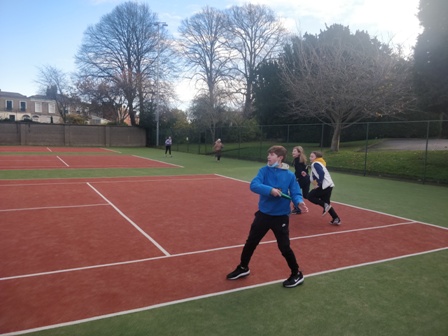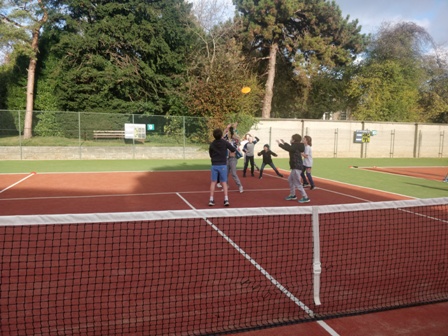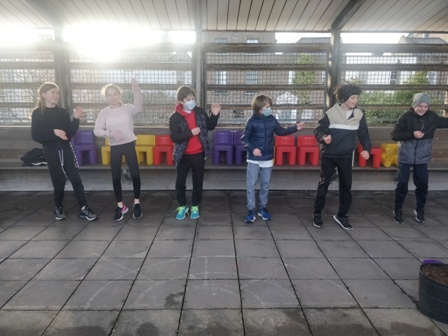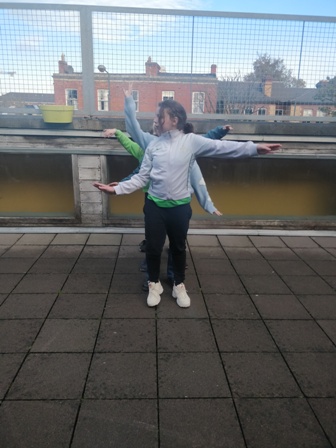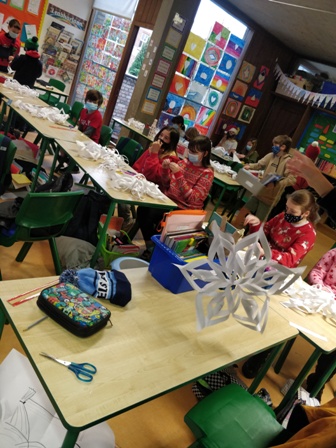 Rang 6
This week we had an amazing week in Rang 6.
Last Friday we started making posters for the Christmas Fair that is on Saturday the 11th December. We are preparing and practising for our Christmas Fair. We are making business plans and price lists and we are all really excited to see you there.
During the week we started our Christmas play. We have given out lines and we are learning our songs. We also got our 6th class photos on Thursday.
On Thursday we had PE. We did soccer and rounders. We also added some new sports to PE. On Wednesday we were all asked to bring in and wear a mask but we are all doing fine. In maths we started percentages and have our test on Friday. We also have an Irish test too.  Since it is December, we are playing loads of Christmas music and we are going to decorate the classroom on Friday.
 In English we are doing report writing on organs and we are all nearly finished. 
We are also going to go outside for extra breathing breaks since we have to wear masks. 
By Issy Wheatley and Alana Berkeley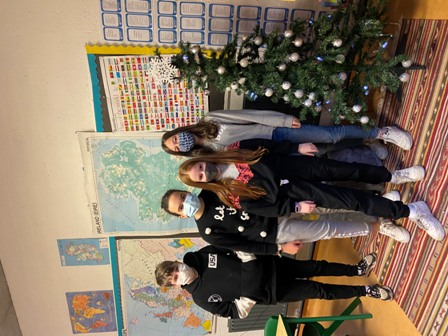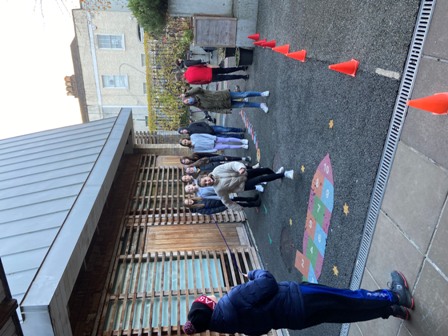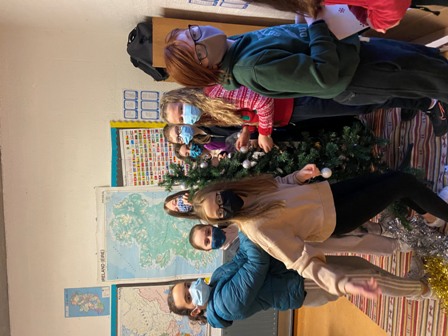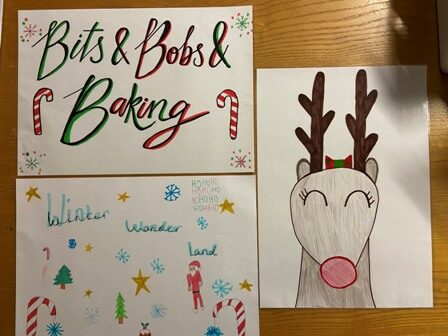 Ranelagh Multi-Denominational School, Ranelagh Road, Dublin 6, D06 Y658
Telephone/Fax: (01) 4961722 ● E-mail: secretary@rmds.ie
______________________________
Roll No. 19928Q ● Principal: Rosemarie Stynes