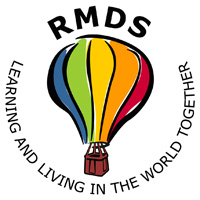 This week's Newsletter
4th December 2020
Some days are just better than others,  as I sit down to type this I have just come from building a lego tower that according to some reports almost touched the lights. There was an email in my inbox saying thank you that an intervention we had implemented was making a very real and positive difference and I'm listening to Xmas carols .
I feel very fortunate to have gotten to this stage of the year without a positive case of Covid 19 in the school and with all your help I hope that we can maintain this record.  However we don't know if our strategies work until we do have one so let's not be complacent.  This weekend will kick off our festive celebrations, we are hoping to have a socially distant fair and for the first time the fair will be spread over two days to facilitate this.  We also asking where possible that you attend at these times:
Sat 5th December  Junior Infants and R6 are invited between 12-1:30pm, Senior Infants and R5 are invited between 1:30-3pm
Sunday 6th December R1 and R3 are invited between 12-1:30pm, R2 and R4 are invited between 1:30-3pm.
Make sure you wear your mask and if there is a crowd please be patient you may have to wait to enter.  There are more details available about the event on the https://rmdsevents.com/christmas-fair/ website.  There you can also purchase your raffle tickets.  Santa is fully booked for Sat and Sun but he'll be back by popular demand next Sat 12th  and there are still some spots available. Raffle tickets and Santa bookings available at rmdsevents.com. Any last-minute raffle prize donations, or offers to help, xmasfair@rmds.com or pa@rmds.com
This time of year normally marks our annual community effort to support vulnerable people and families in our area by putting Christmas hampers together.  This is not possible this year, we have instead tried to combine a treat for the children with a fundraising appeal.  The classes are going to be invited to the hall for a movie and popcorn in our last full week of school.  We will be asking the children to purchase tickets/donate using the rmdsevents website.  
All funds raised will be split between two charities.  We have two staff members who work with the local branch of St Vincent de Paul and we will support them in their effort to help people in our community. All money donated goes directly to the families and vulnerable people whom we would have supported last year with food parcels.
We have chosen the www.everychildireland.org as our second charity .  They are a community group from Limerick and their aim is to raise funds for ongoing school needs and supplies for children in Direct provision.  Over 7,200 asylum seekers live in direct provision and 30% of those are children.  Please check out the website for more information.  https://www.everychildireland.org/
Green School News 
We need urgent climate action. Strengthening the climate bill is integral to how Ireland meets it's emissions targets. Join the TD Mass Lobby on December 7th. All online, no need to leave the house. You don't have to speak, your constituency groups will take care of that, just show up on the half hour call to the TD to show the government how urgent this is for us and for our children. Fast and fair climate action'
Rang a Sé News this week. 
This week in rang a sé has been a great week and we have done lots of fun things. We put up our xmas tree and decorated the classroom, we made xmas lights for art and they are outside our classroom. 
We also did more art by hanging our own baubles that you can see in our class window when you walk by the school. 
One of the most fun things we did this week was do rugby with Ken and for the first time we got to play matches and use our skills in a match. 
We have been doing loads of work on our Xmas fair businesses, preparing our business proposals and starting our advertisements ( CAN'T WAIT !!!!!!). 
We have also been presenting our 'Influential Women Around the World' projects. 
We are so excited for the Xmas play, we have been practicing loads. 
We are really excited to watch the videos from our buddies next week too. Can't wait to see you at the Christmas fair. Happy Christmas!!!!
By Harry and Senan.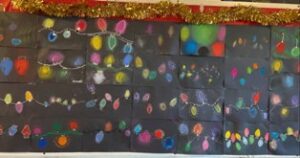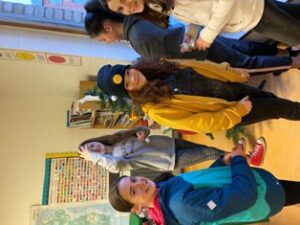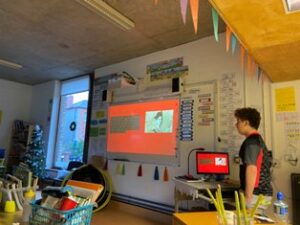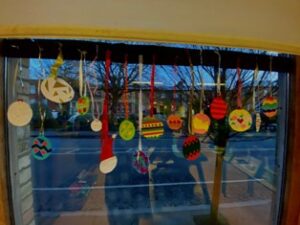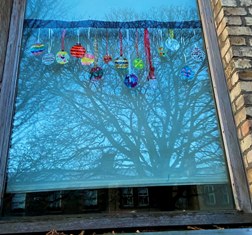 Rang a Cúig
This week in R5 we finished working on our Animal Projects. We did them in pairs, within our pods. We presented them in front of the class. We hung them up on the walls beside our art. They look great. In Maths we are working on decimals. At the moment we are looking at changing fractions into decimals and decimals into fractions. 
During the week we have finished our fourth lesson in GEM that was based on Gender Based Bullying. We had loads of interesting conversations based around this lesson. We have one more lesson to go until we are done.
In Gaeilge we have been working on future tense verbs. To help us understand we used future fidh/faidh, who has 2 outfit choices for a party and wants to match the word she is going with. In P.E. we are doing rugby with Ken in Mount Pleasant. We started playing rugby matches last week. It was great fun. 
When we finish GEM we will start working on our Christmas Play. The theme for our play is New Years Festivals around India. We started doing mindful colouring and we have been playing christmas music in the mornings to get into the festive mood. 
By: Hugo and Darcy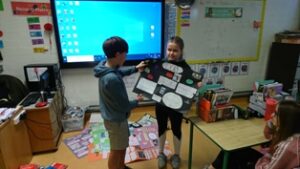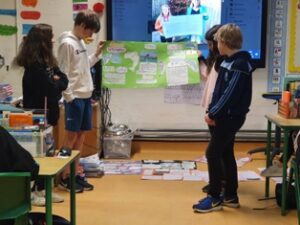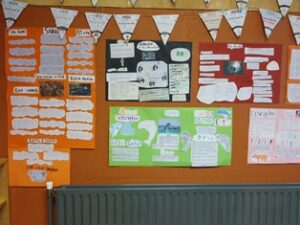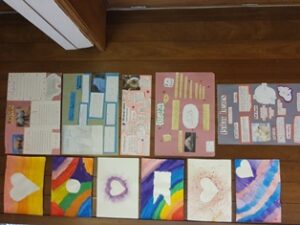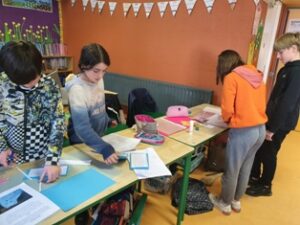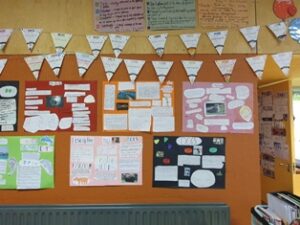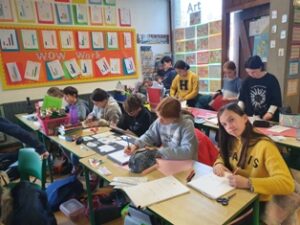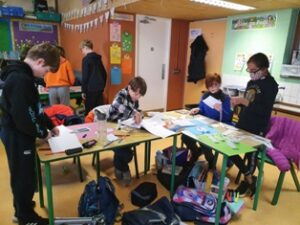 Rang a Ceathair
We now know what we're doing for our Christmas play. We're so excited because this will be a unique play. This year, our Christmas play will be about Rosh Hashanah, the Jewish new year festival. In maths, we have finished learning about decimals and started money. 
R4 took part in a soap making workshop. We created soaps with lavender and essential oils. We are continuing our conversations about climate change. Our growth mindset is still something we're working on, but we're improving every day. We learned an Irish poem, Seánín Bocht, which is to the tune of 'There's a Hole in My Bucket'. We're designing and painting set backdrops for our Rosh Hashanah play. We are all looking forward to Christmas!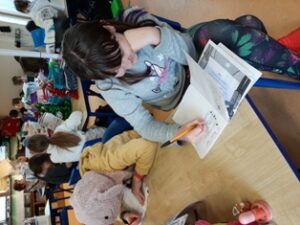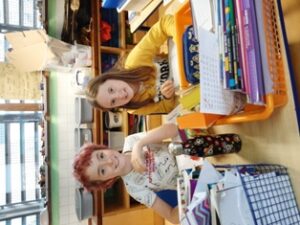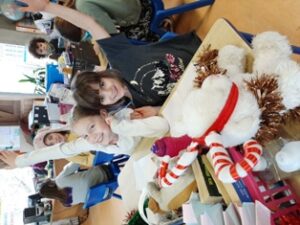 Nuacht ó Rang a Trí
In 3rd Class we have had a very exciting week. We started learning about Advent in Core Curriculum. We made a giant Advent calendar and we open it up everyday and there is a class treat inside. 
We made soap in a workshop last Friday which was really fun. 
In Maths we are learning about decimals and everyone is doing very well. 
During Golden time we had a teddy parachuting competition. Last week was a trial run, this week is the real deal. 
We are getting our Christmas play ready. More on that later! 
Ask us to tell you about an aimsir as Gaeilge. 
We have been trying soft voices afternoons in the class and are really enjoying it.  
We had to look out for someone in our class this week for a day. At the end of the day people had to guess who their special person was. We will try this again next week! 
Cookies were the pod winners last week.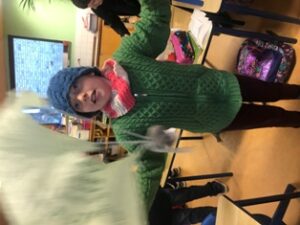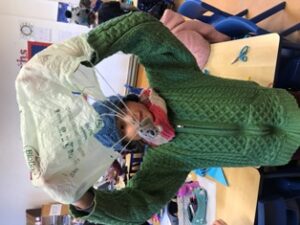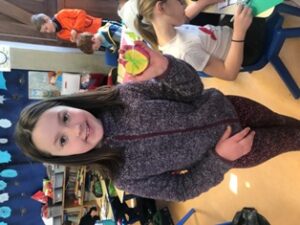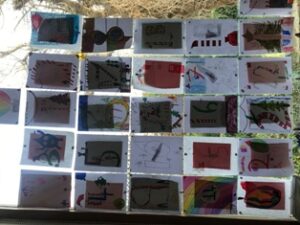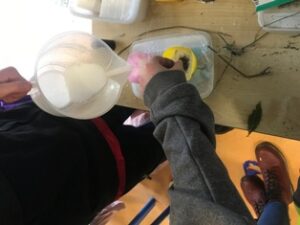 Rang a Dó
We painted our animals for our dioramas.
We are practising our Christmas play and Hal is a pig. 
We are all hoping that swimming might be back soon.
We are celebrating Advent at the moment, and this week's candle represents hope.
In maths we are learning about data. We did a survey on how we like our hot chocolate, and our favourite animals.
Robin, Hal and Paul got new dogs. Their names are Bibi, Barkley and Naddie.
We are knitting like mad!
Toby and Lucie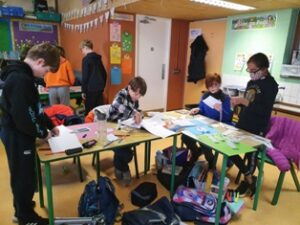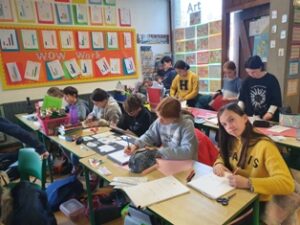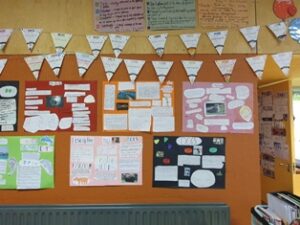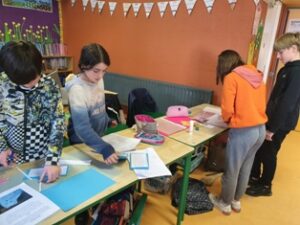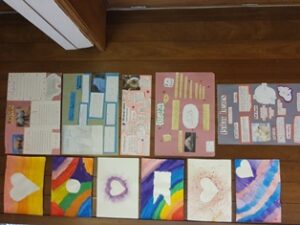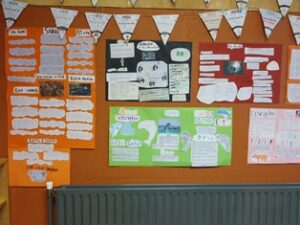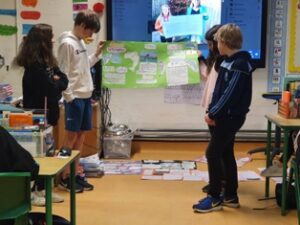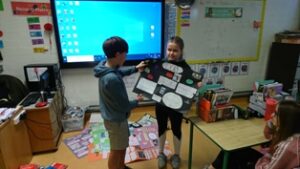 Rang a hAon News
Rang a hAon are getting so excited for the Christmas holidays and this week they had a new member in the classroom - a special classroom Elf on the Shelf. The class have started practicing for their school play which they cannot wait to perform. We started some winter art this week and created some beautiful wintery trees by printing using different objects. 
June was this week's classroom correspondent. "On Monday, there was an Elf on the Shelf in the classroom. Her name is Tinsel. She has been hiding in different places in the classroom. We played bingo to practice the time. We were doing art and we were painting trees and using different things to make snow like toothbrushes and cotton wool."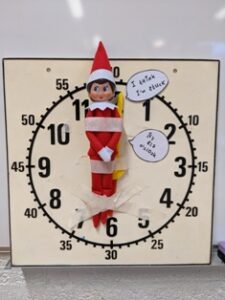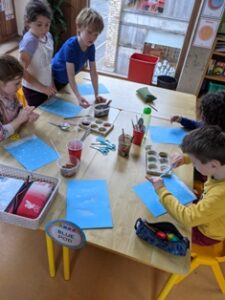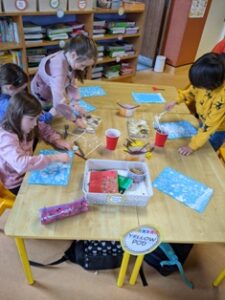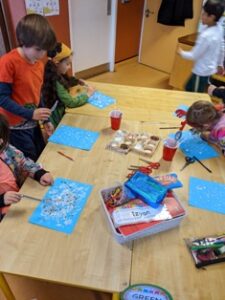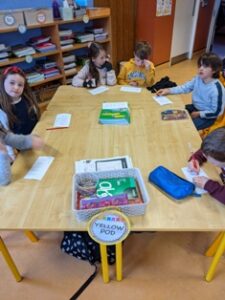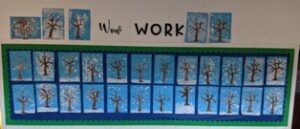 Naíonáin Mhóra
We have been busy again this week in Senior Infants. We have all really enjoyed our class café that has opened in our role play corner this week and are having lots of fun playing together. We also had fun painting wooden Christmas decorations and are looking forward to bringing them home to hang on our Christmas trees!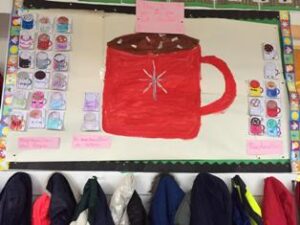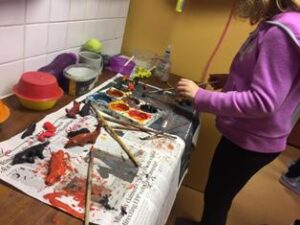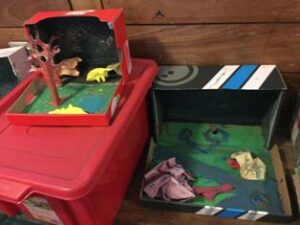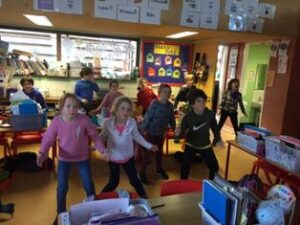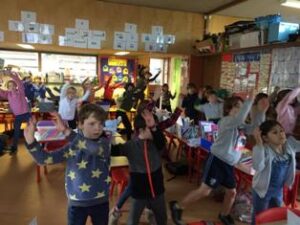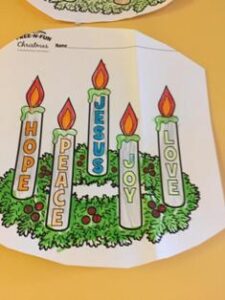 Nuacht ó Naíonáin Shóisearacha
We have continued playing in the bakery this week and made salt dough cookies which will be turned into Christmas decorations  for the school tree.  We had lots of different teachers this week .  Ms Shaw and Ms Fitzgerald taught us.  We had lots of fun with them.  Lots of people have brought in interesting books for us to read.  We were learning about the Christian festival of Christmas and what Christians believe happened at the first Christmas.  We made the number 4 in the park and found four objects.  Our oak tree has lost nearly all its leaves now.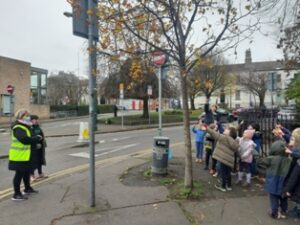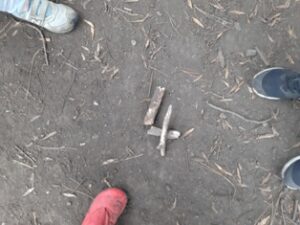 Lost Property