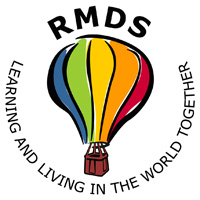 This week's Newsletter
4th June 2021
Between the bright weather, two outstanding 'Write a Book' assemblies and the news that one of the staff is on a 'holiday' in Cork, she even took a train to get there,  we are all feeling very optimistic for the future.  I hope you heard about the assemblies, it was so lovely being able to bring four classes together to celebrate everything they had done.  We got to listen to some of the stories being read by the authors.  It has been so long since we have been able to come together that it was a real treat.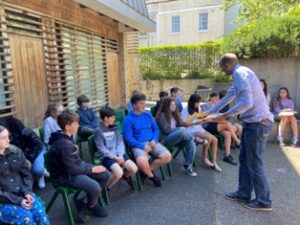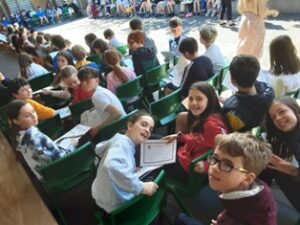 This elation was slightly tempered by a letter from the department warning that we may be reopening our school in September with similar protocols.  I should add this was a warning not a confirmation.  It reminded me that we're not there yet.  We really aren't;  I received a panicked message from a principal this week desperately looking for substitute teachers as they have had to close classrooms and several of the staff were deemed close contacts.  We need to continue to be careful and especially with tours coming up, we need to keep children at home if they display any symptoms. If you are worried about a symptom, get a test in enough time to have a result before the trip.
We were having 'The Chat' in Rang a Cúig and Rang a Sé this week.  We always teach the class together but we have found; in consultation with the children, that they prefer to have a small section in all male/female body groups.  The same information is covered but the children get to ask questions about the changes that are happening in their bodies.  In my conversations I asked the children who had a similar chat with their parents and unsurprisingly the group that had a conversation with their parents were much more mature in their reaction to the conversation.  It reminded me that 'The Chat' should be a conversation and the earlier you start this conversation, the easier it is for the children to come to terms with themselves.
Thankfully the weather has improved and we got to have our first session of cricket today.  We hope to continue with it for the rest of the year.  Junior Infants are due to get their vaccinations next week and we continue to work on the End of Year reports which we will be issuing mid June.  We plan on using the Aladdin Connect App again this year.  If you have changed your phone or deleted the app, talk to Mary and Barbara in the office about reactivating it.  We didn't get to fully utilise the app this year as it has lots of features which we are not fully using like notifying the school re absences and granting permission for trips or events. As I said to someone in the office this week, we can't worry about the past, we should reflect on it, learn from it and aim to be better today. So next year we'll be better.
Let's take a trip around the school to see what the classes have been up to.
Rang a Sé
This week was a banger! We did loads of fun stuff like cricket and it's pride month.
We got ice cream (yummy!) on Thursday last week for our school play, and Write a Book assembly. There were five winners Jarvis Walsh, Oliver, Anna G,Hazel, Zoe .
We learned about WW2, did our history test and math test. It was so fun. Anyway we hope you liked our newsletter, see you in a while.
By Jarvis and Oscar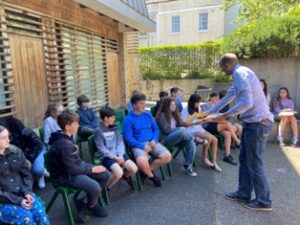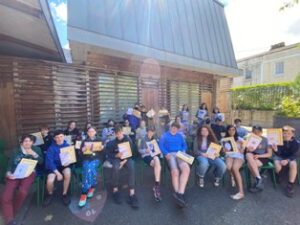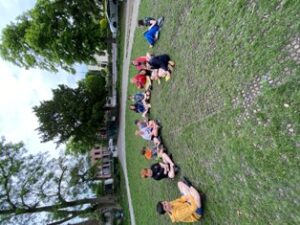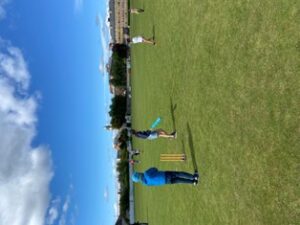 Rang a Cúig
We had another great week in Rang a Cúig, we did lots of work and enjoyed the amazing weather! In maths this week, we have been working on Data 2- we have been learning how to read and make pie charts. This is tricky as we are working in degrees but we are starting to get the hang of it. Over the week we have worked on RSE.  We learned about how our bodies will grow and change over the coming years and we learned about babies and their needs.
The senior end of the school had a social distanced assembly outside on Thursday for our 'Write a Book' projects where we all received our certificates for the great job we did. Rowan and Darcy from our class read a piece of their story. Several people won medals for good aspects of their story. We heard extracts of stories from other classes, we really enjoyed the assembly and seeing everyone.
This week we finished posters that will be put up in Linear Park to remind people to remove their litter and pick up after their dogs. We are heading over to Linear Park this evening with Ms.Curran and Ms. Nic A 'Bhaird to put them up. We finally got to go to cricket this week and we had a great time, as the sun was shining and everyone enjoyed it. Three times this week we headed outside to the yard or the park for some silent reading in the sunshine. We are going to aim to do this 3 times every week for the rest of the year weather permitting. On Thursday we got a homework pass for helping Ms.Curran with the green school posters and doing such an amazing job on our 'Write a Books'. All of us here in Rang a Cúig are looking forward to the long weekend. We hope you have enjoyed hearing about our week and have a great weekend!
 
Rang a Ceathair
Happy pride month
Maths: this week we learnt about fractions and adding and subtracting fractions. Some people found it easy and some found it difficult. We did a test on them. It was a bit hard .
Science: we learned about babies and how they live in the womb. On day one they are only a dot like this . A full stop. So so so so small!! :D
Art: this week we made pride bunting and all of them were SOOOO COOOOOOOOLLLL.
Our project: we are doing a project on Irish counties. We have to find the crest, the irish name, 3 interesting things that happened there and some history.
PE: This is our first cricket  lesson. It was so FUN, everyone was so good at it.
Park time: We went to Iveagh Gardens to build rafts out of natural materials. We also went to Belgrave to listen to the natural sounds and create a song.
For English we are reading a book called Holes. I think everyone likes it. It's a great book. I would recommend 10/10 and my partner gives it a 8/10 .
It's about an unlucky boy called Stanley who gets blamed for something he didn't do and he has to go to a camp called Camp Green lake.
We rate this week an 18/20.
A summary of rang 4 week by Zoe and Julia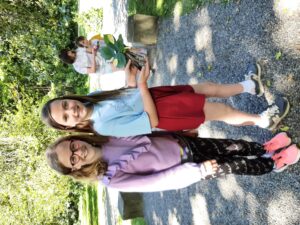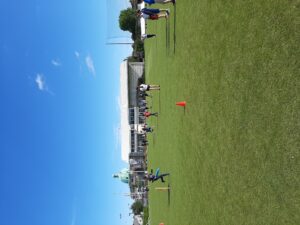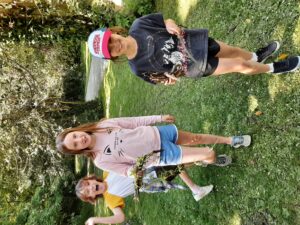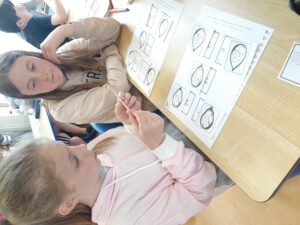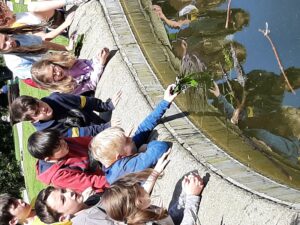 Rang a Trí
The most exciting thing that happened this week was the Write a Book Assembly. We are all very proud of your books and everyone created a fantastic book.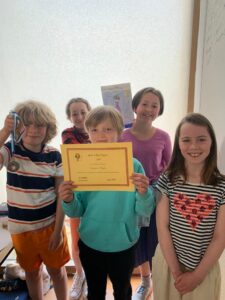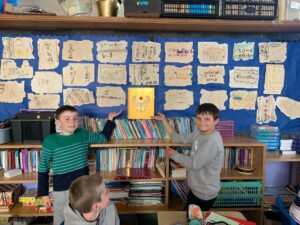 Well done to everyone, not just the winners. It was a difficult job for the judges.
We have been researching for our Ancient Egypt projects and finding out lots of interesting facts. Morgan and Rory's example is : Did you know that Ancient Egyptians used pig teeth for tummy aches?!
We did cloud sketches at Ranelagh Gardens for Outdoor learning and will be going to Iveagh Gardens for some activities today.
In Stay safe we have been talking about different type of bullying - homophobic, racist, disability or special educational needs, and cyberbulying.
Rang a Dó
Tá an aimsir go hálainn. I hope you have all been getting out and enjoying it as much as possible. The children of Rang 2 certainly have. Skipping has really taken off and the children are really inventive with the new tricks they come up with.
We have embarked on our Africa projects.  L cannot wait to see the results.
There were two highlights this week. Firstly Rang 2 visited the sensory room and loved it , and secondly the Write a Book celebration was held in glorious sunshine in the yard. Mr. Fairbrother had lots of praise for the work in Rang 2. Well done everyone.
Have a lovely break and see you next Tuesday.
Miss Coogan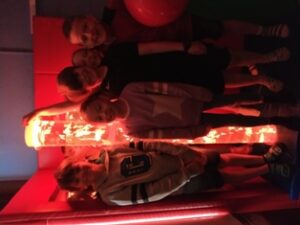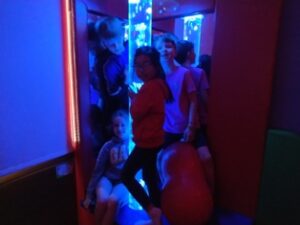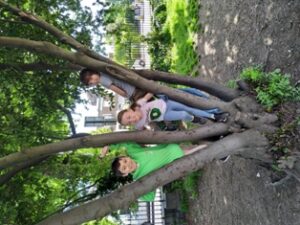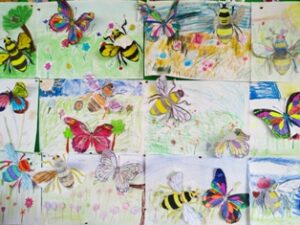 Rang a hAon
We had another busy week in Rang a hAon. We started fractions in Maths and have been learning all about what half is and how to split things to make a fair share. We did mirror painting in Art where we painted on half the page and folded it over to create a full picture. On Thursday the class were so excited to attend the Write a Book ceremony. They were thrilled to hear the comments about their super books and receive their certificate. Elsa, Ben D, Danielle, Edie and Hubert stood up and read some extracts from their book too. We have been looking after the strawberries we planted on the Roof Garden and made some bird distractors from old CD's and sparkly paper to stop the birds eating them.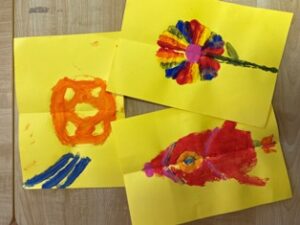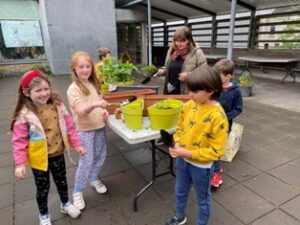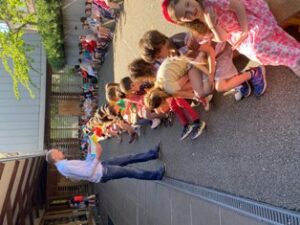 Naíonáin Mhóra
This week has been a special week for Senior Infants. They completed their very own books. All of the children have been working very hard creating their stories. The stories are amazing, everyone was so imaginative. We all received certificates from Mr. Fairbrother for our fantastic books. We enjoyed swapping stories and getting to look at everyones brilliant illustrations.
In forest schools this week, we were busy creating rope swings and tight ropes to walk across. It was so much fun. In art we created beautiful sunflowers using forks. For PE this week we went to linear park. We had lots of fun, it was a beautiful sunny day.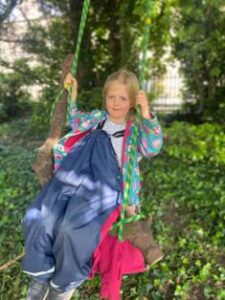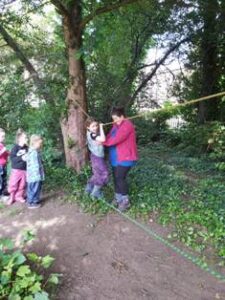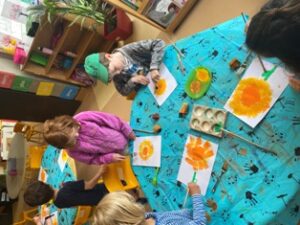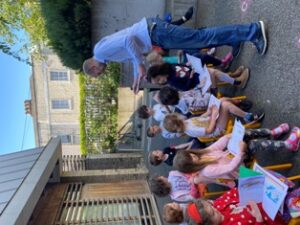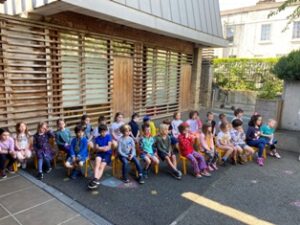 Naíonáin Bheaga
We chose our new theme this week and it is dinosaurs.  We have been playing in Dinoworld, in the dino café, and in dino sand.  Rang a 4 lent us the lego and we have really enjoyed building and playing with it.
We went on a dinosaur hunt in Outdoor Learning.  Some people found dinosaurs in the park after school.    Lots of people brought in dinosaurs and dinosaur books and we are learning lots about dinosaurs.
Do you know the song the Rattlin Bog?  We love singing it and Mr Fairbrother came in to hear us sing.
We had an assembly for Write-a-book in the yard with Senior Infants, Rang a 1 and Rang a 2.  We are very proud of our stories and we are looking forward to reading Senior Infants stories too.  We will bring them home next week.
Green School News
As a  staff we have  pledged to reduce our carbon footprint by deleting saved e mails. We forget to delete an e mail and the quantity builds up over time. We want to play our part in helping the planet by making a conscious decision to delete unnecessary  e mails.
Thérèse
I gleaned from my chats in the classroom and at the gates this morning that a lot of people are catching up with grannies and grandads this weekend.  Enjoy the long weekend everyone and drive safely.
Paul