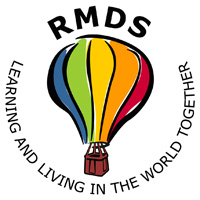 RMDS
School News in Brief….
4th March 2022
From the Green Schools Committee.... 4
From the Principal's Desk….
As we enjoyed a wonderful whole school Spring Assembly this morning led by Junior Infants, we recognise how fortunate we are to be able to come together, to enjoy one another's company and mark all that is good at this beautiful time of year as everything renews after the winter spell. We keep in mind how lucky we are, in the context of  what is happening in the world at the moment. 
Our hearts and minds are with the people of Ukraine at this moment in time. Teachers have access to resources and are working together to address the war with children in an age appropriate way as questions and perhaps worries arise in the classroom. We hope to have a whole school fundraiser next Friday, 11th March with all donations going to the Red Cross in order to help them in their efforts to give aid to the Ukrainian people. Further information will issue on this next week.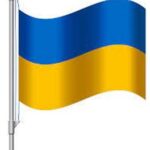 RMDS were invited to take part in a really special BEACONS event organised by the National Council for Curriculum and Assessment (NCCA) yesterday, along with two other schools. This event was part of the ongoing consultation process with regard to the development of a new primary curriculum framework and gave a chance for children's, parents' and teachers' voices to be heard together. Thank you to all the teachers, children and parents from our school who took part in the day. Our school is part of a School Forum which inputs and gives feedback on these proposed developments. We are very excited and privileged to be part of this.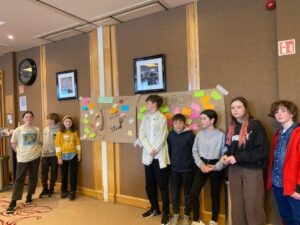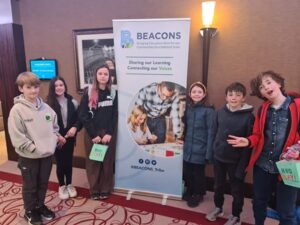 As Covid restrictions ease, classes are enjoying getting to mix and come together once more, with Rang 6 and Junior Infant buddies and reading partner classes such as Rang 2 & Rang 5 getting to know one another in a more meaningful way. It has been a long two years of separation and, in many ways, isolation. Parental involvement is such an important part of our ethos here in RMDS, and one which we really value. We will be working with parents over the coming weeks to involve you back in school life, and the school building, in a safe and gradual way. Thank you for your patience in this regard. 
As always, if a child has any new onset symptoms and feels unwell or seems off-form,  do not send them to school and administer an antigen test. You can contact your GP for advice if necessary.
A reminder that school will also close on Wednesday, 16th March @ 2.10 pm and open again on Tuesday, 22nd March @ 8.30 am. 
Finally, huge congratulations on behalf of the whole RMDS community to Paul Fairbrother and his wife, Hilary and proud big brother and sister Finn & Evie, on the birth of their gorgeous new baby sister, Mia! We are truly delighted for you all! 
Please check the RMDS Calendar on our website for all dates of upcoming events.
Rosemarie
From the Green Schools Committee....
Green Schools Tips
Attic Insulation: Part 3. Alternatives to Fibre Insulation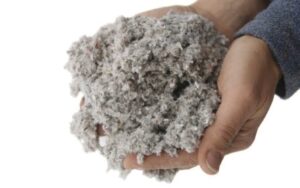 Whilst the vast majority of insulation installed in Ireland is either Fibreglass or Rockwool, there are better alternatives. Mainly due to strong marketing from the Fibreglass & Rockwool industry and inertia on the part of specifiers, homeowners often aren't aware of this.
These alternatives can be largely divided into foams, such as rigid foam insulation boards and spray foam, and natural fibres, such as sheep's wool, wood fibre, hemp and cellulose.
I would argue that overall, cellulose fibre insulation is the best product for insulating your attic. Although widely used in the US and the Continent since 1970s, it's not as well known in Ireland. It's made from ground-up recycled newspaper with added salts to make it fire-retardant. There's a factory making it in here in Ireland and also imported sources. As a material, it performs very well in Life Cycle Assessments which relate to how 'Green' a product is.
Although it's possible to buy the compressed bales of cellulose fibre insulation yourself, it's best installed by a professional. For installation, the bales are broken up and aerated and then blown into your attic through a flexible pipe. The reason why it works so well as a product, is that it flows into every space, leaving no gaps. As discussed before, blanket-type products are difficult to install well and this can greatly reduce their performance. Although spray foam covers very well, there are concerns over toxic off-gassing.
The other big advantage of cellulose fibre insulation is that it acts as a very effective barrier to draughts and so greatly helps with air tightness overall. Cellulose fibre insulation has mass, so works well as a sound insulator. This mass also helps smooth out internal temperatures over night and day as the insulation absorbs and releases heat.
Roland Ramsden
Andrea Scott
Green Schools Committee Parent Representatives
THIS WEEK'S
News from around the Classes…..
Junior Infants
We were very happy to be back in school after the midterm break.  We are still playing in the pet groomers and more pets have visited us.  We met Bibi and Teddy.  They are Jamie's dogs.  We gave them treats.  Tara's cat Diva came for a visit too.  We have been talking about hard and soft materials in Science.  We drew pictures of hard and soft objects in the park in Outdoor Learning and we made 2D shapes with sticks.  
Look what we made with the sorting toys in Stations.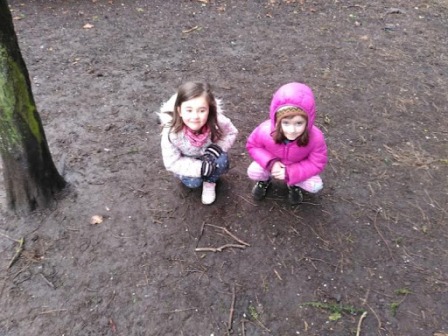 We made shapes such as a triangle.
Can you see the triangle we made with sticks?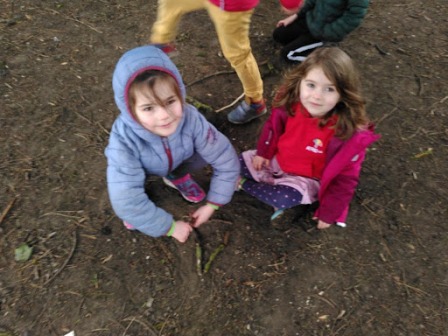 We made rectangles also!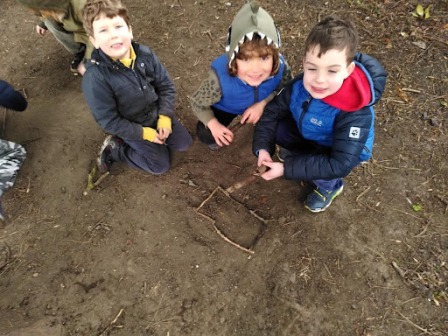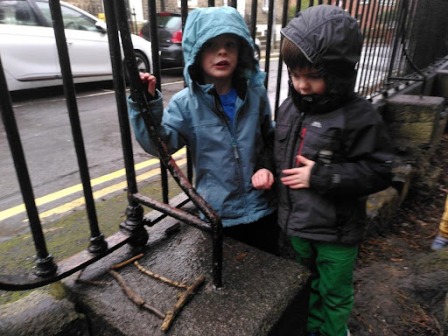 We fed Teddy and Bibi treats.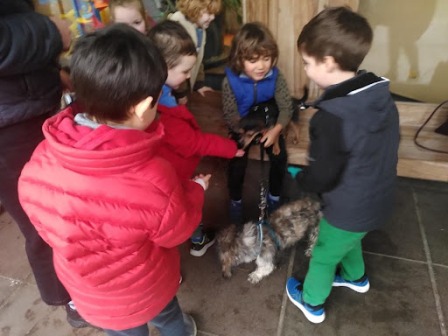 We met Andrew's rabbits and his sister Jilly Rose with our buddies.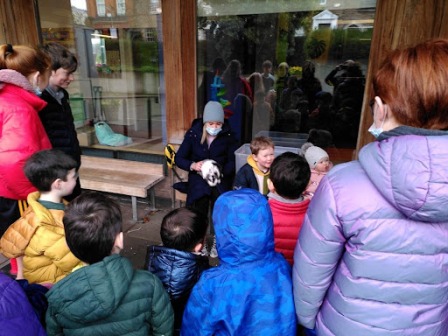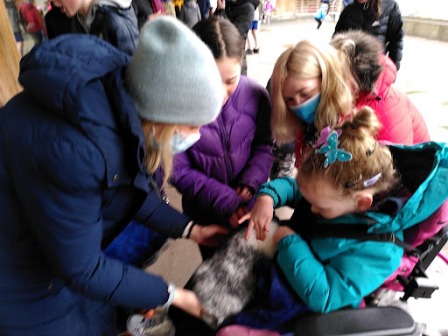 We met Eddie's dog Douy.  He is a rescue dog and he is 10 years old.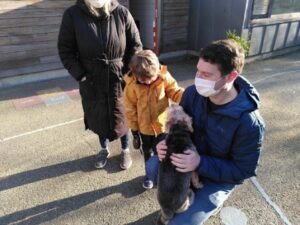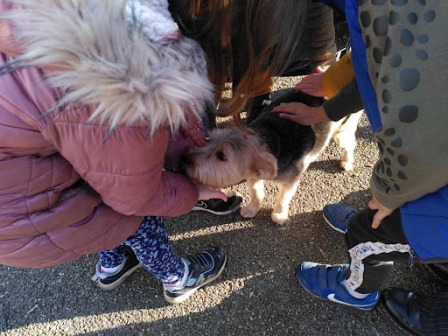 We did our Spring assembly.  We enjoyed it  a lot and everybody said we were great.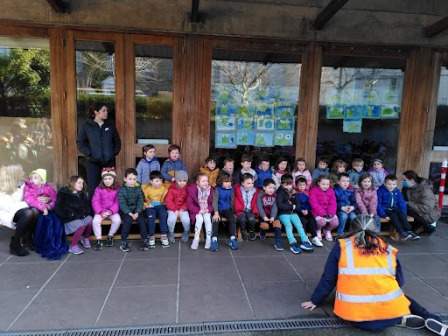 Senior Infants
We've been busy this week doing lots of art about the farm. We learned about the Billy Goats Gruff and we drew what we think the troll looked like. It was a group picture.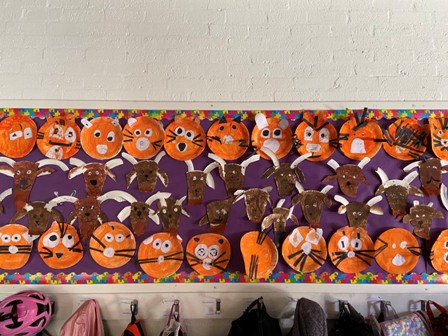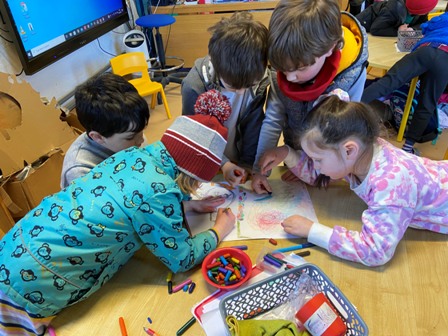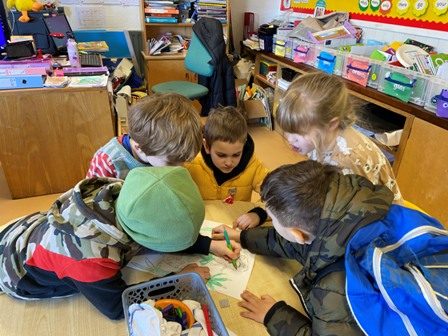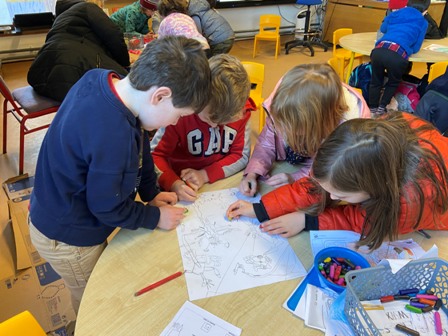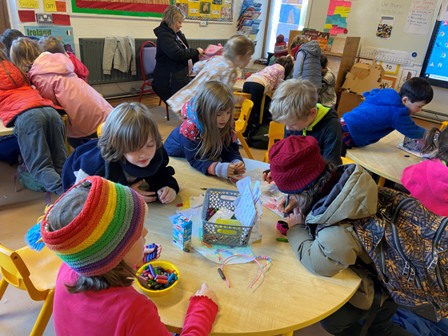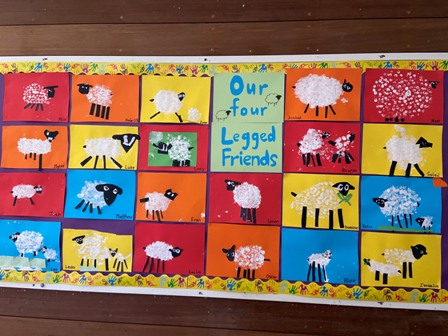 Rang 1
Everyone was so happy to return to school this week and very excited to share what they got up to over the mid-term. On Tuesday, we started a project using Clay in art and hopefully we'll be able to paint them next week. We went back to GAA on Wednesday and because it was a bit rainy we practiced our new skills in the hall. We also celebrated World Book Day on Thursday. Everyone got to bring in their favourite book and share it with the class and write a book review. We also designed new covers for our favourite books, played World Book Day Bingo and created our own customised bookmarks.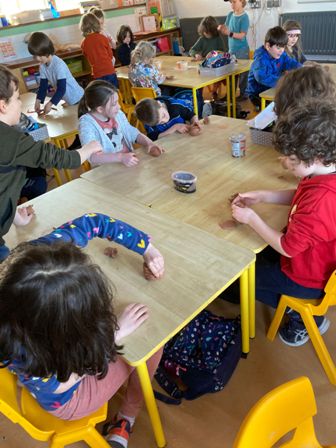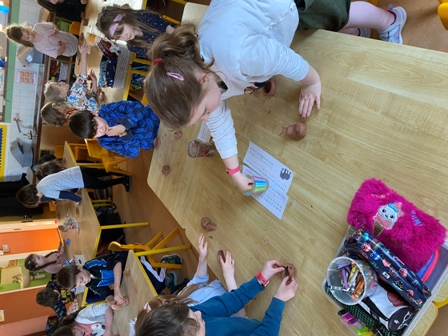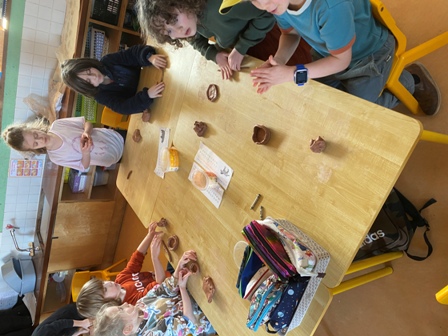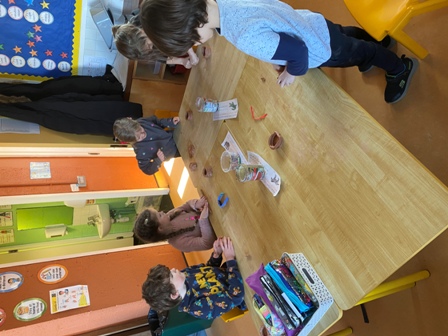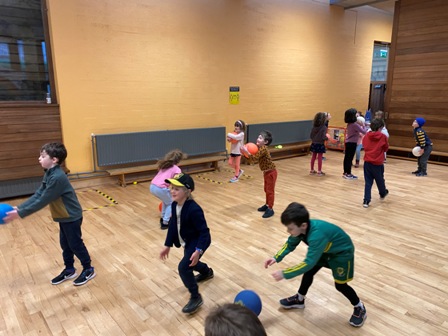 Rang 2
Hi everyone!
What do you call a funny chicken? A comedi-hen!
Another great joke from Rang 2 to kick off our newsletter this week.
We have been learning about birds and their fascinating behaviour this week.
We also read a book by Brian Wildsmith about collective nouns for birds. My favourite was "a charm of goldfinches" and "a gift of robins". 
We made lovely exotic birds inspired by his illustrations also. 
In Forest School we made beautiful decorations using twigs and wool called "God's Eyes" or "Ojo de Dios" in Spanish. The central eye is made by a father when the child is born and a new colour is added every year until that child is five years old. 
We are learning about Eadaí in Irish and will be dressing up for "Seachtain na Gaeilge" when it begins next week.
Speaking of Gaeilge, we have teamed up with Rang 5 for some paired reading. It is so lovely to be involved in a project with another class after not being able to do so for a long time.
See you all next week!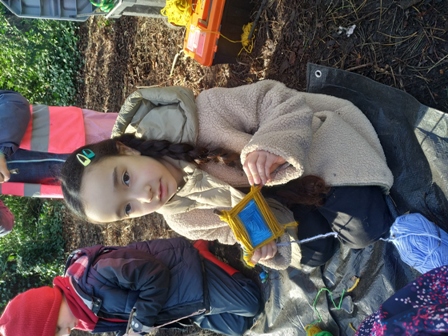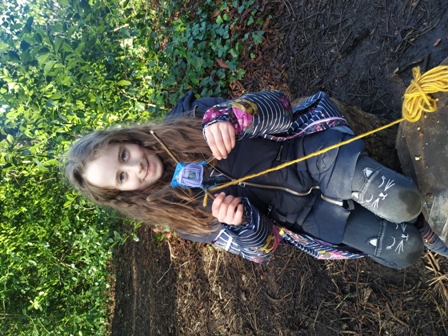 Rang 3
This week we have been learning lots of new things. 
In maths we are learning about 2D shapes and can tell you about regular and irregular shapes and tessellations. 
In English we have been learning about letters of complaint. We are using words such as : proposterous, demand and unacceptable. We will be writing a letter to complain about something we disagree with next week. 
In Gaeilge we have been learning about Eadaí. Take a look at our display to see some of the words we have been learning. 
In art we were using senses such as smells and how we would represent those smells in a painting. See a picture of the finished pieces. 
We also celebrated World Book Day by bringing in our favourite book and some of us also got dressed up in character. 
In P.E we went swimming this week and it was a real success. Everyone really loved it! We are really looking forward to next week.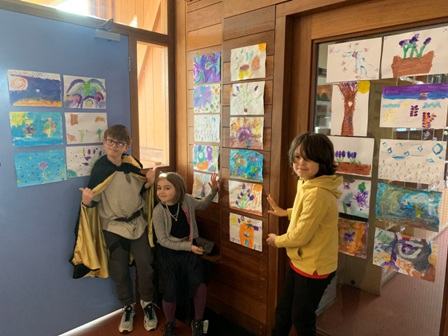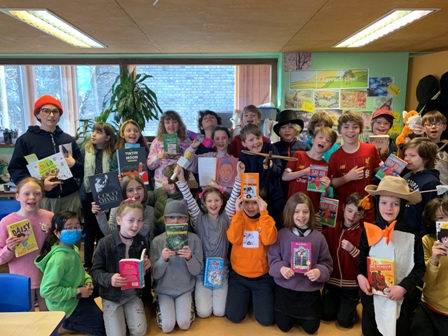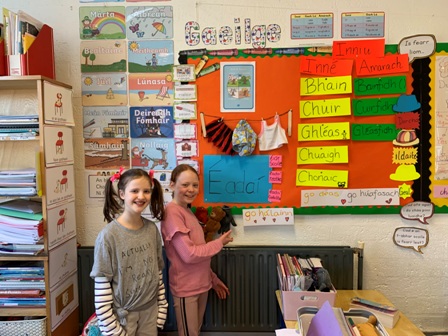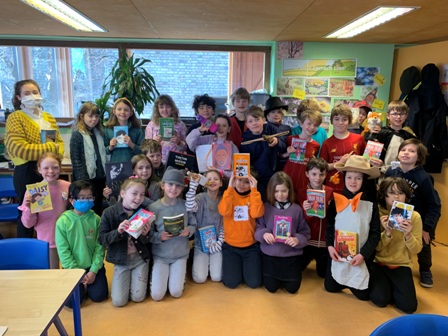 Rang 4
This week we started a Book Club for English.  It was inspired by World Book Day.
Here are the groups: 
The Book Wizards

The Library Mice

The Cliffhangers 

The Bookworms

 
The books are: 
Reading Bingo: 
For homework we have entered a competition. It is where we have score cards with activities involved with reading. For example: Read your friend's favourite book. 
Pancakes: 
On Pancake Tuesday Ms. Delaney brought a crêpe maker and we made our own pancakes as Gaeilge. We could put some toppings on. 
There was:
Biscoff spread (which was delicious!)

Blueberries

Golden syrup

Jam (Strawberry flavour…in case you were wondering!) 

Chocolate sauce (also delicious!)
By:  Edith and Dylan


Rang 5
This week has been another busy one and we started some brand new things! Our teacher gave us all an Irish book on Monday and we had to practice reading them in preparation for reading them to Rang 2 on Thursday. It was very exciting when we went up to Rang 2 to read to our reading buddies there. The teachers split the class up with some people reading in our classroom and some doing it in the Rang 2 room. We really enjoyed interacting with another class and trying out our reading "as Gaeilge". The pictures helped to tell the story also!
The other new thing this week was we started doing a project. This one is about an animal of our choice. We were delighted, as Ms Nic a Bhaird allowed us to choose who we worked with! We have to look at our chosen animal's environment, adaptations, life-cycle etc. It's such good fun working with friends.
Two of our class members, Nell and Julian, attended an important meeting on Thursday with other pupils, teachers and people who are involved with revising our curriculum. They helped to share their ideas with two other schools and important people from the Department of Education.
Finally, PE was fun in the sun, and we played DodgeBall and Alphabet. Ms Bradley was teaching us. We are hoping the sun keeps shining as we head into the weekend!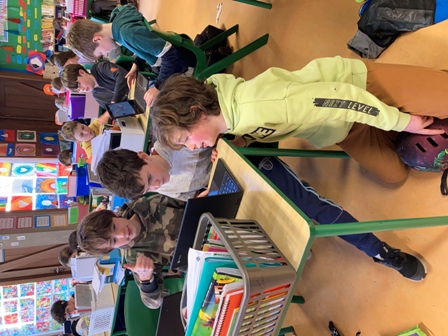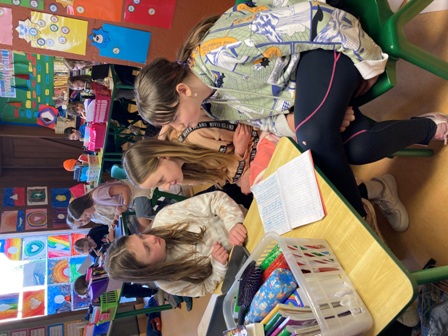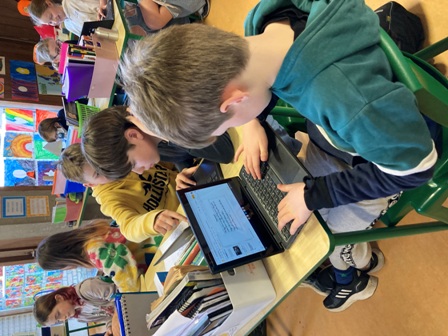 Rang 6
We had a wonderful, busy week this week in Rang a Sé.
In Irish we started an aimsir laithreach. We have finished the 2 syllables and 1 syllables.
We did some drama based on the villagers of an island which proved to be quite fun.
In science we made mini helicopters and parachutes.
In maths we did length and we all did well on our test.
The Junior infants did an assembly and we sang a song about Saint Brigid called 'We Sing a Song to Brigid'. 
We got off to a great start at our Write A Book and we are enjoying it!
Have a nice weekend!
By: Jack Ryan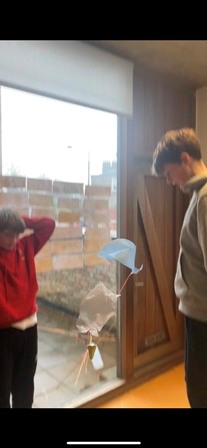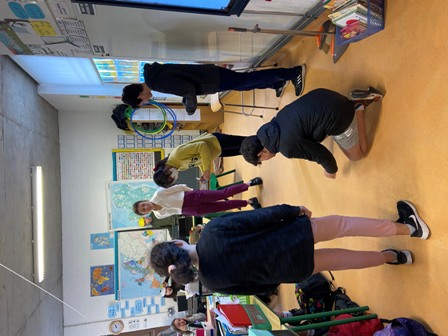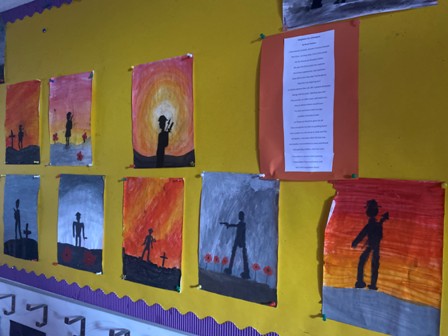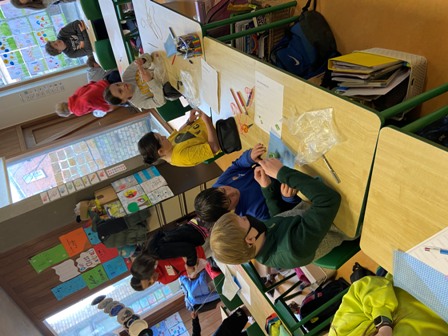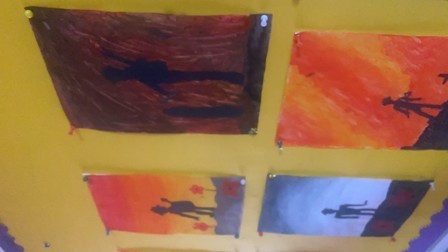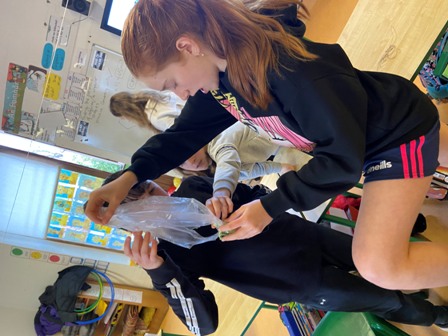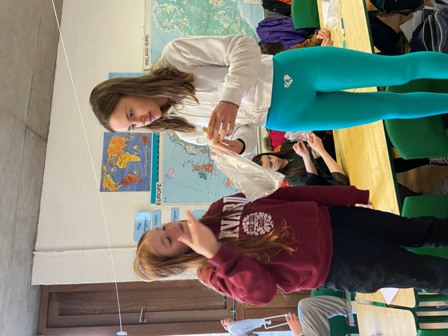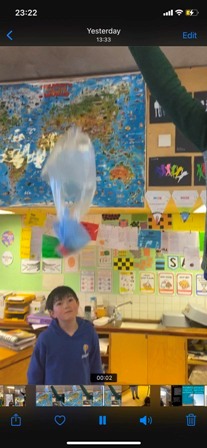 Ranelagh Multi-Denominational School, Ranelagh Road, Dublin 6, D06 Y658
Telephone/Fax: (01) 4961722 ● E-mail: secretary@rmds.ie
______________________________
Roll No. 19928Q ● Principal: Rosemarie Stynes