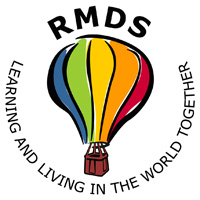 RMDS
School News in Brief….
8th October 2021
From the Principal's Desk….
It was a great week in school. Rang 3 got off to a flying start in Forest School with their new leader Claudia Kunkel. Welcome to Claudia and we hope she is very happy as she works with us to carry on the strong tradition of Forest School in our school.
A reminder that we will be closing for midterm break on Friday, 22nd October @ 2.10 p.m. and will reopen on Monday, 1st November @ 8.30 a.m.
As always, if a child has any new onset symptoms and feels unwell or seems off-form,  do not send them to school and contact your GP for advice if necessary.
In addition, do not send your child to school if they have:
Been in close contact with a household member who has tested positive for Covid-19
Been living with someone who is unwell and may have Covid-19
Wishing you all a lovely weekend,
Rosemarie
From the Green Schools Committee....
Single Use-Plastics
At 61kg per person per year of plastic waste, Ireland is nearly double the EU average.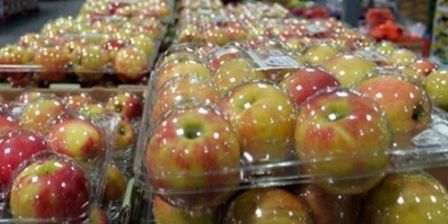 Packaging: Try to buy loose fruit and veg. Not only do you reduce plastic packaging but you can buy the exact amount you require. So less food waste too…
If that's not possible, please buy items with minimal packaging in paper or cardboard.
With non-perishable products, buy in bulk. It's more cost effective too.
Coffee Cups: Over 500,000 single-use coffee cups (and lids) are thrown away each day in Ireland. Ideally make coffee at home or bring a reusable cup to your coffee shop. Although compostable cups are a step in the right direction, they still require resources to be produced and disposed of.
Plastic Bottles: Each day in Ireland alone, 200,000 plastic water bottles are thrown away. Please try to remember to bring a full reusable water bottle out with you. If you run out of water on the go, there's free water refill points across the country. Please check: https://refill.ie/tap-map/
Roland Ramsden
Andrea Scott
Green Schools Committee Parent Representatives
THIS WEEK'S
News from around the Classes…..
Junior Infants
We made play dough with Ms Dillon in Aistear this week.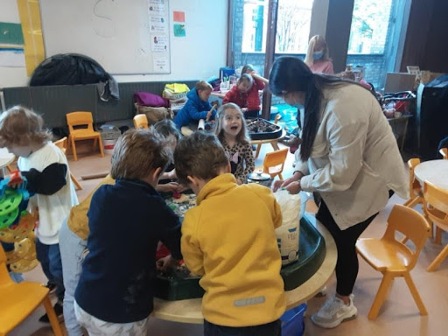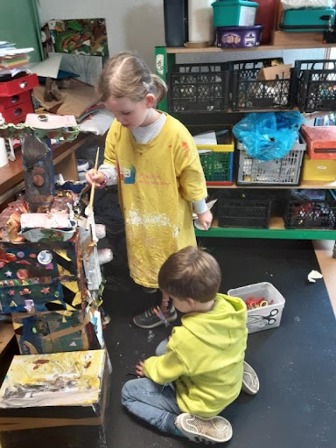 Our hotel is turning into a Haunted House for Halloween!
We did leaf printing in Art this week.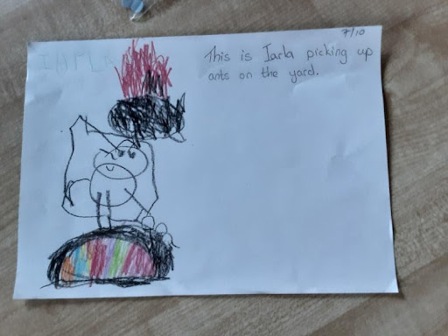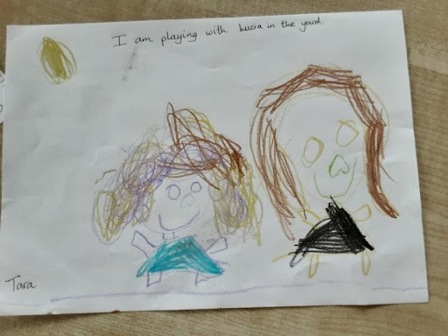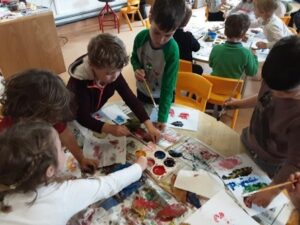 Tara and Iarla are our news reporters this week.
We were comparing things in Maths this week.  Here is a big and a small leaf.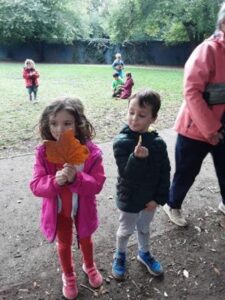 Senior Infants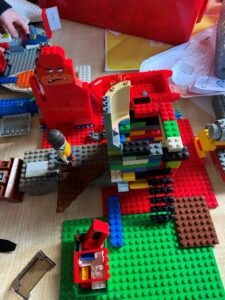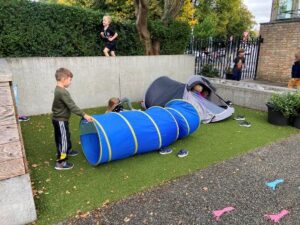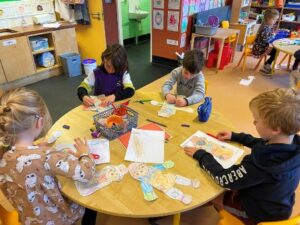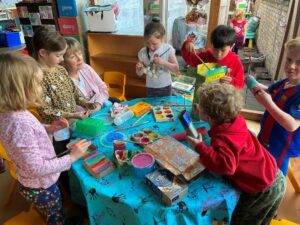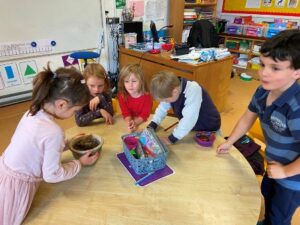 Aoife brought in a robin's nest and egg which her Grandad found in his shed . She showed it to everyone in the class. We've been making scarecrows in the mornings and during junk art at Aistear. We sing our 'Mr Scarecrow' song everyday along with our other songs, but our favourite song is 'Big Red Combine Harvester'.
We're having great fun on yard playing with the tent and tunnel.
Rang 1
We have been working very hard in Rang a hAon this week and learning all about Autumn. The class have been bringing in lots of lovely leaves and conkers for our nature table and we have been discussing all the changes that the new season brings. In science last week, we made and tested out paper airplanes on the Roof Garden - some flew very high and some went very far. There are lots of future engineers in the class.
This week our Classroom Correspondent is Flynn:
"We did lots of Gaeilge, Science, Drama and PE this week. In Gaeilge we learned about what's in your school bag and played Cad atá sa mhála scoile?. I learned takeaway sums."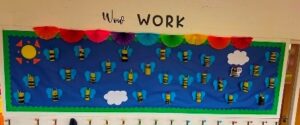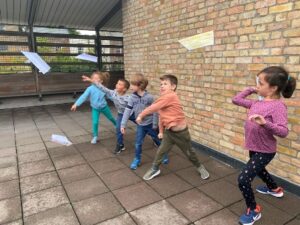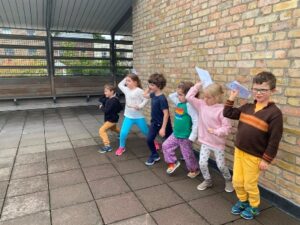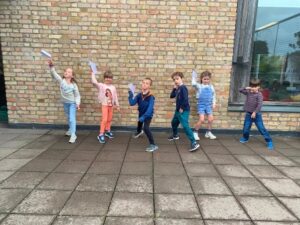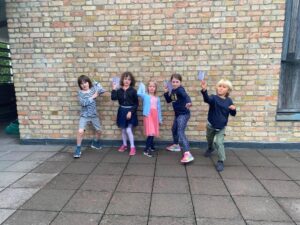 Rang 2
Hello everyone,
We have been learning so much about space this week as it's Space Week. Our focus has been on satellites. They help us enjoy entertainment from around the world, weather forecasting and monitoring climate changes. We also learned how they communicate and created our own simple messages. We also learned about our favourite planet for homework.
Here is a good mnemonic for remembering the order of the planets from the sun:
My Very Excellent Mother Just Served Us Noodles
We also focused on women in space such as Sally Ride, Mae C. Jemison and Valentina Tereshkova.
Mae C. Jemison now uses satellite information to help monitor those in Africa who might need support.
We are reading 'James and the Giant Peach' and we love the crazy characters Roald Dahl created.
We are very honoured to be chosen to plant a tree by the Green Schools Committee as it was National Tree Day yesterday. We love trees in this class. Here is a nice inspirational quote to start off the weekend:
"For in the true nature of things, if we rightly consider, every green tree is far more glorious than if it were made of gold and silver." — Martin Luther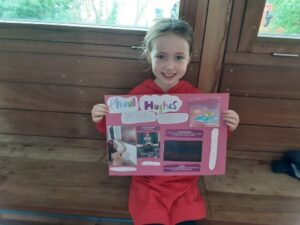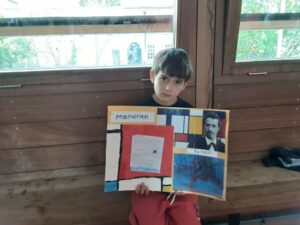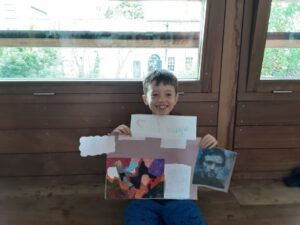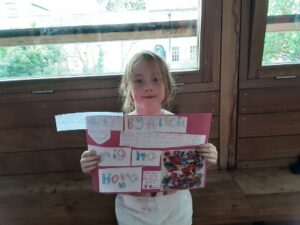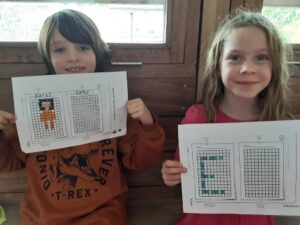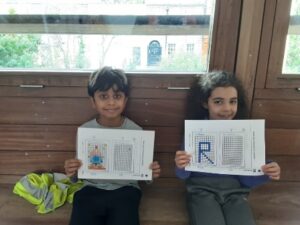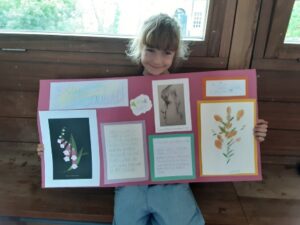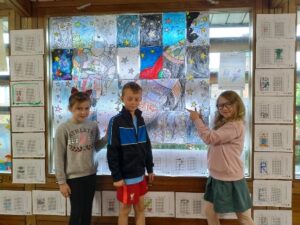 Rang 3
This week we started Forest School and we really enjoyed it. We introduced ourselves to the new Forest School leader, Claudia. She learnt all our names and we had an adjective to describe ourselves. We then picked our favourite tree and played some games. We enjoyed using the peelers to make things from sticks and also beaded berries to make a hanging decoration that we can dry out and hang up at home. Some of us left them to be enjoyed in the forest. We all enjoyed our hot chocolate, as always! We are looking forward to next week already.
In maths we have been learning to tell the time on an analogue clock. We are focusing on 5 minute intervals to and past. Ask us the time at different times of the day to help us practise.
In Gaeilge we talked about our families and did some drama and accidents in the playground!
In English we wrote poem about our senses.
In Core Curriculum we have been talking about Black History Month and learning about famous black people to celebrate. Our assembly next Friday will be on this topic.
Jake was our secret student this week.
At our class meeting we have discussed yard games and how we can use the space for different games. We also have buddies that we look out for in our class. We also have kindness monitors and also a secret person that we look out for all day
.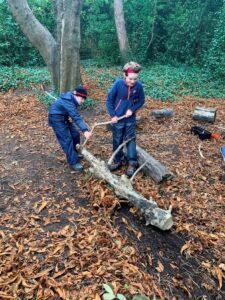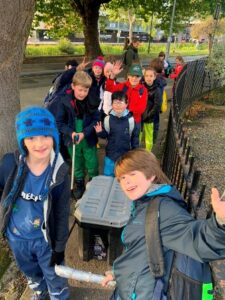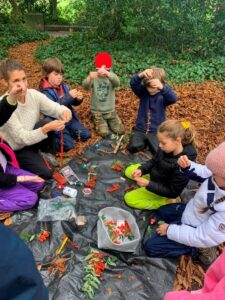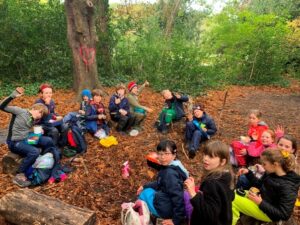 Rang 4
We finished off last week with Mr. Fairbrother teaching us. We created some entries for "The Tales of Hubda the Magnificent".
This week we started 'Lines and Angles' in maths. We completed a maths trail on the rooftop garden, finding examples of parallel lines, perpendicular lines and different types of angles. We also learned how to use a set square. In English, we wrote formal letters of protest and read the poem "The Crocodile" by Roald Dahl.
As it is Space Week, we carried out science investigations to find out the best material to use to build a satellite. We investigated the weight, heat conduction, electricity conduction, magnetism and impact resistance of each material. We recommend that the ESA use aluminium or aluminium alloys for their satellite.
We also wrote secret codes using Viking runes! Take a look at the pictures below!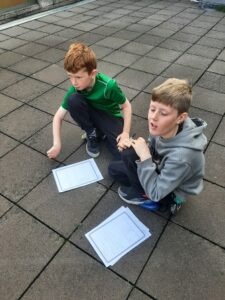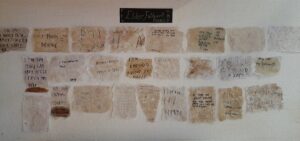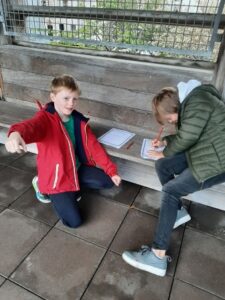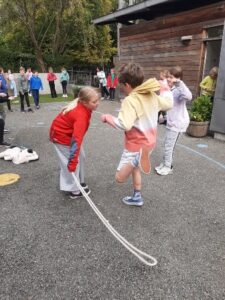 Rang 5
Yesterday we did P.E. We practiced our soccer kicks and afterwards we played a soccer match. We had lots of fun doing this activity.
On Tuesday we finished our Christmas cards. There were lots of fantastic designs and creative ideas. We also did some music. It was very interesting. We listened to classical music with different tempos and drew what we heard. Everyone enjoyed the lesson and thought it was fun because it was art and music mixed together.
We also enjoyed doing our newspaper article on Martin Luther King. We have been writing about his  "I Have a Dream" speech at the Lincoln Memorial on 28th August 1963.
We learned that it wasn't always the same back in the 60s and that black people weren't treated fairly.
On Monday we all signed our class contract that reads "Have the best intentions, be kind and respectful, if you don't have anything nice to say then don't say it, include everyone, listen and don't interrupt, follow instructions, take responsibility for your actions and have fun and be yourself".
Today is Friday and we are all excited for Halloween. It's so near we all can't wait to go trick or treating again.
By Milly and Isabelle L.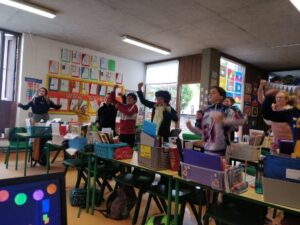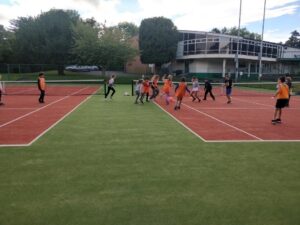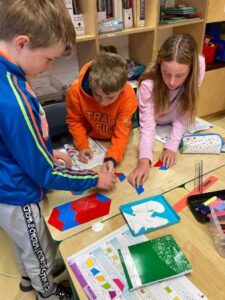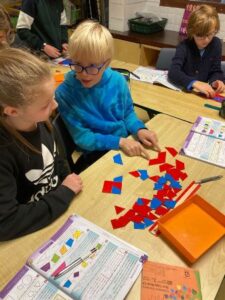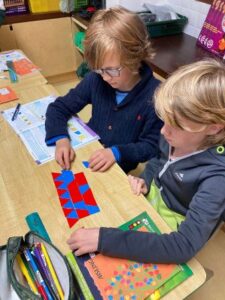 Rang 6
Hi and welcome to this week's 6th Class newsletter!
We started off the week by celebrating Christmas early by making our Christmas cards.
In maths this week we are doing lines and angles, and we are getting really good!
We started doing our projects on WWI on Monday as well as continuing reading 'The Boy in Striped Pyjamas'.
On Wednesday we had a fun afternoon by doing a challenging crossword and listing all of the counties in Ireland.
On Thursday we played rounders in P.E. and practised passing footballs to each other. It was very fun!
Thank you for taking time to read our newsletter!
By Emma McGrath and Limor Coyle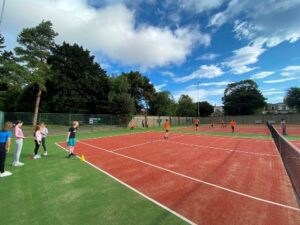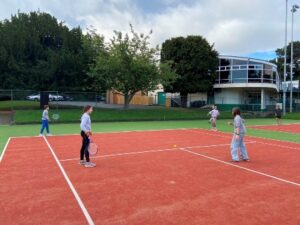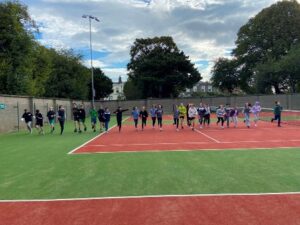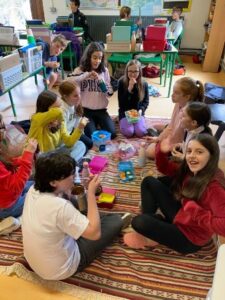 Ranelagh Multi-Denominational School, Ranelagh Road, Dublin 6, D06 Y658
Telephone/Fax: (01) 4961722 ● E-mail: secretary@rmds.ie
______________________________
Roll No. 19928Q ● Principal: Rosemarie Stynes