Physical Education in RMDS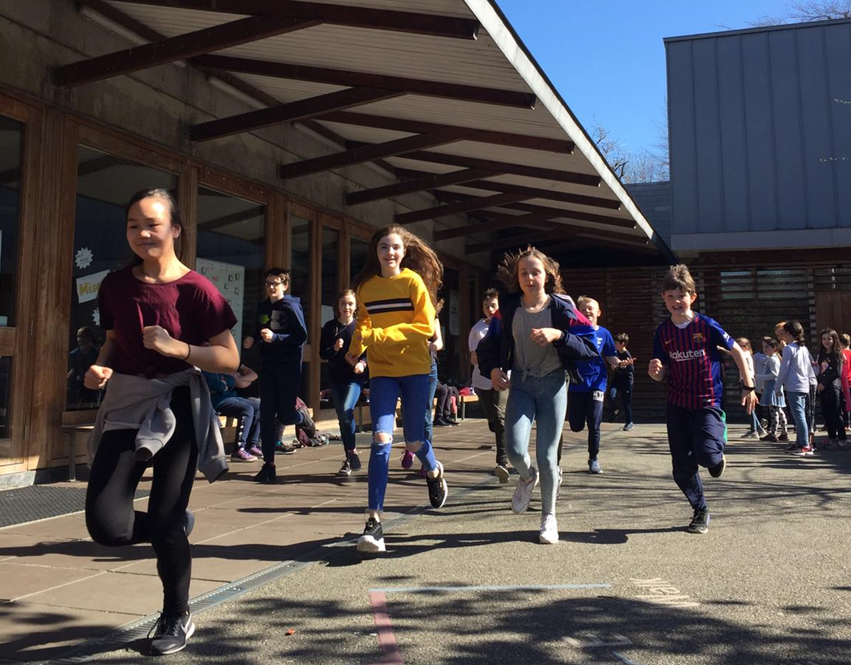 We view physical education as extremely important in Ranelagh Multi-Denominational School and a crucial part of a child's primary school education.
Our physical Education programme aims to provide every child with an appropriate range of challenging activities in areas of movement and play, in order to foster their physical, social, emotional and intellectual development.
Key Considerations:
The importance of enjoyment and play
Maximum participation by all children
The development of skills and understanding
A balance between competitive and non-competitive activities
A balance between contact and non-contact activities
Providing opportunities for achievement for each child
Providing activities equally suitable to boys and girls
Physical Education Aims at RMDS:
to promote the physical, social, emotional and intellectual development of the child
to develop positive personal qualities
to help in the acquisition of an appropriate range of movement skills in a variety of contexts
to promote understanding and knowledge of the various aspects of movement
to develop an appreciation of movement and the use of the body as an instrument of expression and creativity
to promote enjoyment of, and positive attitudes towards, physical activity and its contribution to lifelong health-related fitness, thus preparing the child for the active and purposeful use of leisure time.
The PE curriculum outlines a balanced range of activities for children; The six strands of the curriculum are:
Athletics
Dance
Gymnastics
Games
Outdoor and adventure activities
Aquatics
PE Curriculum Strands
The Athletics strand incorporates a broad range of running, jumping and throwing activities.

A number of children represent the school at Cumann na mBunscol's Santry Sports' annual primary schools athletics event.
This strand is typically taught in Term 3 to all children.

The Dance strand encourages children to improve body management skills, understand movement, work with others and develop creativity and imagination.

Irish Dancing is an integral part of our RMDS Seachtain na Gaeilge celebration.

The Gymnastics strand focuses on body actions such as jumping, turning, swinging and balancing and the control and management of body movements in increasingly challenging situations.

This strand is typically taught in Term 2, when gymnastics equipment is laid out in the GP room.

The Games strand involves the development of skills, the creation, playing and understanding of games and enables the children to appreciate and enjoy games as participants and spectators.
Outdoor and adventure activities are facets of the physical education curriculum concerned with walking, cycling, orienteering, and outdoor challenge activities.

Forest schools plays a central role in the delivery of this strand.

The aquatics programme involves teaching children how to swim and also promoting enjoyment of water based activities.

Children engage primarily with this strand in Rang a 2: For an hour a week, they have access to the swimming pool at Swan Leisure Centre, Rathmines.
Physical Activity
At RMDS we are committed to helping children reached their recommended 60 minutes of exercise a day.

To that end all classes take a 10 minute movement break around 10 o'clock. Children engage in a range of physically exerting activities from skipping, running games, games to develop fundamental movement skills.

In RMDS, we use the following spaces for physical activity:

GP room, yard, roof terrace and also Mt. Pleasant Tennis Club (senior classes).

At RMDS to reduce teacher pupil ratio and to enhance learning, classes are split and parallel classes or half and half classes are taught.
Partnerships
At RMDS children have a voice in terms of sports and physical activity. School physical achievements are acknowledged and celebrated, usually in Term 3 at either a junior or senior assembly. Children are provided with opportunities to display their physical activity skills eg skipping demonstration in term 1 and the Hockey and Soccer World Cups.
The parent body at RMDS play a central role in children's learning and are a valued part of the school community. The school informs parents about clubs and physical activity opportunities in the local area.

The Parents Association organise and run the annual Sports Day and ran the Mission to Morocco in partnership with the Active Committee.

RMDS has very strong links with local clubs and physical activity organisations and run a broad, balanced and inclusive extra curricular programme.

Ranelagh Gaels, the local GAA club, was step up by RMDS parents.
Simon Lambert, Dublin GAA player, coaches sessions across the school all year round.
Cycle Right run a cycling programme with rang a 5.
In Term 3 the senior classes play cricket at Leinster Cricket Club, Rathmines, coached by Irish Internationals.
RMDS take part in Cumann na mBunscol's annual Santry Sports' Primary Athletics event. We take part in the Sprint and Relay events.
RMDS's three soccer teams take part in the Inter Primary Schools Soccer League.
RMDS have an excellent working relationship with Mount Pleasant Tennis Club and make excellent use of their facilities and courts.
Our GP room is rented out in the evenings to facilitate a number of physical activities to local clubs e.g. Pilates, Kung Fu, Yoga etc.
Yard Time
We have two outside yard breaks at RMDS. Physical activity is encouraged during break times.

Skipping ropes, hoop and balls are provided for the children.

In addition to spontaneous game playing we promote one activity each term:

Term 1: Skipping – Whole school individual and class demonstrations.
Term 2: Soccer mini world Cup – Competitive knock out tournament refereed by 6th class.
Term 3: Hockey World Cup – Competitive knock out tournament refereed by 6th class.

When children cannot go outside they have an exercise break in class.
Sports Days!
Sports for all day:

The school participates every year in the sports for all day. This involves a full day of sporting activities for all the children in the school. The emphasis is on the children experiencing a wide variety of sporting activities in order to illustrate the fact that everybody can enjoy and participate in sports.

A typical daily time table might be:

Circuit training, Tennis in Mount Pleasant, Rounders in Linear Park, Olympic Handball, Hula hoops, Parachute games, Unihoc etc.

Sports Day:

An annual sports day is organised by the board of Management and the Parents Association. It is usually held on a Sunday in June and the emphasis is on fun, participation and enjoyment.
Active Schools Week
This year makes the inaugural RMDS active Week! Throughout the week physical activity is promoted in a cross-curricular way. We have invited local clubs, coaches and parents in to give us a taster sessions of all sorts of sports and physical activities eg.:

Kung Fu, Leinster Rugby, Irish Dancing, Dance Workshops, Hurling/Camogie, Yoga, Soccer Skills etc.

All Active Week activities are planned to be as accessible to all children.
During Active Week all children and staff wear tracksuits and the only homework is physical activity based!
This year we have established the Active Committee. The Active Committee seeks to make the school an even more active place.
Our active committee is made up of 2 children from the senior classes, these children serve as active reps for their own class and the junior classes. The committee/reps update the classes on active goals games and goings on.
This year we have introduced:

Active lines:
Focused on the Fundamental movement skills: Heroic Hopping, Deadly Dodging and Brilliant Balancing
DEAD – drop everything and dance
Mission to Morocco: A whole school and PA running initiative to run the distance to Morocco, 2000km, over the month of March. Each class has their own target destination to run. All Classes committed 30minutes a week to reach their destination and used movement breaks and PE lessons.
Yard Yoga

Our Active Slogan is: Eat, Sleep, Exercise, Repeat