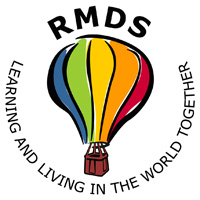 This week's Newsletter
8th October 2020
I don't know if you felt it but I know the threat of moving to level 5 social restrictions on Monday made my stomach do a few funny turns. My relief was tempered with some sage opinions in the office, as they pointed out that if the country wide move to level 3 and the threat of level 5 doesn't encourage everyone to change their behaviour then we might end up moving to level 5 for Christmas.  
I know I shouldn't mention the C word but in order to avoid my usual last minute reaction to C preparations, the children have been designing cards (which will be available for you to purchase at a later date) this week.  The theory being that the Halloween excitement will make them forget that we even mentioned it.  That may or may not be successful.  Some small people in my world are already writing letters.
We are planning on having our usual Halloween dress up day on the 23rd of October.  The PA are organising a Halloween raffle to fundraise towards further developing our sensory room.  There is always a source of fun and excitement within the school but some children prefer not to dress up and that is okay too. 
We continue trying to maximise what we can do within the school and we are delighted that we have been able to link up with Leinster rugby club for the senior classes after the mid-term break.  Talks are ongoing about how to solve the use of Linear Park at break times and also how we might try and get some of the extra curricular activities back. 
We are also looking at ways of going on 'tours' within our local community.  This might be the year to look very closely at what we have on our doorstep.  If any of the parent body has an area of expertise or knows of a close contact who would be willing to share theirs please let me know.
Jackie has asked that I remind all parents not to drive or park around the back of the school.  The back of the school and the lane are very busy and other than residents on the lane we would ask that no one uses these roads at drop off or collection time.
Finally thank you to the parents who have offered toys for use during break times and for classroom play activities.  If you meant to offer but didn't find the time we are still accepting offers of hard plastic toys.  Cars have been a big hit.  The entire roof garden is turning into a network of roadways and canals.  
It's been another busy week, the greatest buzz I noticed was in Rang a Ceathair where the City States competed in their own Olympics.  Well done to Ms Delaney for all the work to make History so much fun.  I'm also delighted to see our other new teacher receiving such high praise i nuacht ó Rang a hAon.
Rang a Sé
by:Yousra and Oscar C
It has been a fun packed week so far.
Ms.Grennan has told us about a science competition where each pod will make a two-three minute video doing an experiment on the theme 'How Things Work'. There are  €1,000 prizes up for grabs. We are really excited to be participating.
We have been doing a lot of PE so far in the year for example:
Learning how to catch and throw objects such as bean bags,volley-balls and much more. We did lots of more fun things such as laps, dodgeball and fun stretches. This Week has been amazing and we can't wait for Reel life science.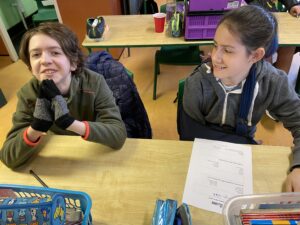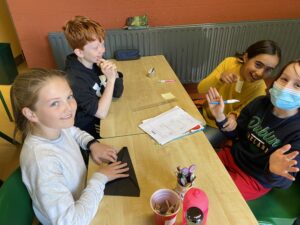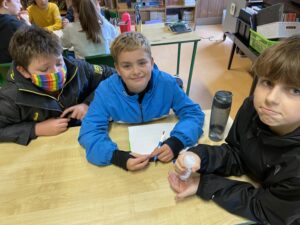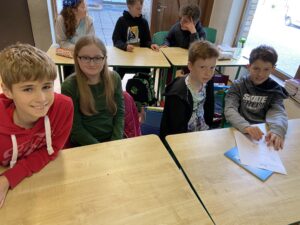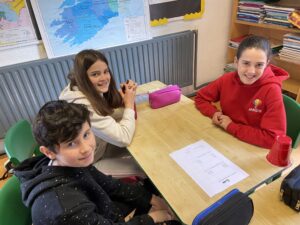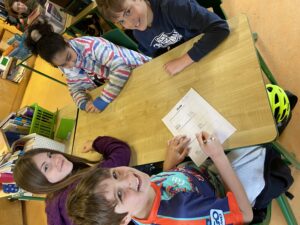 Rang a Cúig - Newsletter
Last Friday in P.E we played a big game of dodgeball after practicing our throwing skills, it was a really fun game and the whole class took part. This week on Monday, we made Autumn trees using paint and practicing our pattern making skills. In another lesson we planned and designed our Christmas cards and played Christmas music to get us in the festive mood even though it is still October! In Maths we have learned all about 2D shapes and angles.
This week we also filled out the consent form and questionnaire for GEM (Gender Equality Matters). On Wednesday, in History we created projects on The Mayan people who we had read about last week in our Small World book. We also wrote this week's newsletter on Wednesday. On Thursday members of An Garda Síochána will come in and talk to us about fire safety around Halloween.
Fun Fact:  People thought the world would end in 2012 because the Mayan calendar ended that year, even though that civilization had ended long before this they had made accurate calendars until then.
By: Lila and Alana Lily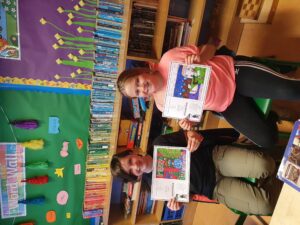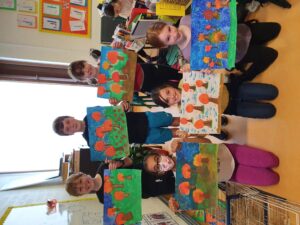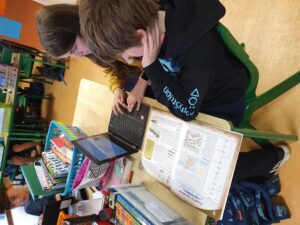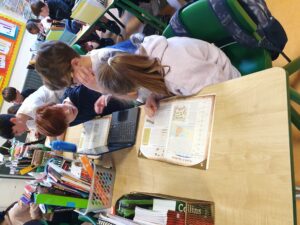 Rang a Ceathair
In maths we are doing lines and angles this week. On Tuesday we went on an angle hunt in the school yard. We have been learning about acute angles (from 0 to 90 degrees), right angles (90 degrees),obtuse angles (from 90 to 180 degrees) and reflex angles (180 to 360 degrees).
Ancient greeks: In History we learnt about the ancient greeks. They invented democracy, theatre and the Olympics. Speaking of the Olympics we are planning on doing our own one on Thursday. Each pod will be a city state. A few examples are Argos, Athens, Corinthia. 
We also started Spellings for me a new revolutionary spelling curriculum both online and in a workbook. It will be part of homework.
By Alec and Senan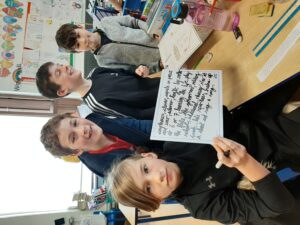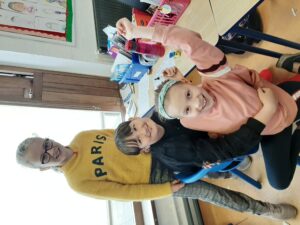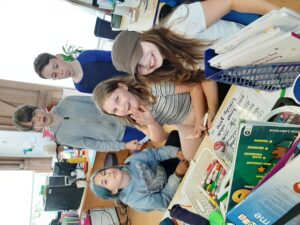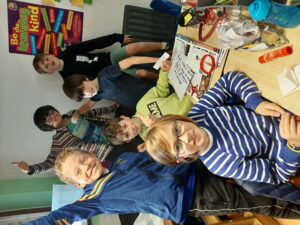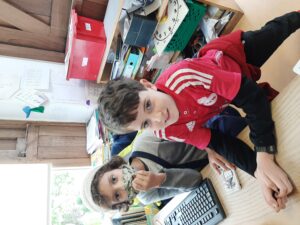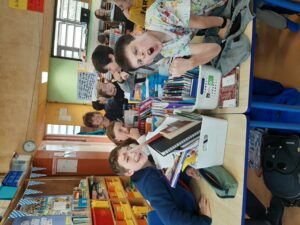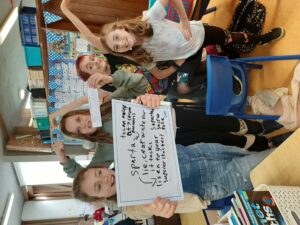 Rang a Trí
Our Pod winners this week were - Honkey Donkeys and Red Pandas. Well done. 
Secret Students last week were Edie , Sean, Emmet and Romy. 
During Forest school this week we extended the boundaries, made rafts and played a game called crows and sparrows. Have a look at our leaves art on display in our classroom. 
We are writing some excellent reports on Irish birds. Ask us about sentence openers. 
We also enjoyed GAA this week.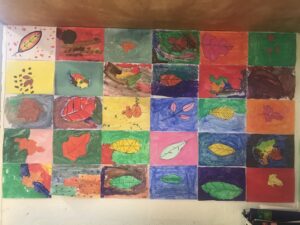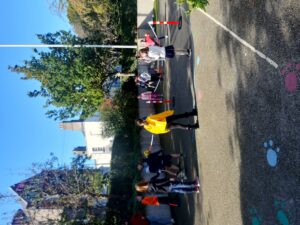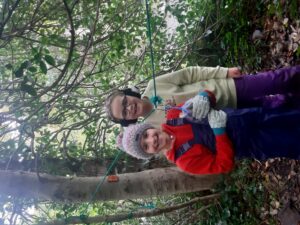 Rang a Dó
We started going to Ranelagh Gardens on Thursday for yard break to explore and give the grass and plants a chance to grow in Linear Park.
We have been learning about space in general, and in particular about satellites and how they communicate messages for space week.
We did 1 point perspective art on the theme of Harvest and it looks fantastic.
We made Sukkahs from shoeboxes to celebrate the Jewish festival of Sukkhot.
In Mount Pleasant for PE, we played "Rob the Nest" and we had relay races.
In second class the big red chairs are very comfy.
We have been doing lots of autumn sheets and lots of reading.
By Rachel and Paul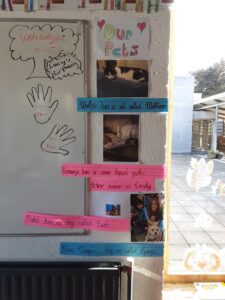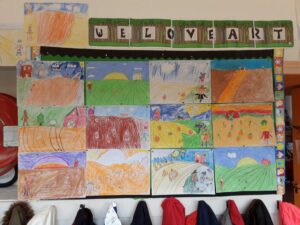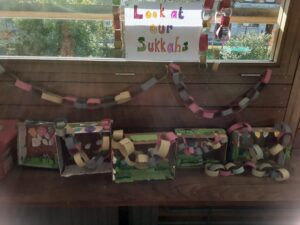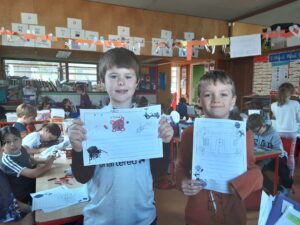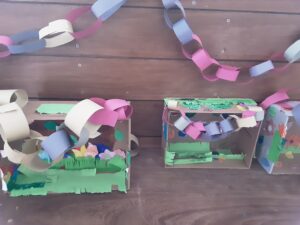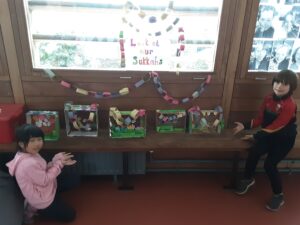 Rang a hAon
Juno
This week Rang a hAon have been busy learning about An Scoil as Gaeilge. We have learned lots of new words and are using them every day in the classroom. This week's classroom correspondent is Juno and she reported on GAA and Space Week. 
"We started GAA with Simon, he is the best. It is Space Week and we have been learning about different things. We made aliens in Art, it was fun. Ms. Mortell is the best at teaching us.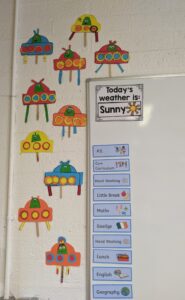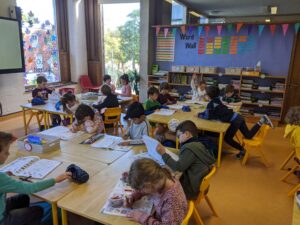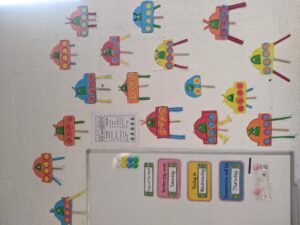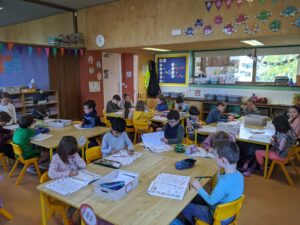 Senior Infants
We had new teachers this week.  Ms Reilly, Ms Kyne and Ms Ryan. 
We worked really hard and enjoyed having different teachers but we are looking forward to seeing Ms Shackleton on Monday.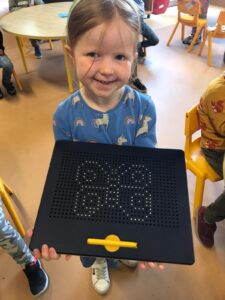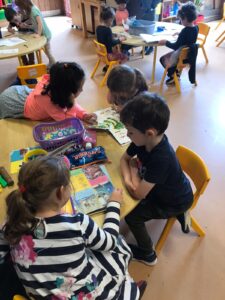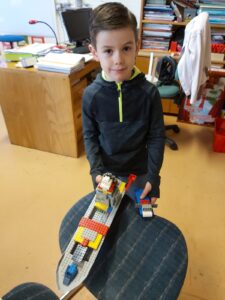 Nuacht ó Naíonáin Shóisearacha
It is Space Week.  We have been talking about day and night.  We learnt that the sun is a star and it is very big and hot.  We made seed bombs and continued playing in the Forest during Aistear.  In the park we collected treasure and put them in our treasure boxes. George and Aoife O Connor favourite thing in Junior Infants is Aistear.    We decorated our treasure boxes during Aistear.   In Maths we are comparing 2 things.   Our song this week was Pirate life, there are lots of actions to it.  We played hopscotch in PE this week.  Next week we will be talking about Halloween and our Forest will become a Creepy Haunted Forest.  Enter if you dare!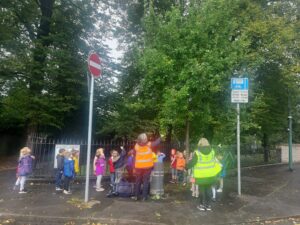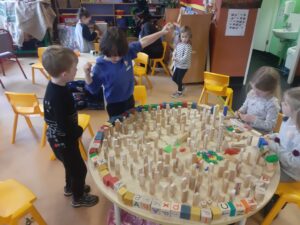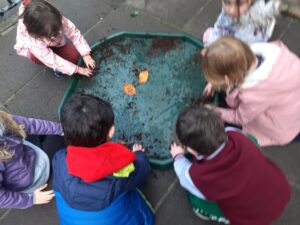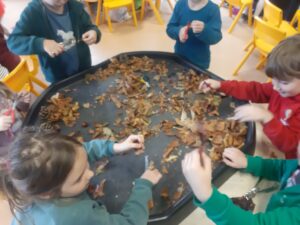 Admissions
Just a reminder that the window for enrolling your child for the 2021-2022 is now open via the links on our website.  If you have already enrolled you don't need to do anything.  
It would be helpful to let the office know if there is a sibling due to start school in that year.
Lost Property
A jacket and a pair of gloves looking to go home.