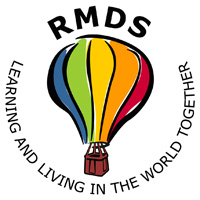 SCHOOL NEWS in Brief…..
20th June 2019
From the Principal's desk:
I would like to thank everyone for their involvement in our Active Week last week. It was a huge success – which culminated in us being granted the Active Schools Flag, which will be presented to us at a later date. Thanks to all the children, staff and parents for making this initiative so worthy and enjoyable throughout the year!
I would like to say a fond farewell to Marguerite Ryan, who will be retiring this year. Marguerite has worked in RMDS over the last 20 years. We thank her for all her dedication over the years to RMDS and for her energy and enthusiasm which will be missed throughout the school. We wish her wellness and happiness as she starts this exciting new chapter of her life. Go n-éirí an t-ádh leat Marguerite!

A reminder that Rang 6's Graduation ceremony takes place tomorrow morning at 9.30 a.m.
End of Year Reports should have arrived in the post today. If you do not receive your child's report by tomorrow, please contact the office. If you have any queries, please contact the class teacher in the first instance.
Our annual end of year Summer Newsletter will issue in the bags next week! Keep an eye out! J
School will close for the summer next Thursday, 27th June at midday.
Please check for lost property at the gate in the morning.
All items left at the weekend will be donated to charity.
Rosemarie Stynes
From the BOM:
Thanks to the entire school community for another good year. The current Board finishes in November, and a new Board will be appointed. If anyone is interested in joining, please get in touch.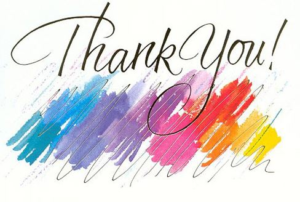 Congratulations to Marguerite Ryan on her retirement. Wishing you the very best!
Amal Perera and Caroline O'Dowd are both taking career breaks next year. All the best from the Board.
Well done to everyone for participating in Santry and Mortons. What a successful year! Congrats on getting the Active Flag!
Judith Curtis, our extra-curricular violin teacher is moving on from us this year; many thanks for the 12 years of lessons to RMDS pupils!
From the PA:
END-OF-YEAR PARENTS' NIGHT OUT - JUNE 21st - Save the Date!!! – NEW VENUE – Corrigans, Mount Pleasant Inn
The annual end-of-year night out is happening on June 21st at Corrigans from 8pm. Hope to see you there! Go ahead, get the babysitter organised!!! J
RMDS SPORTS DAY 2019 - JUNE 23rd
Lots of great activity this week as part of the Active school week should have all the children ready for June 23rd from 11am - 2pm in 96 Upper Rathmines Rd (the Alexandra College Grounds beside KPS.)
A reminder that we are introducing an End of Year Swap Stall at this year's event. So now that the extra-curricular activities are over you might have gear in good/reasonable condition that's no longer needed - e.g. Forest school gear, football gear, hurleys, dance shoes/costumes etc. Please bring along on the day.
Everyone should have received the Sports Day program from your class rep, don't forget to bring a teddy for the JI and SI children and a tie for Rang up to Rang 6 for the 3 legged race! J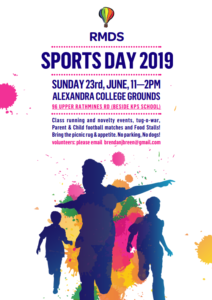 If you are interested in volunteering for the day, please email brendanjbreen@gmail.com, many hands make light work, there are still a few slots open and your time is much appreciated!
Parents Coffee Morning – Tuesday, 25th June
We will have a special coffee morning in the yard next week….. Volunteers to set up and organise - please email pa@rmds.ie.  Any baked goods also gratefully received!  Hope to see as many as possible for this final PA event of the year!
Many thanks
The PA
Notices:
Community Games
Well done to Lena, Eabha, Rebecca (all R6) and past pupil Lara who won their Community Games U14 match on Wednesday evening and are through now to the Leinster finals!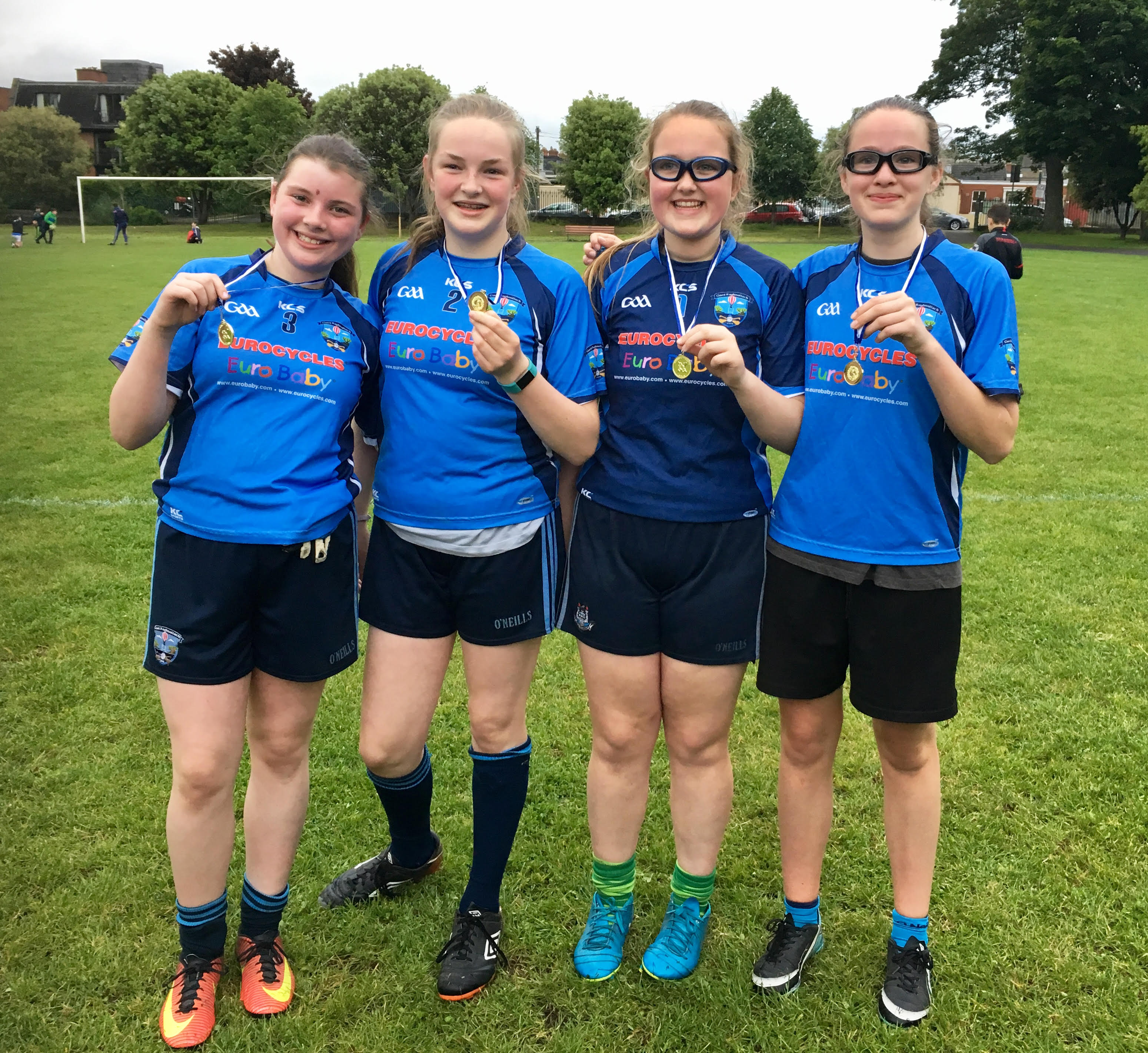 RMDS School Age Childcare
Childcare has some Ad Hoc places available on Mondays, Wednesdays and Fridays.
If you are interested in putting your child's name down advanced noticed is required through email: childcare@rmds.ie
Information from Caroline Carroll - Percival on 085-1156506 or email childcare@rmds.ie.
Don't forget to keep an eye on the school website - www.rmds.ie!
!