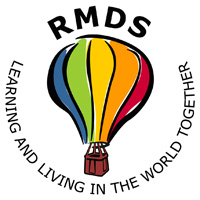 SCHOOL NEWS in Brief…..
27th April 2020
From the Principal's desk (aka the kitchen table!):
Hello all,
While it may be unusual to receive our newsletter at the start of the week I thought I would use it as a way to welcome you to another week of distance learning. I hope you had a lovely weekend and were able to avail of some of the beautiful sunshine! A real treat for April!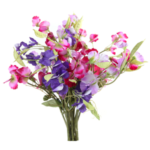 I would like to thank all of you for engaging so well with the learning material so far. As I have said numerous times, make the learning activities work for you and your family. They are there to support each of you with your child's learning. One size does not fit all so adapt them as you see fit. Do as much or as little each day as suits your family set up. Do be aware that some children cannot sit still for more than 10 – 20 minutes at this age, particularly in the younger classes. We cater for that in school with movement breaks, motivational strategies, help from support teachers and SNAs and by creating the whole atmosphere that is the school classroom. This cannot be replicated at home no matter how hard we try – at any level.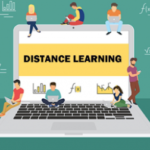 Parents, please be confident in the work that you are doing with your child. When we return to school, we will return to differentiating for diverse learning styles and experiences. We will be repeating in different ways many of the lessons we taught this year. Our primary curriculum is designed to be dipped into again and again. If you need additional support please let us know by emailing either myself or the class/support teacher in confidence. 
I am very aware that this is an uncertain time for many families. However, I would ask that if you expect your family circumstances to change over the summer and this will result in your child moving schools please let us know as soon as possible so that we can continue to put plans in place for next year.
Wishing you safe and well for the week ahead.
Take care of yourselves and each other! 
Rosemarie Stynes
From the Active Schools Committee: 
This week is Active Schools Week and as we find ourselves in these unusual times we have decided to send out some ideas for an Active Home Week challenge.  We are encouraging every child to engage in at least 60 minutes of activity a day. This is the minimum amount of physical activity the World Health Organisation recommends for children.
The idea of the Active Home Week challenge is to encourage children to find new ways of being physically active that they enjoy and to raise awareness about the fact that children need at least 60 minutes of physical activity every day.
To complete the challenge children have to find four different ways of being active, every day, making sure that this adds up to 60 MINUTES, or more. Children are encouraged to try something NEW, have FUN with a family activity and to ENJOY the week!
There are so many great physical activity suggestions in circulation at the moment from local/national sports clubs, role models and agencies that The Active Flag decided to organise them into an IDEAS word cloud graphic. All of the activities in the word cloud can be viewed 'in action' and 'in the one place' @activeflag.
The Twitter feed includes activities to suit children of all ages, abilities and interests with indoor and outdoor options and ideas about how to make sports equipment out of everyday household items.  Of course these are just ideas and the children don't have to stick with just these ideas, feel free to be inventive!
Check out your email from last week as there are some great resources attached such as an Active Challenge Chart if your child would like to keep track of the different activities they get up to this week and the word cloud graphic mentioned above. 
A copy of the wonderful colouring book She Can! Which features pictures and information on some of the best female sports stars we have; like Louise Quinn, Rachael Blackmore, Katie Taylor and Annalise Murphy is also attached to that email.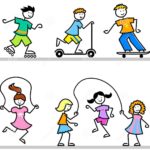 Remember this is for fun and not a task your child must engage in but rather if they would like to. No doubt they are already getting plenty of exercise and might just like to record this!  
The Active School Committee
From the BOM:
The Board of Management met online last week.
Following on we would like to wish all our families well at this difficult time. We know that it can be very challenging keeping all the moving parts of work, school and family life working in tandem and appreciate all your engagement with RMDS's distance learning programme at this time. We would also like to acknowledge all the work the staff has put into enabling distance learning to take place and we continue to support them through this new learning for staff, children and parents alike.
Please find below the 2020/21 School Calendar as it currently stands: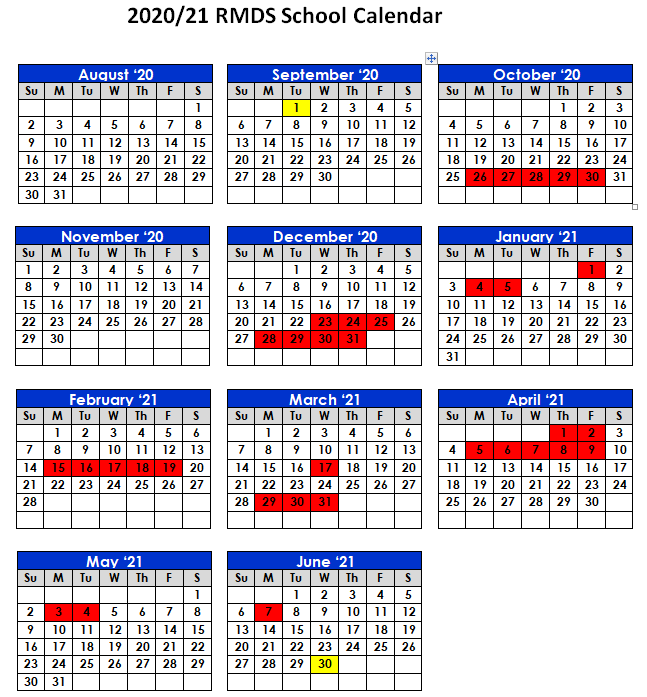 School reopens:

Tuesday, 1

st

September at 8.30am

October Mid-Term break:

Monday, 26

th

October to Friday, 30

th

October inclusive

Christmas holidays:

School closes on Tuesday, 22

nd

December at 12 midday and reopens on Wednesday, 6

th

January 2020 at 8.30a

St. Patrick's Day bank holiday:

Closed Wednesday, 17

th

March

February Mid-Term break:

Monday, 15

th

February to Friday, 19

th

February inclusive

Easter holidays:

School closes on Friday, 26

th

March at 12 midday and reopens on Monday, 12

th

April

May Public holidays:

Monday, 3

rd

May & Tuesday 4

th

May

June Public holidays:

Monday, 7

th

June

Summer holidays

: School will close for the summer vacation on Wednesday, 30

th

June 2021 at 12 midday.
* Unless changes are required as part of contingency arrangements to make up for time lost due to unforeseen school closures, in which case the school may reduce the length of the Easter break.
Remember to keep an eye on the calendar on the school website (www.rmds.ie) for forthcoming events and dates.
Notices:
WellRead - A wellbeing resource for families to use at home!
WellRead is a chat bot activity designed to help parents boost their children's emotional wellbeing with a combination of storytelling and targeted conversations. The WellRead website contains a curated collection of short stories for parents to read to their child. Each story is accompanied with a series of questions that a parent can ask to spark conversations with their child about a range of wellbeing topics. The stories and questions you will find in WellRead have been selected by teams of experts, which means parents can relax and enjoy some quality time with their child, reassured that they're also caring for their emotional well-being. 
WellRead features a carefully selected mix of international short stories, fairy tales and novel chapters. The stories aim to engage children with their diverse and exciting plotlines, language and characters. There are both contemporary and classic ones, some of which parents might remember from their own childhood. Many of the newer stories explore timely issues such as patchwork families, bullying, climate change and poverty. At the same time, all of the stories look into universal themes such as compassion, truth-telling, courage and hope. 
WellRead aims to be an innovative new resource designed to help parents support and nurture their child's development by building up their resilience and help them to learn how to bounce back from the challenges they face today.  Emotional well-being is critical and this tool could be helpful for parents whilst stuck indoors at the minute.  
It's free to join, simply create an account at www.mywellread.com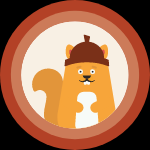 WellRead has been designed to support parents nurture and guide their child by embedding meaningful quality time into their busy daily routine.
And finally.....
We have some "Happy Birthday" wishes to send out to some special children!
 So a big "Happy Birthday" to ………
Evan (Rang 2), Emilia (JI), Chloe (Rang 6), Alexander (Rang 5), Luca (JI), Cleo (Rang 2), Michael (Rang 3), Laoise (Rang 5) and Oscar C. (Rang 5) whose birthdays have all taken place recently! We hope you all enjoyed your day!!!
And to…..
Arthur (Rang 1), Dominic (Rang 2) and Samuel (SI) whose birthdays all take place this week! We hope you have a wonderful day with your families!