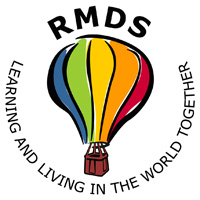 RMDS
School News in Brief….
25th March 2022
From the Green Schools Committee.... 3
RMDS School-Age Child Care Facility 6
From the Principal's Desk….
It was fabulous to see parents back in the building this week. I know your children were delighted to see you too, and act as tour guide - especially in the younger end of the school! 
We will stagger classes again next week with parents invited in as follows:
No parents in Monday 28th March
Tuesday 29th: JI & R3
Wednesday 30th: SI & R4
Thursday 31st: R1 & R5
Friday 1st: R2 & R6
Children will come through their assigned gate as normal each morning.
A reminder for each class will issue through Aladdin Connect the evening before. If you haven't already registered for Aladdin Connect, or downloaded the app to your phone please ensure you do so as soon as possible. An email has been issued to all parents who need to follow up on these actions with specific instructions. If you have any questions regarding Aladdin Connect please let Mary know in the office.
Our Extra-Curricular Activities Programme starts this week, Monday 28th March. The only exception to this is the Spanish programme which will commence the week after the Easter break.
On that note a reminder that school will close for the Easter break at 12pm on Friday, 8th April and will open on Monday, 25th April @ 8.30am.
Regarding Covid-19, as always, if a child has any new onset symptoms and feels unwell or seems off-form, do not send them to school and administer an antigen test. You can contact your GP for advice if necessary.
Please check the RMDS Calendar on our website for all dates of upcoming events.
I would finally like to wish all the mothers in our school community a very happy Mother's Day for this Sunday. I hope you enjoy a beautiful day with your families.
I look forward to seeing you all next week!
Rosemarie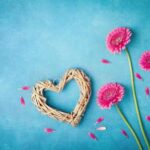 From the Green Schools Committee....
Green Schools Tips
The Benefits of Cycling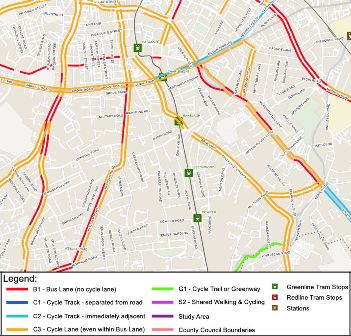 Cost Savings: To you and the Environment
The price of a commuter bike is a fraction to that of a car and the corresponding depreciation too. A new car in Ireland now averages over €33,000 and will lose half its value in four years.
There's also a tax incentive to buy a bike. An employee will save roughly half the cost of a bike and accessories with the Bike to Work scheme: www.biketowork.ie/employee-faq
The daily running costs of a bike are also a fraction to that of a car when you factor in fuel, insurance, motor tax, servicing and NCTs. Cycling is especially good at replacing short car journeys, which are proportionally worse per km for your car, fuel consumption & the environment:
Most engine wear occurs when starting and the first few minutes of operation, before the oil has a chance to circulate properly. So short journeys are tough on your engine. They also don't give your battery a chance to recharge properly, so shorten battery life. If you have a diesel car, the particulate filter can become blocked as it doesn't have a chance to heat up.
Short journeys are typically driven stop-start and at low speeds, so the engine barely has a chance to warm up before the journey is over. This means fuel consumption is high for the length of journey.
The catalytic converter also takes a few minutes to come up to temperature, so cars are proportionately most polluting in the first few minutes.
Cheaper and Easier Maintenance
It's possible to carry out general maintenance and replace broken or worn parts on your bicycle relatively cheaply and easily. You don't need many tools and parts are available through your local bike shop or online. There are great tutorials on YouTube - Check out the Park Tool, Global Cycling Network (GCN) and RJ The Bike Guy channels. 
Access to Cycle Routes
Cycle Routes (lanes) create a more secure feeling for cyclists. Thankfully more separator posts and barriers are being installed along them, to physically divide cars from bikes. The fine has recently doubled for cars parking in cycle lanes, so with hope this will discourage motorists from doing so.
Faster Journey Times
Google Maps includes a cycling route option under Directions so you can easily plan the fastest route before you set off, taking Cycle Routes into consideration. In most cases, it'll be faster than driving, especially during rush-hour.
Improved Health
Cycling has been proven to improve your mental well being, physical health and immune system. It's also a low impact form of exercise.
For All Seasons
The chance of rain is the same in Dublin, as it is in Amsterdam which is regarded as the cycling capital of Europe. So the weather here is no real barrier to cycling, as long as you have mudguards and the right clothing. In bad weather, waterproof trousers and a coat are the norm. But a cycling cape is quicker to throw on, covers your hands and legs and you don't get too hot as it's open at the bottom.
Next Week: Public Transport
Roland Ramsden
Andrea Scott
Green Schools Committee Parent Representatives
RMDS School-Age Child Care Facility
Monday 11th – Thursday 14th April (4 Day Camp)
Camp 9.15 am – 2.00 pm
€80 per child/ 2 siblings €150 / 3 siblings €225
Please fill in your child's details below. DO NOT PAY UNTIL YOUR PLACE HAS BEEN CONFIRMED. 
All enquiries can be directed to:
Caroline
childcare@rmds.ie
(Childcare Manager)
085-1156506
EASTER CAMP ENROLMENT FORM:
| | |
| --- | --- |
| Child's Name: | |
| Child's Age: | |
| Class: | |
| Allergies/Additional Needs: | |
| Parent's Phone No: | |
| Minder's Phone No: (if applicable) | |
Payment made through Easypay on the RMDS Website under Afterschool.
                                               Happy Easter!
THIS WEEK'S
News from around the Classes…..
Junior Infants
We were so happy to be back in school after our long bank holiday weekend.  We have started a new theme:  The Farm.  We will be learning all about farms and farmers. It feels like spring and we have been enjoying the warm sunny weather.   We learnt a new song called The Rattlin Bog.  We would love to sing it for you!  
We were dancing the Damhsa Mór for the Céilí during Seachtain na Gaeilge with our buddies.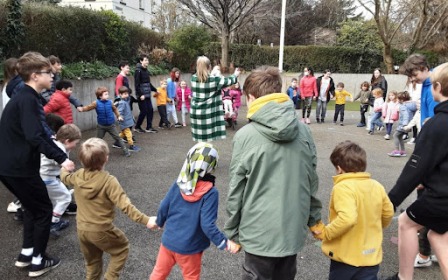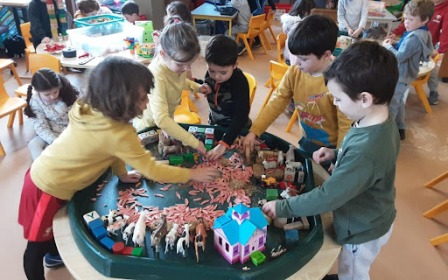 The farmers are very busy in Small World!
We got a new game called Cactus.  We are very happy that we made the whole cactus and it didn't fall!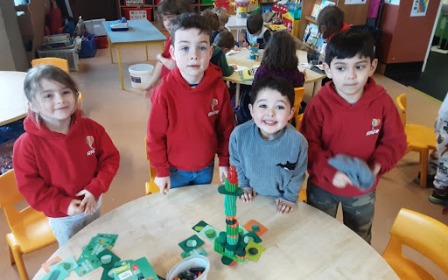 Boxes are great fun! Peeekaboo!!!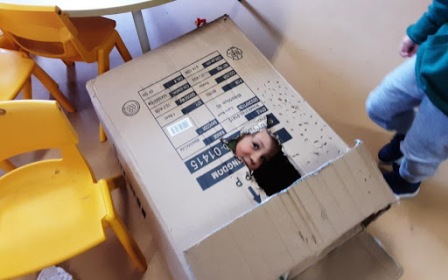 A delicious play dough cookie…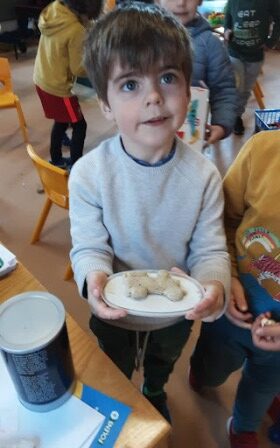 Look what we made with the straws!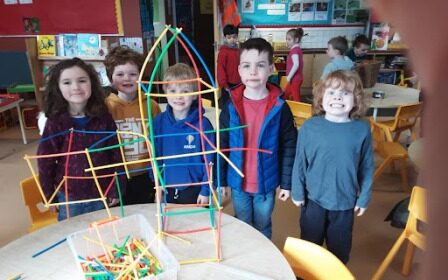 We used the new litter pickers to clean up the park.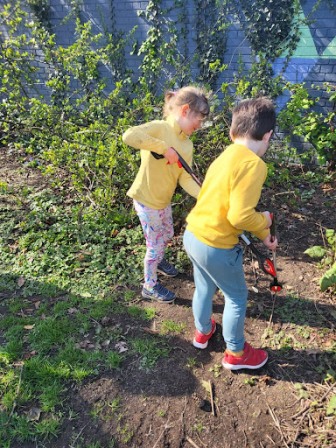 Ms Farley brought a hammock to the park and we tried it out.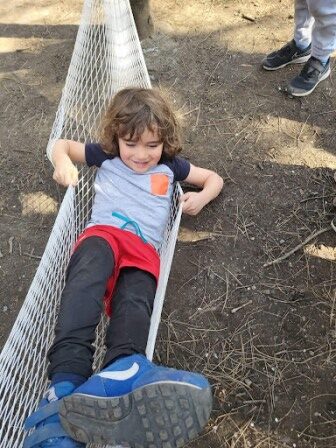 Senior Infants
We had great fun for Seachtain na Gaeilge performing our play about Hansel agus Gretel for the whole school. We have a new topic in Aistear - the Garda Station. We're busy putting prisoners behind bars! One was put away for 25 years!! We've enjoyed playing in the sunshine too. How many Senior Infants can fit in our tent?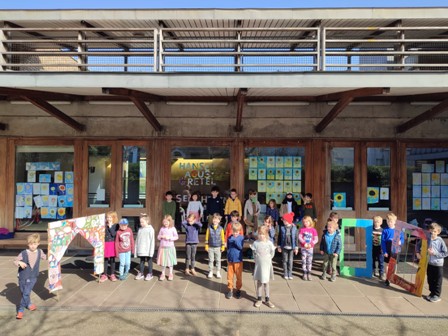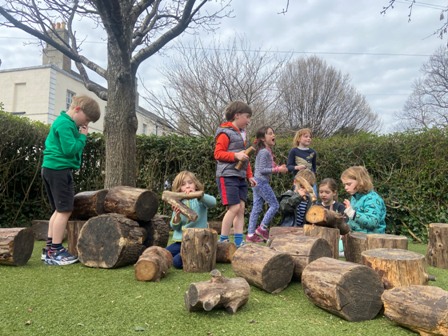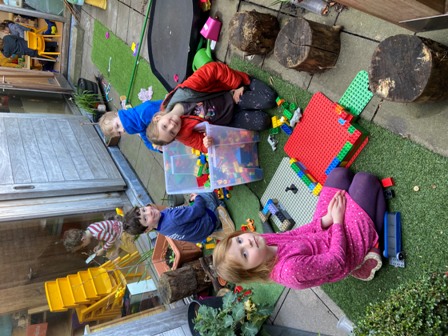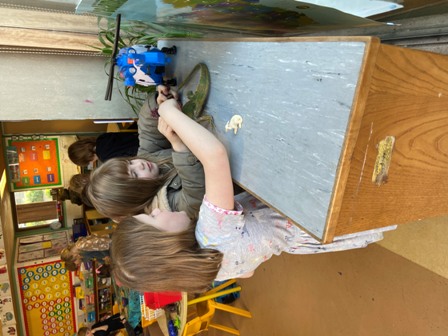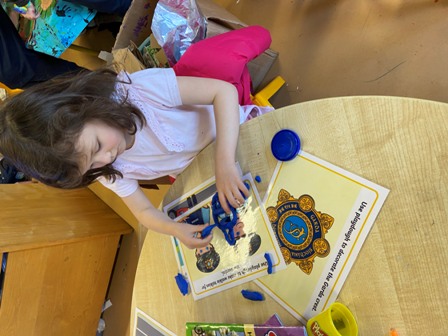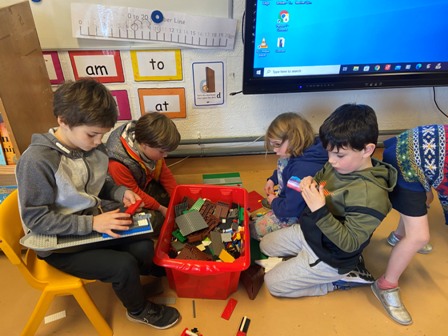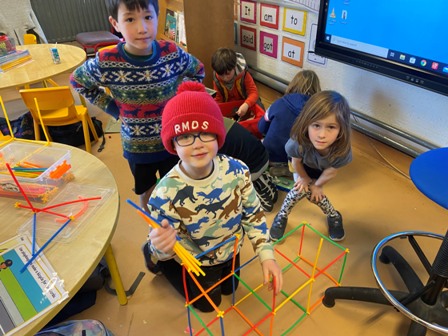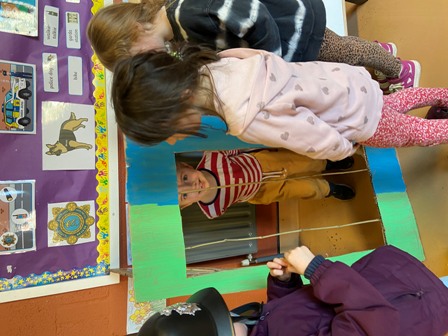 Rang 1
The class were so excited to be back in school after the long weekend. Lots of people went to the parade and visited local parades or festivals to celebrate St. Patrick's Day. We have been working hard this week and learning all about data in maths. We created bar charts and pictographs to show the different ways we travel to school and the types of pets in the classroom too. In SESE we have been learning about how farming has changed and where milk comes from. We even created some farm animals in art. On Wednesday, we played a new game in GAA and we have been enjoying all the nice weather at lunch time. On Thursday, we were so excited to welcome the parents in the classroom and show them all the brilliant work we have been doing in Rang a hAon.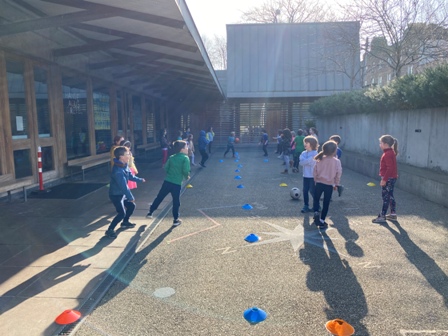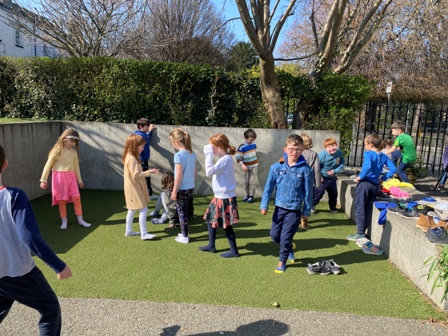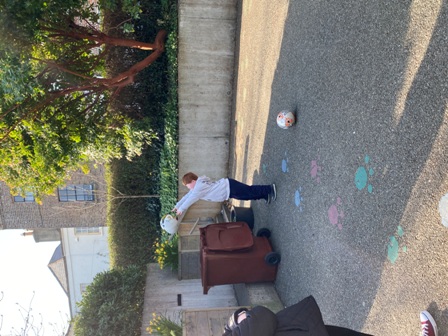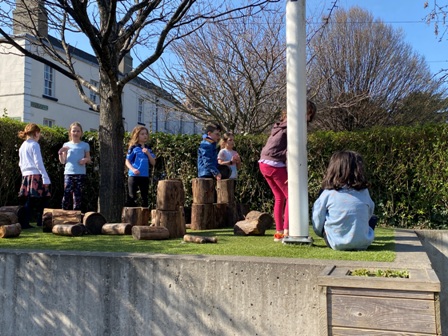 Rang 2
What a beautiful week we have had. We had our final week in the Forest with Claudia. It was our best week yet as we got to explore the park surrounding our forest space in Iveagh Gardens. We made clay creatures and friendship bracelets, and sang our Guardian Tree song together for the last time in Rang 2. 
Guardian Tree Standing tall
In the woods we hear your call
Guardian Tree
Kind and strong
In our hearts we hear your song
We want to thank Claudia very much for such a great experience this year.
We have started  subtraction with regrouping. It's a little tricky, but we have a little rhyme to help us through.
More on the floor,
Go next door
and get 10 more!
Speaking of rhymes, we learned about the poetry of Spike Milligan. He had an extremely exciting life and wrote some very silly rhymes. We read the "On the Ning Nang Nong", and are now learning a brilliant poem called "Smile".
We all need to share as many smiles and positive feelings right now, so don't forget that 'smiling is infectious', as Spike would say!
In our Core Curriculum we have been learning about Downs Syndrome as part of our disability awareness. Christina and Alex from Rang 1 came in to have a chat with us and they taught us some lámh words we can use. Thanks a million Christina and Alex.
Have a great weekend!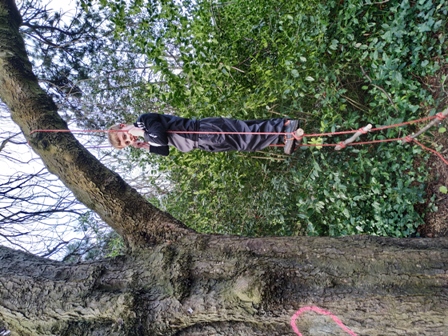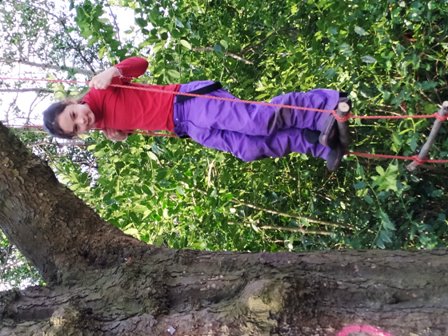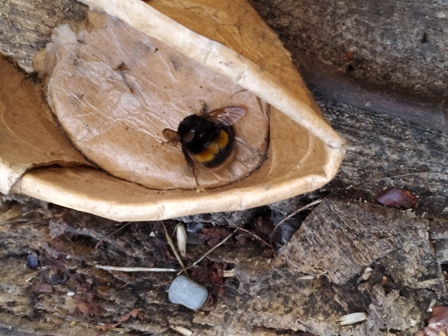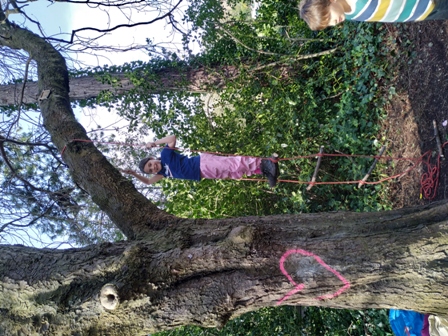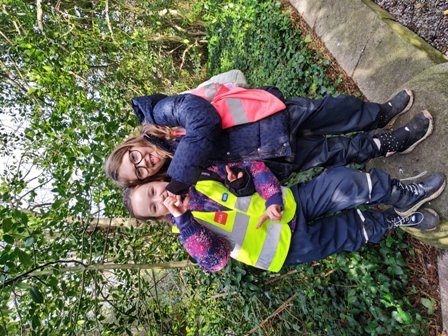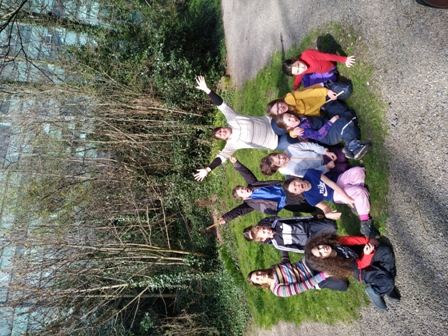 Rang 3
Before the St. Patrick's Day break we were celebrating Seachtain na Gaeilge. We had Seó Faisean and we also had a Ceilí. 
For the Seó Faisean we dressed up and described each other as Gaeilge. We then performed for the school. 
''Everything in the Seó Faisean was so amazing,'' says Lucie. 
''I really enjoyed walking the catwalk!'' said Arlo. 
''I loved posing,''said Robin.
''It was very fun with the music,'' said Isabel. 
Here are our thoughts on the Ceilí: 
''The Ceilí was really fun,'' said everyone in Rang a Trí. 
''It was very energetic and tiring,'' said Iris.
This week we have started to practise story writing skills in order to get ready for Write a Book. 
We are looking at division in maths. 
We had a Peace Proms workshop and the great news is we will be performing in the Helix in May. As soon as tickets are released we will let you know. 
"I love learning the songs,'' says Mabel. 
"It was a fun week overall,'' said Arthur.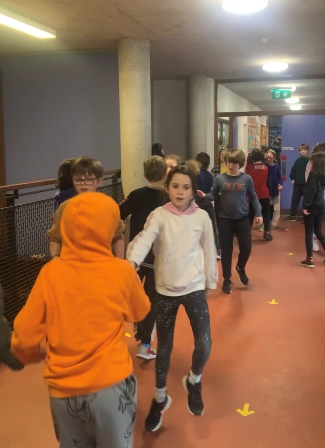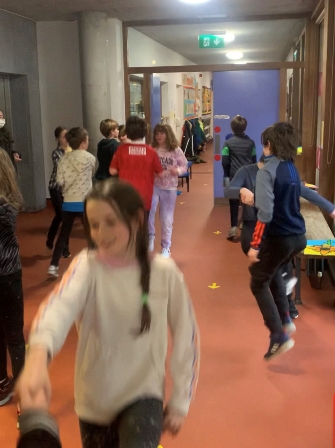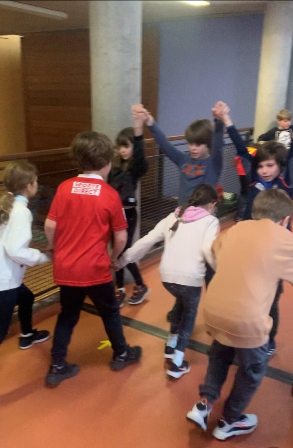 Rang 4
I went to the National Jewish Museum in Portobello with my class. We were met by a guide who told us lots of interesting stories from Jewish history. He told us about Moses and the 10 Commandments. He told us that Jewish people believe God spoke to Moses in the form of a fiery bush. He told them to save his people and free them from slavery. He spoke to us about the Holocaust and how terrible it was. There was an old synagogue upstairs in the museum and he told us about it. He told us that it was a place where Jewish people worship their God. 
All our class really enjoyed the trip and we have a greater understanding now of Jewish history.
By Oliver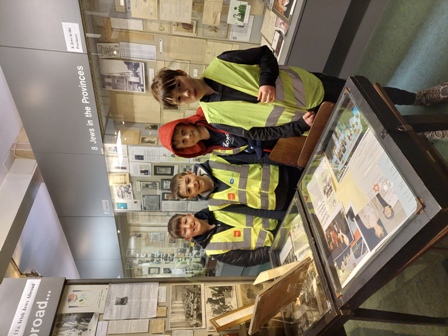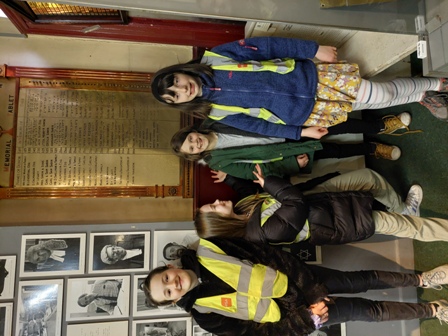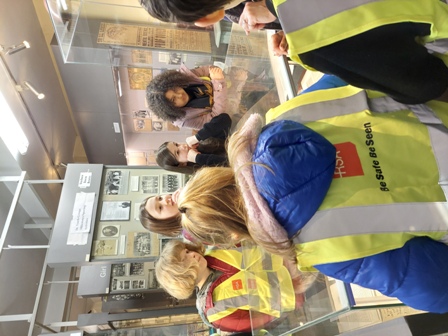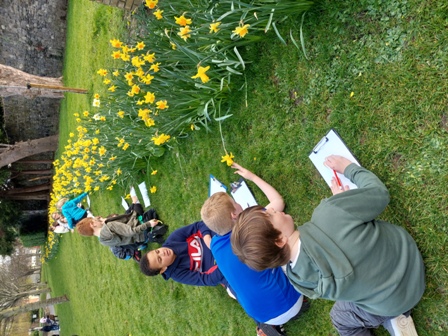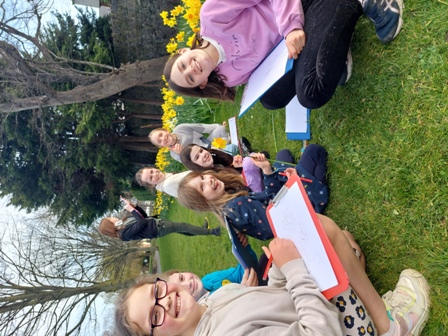 Rang 5
It has been a very eventful week in Rang a Cúig with things happening every day. 
Here are a few examples:
In maths, we started the chapter of weight. We learned about how much things weigh and how to weigh things in daily life. We also thought that it was fun to use all the different types of weighing scales.
We also started the Incredible Edibles Programme and learned how to be agri-aware. We haven't really done much yet, but we will be looking at where our food comes from and how it is produced. 
In SESE, we are learning about the Great Irish Famine. We are also starting to read Under the Hawthorn Tree, a novel about three children who survived the Famine.
For mindfulness, we did our Gratitude Garden, where we wrote down five things that we are grateful for on a flower. We then put all the flowers on our back wall to be admired by us and our parents.
On Thursday morning, a couple of our parents came into the classroom and they were very impressed with all the colourful artwork.
In English, we learned about the "ssion", "sion" and "tion" sounds. We also did a fun adjective game to help us use more interesting adjectives in our Write-a-Books.
We also congratulated Conn in our class, who came 5th in the U13 All-Ireland high jump competition over the St. Patrick's Day weekend! Well done Conn!!!
We hope you enjoyed listening to some of the things that we have gotten up to over the week, and we hope you enjoy the weekend!
By: Théo and Michael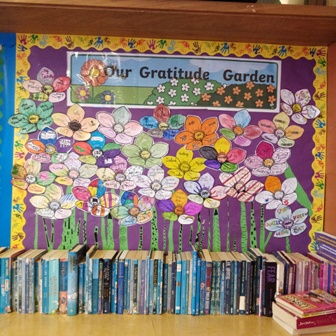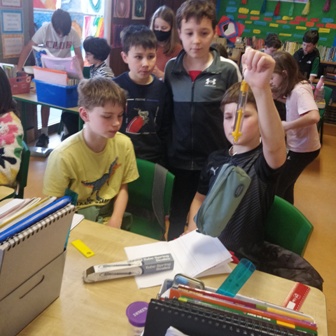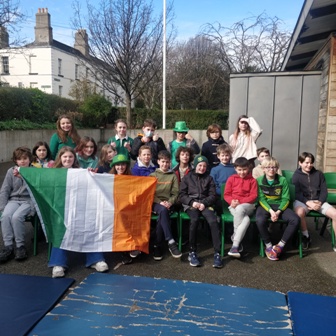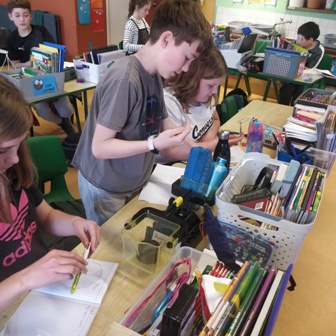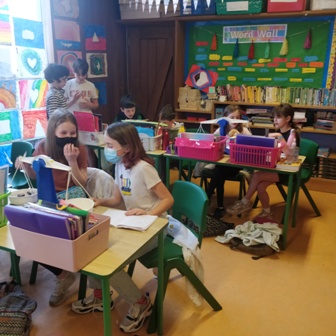 Rang 6
We had a great time in Rang a Sé these past two weeks!
In English we started our Write a Book. In maths we studied weight and we will have our test on Friday. 
We started our musical, The Wizard of Oz and it has been great fun. We are doing our auditions for our roles on Friday. 
We did the Céilí with our buddies. They were great dancers and we wrote St Patrick's Day postcards to them and received a few ourselves. 
We had a St Patrick's Day/Seachtain na Gaeilge Assembly run by Senior Infants and they were amazing! Everyone wore green and we sang Rud Éigin Mar Seo altogether. 
We made hot chocolates last week and had oreos with them. They were delicious. 
We had our 'Don't Be Mean Behind Your Screen' talk with Paula last week. It was really interesting and we learned a lot. 
We had a very busy week and we really enjoyed the break. 
By: Isabel M. and Darcy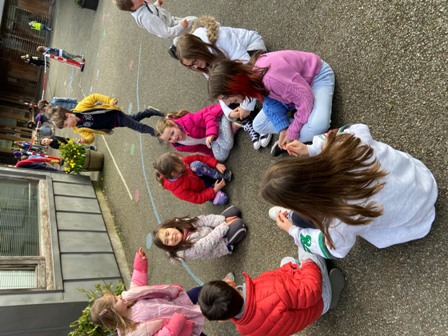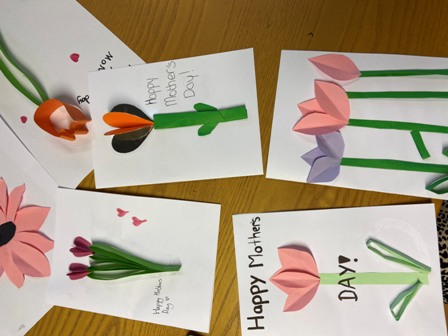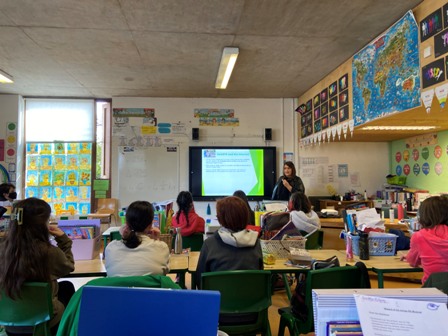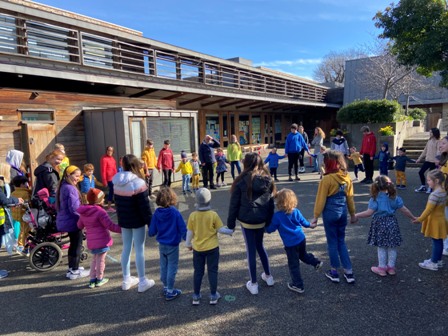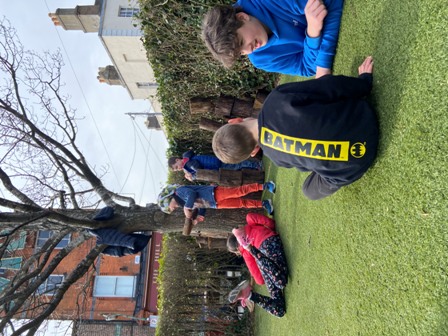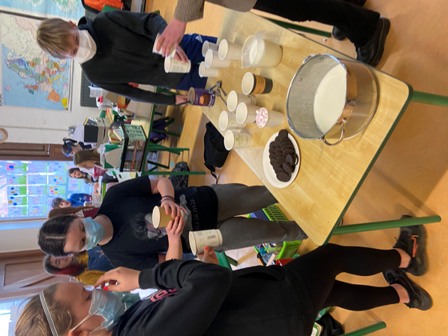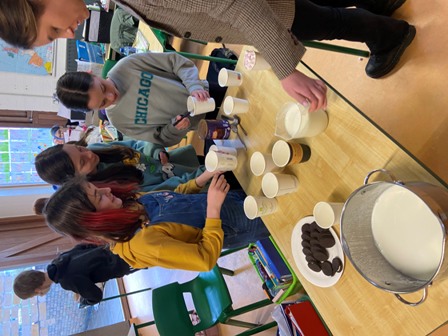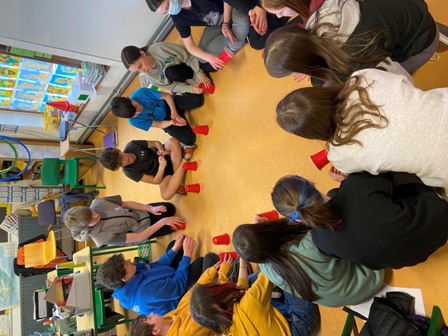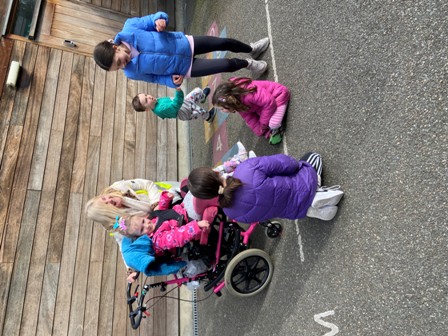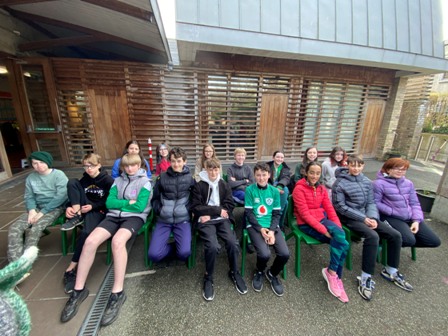 Ranelagh Multi-Denominational School, Ranelagh Road, Dublin 6, D06 Y658
Telephone/Fax: (01) 4961722 ● E-mail: secretary@rmds.ie
______________________________
Roll No. 19928Q ● Principal: Rosemarie Stynes