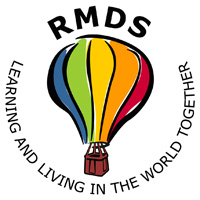 RMDS
School News in Brief….
29th April 2022
From the Green Schools Committee.... 3
From the Principal's Desk….
Welcome back to our final term of the year! It is, as always, a very busy term. However, it is a joy to welcome the sunshine and finer weather, and be able to enjoy it with the children.
It is such a pleasure to have parents back in the school each morning also. Thank you for respecting our need to start teaching and learning promptly and enabling us to get started sharply at 8.45 am.
Our focus this term is on physical activity and outdoor learning.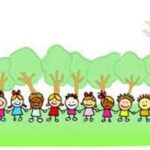 Some of the items on our schedule this term are swimming which continues to run for Rang 3. Forest School begins for a six week session with Senior Infants from next week. We will have our annual whole school Write A Book Project coming to a finale with an assembly at the end of May. We have the Peace Proms Concert for Rang 3 & Rang 4 next Saturday, 7th May in the Helix. The eagerly anticipated Rang 6 Musical - The Wizard of Oz will show on Friday, 13th May. Our Sports for All will take place the week of the 13th June. Our usual end of year school trips are all scheduled, with Rang 6 heading away to Delphi Adventure Centre for two nights at the beginning of June. Rang 6 will also be showcasing their EU Project work. Rang 3 and Rang 4 will take part in the Junior Achievement Programme and Rang 6's Graduation will take place on 24th June. Choir will also run for the final term for children from Rang 2 - Rang 6.
Rang 5 will also take the lead this term on an exciting new digital learning programme in collaboration with OLUS Education using our Chromebooks which focuses on digital literacy and coding. This will be rolled out to all classes in the new academic year.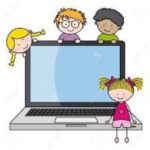 If anyone is planning on leaving our school in the new academic year 2022/23 can you please let me know as soon as possible. As you can imagine the planning and preparation for next year is already well underway. 
Please note our school will be closed for all the children on Friday, 27th May to facilitate inservice training for staff on the new Primary Language Curriculum. 
If you haven't already registered and downloaded the Aladdin Connect app, please do so immediately. It is a vital part of our communication between home and school. If you have any difficulty in doing this please let Mary know in the office and we will get it sorted immediately.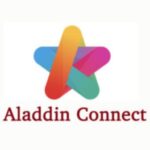 Please check the RMDS Calendar on our website for all dates of upcoming events.
Rosemarie
From the PA….
Date for your diaries!! Parents' Night Out - 26th May in The Hill!  We all deserve some grown up fun :)
Thanks to Aoife Kelly for the fabulous Easter Raffle Hampers and to the teachers, parents and children who parted with lots of money in the scramble to win a hamper (and give generously to the school!)  We raised a record breaking (not fact-checked) €2,600 that will go towards upgrades to the school yard.
A reminder to ask anyone dropping or collecting your children to or from school please not to park/drop off (however temporarily) immediately around the school perimeter.  It has a big impact on children scooting or cycling to school. 
Thanks everyone and fingers crossed for a sunny long weekend!  You can start practicing with your egg and spoon for 18th June, when we're hoping to have the School Sports Day!
Joss & Gráinne
PA Co-Chairs
From the Green Schools Committee....
Green Schools Tips
The Building Energy Rating Certificate: Part 1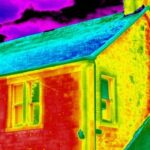 Purpose
The purpose of a Building Energy Rating (BER) certificate is to help understand how energy efficient a particular home is.
It may be of interest to a potential buyer or renter to give an indication of their future energy bills, or to an existing homeowner who wants to assess how energy efficient their own home is.
It is also a requirement for receiving Sustainable Energy Authority of Ireland (SEAI) grants.
The BER certificate rates on a scale, with A being the most efficient and G the least. It looks similar to the energy rating labels for household appliances. It also indicates the associated annual production of Carbon Dioxide (CO2).
How Accessed
The BER is assessed by a professional assessor using the Dwelling Energy Assessment Procedure (DEAP) and takes into consideration the requirements for heating, cooling, ventilation, water heating and lighting.
The DEAP calculation is based on the building itself, not on how it is operated. It is independent of how particular occupants use energy.
This is because different occupants have greatly differing energy demands. For instance, you could have two identical homes, but one with an elderly couple and one with a family of five.
The elderly couple could be at home all day and require the central heating constantly on. The family home could be empty from 8.30am to 4.00pm but have higher overall demand for hot water, clothes drying and electrical devices.
The BER attempts to isolate these types of variables, allowing you to directly compare one home with another. The number of occupants is assumed based on the floor area. The heating duration and temperature are assumed to be the same across all homes. The number and efficiency of particular domestic electrical appliances are not taken into consideration.
Next Week: Understanding the The Building Energy Rating Certificate
Roland Ramsden
Andrea Scott
Green Schools Committee Parent Representatives
From the Active Committee….
Spar 5 Aside Soccer Tournament
Yesterday, Rang 5 and Rang 6 took part in the Spar 5 Aside soccer tournament. It was very fun and lasted the whole school day. We got split into teams A to H. Each team had a mix of 5th and 6th class people. There were 2 groups of 4 teams with 7 or 8 people on each team. The matches were 20 minutes long, with ten minutes each half. There was also a short half-time. The Dark Blue team (Team G) won the tournament after a great final against the Non Bibs (Team D), who came second. These 2 teams got into the final after winning their groups. The Non Bibs even had to have a penalty shoot out with the Pink Team (team C) to enter the final. It was very exciting!  The score in the final was 4-1 to the Dark Blue team, the crowd were all cheering during the match as it was so exciting to watch. We all had a great day! 
This report was written by: Nicholas Finn & Leo Griffiths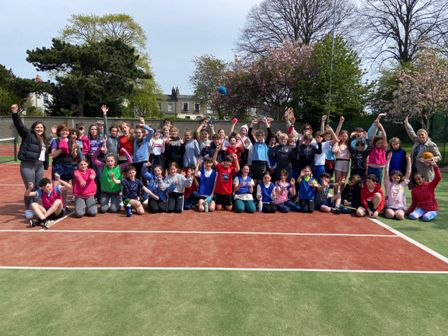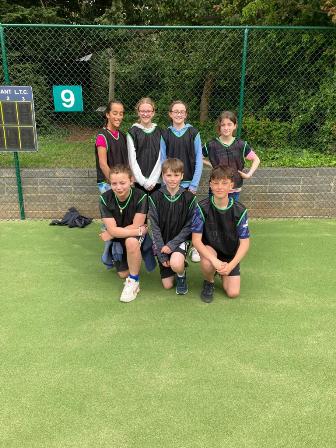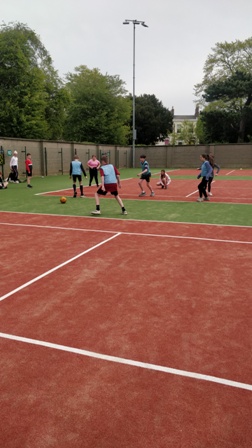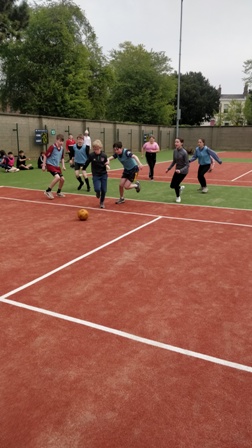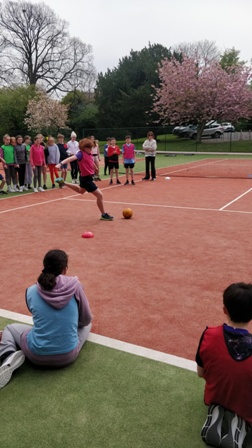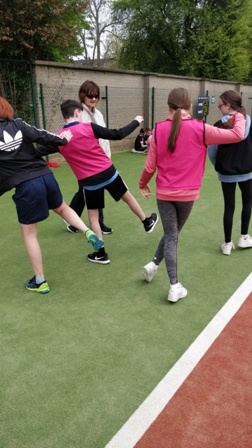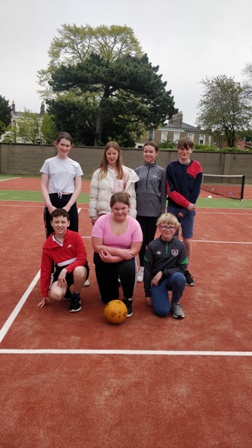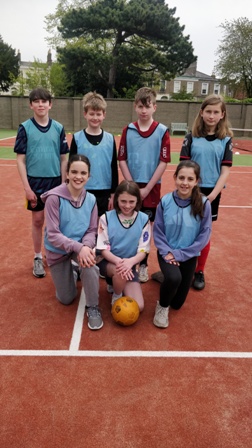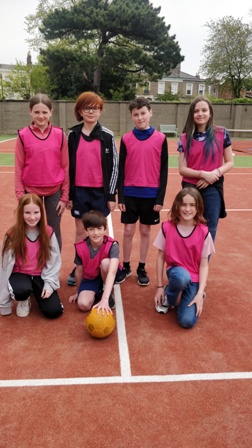 General Notices….
The Lá Mór na Gaeilge street festival will take place this Sunday, 1st May 2022, on Parnell Square North from 12:00-16:00. This will be a fantastic, and free event, with fantastic entertainment for families on the long weekend (everything from music, céilí, giant games such as twister, workshops, etc. to face painting, clowns, etc.). Fluent or cúpla focal – All are welcome and there will be something for everyone on the day.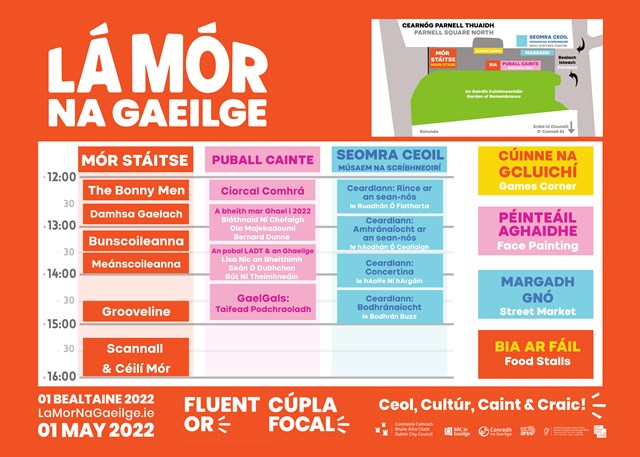 Ranelagh Multi-Denominational School, Ranelagh Road, Dublin 6, D06 Y658
Telephone/Fax: (01) 4961722 ● E-mail: secretary@rmds.ie
______________________________
Roll No. 19928Q ● Principal: Rosemarie Stynes