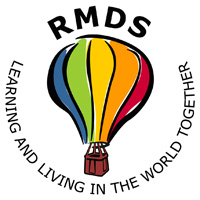 This week's Newsletter
The fresh air policy of having windows and doors open is keeping the school cool. A couple of staff have been spotted doing their best Peig Seyers impressions. The children might not be feeling it as much yet.  I was having a chat with two boys in shorts and t-shirts as I sat opposite in a wooly jumper, they informed me that they weren't in the least bit cold. However it might be time for some of us to consider layering up coming to school.
Our week of feeling normal received a reality check this week as the whole of Dublin took a step backwards meaning that swimming has been paused for three weeks at least. Hopefully we are all reminded that COVID-19 has not gone anywhere and we need to continue to protect each other by reducing our contacts and maintaining social distance. I would ask that all parents, guardians and minders wear a mask where possible when picking up children as it is very difficult to maintain a safe distance at that time. Having the covid app activated might also help. 
I discovered that in a few homes I am the bad guy who doesn't allow sleepovers and playdates. While not used to the bad guy role, I'm happy to take it on, if it makes it easier in your house to say no to some of the things we would like to do but perhaps shouldn't. 
Schools in our area have already had to close classrooms for 10 days and I would love it if we could avoid having to do the same but it requires a collective effort. This week in the office we were preparing for contacting you if there was a positive case in the school. I will be asking you to check your details using the aladdin connects app or an old fashioned phone call or email if you have changed numbers or email so that we have your most up-to-date contact information. 
While we might not have made the news with an outdoor classroom we did have a reporter from a national paper looking to talk to Aoileann Farley in Junior Infants about her outdoor learning class and also to Caroline Carroll about our Forest School programme. 
Forest School is starting next week in Rang a Trí and they are very eager to get back into the forest after missing most of last year's session. 
The benefits to getting out in the air are well documented but perhaps it is even more important now. As the parents of children in Rang a Trí check out the condition of their waterproof gear perhaps it is time for everyone to do the same. To use a line that our 'old' principal Joan Whelan was very fond of 'There is no such thing as bad weather, just inappropriate clothing'. If anyone is talking to Joan do not tell her that I referred to her as old. If you do meet her you will see that old and Joan don't go together - retirement is suiting her. 
As a way of marking a very unusual year we are looking into taking some unusual class photos in the coming weeks.  Next Tuesday is a possibility, hopefully we will have as full an attendance as possible, be prepared for short notice to dress your best.
There is a lot of cleaning happening of the toys and we are wondering if we had a few more toys, we could have a rotation and allow us a bit more time to clean.  If you are at the senior end of the school and looking to create some space in your home, we are looking for dinky cars and other small toys suitable for children in infants to first class.  If you could take a picture send it to me and I will share it with the teacher and see if it is suitable.  We are also on the lookout for a stairgate ideally not one that requires the use of a drill.
Admissions
In line with the Education (Admission to Schools) Act 2018 we have a new admission policy, details are available on our website.  The window to apply will be from the 1st to the 29th of October.  If you have already applied you do not need to do so again, however it would help if you have a sibling due to start in the coming school year to let the office know.  Going through last year's 572 applications looking for siblings was less fun than you might imagine.
The classrooms are as busy as always here's a little insight into what's been going on… 
News this week from Rang a Sé
This week we did a lot of nice things. We did P.E on Tuesday morning where we played a game called 'No Man's Land'. There were two teams and each team had a square. There was a tennis ball and one team had to throw it in the other teams square. The other team tried to catch the ball and if they caught it, it would be their turn. If they didn't catch it, one person on the team would lose an arm and can only catch with one hand. If they failed to catch it again, they were out. The game went on until one team didn't have any players left. We also did that game last week in maths.
This week on Planet Maths, we started a new topic. We started Data. We're learning all about bar graphs and trend graphs. We collected data from the class and displayed it on a graph. We found out that pepperoni pizza was the most popular pizza topping in the class. 
We also started a new class novel. The Boy in the Striped Pyjamas. So far, we are on chapter 10 but we are flying through it. It's a book about World War 2 and the Halocaust, it's a very good book and I recommend you try it. We will probably end the book either next week or the week after. We are doing a lot of activities based on the novel like summary work, sentence work and learning new vocabulary. 
This week we also got to have skipping ropes for the yard. Each class got 3 skipping ropes. Almost everyone uses them in the yard and it's very fun. They are plastic at the end so we are able to sanitise the ropes at the end of the yard.       
By Fionnán and Oscar Martin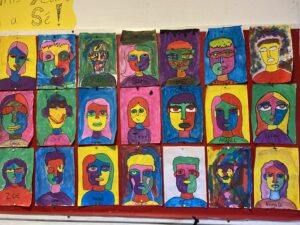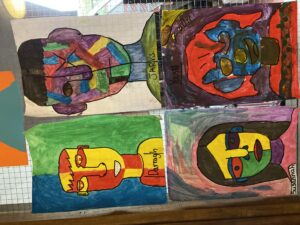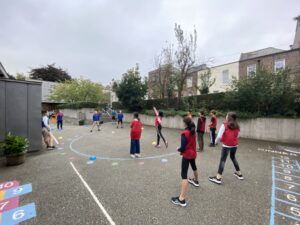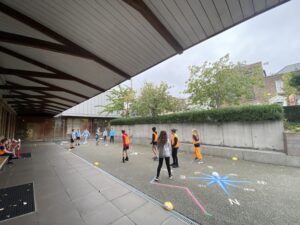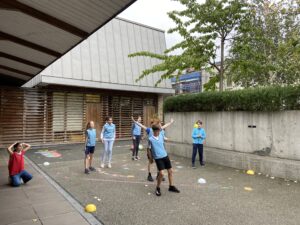 5th Class News
This week we did a lot of exciting things. We did some cool art with tissue paper. We drew designs in white crayon and covered the paper in coloured tissue paper and wetted it. So it would leak and we would have a white pattern. Our paper did leak but not as much as planned so you can not clearly see the pattern. We are still really happy with how they turned out. They are now up in our classroom and we love them. 
In maths we're learning about graphs, tally marks, pie charts and bar line graphs and we drew our own barcharts which are also up in our classroom now on our WOW work wall.
The most exciting part of this week was the skipping. We have been working on trying to get to 35 people skipping in a row but our current personal best is 27. We have been working on spellings for me with Ms.Brennan and are enjoying it. So we had an amazing week.
Annie and Gwendolyn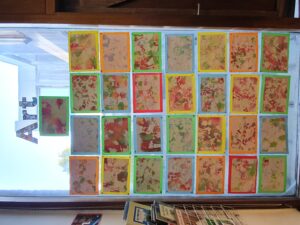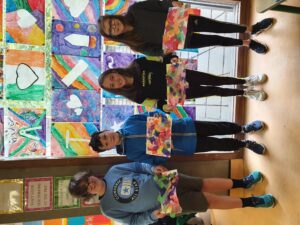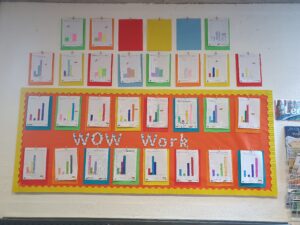 News from Rang a Ceathair
We did drama in Gaeilge. We were doctors that spoke Irish.
We made up our own mythical creatures and drew them in art.
We read a poem called 'The worst day ever?' If you read it from the bottom line to the top line it is very positive but if you read it normally it is very depressing. This poem showed us how important your mindset is. 
We changed tables so we are more socially distanced. It was Jazmin's birthday today and she got 5 dojo points. Zoe got her cast off.
We did dodgeball in P.E.
By Charley and Cormac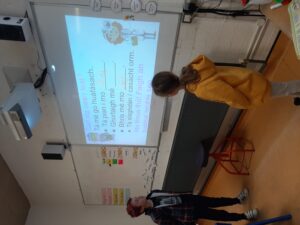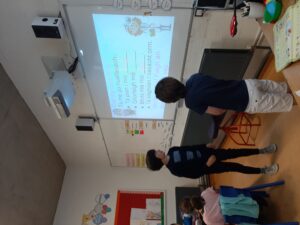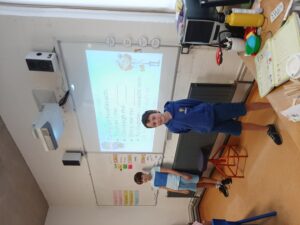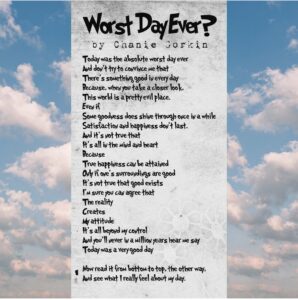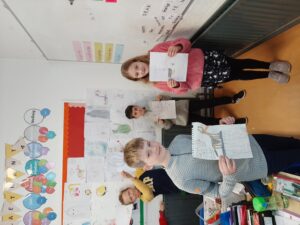 News from Rang a Trí
Secret student - We have started Secret Student in the class. Ms Blayney picks a secret person each day and does not tell the class. She looks for good behaviour, kindness and great effort with learning. If she sees these things they get the secret person award. If the secret person does not show these things then the person is not revealed.  So far the successful secret students were: Mia, Max, Morgan and Edith. 
Pod points- The winners last week were Snow Leopards. We changed layout a bit in the classroom to help some of the pods see the board more easily. 
Forest School - Starts next week we are so excited.  
Starlings - We are drawing starlings as we are reading a class novel called Adam's Starling and we were learning about Irish birds in Geography. 
History -We were learning about Fionn and the Fianna and the Salmon of Knowledge. We did some freeze frames to tell the story. Ask us to tell the story using the photographs below.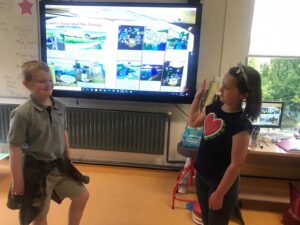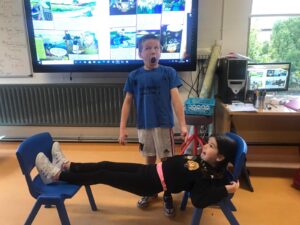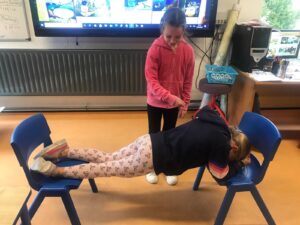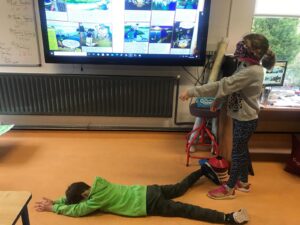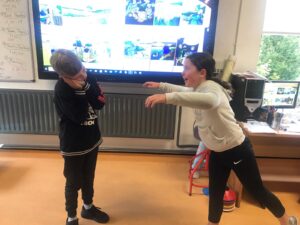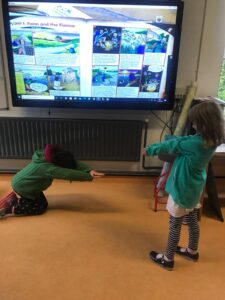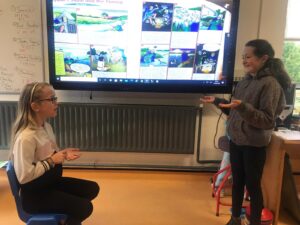 News from Rang a Dó
Our cursive writing is coming along very well, and some children are starting to include it in all their writing activities. We completed beautiful fall art, and each pod gets to read on the beanbag during daily silent reading. 
Rang 2 are fabulous singers and are raising the roof daily in class.
Miss Coogan
We learned "You are my Sunshine"with sign language.
We can't go to swimming  so we played rounders instead.
We learned about hibernating and migrating.
A hedgehog hibernates and an albatross migrates.
We learned about  Rosh Hashanah which is a Jewish festival.
An fómhar atá ann
By Isabel and Jake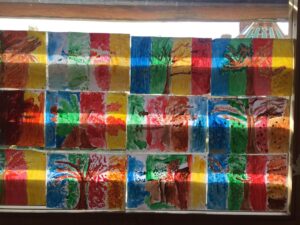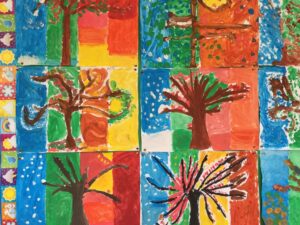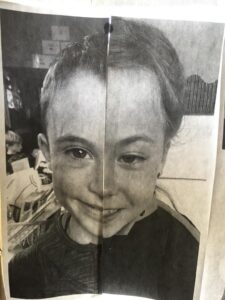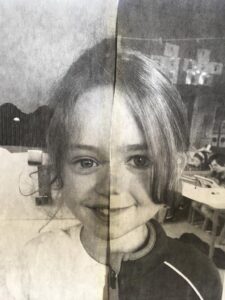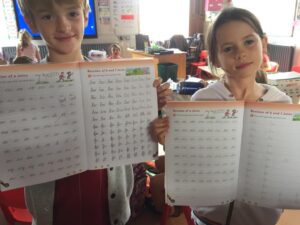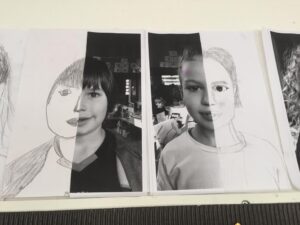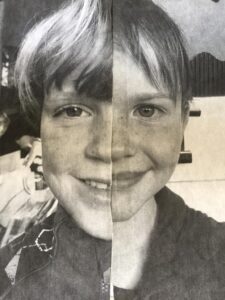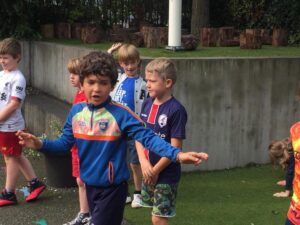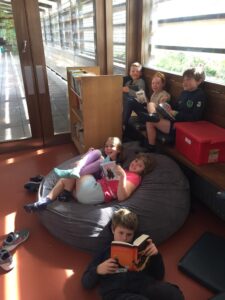 News from Rang a hAon
This week in Rang a hAon, the class have been working really hard practicing their Gaeilge and we have been greeting each other as Gaeilge in the morning. In art, we learned all about primary colours and how to mix colours to create new ones! The class became scientists to conduct an experiment all about the importance of washing our hands. We've had a great week!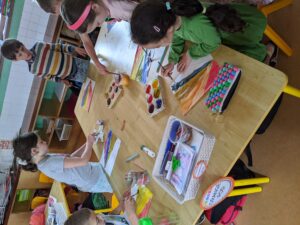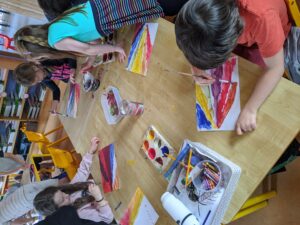 News from the Naíonáin Mhóra
This week in Senior Infants we designed Self Portraits, we used Oil Pastels to do this. We all had a lot of fun drawing ourselves and after we were finished the whole class guessed who was who! We did really well guessing!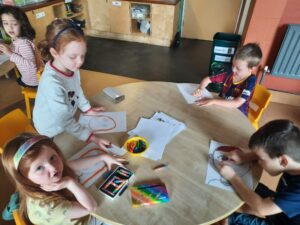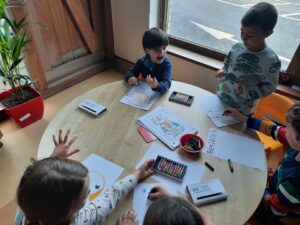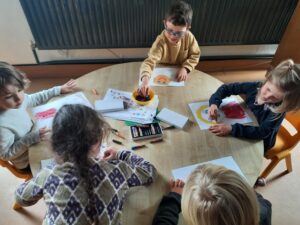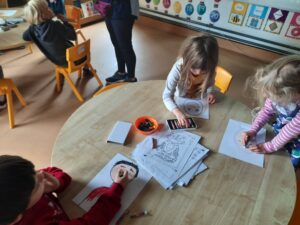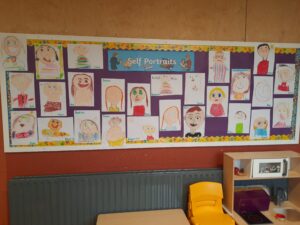 Junior Infant News
Another great week in Junior Infants.  We have been so busy this week.  We are really enjoying Aistear.  We have a weekly play rota and play in different areas every day.  Construction, pretend play, Small World, Tuff tray and Junk art are the different stations.  We have been playing in the kitchen this week, making breakfast, washing up the dishes and minding the babies.  We learnt some new songs and rhymes this week as well and made sets with hoola hoops in the park.  Every morning we sing our Good morning song and we are very good at singing it.  Mr Fairbrother came to see our writing and colouring this week.  He was very impressed.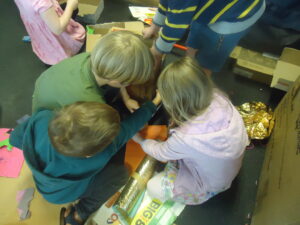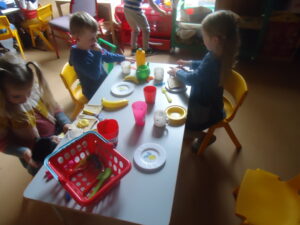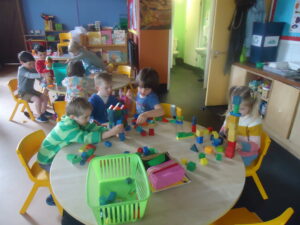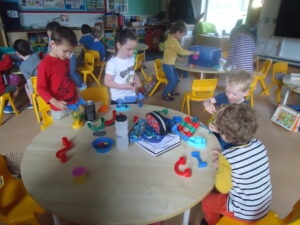 From the Board of Management
The Board met on the 22nd of September. 
The Board were delighted to hear that the sensory room has immediately been so popular and useful throughout the school.  This was a significant investment from the Board, helped by a generous gift from the parent's of last year's Rang a Sé.  The picture doesn't quite capture how great a resource it is.
The new online individualised spelling programme in use from Rang a hAon to Rang a Sé was another big investment which so far, albeit with some teething troubles is proving very popular.
The Board have continued the practise of extending the insurance cover for each child in the school.  Each child in the school has 24hr insurance.  Claim forms are available through the office.
The Board are also replacing the school's book rental books which were lost in the process of distance learning.
This is all made possible by the generosity of the school community through voluntary contributions.  
Thank you one and all.
 The next meeting will be on the 3rd of November.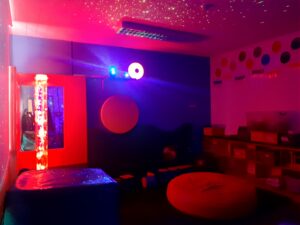 From the PA
Bike Bus!
Great to see so many children walking, scooting and cycling to school this year. The bike stands are getting great use and there are more coming! 
John Healy (Fay and Euan's Dad) has been doing some research on the Bike Bus idea  (cycling in convoy with parents and kids traveling as one unit). if you'd like to find out more, or if you have advice to share, contact John at  johndothealy@gmail.com
It goes without saying that we shouldn't need Bike Buses to keep kids safe - there should be decent protected cycle lanes, so get on to local councillors, politicians,  if this is something you'd like to see for yourself or the school community. 
Chelmsford Rd/Ranelagh Rd junction
A few parents have been in touch about the dangerous crossing on Chelmsford Rd  - there's a real need for a pedestrian crossing there.  Councillor Dermot Lacey advised that all resources re traffic management are directed at COVID at the moment so the best way to get things done is through COVID mobility requests. It would be great if as many parents as possible could submit a request - it takes about 30 seconds - to ask for a pedestrian crossing here. You can add photos - there's one here.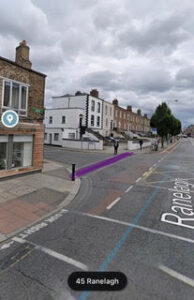 Lost Property
Amazingly we have one item of lost property this week.  A record I think.  Have a look.  Can we get to zero.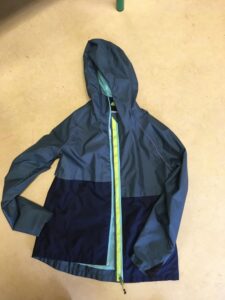 A slight complication from last week when someone came to claim their sparkly unicorn top to discover it had been claimed already.  If you have found yourself the owner of two sparkly unicorns then I know someone who is looking for one.