What a busy first term we have had in Rang 2. The children have been involved in so many projects it's hard to remember it all, but here goes!
In September the whole school worked together to focus on the topic of Friendship. Rang 3 treated us all to a great assembly, and in class we used our Core Curriculum time to look at how we interact and how we can do things better.  We made encouragement banners for one another, and had great ideas about how we could do that. This was very important for us in Rang 2 as we have a new boy in our class, called Oliver. 
We learned a lot about migration and hibernation, and we made beautiful paper swallows as they prepare to fly off to Africa. We read Oscar Wilde's classic story , The Happy Prince as the dear swallow in that story is also preparing to fly away, but has a few good deeds to do first.
 In October, we started working on our castles theme. We learned about the construction of castles and the functions of the different parts of a castle. For example, did you know that the long holes in castle walls are called arrow slits? The children brought in different materials to create their own castles as a construction project. The group work was fantastic, and jobs were given to everyone  , so everyone could be part of the team.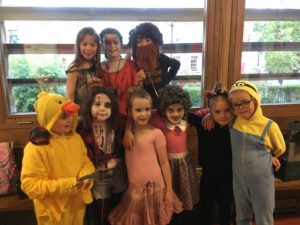 Knitting has been a huge success in Rang 2. We were extremely lucky to have Geraldine ( from Swan Leisure Swim Team), Trixie ( Beau's Granny), Kathy ( Róisín's Granny), Helen ( Edie's Granny), Helen ( Edith's Granny) and Clodagh ( Seán's Mum)  in to help. Thank you so much to all of you.
We went swimming every Thursday and the children are now like dolphin's in the water. We also went off The National Gallery of Ireland to discuss art with our two lovely guides Valerie and Sarah.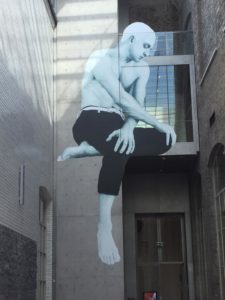 The children were so great at discussing art , after completing their research projects on artists, that they earned a night off homework and a trip to the playground.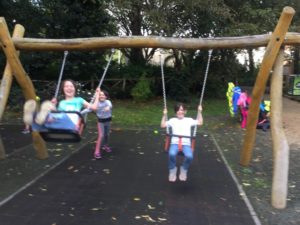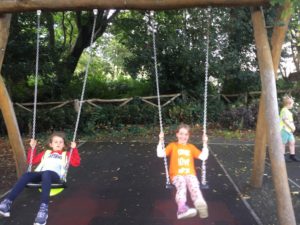 We learned about perspective in art, we learned about Monet and Hunderwasser. We did lovely patterns and recently when we were learning about habitats we made fox and badger dioramas.
It was a sad moment for this class when we bid a fond farewell to our beloved Miss Halpin. The children recalled many happy times with Miss Halpin from our time together in Junior Infants. We have no doubt we will be seeing her soon ,and we look forward to hearing all her tales of wonder since she retired.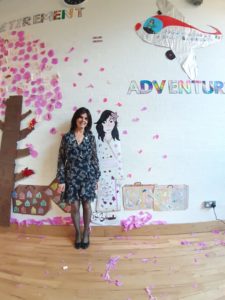 We recently had the honour of presenting the Core Curriculum assembly about the festival of Thanksgiving. The creative juices were flowing once again in Rang 1 and they composed their own original song all about this festival. The class also told the school about the history of this festival.
We are now getting all set for the Christmas play and once again this bright and creative class are very impressive when it comes to doing anything creative. They have been very involved in the dialogue, the costumes and they have a little surprise song they will be playing an their new instrument, the tin whistle. 
We hope you enjoy the show and we wish you a very Merry Christmas. Nollaig Shona Daoibh go léir.