Naíonáin Mhóra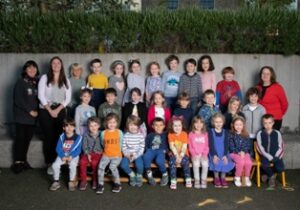 Senior Infants have had an excellent year in RMDS this year. We are so lucky, we had two teachers. First, we had Ms.Shackleton and then when she left to have her baby we had Ms.Minehane. We have had an action pack year, filled with lots of fun activities. We have been working especially hard on our handwriting and reading, we wrote our very first book. We learned lots of new topics in maths, we learned about money, capacity, weight and how to tell time. We are so proud of all of our achievements. Some of our favourite moments from the year are, our school tour, teddies bear picnic, pom pom jar, writing our own books, aistear, forest school, learning how to read, baking cookies, pyjama day, going to the cinema and meeting Ms.Shackleton's new baby Edie. Have a look at some of our highlights from Senior Infants.
One of our highlights of the year was going to Airfield farm for our school tour. We got a bus to the farm with all of our friends. We saw lots of different animals on the farm, cows, pigs, donkeys, sheep, lambs, goats, hens and calves. We learned all about different bugs and went on a bug hunt, we caught lots of snails, worms, insects and frogs.
We loved every minute of Forest School this year, our leader Caroline was amazing. She taught us all about nature, bugs, animals, fairy houses and fire. We got to make a tight rope and swing using a rope, stick people using twigs, birds' nests, fairy mud houses and a fire to toast our marshmallows. We learned all about our environment, and how to use our imaginations to create games. We had a brilliant five weeks in the woods with Ms.Curran, Christina and Caroline.