This week's Newsletter 
17th June 2022 
We welcomed the new Junior Infants to the school today and it was exciting to see all the excited faces enter the school and we look forward to seeing them again in September. Thank you to the current junior infants parents who had to find alternative arrangements for them today. Normally there is a quid pro quo arrangement as they would have benefitted from the day when they were the incoming parents but due to covid they now have the title of selfless parents. Thank you. 
The reports are due to be released today. If you have any questions please call in to discuss them with us. 
All the extra curriculars finished this week with the exception of the Monday classes and Spanish as they will be on next week due to bank holidays and later start dates. 
Sports Day is tomorrow in Sandford Park school more information below. Ranelagh Schools Cup will be on next Thursday 23rd more details below. 
It was 'Active Week' this week and Rang a Cúig want to tell you about it. Thanks to Áine Grennan and Alannah Nic A'Bhaird for organising a very hectic but enjoyable week of events. 
This week in RMDS it was Active Week. This is when all the classes do loads of fun games and sports. It is great to be able to be so active in school. We really enjoyed the week. 
Some of the games and activities we did are …. 
Climbing frame and basketball. For this the class was divided into two groups. One group did basketball and the other went on the climbing frame and then they were swapped so everyone got a turn. On the climbing frame we practised the sloth crawl and monkey bars. 
Create your own game. This was on the roof garden. Here we were given lots of equipment, we all made a game and then we got to share our games with our classmates. Tag rugby and yard games. This happened in linear park some classes played tag rugby others played common yard games such as tip the can. It was great fun. 
Some classes got free time in the classroom for board games, quizzes, cards, twister, and drama games. There was rounders, athletics and cricket in Dartmouth Park and there was space for gymnastics in the hall. Where we practised jumping, travelling and balancing. 
Rang 5 and Rang 6 also went to Belgrave Square where they played ultimate frisbee and soccer. Lots of classes were also given active homework which was very fun. It has been an amazing week overall and we really enjoyed it!
Yoga On Monday Louise Horgan taught all the classes yoga in the park. Thank you Louise. by Zoey and Tom.S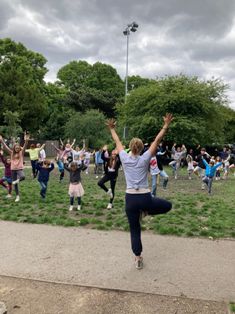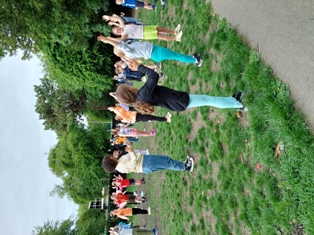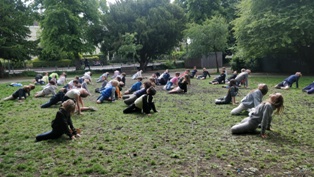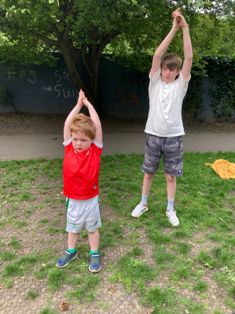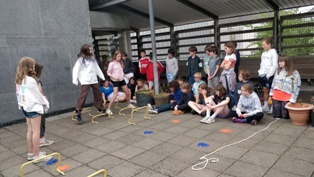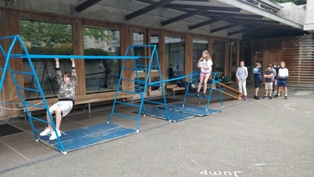 Parents' Association 
SPORTS DAY TOMORROW 11am to 2pm @ Sandford Park School on Ranelagh Road. 
Checklist: 
Suncream 
Picnic 
Rug 
Teddy (for littlies), 
Tie / three legged race binder (2nd class and upwards), 
Adult running shoes (yes, there are parents' races - don't think you get away without embarrassing yerselves) 
Water, 
Cash, 
Sense of humour - should be at the top of the list really 
Rain gear / suncream 
Running gear for incoming junior infants - we wouldn't leave them out! 
We've also a fantastic offering of skilful and leisurely activities in the expanded games area as well as some team sport action and a chill zone. It's everything you remember from previous years and more!! 
Rewards 
Cake, coffee, hot dogs, tuck shop, ice-cream, Peter Ward on the mic .... WHOOP!!! 
Finally, if you fancy a job on the day (the only way to dodge the parents' race) please just ask anyone can you help. We might just grab you anyway. It's more fun if you're involved!! 
Thanks to the Sports Day Committee who have busted a gut collectively to organise this. We're nearly there :) 
Green Schools Tips 
Where does your energy go? 
The simple answer to where your expensive units of gas & electricity go? They get converted into heat. 
Whether it's the more obvious heat emitting appliances like a gas boiler, gas hob or tumble-dryer. Or the less obvious ones like WiFi routers, televisions & lighting. The energy they use nearly all ends up as heat. 
We'll now look at how you can try to estimate the hourly running costs of your gas appliances and next week, your electrical ones.
Gas Boilers 
Gas boilers are typically the largest single user of household energy and their output is rated in kilowatts (kW). Your own boiler will have its output in kW labelled on a plate or sticker attached to it. Often as part of the boiler name. 
For an average size three bedroom house, they would typically be rated at 24kW. However, for various reasons, a 24kW boiler uses less than 24 kilowatt hours (kWh) of gas when running for an hour. Boilers are usually oversized and they don't run continuously, they cycle on and off. 
But to work out a rough estimate, it would be 24 (boiler output) x 9 cent (current price of gas per kWh unit) = €2.16 per hour to run. 
To get a more accurate price per hour, you'd need to keep track of the hours your heating is on over the course of a gas billing period. And divide this into your bill total. 
Alternatively, you could take a gas-meter reading. Then another reading a week later, having kept track of the number of hours you've had your boiler on that week. 
Then to convert the volume of gas used, which is usually measured in meters cubed (m3) to kilowatt-hours, you multiply by the Conversion Factor listed on your gas bill. It will be approximately 11.5. 
So if you used 40m3 of gas over the course of a week, then multiplying that by a Conversion Factor of 11.5 gives 460kWh. 460kWh multiplied by 9 cent (current price of gas per kWh unit) would give a €41.40 bill for the week. The total time the boiler was on came to 30 hours. So dividing €41.40 by 30 equals €1.38 an hour to run that boiler if it was the only gas appliance in the house. 
Gas Hob 
Of course, you may have other gas appliances like a gas hob. But they typically use only a small fraction of your total. 
The smaller gas rings on full power use around 1.5kWh with the main one using 3.5kWh. Using one of each size ring on half-power for an hour a day would cost around 20 cents a day versus the near €6 for the 24kWh boiler. 
Next Week: Electrical Appliances 
Roland Ramsden 
Andrea Scott 
Green Schools Committee Parent Representatives
Ranelagh Schools Cup 
For many years RMDS has competed in an inter schools cup, largely among the nearby schools, known to us all as The Morton's Cup. It has long involved Separate junior and senior competitions and a side-by-side girls competition the past few years. For various reasons it hasn't been possible to stage it this year. 
This has always been a particular sixth class highlight and we were anxious not to let it slip by, particularly having missed the last few due to Covid. 
At fairly short notice a sixth class-only version (the Ranelagh Schools Cup) is being staged and it will happen on Thursday coming at the VEC Sportsgrounds (now the ETBI) on Templogue Road (ie just before Bushy Park, other side of Road.) 
There will be 4 schools, ourselves, Scoil Breda, Lios na N'Og and KPS. We will kick off the first match at 4.30 and ideally kids should be there about 4.00. It could last as long as 8.00 but we'll aim to be done earlier. 
It will be 11-a-side or 9-a-side depending on numbers but we will use subs etc. Matches will be 20 minutes approximately. 
Nobody is under any pressure to play but if you want to be involved there will be a sheet up in sixth class, put your name on it and can you bring in €10/player by Tuesday. The money will mainly cover pitch rental. 
Bring your own food please; no shop or catering likely at this stage (unless anyone has a good idea that they can pull out of the bag.) 
We would be delighted with any help on the day: crowd control mainly and maybe on older sibling or two for referees. Support would be very welcome too but we anticipate less than normal due to last minute nature of things. 
Parking at the VEC is poor and if possible please park on Rathdown Park. Mind out for clampers. 
We don't have the usual large scale support and experience but will aim to keep it running smoothly and fairly. 
Many thanks to Mr Fairbrother for his help to date. Matt Lyons, Gavin Wheatley and Larry Ryan will be aiming to set them up on Thursday. 
See you there!